The best schools for animation in the world
What is animation?
What exactly is animation? The animation process begins with the drawing and design of static images. It ends with transforming those images into a series of moving ones, most commonly with the aid of digital technology. Students who graduate from the best schools for animation learn various techniques to perform animations.
Some examples include Claymation, a technique used in popular cartoons like Wallace and Gromit and Chicken Run, in which the characters are hand-sculpted from modeling clay. Stop-motion refers to using physical manipulation of items to simulate the appearance of motion.
Different types of animation include:
2D animation
3D animation
Motion graphics
Hand drawn
Much animation relies on narrative to give these inanimate figures and drawings personalities and establish an emotional connection with viewers. Pixar, DreamWorks, Disney, and Aardman are all major animation studios that have made films like Toy Story, Snow White, Frozen, The Incredibles, Shrek, and many others that have been critically acclaimed throughout the world.
Animators need to be well-versed in cutting-edge information technology to produce work at the level demanded in the field. Studying animation is the way to go if you want to get better at this.
Should I be an animator?
Though more people decide to become animators, should they become an animator? In deciding whether or not to pursue a profession in animation, you should think about going to the best schools for animation and the following considerations:
Originality
If you appreciate creating original works, animation may be a good career path for you to pursue. Every day, animators have to use their imagination to come up with new plot points and figure out how to visualize those plot points visually. Additionally, if you're making an independent animation, you might have complete control over the final product.
Desire to learn new things
Learning new techniques or refining an existing one is something most animators take pleasure in doing. If you're used to working in 2D animation but have never tried stop-motion, motion graphics, or new software, you'll need to learn all these things. To that end, animators take pleasure in exploring the capabilities of cutting-edge animation software and developing novel uses for its features.
Ability to focus for long periods
Animators often need extra hours on projects that demand their services. A lot of time may be spent sitting at a desk as an animator works to complete a project on time. Animation may be a good fit if you can maintain concentration for extended periods.
Desired work environment
Most of an animator's day is spent at a computer, where they use various animation programs. You may spend much time at a desk or table, even if your job requires you to create hand-drawn or stop-motion cartoons. Jobs in animation may be a good fit for those who prefer office settings.
Furthermore, while animators frequently work in teams, they can spend many hours alone. The animators work on their assigned tasks and then report to the group on the team's overall progress. Animation may be a good fit if you are looking for a career where you can work independently and in a team.
Competence in meeting tight deadlines
In the animation industry, deadlines are a common reality. Being a graduate of the best schools for animation means you can be required to work late into the night or on weekends. If you're the type of person who does well under pressure and doesn't mind putting in extra time to get the job done, an animator might be the perfect profession for you to pursue.
Ability to accept criticism of your work
To succeed in a career that requires creativity and teamwork, you may need to learn to take constructive criticism. Project managers may, for instance, demand a particular approach to development or animation. Animators must be able to take criticism in this form and use it to improve their work. They can use this skill to enhance an already impressive animation.
Ability to work with others
If you thrive when working in an interdisciplinary team, an animation career may be right up your alley. Writers, directors, producers, performers, and animators frequently work together on animation productions. These specialists usually collaborate to create a final animated film. Furthermore, it is not uncommon for a team of animators to work on a single production.
Technical Proficiency
Animators depend heavily on software to finish their projects. When creating their visuals, animation software is their main tool of choice. Animators may also use team communication tools to share progress reports and answer questions. Email, IM, file-sharing, and project-management apps may fall under this category. Animators may also use special effects and video editing programs.
Career advancement goals
While there are ways to go up the animation ladder, such as leading a team of animators, most animators stay in the same position for their whole working lives. This is not the right job choice for you if you want to grow professionally and take on more responsibility. But if you want a job where you're always doing something different, being an animator could be a good fit.
What are the best schools for animation in the world?
Gobelins, l'école de l'image
Paris, France
The French animation school Gobelins, l'école de l'image (Gobelins, School of Images), has been around since 1964, making it one of the oldest and best schools for animation in the world. The European Animation School Network includes Gobelins, and the school now has over 1,100 students enrolled in BA, MA, and Professional Certification programs.
There are several different ways to proceed through the Animation Program at Gobelins. These include the 3D Character Animator Professional Certificate (Level II, two years), the 3D Character Animator Professional Certificate (Level III, three years), the BA in Animation and Character Animation and Animated Filmmaking (Level IV, three years), and the MA in Character Animation and Animated Filmmaking (Level V, two years). The curriculum allows students to develop at least one project and a portfolio. Gobelins's Bachelor of Arts in Animation program welcomes students from the Animation Preparatory Year Program.
Acting, 3D layout, body mechanics, character animation, motion capture techniques, character, and background design, scriptwriting, directing, sound design, storyboarding, the 3D pipeline, movement dynamics, editing, special effects, and compositing are just some of the topics covered across programs.
All Gobelins Animation Program students can create a short film portfolio and a professional demo reel during their time at the school. The French Ministry of Justice, Universal Music, Dell, Netflix, BMW, the Musée Picasso, and Olympus are among the many organizations that will fund student seminars and projects. Students will be required to complete a two-month internship in France or abroad.
Graduates of the Gobelins Animation Programs have a nearly 90% job placement record within six months of graduating, thanks to activities like the Speed-Recruiting event, which gathers more than 50 firms during the final year of the programs.
Sheridan College
Oakville, Ontario, Canada
Canada's largest art school, the Faculty of Animation, Arts & Design (FAAD), is located at Sheridan College. Publicly funded since its inception in 1967, this polytechnic institute is now one of the largest and best schools for animation in Canada, with over 41,000 enrolled students. Sheridan College offers courses across its Oakville, Brampton, and Mississauga campuses in Ontario, Canada. The college is divided into four departments.
The FAAD at Sheridan College offers Bachelor's and Master's degrees and programs in Computer Animation, Digital Creature Animation, and Animation. The Certificate Program can be finished in a year, whereas the Bachelor's Degree Program takes four years. Features shared by all programs include:
The cutting-edge SCAET (Sheridan Centre for Animation and Emerging Technologies) facilities.
The chance to study abroad at Ireland's Dun Laoghaire Institute of Art and Design (IADT).
The possibility to work on group projects in a dynamic, hands-on studio setting.
Students in the FAAD Animation Programs are required to do a three-month work placement as part of their academic curriculum. In addition, students will attend the annual Industry Day, where they can network with potential future employers from all around North America.
Upon graduation from Sheridan's Animation Programs, FAAD alums will have the opportunity to showcase their talents on a professionally produced demo reel. In Canada and around North America, Sheridan College's Animation Programs graduates can be found working at some of the industry's most prestigious animation companies in the television, film, and feature animation industries.
Bournemouth University
Bournemouth, Poole, England, UK
There are just a handful of research-focused animation centers in the UK. One of them is located at Bournemouth University (BU) in the form of the National Centre for Computer Animation (NCCA). As one of the Top 70 Young Universities in the World, BU has more than 19,000 students and is also recognized as a Houdini Certified School by industry leader Side Effects Software.
The National Center for Cartoon Art (NCCA) offers three Bachelor of Arts (Honors) degrees in the field of Animation: Computer Animation Art & Design, Computer Animation Technical Arts, and Visual Effects. Courses can be completed in three years with an optional eight-week placement or in four years with a thirty-week placement.
Students will have access to specialized facilities like a brand-new green screen and motion capture studio, and animation laboratories stocked with industry-standard software. Individual or collaborative final projects and dissertations are required in all courses.
One of the biggest reasons BU is considered one of the best schools for animation is that almost 90% of Bournemouth University's BA (Hons) Animation graduates are gainfully employed or enrolled in graduate school within six months of receiving their degrees. Fantastic Beasts: The Crimes of Grindelwald, The Avengers, Blade Runner 2049, Solo: A Star Wars Story, and Dunkirk all included the work of alums from BU's NCCA.
All NCCA students are invited to the yearly BFX Festival, where they can participate in masterclasses and listen to talks from some of the most acclaimed practitioners in the field.
The Animation Workshop/VIA University College
Viborg, Denmark
A department dedicated to animation at VIA University College is called The Animation Workshop (TAW), which is housed in the School of Business, Technology, and Creative Industries.
TAW was established in 1988 and currently provides services to roughly 650 of the 17,800 students at VIA University College through its Bachelor of Arts Department, Animated Learning Lab, Business Development, Open Workshop – Artist Residency, Visual Talent Center, Professional Training, Research & Development, and other related departments.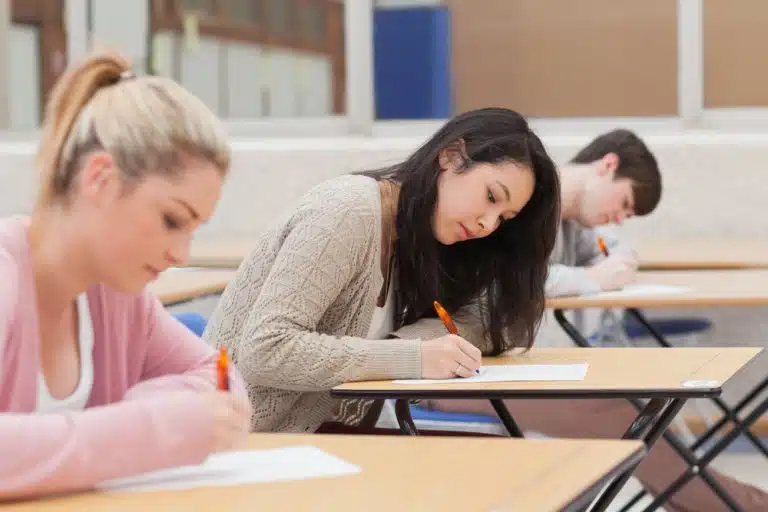 TAW is situated in a former military complex. It boasts almost 119,000 square feet of facilities and buildings, 100 professors who are professionals in the field, and a creative community of more than 30 animation, games, and new media start-ups, enterprises, and freelance artists. In addition to TAW, the Viborg Animation Festival (VAF) takes place in Viborg, Denmark.
As one of the best schools for animation, there are a lot of degrees that can be learned in this school. Character Animation, Computer Graphic Arts, and Graphic Storytelling are all offered as Bachelor of Arts degrees at the Animation Workshop. TAW also offers seminars and workshops for professionals as well as non-degree programs.
Studying for a BA in Character Animation at TAW can be done in English in as little as 3.5 years. The curriculum culminates in a 14-week internship with a production studio like Illumination, Sun Creature, Aardmann, Nrlum, or Cartoon Saloon during the spring semester. It takes students 3 1/2 years to graduate from the Computer Graphic Arts Program, also offered in English. The four-year BA in Graphic Storytelling is conducted entirely in English.
Coursework, lectures, and capstone projects are standard for all degree tracks. In most cases, students have four or five weeks to finish their final project at the end of a program. Animation majors will create a short animated film.
Royal College of Art
London, England
The Royal College of Art (RCA) is a prestigious graduate school offering programs in the arts, humanities, and other disciplines. RCA, founded in 1837 and currently has a student body of roughly 2,300, is the only university-level school dedicated to postgraduate study in these fields.
At RCA, you can choose from a wide range of courses offered by the School of Architecture, the School of Communication, the School of Arts and Humanities, and the School of Design.
More than 30 years ago, the Animation Program was established under the School of Communication. Two years of full-time study are required to earn a master's degree in animation, a diverse field requiring knowledge from many different disciplines.
The curriculum from one of the best schools for animation delves into a wide range of animation-related topics, including but not limited to virtual reality and augmented reality, animation, drawing and illustration, projection mapping, extra-cinematic animation, games and apps, drama, film and media, STEM fields, and more.
Field trips to animation studios, museums, exhibitions, and archives are examples of the program's experiential learning opportunities. The program also features visiting artists and professionals, workshops, multidisciplinary elective options, a collaborative learning environment, and more.
Independent Research Project presentations to the Examination Board are the capstone of the Master of Arts in Animation program at the Royal College of Art.
As you choose the school for animation you want to enter, it is equally important to learn how to enter school. At AdmissionSight, you will be guided as needed in that step. You can get all the right information and guidance from experts at AdmissionSight. Start your journey today with an initial consultation.