The Best Schools for Biomedical Engineering
What is Biomedical Engineering?
So, what exactly is the field of biomedical engineering? The application of engineering's fundamental ideas and methods for addressing problems in the fields of biology and medicine is the focus of biomedical engineering. So, what are the best schools for Biomedical Engineering?
This is evident throughout the entirety of medical care, from diagnosis and analysis to treatment and recovery, and it has entered the public consciousness through the proliferation of implantable medical devices, such as pacemakers and artificial hips, as well as more futuristic technologies, such as stem cell engineering and the 3-D printing of biological organs.
Engineering is a creative discipline in and of itself, serving as the seedbed for ideas that have led to the development of everything from vehicles and airplanes to skyscrapers and sonar. The field of biomedical engineering focuses on making advancements that are beneficial to improving all aspects of human health and healthcare. It's imperative that you learn more about the best schools for biomedical engineering.
What do Biomedical Engineers do?
What sorts of things do biomedical engineers work on? Engineers who specialize in biomedicine can be found working in a wide number of fields and environments.
Opportunities exist in the industry for innovating, designing, and developing new technologies; in academia for advancing research and pushing the frontiers of what is medically possible; in government for establishing safety standards for medical devices; and in the industry for testing, implementing, and developing new diagnostic tools and medical equipment.
A significant number of biomedical engineers go on to work for cutting-edge start-up companies or establish themselves as business owners.
Engineers working in the fields of tissue and stem cells are making progress toward the production of artificial organs for humans, which will facilitate organ transplants and improve the quality of life for millions of people all over the world.
New implanted and external medical devices, such as pacemakers, coronary stents, orthopedic implants, prostheses, dental goods, and ambulatory gadgets, are developed by professionals who specialize in the field of medical devices.
Clinical engineers are responsible for making certain that the medical equipment used in clinical settings is both safe and dependable. The topic of biomedical engineering is highly wide, and there are a lot of options to specialize within it. Let's explore the best schools for Biomedical Engineering now!
What are the best schools for Biomedical Engineering?
Below are the best schools for biomedical engineering:
Duke University
The prestigious research institution Duke University may be found in the city of Durham in North Carolina. It is well-known for the extensive research projects it has conducted in the STEM domains as well as the medical field. There are around 15,000 undergraduate and graduate students enrolled at Duke University.
You will get a strong foundation in STEM subjects while also gaining the ability to design systems, conduct experiments, and evaluate data if you choose to study at Duke University.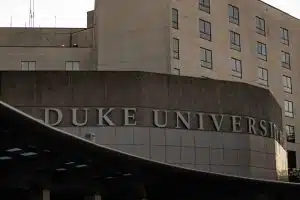 You will also become an expert in biology and physiology, and you will learn how to interpret living data, address tensions between living and non-living systems, and apply statistics to the fields of biology and engineering.
The following subjects are covered in depth:
Biomedical Imaging and Instrumentation
Biomechanics
Electrobiology
Biomolecular and Tissue Engineering
According to multiple publications, including U.S. News & World Report, Duke University is one of the top 10 best colleges in the United States. Since they were formed in the early part of the 20th century, its engineering schools and the programs they offer have a strong reputation and a long history of success.
Moreover, the Duke University Medical Center is home to both a hospital that is consistently ranked among the best in the country as well as a medical school that is consistently ranked among the best in the country.
Johns Hopkins University
Johns Hopkins University, which is located in Baltimore, Maryland, is well recognized as a pioneer in the field of medical and health education. Moreover, the Whiting School of Engineering at Johns Hopkins University is one of the most distinguished in the country, and the university's campus also features a highly regarded medical school and other prestigious academic institutions. JHU is home to around 20,000 students.
Students in the Bachelor of Science in Biomedical Engineering program at Johns Hopkins University learn how to find solutions to challenges that lie at the intersection of engineering and biology.
Students get the ability to solve difficult problems in biomedical engineering as well as the broader complications that exist within the healthcare system when they are exposed to a global viewpoint.
This program draws from a variety of academic fields, and some of the classes it offers are as follows:
Biomedical Modeling and Design
BME in the Real World
Molecules and Cells
Biomedical Systems and Controls
Research conducted, and achievements made by Johns Hopkins University are well known across the globe. As a result, the campus is home to a large number of highly regarded research centers and institutes, one of which is the Berman Institute of Bioethics.
Stanford University
There is little need to provide an introduction regarding Stanford University. One of the most prestigious institutions in the world, it excels not just in the fields of science, technology, engineering, and mathematics (STEM), but also in the fields of medicine, law, the humanities, the arts, and a great deal more. There are around 16,000 students enrolled at Stanford University.
At Stanford, you will participate in a remarkable multidisciplinary program that is the result of collaboration between the Schools of Engineering and Medicine. This program will be to your advantage.
Students become familiar with the process of incorporating life sciences and scientific discovery in a manner that will be beneficial to our healthcare system.
Included in the curriculum are the following classes:
Systems Biology
Physical Biology of Macromolecules
Systems Physiology and Design
Biosecurity and Bioterrorism Response
Moreso, the Stanford community, both its graduates and its professors, is comprised of well-known academics and researchers in their respective fields. For instance, there are dozens of people who have been awarded the Nobel Prize, and there are hundreds of people who are members of both the National Academy of Medicine and the National Academy of Engineering.
Rice University
Rice University is a private institution with a primary emphasis on academic research. It can be found in Houston, Texas. Its reputation is rooted in the quality of its engineering and medical degree programs, and its campus is located close to the Texas Medical Center. Over 7,000 students are enrolled at Rice University.
An exceptional degree in bioengineering can be obtained from the George R. Brown School of Engineering at Rice University. Because the development of student leaders is a primary focus of this curriculum, it exposes students to authentic situations and opportunities for growth.
 In addition to taking coursework like Bioreaction Engineering, Thermodynamics, Biomaterials, and Numerical Methods, students have the opportunity to participate in a variety of extracurricular activities, including internships, internships abroad, and professional mentorships.
Rice University is a pioneer in STEM fields thanks to its world-class applied science programs. Rice University is renowned not only for its academic and research-based achievements but also for the quality of life that its students enjoy, for being one of the colleges in the country that is most welcoming to LGBT students, and for a variety of other reasons.
Massachusetts Institute of Technology
The Massachusetts Institute of Technology, also known simply as MIT, may be found in Cambridge. It is widely recognized as having some of the most prestigious engineering and scientific degree-granting programs of any polytechnic school in the world. MIT is home to more than 11,000 different students.
Students who get their undergraduate degree in Biological Engineering from the Department of Biological Engineering at MIT are prepared to enter research-related fields as well as graduate and medical schools.
Students who have graduated from this program have gone on to pursue successful professions in the pharmaceutical industry and have attended some of the nation's most prestigious graduate engineering institutions.
In addition, MIT offers more than a dozen formal specialties that students might choose to concentrate on, including:
Environmental and Toxicological Studies
Cancer Biology
Immunoengineering
Hundreds of people who have gone on to win the Nobel Prize, the Turing Award, the Fields Medal, and many other prestigious awards are MIT alumni.
Georgia Institute of Technology
The Georgia Institute of Technology, more commonly referred to as Georgia Tech, has its headquarters in the city of Atlanta. It is now a part of the larger University System of Georgia and was initially established as a school of engineering when it was first established. Today, it continues to capitalize on those strengths while also providing students with a dozen different degree options throughout the STEM disciplines.
The Bachelor of Science in Biomedical Engineering that can be earned at Georgia Tech brings together elements of both technology and the liberal arts. Students partake in a varied curriculum and go on to find employment in a variety of different environments.
Alumni have found success in a wide variety of fields, including public service, startup companies, healthcare consultancy, and hospital administration, among others.
In addition, as a student at Georgia Tech, you will have access to many cutting-edge research centers, including:
The Center for Immunoengineering at Georgia Tech
Georgia Center for Medical Robotics
Marcus Center for Therapeutic Cell Characterization and Manufacturing
Nanomedicine Center for Nucleoprotein Machines
The Georgia Institute of Technology is a very productive research university. As was said before, the campus is home to a distinguished collection of research establishments, one of which is the Parker H. Petit Institute for Bioengineering and Bioscience. It serves as the administrative center for over a dozen other biomedical engineering centers that are linked with it.
University of Pennsylvania
The University of Pennsylvania, also known simply as Penn, is a prestigious Ivy League institution that can be found in West Philadelphia. It is both one of the most prestigious and one of the nation's oldest schools. Penn is comprised of over a dozen schools and colleges, the most prestigious of which is the School of Engineering and Applied Sciences.
At Penn, students can get their degrees in one of two different ways. Either a Bachelor of Science degree in Bioengineering or a Bachelor of Applied Science degree in Biomedical Science is possible for you to achieve.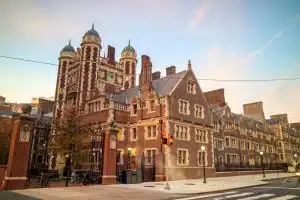 In contrast to the former, which is a conventional degree with an emphasis on engineering, the latter is more adaptable and multidisciplinary. Both, however, provide you the opportunity to specialize your education by choosing one of the following specialization tracks:
Neuroengineering
Biomedical Devices
Systems and Synthetic Biology
Cellular/Tissue Engineering and Biomaterials
According to a variety of different rankings, including those conducted by U.S. News & World Report, Penn is consistently regarded as one of the best universities in the United States. In a similar vein, it is regarded as one of the most active centers for research in the entirety of the country. In addition to that, a number of its engineering programs are regarded as among the best in the country.
Vanderbilt University
A private institution with an emphasis on scholarly investigation, Vanderbilt University can be found in Nashville, Tennessee. Through its ten different institutions and schools, it provides education to more than 12,000 students. Although it excels in a wide variety of academic and professional subjects, the engineering school at Vanderbilt is particularly well-known.
Your education at Vanderbilt will lay the groundwork for your future success in mathematics, physics, chemistry, and engineering. After that, you will examine the complexities of biology, biomaterials, and medicine on a wide scale, ranging from the nanoscale to full bodies. This interdisciplinary program has both a narrow focus and a broad scope of application. Classes like the following are part of the curriculum;
Systems Physiology
Circuits I and II
Analysis of Data
Medical Instrumentation
Vanderbilt University, which consistently ranks in the top 20 greatest research universities in the United States, is home to a wide variety of famous research centers. The National Institute of Health ranked it eighth in the country for the quality of its medical programs and the amount of research it conducted. Additionally, the School of Engineering is ranked among the top 50 engineering schools in the United States.
Columbia University
Columbia University is a member of the prestigious Ivy League and is regarded as one of the top educational institutions in the United States. It is one of the nation's oldest schools, and it is consistently ranked among the most renowned.
There are approximately 28,000 students enrolled at Columbia University, and they can be found attending one of the university's 20 schools, such as the highly regarded Fu Foundation School of Engineering and Applied Sciences.
The Bachelor of Science in Biomedical Engineering program at Columbia University places a strong emphasis on both the physical and chemical sciences. Students become well-versed in the interplay between engineering and biology as well as medicine under a curriculum that places a strong emphasis on the integration of biomedical engineering and physiology.
You will also acquire practical knowledge by participating in Columbia's lab modules, which include the following:
Computational Teaching Lab
The Undergraduate Wet Lab
The Design and Fabrication Capabilities Lab
Moreover, faculty and alumni have been recognized for their achievements with honors such as the Nobel Prize, the MacArthur Genius Grant, the National Medal of Science, and the National Academy of Engineering Award.
Washington University in St. Louis
The Washington University in St. Louis(WUSTL) is a prestigious private institution that places a strong emphasis on research. It is comprised of over a half dozen undergraduate and graduate institutions, which provide educational opportunities for a total of more than 15,000 students.
Although WUSTL excels in a variety of research and academic areas, the university is mostly recognized for the quality of its medical and engineering degree programs.
The program that is offered at WUSTL will assist you in reaching your goals, whether those goals are to work in the field of biomedical engineering or a job that is related to it or to get a professional degree in medicine, dentistry, or law.
After establishing a strong foundation in subjects such as mathematics, biology, and engineering, you will individually shape the remainder of your education to allow you to concentrate on a subject that is of particular interest to you such as:
Biomechanics
Quantitative Physiology
Bioengineering Thermodynamics
Transport Phenomena in Biomedical Engineering
The School of Medicine at Washington University in St. Louis is consistently ranked among the best schools for biomedical engineering.
What kinds of career paths are available in the field of biomedical engineering?
Now that you have a better view of the best schools for biomedical engineering let us take a look at what kinds of careers can be obtained in the field of biomedical engineering.
In the most recent few years, biomedical engineering has been recognized by both Forbes and CNN Money as the top healthcare career that is now available. Additionally, the potential applications of biomedical engineering are practically limitless.
Because of recent advances in technology, materials, and scientific understanding, the ground-breaking achievements of the future are nearly impossible to imagine at this point. After all, the discipline of biomedical engineering did not exist as a field until around a decade ago.
The vast breadth of the field enables biomedical engineers to develop specializations in an area that interests them, whether it be biomaterials, neuromodulation devices, orthopedic repair, or even stem cell engineering. Career paths in biomedical engineering tend to be driven by the interests of the individual, which is one of the reasons why this field is so popular.
To be successful in the field of biomedical engineering, it is common practice to combine an aptitude for problem-solving with technical know-how as well as focused study in the areas of medicine, healthcare, and assisting others. This hybridization is what has brought about so many innovations in the field of biomedical engineering, not to mention so many opportunities.
The value of the market for medical diagnostics increases by a factor of three every single year. The profession of medicine is undergoing a profound transformation as a result of revolutionary developments in medical imaging and medical diagnostics.
The treatment of illness and injury by medical professionals has been fundamentally transformed as a direct result of the development of innovative medical technologies in the research facilities of biomedical engineers all over the world. As a result, both the quality and the quantity of human life have been improved.
In the end, the direction that biomedical engineering will take in the future is going to be determined not only by the challenges and concerns that we find but also by the advancements and successes that have been seen in domains such as chemistry, materials science, and biology. Interdisciplinarity indicates that innovation comes from a variety of different sources all at once, just as it does in the vast majority of other fields.
If you wish to pursue a degree in one of the best biomedical engineering schools, AdmissionSight has you covered. In more than ten years in business, AdmissionSight has become an industry leader in helping students gain admission to selective institutions around the world, with 75% of our students gaining admissions. You can contact us right now to schedule your first consultation.