The Best Schools for Marketing
What is marketing?
What exactly is the meaning of marketing? The term marketing refers to all of the activities that a corporation engages in with the goal of attracting customers to purchase its goods or services by communicating in an engaging manner.
The purpose of marketing is to provide prospects and customers with value that stands on its own through the use of the content, with the longer-term objective of demonstrating the worth of the product, boosting customer loyalty, and ultimately increasing sales.
The goal of marketing is to continuously research and evaluate your target audience, to do focus groups and surveys, to investigate online buying behaviors, and to address the overarching question, "Where, when, and how does our customer want to engage with our company?"
Getting people interested in the product or service your company provides is an essential step in the marketing process. This can be accomplished by conducting research and analysis on the market, as well as being familiar with the interests of your ideal customer.
The term marketing refers to all aspects of running a business, including the creation of new products, various channels of distribution, the conduct of sales, and the dissemination of promotional materials.
Why should you get a marketing degree?
So, why should you consider getting a degree in marketing? The field of marketing is an interesting one. The potential will continue to expand as digital and technical innovations continue to shape the behavior of consumers.
According to the research, right now is an excellent moment to get started with it. For example, according to projections made by the Bureau of Labor, the next ten years will see an increase in the number of managerial positions available in the fields of marketing and advertising. Those who are interested in pursuing a career in management may find that attending one of the best schools for marketing and having a degree under their belt is beneficial as they begin their careers and as they advance into management roles.
The expansion of technological capabilities is a primary factor behind the rise in the number of employment opportunities in marketing. Demand is anticipated to increase overall, but especially for market analysts. It is possible to launch a successful career in marketing research and analysis with a degree in this area, in addition to gaining experience working with numbers and participating in technical education programs.
People with creative, and analytical minds come together in the subject of marketing because it is one of those fields that incorporates a wide range of different hobbies. It is possible for this to be a job that is both personally satisfying and intriguing.
What are the best schools for marketing?
There are a number of decisions that are intertwined with one another that need to be made in order to select the most suitable institution to attend and a marketing degree to pursue.
You won't only be examining the information presented here; you'll also be thinking about things like the convenience of the location, the cost of living, and a whole host of other factors that are unique to you.
Let's take a look at some of the best schools for marketing and the programs they offer below.
University of Pennsylvania
The Bachelor of Science in Marketing program at the University of Pennsylvania, which is housed under the illustrious Wharton School, features a curriculum that is rich in history and is well-known for its research as well as forward-thinking strategies.
They are the only institution that can brag of having more academics working in the discipline of marketing that has either been cited or published. This institution, which can be found in Philadelphia, is dedicated to being on the cutting edge of technology and fostering creativity. They talk about being active in marketing before it existed formally as a field and driving the research and analytics that have taken us to where we are today.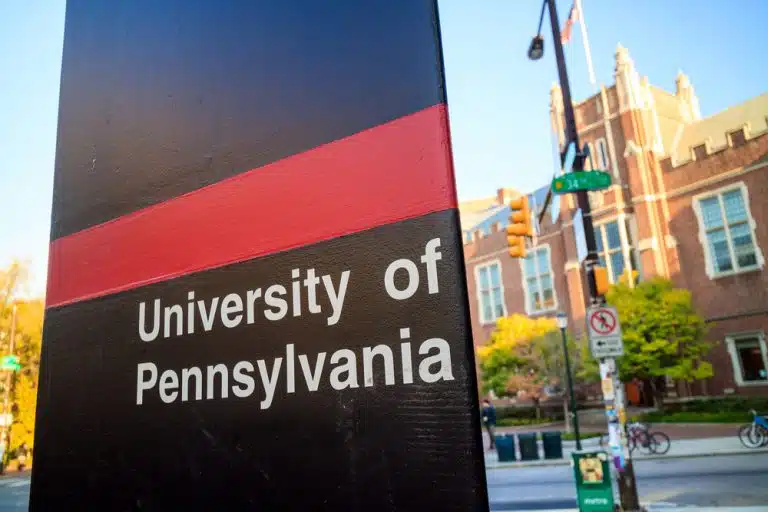 Students are encouraged to take advantage of the opportunity to study dual majors in marketing and communications or marketing and operations in addition to the traditional marketing curriculum.
University of Notre Dame
The University of Notre Dame has some of the best degree programs and is one of the best schools for marketing in the country.
Under the auspices of the Mendoza College of Business at the University of Notre Dame, students interested in marketing can choose to concentrate their studies on a model that is referred to as "5Cs/STP/4Ps."
In marketing, the "5Cs" are the "Company, Collaborators, Customers, Competitors, and Climate," and they help to guide and frame strategic decision-making. The "Segment, Target, and Position" of a product or service is referred to as the "STP" on the other hand, and it is something that can assist drive campaigns. Moreover, "Product, Placement, Price, and Promotion" are the final components of the "4Ps."
At Notre Dame, these marketing foundations serve as the jumping-off point for all of the cutting-edge and forward-thinking conversations that take place on campus. In addition, they describe how they lay a significant emphasis on morality over the course of the marketing program.
University of Florida
If you are interested in pursuing a degree in marketing, the Heavener School of Business at the University of Florida is a potential location to look at. The University of Florida, which can be found in Gainesville, Florida, in the upper part of the state, provides students with the opportunity to major in Business Administration with a concentration in marketing.
Students who go in this direction have the opportunity to collaborate with and get knowledge from faculty members who are experts in the field of marketing. They place a significant emphasis not just on the use of the information they gather but also on research and the scientific principles that underpin marketing, such as psychology and data. In addition to this, they are the location of the David F. Miller Retail Center, which is renowned for its contributions to the science and research that underpins effective retailing.
Missouri State University
People interested in earning degrees in marketing will find that Missouri State University has a variety of one-of-a-kind options. They offer four distinct paths to choose from within their marketing major for undergraduates, allowing you to tailor your education to your specific goals. Among these are Professional Sales, Marketing Research, Marketing Management, and Advertising and Promotion in the Marketing Industry.
In addition to the aforementioned alternatives for specialization, they also provide a few opportunities that are one of a kind. For example, the Marketing Management concentration can be completed entirely online, entirely in-person, or in a hybrid format that combines the two. Additionally, they provide certification in relationship selling at the undergraduate level, as well as certificates in marketing and marketing analytics at the graduate level.
New York University
The marketing major is offered as part of the bachelor's degree program at New York University, which may be found in the heart of New York City. They equip their students with the tools necessary to compete in the marketing industry and to develop relationships with their respective target consumers. They accomplish this goal by taking classes that include topics such as consumer behavior and research aimed at gaining insights from customers.
Additional electives cover a wide variety of topics, including but not limited to social media marketing, film design, business on Broadway, luxury goods marketing, and more.
Consequently, if you have an interest in marketing in these sectors, you might want to think about going in this direction. They also advise individuals who are particularly interested in marketing analytics and data to pursue a combined major with statistics.
Washington University in St. Louis
Undergraduate students at Washington University in St. Louis have the opportunity to pursue a marketing concentration as part of their bachelor of science in a business administration degree program. This major is structured to assist students in developing a route that is reflective of their interests by providing foundational courses such as marketing research in addition to a number of electives that provide students the opportunity to personalize their educational experience. These sectors include worldwide marketing, luxury goods, and sports, and include companies based in London and Sydney.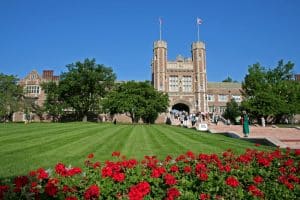 Students are strongly encouraged to examine the possibility of further personalization by pursuing a double degree in two relevant fields, one of which may be financed. In addition, students have the opportunity to pursue a variety of business-related minors, such as international business, entertainment business, social impact business, and sports business.
University of Texas at Austin
Students at the McCombs School of Business at the University of Texas at Austin have the opportunity to work toward earning a bachelor of arts degree in marketing. According to the information provided on the organization's website, the program received a ranking of third place in the country from the publication U.S. News & World Report.
It has developed into a well-known program that focuses on providing an all-encompassing analysis of the industry. Part of this analysis involves taking a look at the fundamental aspects that were instrumental in the development of the marketing field, as well as the most recent findings and research. Internships, study abroad programs, and other chances in the business world are just some of the ways that students are encouraged to gain practical, real-world experience while participating in this particular program.
How to choose the best school for marketing?
The best schools for marketing offer different opportunities. When deciding on a course of study for your undergraduate degree, you should give serious consideration to a lot of factors.
When evaluating programs leading to a degree in marketing and choosing among the best schools for marketing, you should ask yourself the following questions:
Am I qualified to participate in this program?
Students from any educational background with a high school diploma or its equivalent can enroll in undergraduate marketing programs. In addition, some programs need a certain grade point average (GPA) as well as a certain score on a standardized test.
How long does it take to earn this degree?
To earn a bachelor's degree, students must study continuously for a period of four years. Different programs have different time requirements for their certification courses. To graduate from one of the bachelor's degree programs on our list, you'll need between 64 and 128 credits.
What are the application requirements?
Each program has its own set of prerequisites and deadlines for submitting an application. You can obtain information about the course for which you are applying by going to the website of the educational institution or getting in touch with the admissions office.
How much will it cost?
Obtaining a higher degree usually entails a significant financial commitment. Think about the means by which you will pay for your educational pursuits. There are financial aid options available in the form of scholarships, grants, and work-study programs. You might also be eligible for federal student aid. Make sure that all of your applications for financial aid are turned in on time so that you can be evaluated for the maximum amount that is available.
The industry of marketing is an intriguing one, and it has a great deal of room for development in the years to come. As new channels become available, digital marketing continues to develop in new directions.
In addition, developments in fields such as artificial intelligence and augmented reality are having an impact on the way we conduct business. We require marketers that are able to keep up with the data and comprehend the behavior of consumers now more than ever before.
Schools of business all around the United States that provide degrees in marketing are working hard to stay up with the demand for their programs by offering classes that are current and cutting-edge. Pick the one that places an emphasis on things that are congruent with both your aims and values and the requirements you have.
Regardless, don't forget to seek help if you need to. Academic counseling, extracurricular activities, summer program applications, and college applications are just a few of the areas that we at AdmissionSight cover in our highly individualized, in-depth private consulting program.
AdmissionSight has helped students get accepted to some of the world's most prestigious colleges for over a decade. We have one of the highest acceptance rates in the business, with 75% of our students gaining into elite institutions like Stanford, MIT, UChicago, and Caltech. Please feel free to contact us at any time to schedule your free preliminary consultation.