The Best Universities for International Students
What makes a school good for international students?
What makes a school's good for international students? Is there a list of the best universities for international students? Students from all around the world find the college application process difficult. There are a few additional, distinct challenges to consider if you want to enroll in an international school, especially one that is in the US:
Paying for your education. International students are not often eligible for many types of US financial aid, and US universities are well-known for their high tuition costs.
Finding an environment with your peers. While some students may not be concerned about finding a group of international classmates at a US school, many may feel more at ease in a classroom with a mix of domestic and international students. At these colleges, you might also discover extra resources, student organizations, and events dedicated to international students.
Achieving comfort and success in a very new environment. You might need specific social, academic, professional, and language support if you're an international student. It's wise to consider what support networks will ease your adjustment before moving to a foreign nation because doing so can be difficult.
Foreign students who want to go to US universities may have other worries, but the ones listed above are the most common.
The types of schools that handle these issues—the best universities for international students—will be listed in the following paragraphs. The institutions that offer considerable financial aid to foreign nationals, have a sizable proportion of international students, and give non-US citizens particular help will all be highlighted. Which type of school might suit you the best will depend on your personal priorities.
Best universities for international students in the USA
What are the best universities for international students in the USA? International students seeking higher education and job prospects frequently choose the United States. It can be challenging to select from the over 5,000 colleges and institutions in the United States that may be the best fit for you and that are prepared to address the unique difficulties and requirements of overseas students.
There are some general considerations that any international student may take into consideration before obtaining a degree, even though choosing an institution or college is a personal choice. Does this college provide the major or program I want to pursue? Will I be at ease on campus? What will the cost of my program be, and what professional options will I have once I graduate?
AdmissionSight has put together a list of some of the best universities for international students to help you in your search. This list is based on things like how easy it is to get into programs, how diverse the student body is, and other things. Check them out below:
University of California (UC) Schools
The University of California schools are among the best universities for international students. Many overseas students choose California each year because of the state's diversified campuses and well-funded programs. California is home to some of the best-rated public schools in the United States.
Some of the largest international student populations in the nation attend University of California – Berkeley, University of California – San Diego, and the University of California – Los Angeles, where they may take advantage of varied cultures and highly sought-after academic opportunities.
For those interested in those subjects, the University of California – San Diego offers outstanding medical and engineering programs, while the University of California – Berkeley boasts some of the greatest humanities and liberal arts programs available in the country.
Ivy League schools
Boundless would be negligent if they were to highlight the elite Ivy League and its eight internationally famous universities, which annually draw tens of thousands of students from all over the world. Many Ivy League schools have special programs to help international students get used to life in the United States of America, and they also work hard to help their alumni networks.
The only colleges in the nation that provide need-blind or full-need financial aid to international students include Princeton University in Princeton, New Jersey, Yale University in New Haven, Connecticut, and Harvard University in Cambridge, Massachusetts. As tuition support is frequently hard to come by for international students, this can help lessen the financial strain of expensive programs.
Rice University
A more "hands-on" education is something that Rice University, a private research university in Houston, Texas, can provide for international students. The 6:1 student-to-faculty ratio at Rice guarantees that overseas students will receive the individualized support and direction they require.
Rice University takes pride in maintaining a diverse campus, and as of 2021, about 25% of the school's enrollment was made up of international students. Because of its well-known applied sciences departments, Rice University is a great choice for international students who want to study in a smaller university setting.
University of Illinois
Over 10,000 foreign students attended the University of Illinois' numerous campuses last year, which are spread out across the state. The University of Illinois is one of the best universities for international students.
A selection of more than 80 undergraduate and 100 graduate degree programs are available to overseas students at the university's Chicago campus (University of Illinois – Chicago), which is recognized as one of the best universities in the United States.
International students who want to get relevant professional experience even before entering the workforce frequently choose UIC's engineering program since it is well-known throughout the U.S. The program offers guaranteed paid internships for students and lays a solid foundation for those who want to begin working in the United States after graduation.
Arizona State University
One of the largest concentrations of foreign students at a public university in the United States is Arizona State University. The research center at Arizona State University is one of the best in the country, and U.S. News & World Report even called it the most creative university in the country.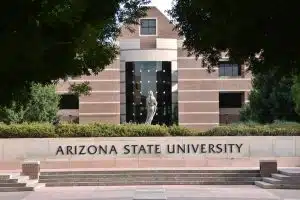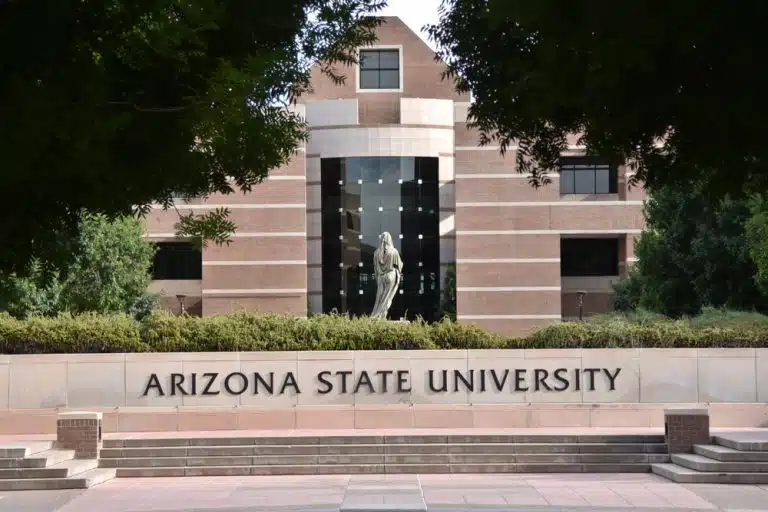 Arizona State University has a high acceptance rate of 88.4% for international students who want to apply to one of its 85 academic programs. It also creates an environment where students from different backgrounds feel welcome.
New York University
New York University, one of the most recognizable universities in the nation, is situated in the center of New York City. In addition to being situated in a bustling city, New York University has a lot to offer prospective international students seeking a prestigious education.
The majority of international students in the United States attend New York University, and the faculty frequently hosts activities and events to assist international students in adjusting to life in the country and forming a strong community on campus and off. In order to make the transition even easier, New York University provides immigration assistance to those in need of student visas. Additionally, certain immigrants may be qualified for grants and financial aid.
New York University is in a city that is full of business, culture, and the arts. It also has more than 400 academic programs that cover a wide range of subjects.
Northeastern University
International students interested in a range of courses and career pathways frequently choose Northeastern University in Boston, Massachusetts. Northeastern University is no exception to the rule that the number of current international students enrolled at a university is a good indicator of the resources offered to such students.
International students make up 20.5% of Northeastern's student body, and the institution welcomed new arrivals from 148 nations in 2021, making Northeastern University one of the best universities for international students.
Northeastern University is renowned for preparing its alumni for success and is situated in a classic New England metropolis. The university offers a wealth of internship possibilities, has a thriving postgraduate community, and esteemed business, marketing, and engineering departments. International students at Northeastern get personalized help from faculty in many areas, such as academic counseling, career development, financial aid, and more.
Admission requirements for international students
What are the requirements for international students? Depending on their home country and the institution they are applying to, international students must meet different admission standards. However, common requirements include the following:
Evidence of academic qualifications, such as transcripts and diplomas; evidence of financial assistance, such as bank statements and scholarship papers; a statement of purpose; letters of recommendation; payment of the application fee; passport and visa documentation
Before sending in their applications, international applicants should check with the school to see what they need to do to get in.
We, at AdmissionSight, can assist if your goal is to enroll in one of the best universities for international students but you're not sure how to go about doing it. With more than a decade of experience assisting kids like you in getting into the institutions of their dreams, AdmissionSight is a top college admission expert.
We concentrate on providing a variety of services that are all designed to assist students in polishing their applications so that admissions personnel will take notice of them. To arrange a free consultation to find out more about what we provide, get in touch with us right away. Book your consultation today!