The Best University Libraries In The US
What are university libraries?
College and university libraries, physically located on campuses and accessible online, contain a wealth of underutilized resources. Some of the best university libraries allow students to increase their knowledge, which can help them improve their grades and gain valuable insight into life after they graduate.
Students have the option of using the library's physical location or going online to search for books, magazines, databases, and academic journals. This resource is made available by colleges and universities. Learners can also benefit from librarians' assistance in navigating online databases, employing specialized search tools, and locating research materials.
In addition to books, many libraries provide patrons with other media such as films, music, television shows, and newspapers, most of which can be checked out on DVD or streamed online. Libraries also host special events regularly, some of which feature guest speakers and authors leading discussions on their respective works.
What is the role of a university library?
You will likely bring a personal computer to college, allowing you to connect to the internet and gain access to a wealth of information. Therefore, what is the role of a university library? Why are students encouraged to make use of them?
Not only are libraries important for students as they learn the ropes of college, but they also provide important support for student success. This is twofold: libraries are important for students, and they are important for student success. Students will be in a better position to produce successful projects and complete their coursework more efficiently if they learn how to use the library effectively.
1. Assists students in establishing themselves within the community of the university
To become well-known in the university's community, you must go where the people are. Typically, this would be the library. Students who are dedicated to their studies can frequently be seen in some of the best university libraries conducting research to write papers and work on projects.
Make a habit of going to the library consistently. It will be easier for other members of the university community to recognize you and provide you with more opportunities to make new friends.
2. Stimulates creative thought
You alter the configuration of your device whenever you visit the library. This has the potential to stimulate your creative process. In addition, the resources available at the library can stimulate your creative process as you peruse the works of other authors, page through magazines, or investigate art collections. Because originality is required for many college projects, students should use the library's collection of resources.
3. Instill the value of research
The library is the best place for students to learn how to conduct effective research. Students can get assistance from librarians in locating resources relevant to their projects. Once they have located relevant resources, librarians can guide students through properly citing them.
4. Provides a digital detox
The average college student today has access to an excessive amount of digital technology. This can lead to exhaustion from digital work. Because so many students now get their textbooks in digital format, they are rarely away from a screen. A break from technology in the form of a library visit is always an option.
The list of university libraries you can visit
The University of California, San Diego
The Geisel Library at the University of California, San Diego (UCSD) serves as the primary library for the university. UCSD gave the library the name Dr. Seuss in honor of the beloved author, and its contemporary architecture makes it look like a setting from one of his well-known books. If you go to UC San Diego at any point, you won't be able to avoid seeing this iconic structure.
The Dr. Seuss-inspired architecture and designated study areas aren't the only perks of using this library. You will have access to various technological tools in the Digital Media Lab, such as virtual reality (VR) headsets and 3D printers. You can, of course, use the standard printers and computers that are available.
Lehigh University
The Linderman Library at Lehigh University, affectionately referred to by students as "Lindy," instills a deep sense of school pride in them. Everyone who walks into Linderman's Grand Reading Room for the first time is taken aback by the enormous Victorian rotunda of stained glass in the room's center.
This is one of the best university libraries in the US because the gentle light illuminates the bookshelves. The light emanates from above and flows in all directions, resulting in an ideal environment for studying.
Materials from the Special Collections have been curated into interesting collections and are now on display. These collections cover various topics, from baseball and American innovation to "Imaginary Places." The library makes regular updates to its archives.
However, if you require access to any other type of technology, the E.W. Fairchild Martindale Library is likely to be the location that best meets your needs. Students can borrow various pieces of technology from the Media Collection, including portable public address (PA) systems, microphones, laptops, projectors, and more. Inside, a large number of seating and tables are ideal for academic pursuits.
You also have the option of taking a seat on one of the benches outside in the courtyard. You'll be able to enjoy your reading time surrounded by some interesting sculptures; after all, a contemporary library would be incomplete without contemporary art.
Baylor University
The Armstrong Browning Library and the Moody Memorial Library are two of Baylor's best university libraries, but they stand out more than others. The Armstrong Browning Library is the perfect place for you if the look of a shadowy academic institution immediately puts you in the mood to study. You have probably already got pictures of this library saved to one of your Pinterest boards. It has dark wood paneling and the world's largest collection of stained glass. Inside the library, you'll find quaint nooks ideal for concentrated study in peace.
Moody Memorial Library is an excellent option for those individuals who prefer to study in a more contemporary environment. Because this room has a great deal of natural light, it is an excellent choice for daytime study. Having said that, if you wish to, you are more than welcome to continue studying here well into the night.
Dartmouth
Even though Dartmouth has nine libraries, only one has been designated as a National Historical Landmark by the United States. There is a logic behind the university's promotion of the Baker-Berry Library. Its classical architectural style, complete with checker-board flooring, can make you feel like you're in a period drama. Additionally, it features a fresco titled "The Epic of American Civilization" that Jose Clemente Orozco painted.
The aesthetics of this library aren't the only reason this is considered one of the best university libraries. Within the confines of this library are several excellent study areas, ranging from the 1902 Room to the areas in between the stacks. Students are provided with a serene environment in which to study as well as access to specialized resources for research within the Rauner Special Collections Library.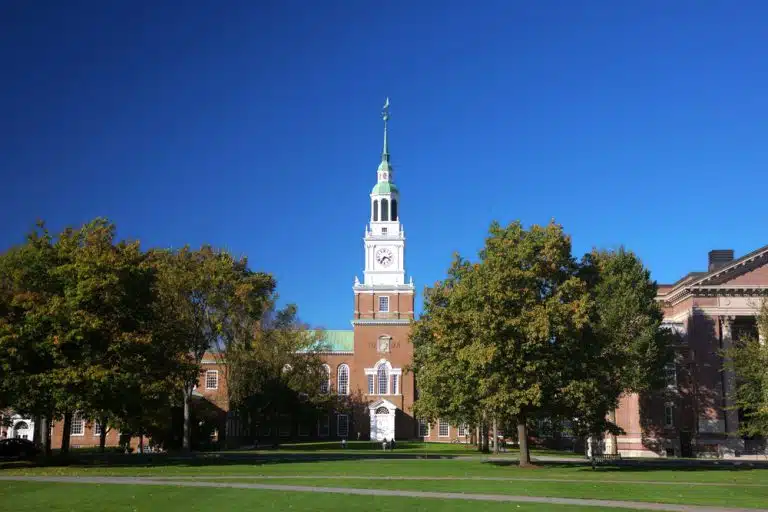 At Rauner, students can find and interact with manuscripts and documents in person. For example, you'll find a theatre collection comprising original American and British playbills, clippings, and memorabilia. This library even houses its materials in a giant glass cube, which makes its Special Collections feel extra special.
Harvard
With a whopping 70 libraries, Harvard easily takes the title of the world's largest academic library. This number may excite some people while completely overwhelming others.
If you highly value library aesthetics, other libraries can't beat the Neoclassical design of The Harry Elkins Widener Memorial Library. Popularly known as Widener Library, Harvard regards this as their flagship library. Widener boasts a pretty impressive collection of material, including a rare Gutenberg Bible. You can catch some of these gems on display in their frequent exhibitions.
Being around these near-sacred resources gives you an instant boost of study motivation. Though most of the study spaces here tend to be shared, you can always reserve a carrel for more privacy. You'll also find Lamont Library at Harvard. At Lamont Library, you can access a media lab equipped with the latest computers to assist in research and media post-production.
University of Washington
Suzzallo Library has dramatic high ceilings, with windows just as tall. This creates an atmosphere that works hand in hand with studying. This library also offers a variety of amenities, including computers with a range of software packages and a Media Arcade that supports audio and video content creation.
Odegaard Undergraduate Library rivals Suzzallo as one of the best university libraries. You can access technology loans and the Odegaard Writing and Research Center here. This library has wide, open spaces with various seating arrangements that facilitate individual and group study. Concerning the latter, you'll find learning pods with flat-screen TVs that support the collaboration of group presentations and other types of projects.
University of Chicago
Both students and the general public love the Joe and Rika Mansueto Library. This library is always seen on most lists of university libraries people would like to visit. The giant glass dome above its Grand Reading Room gives this library a modern, iconic flair. It also lets in tons of light, creating a bright, clean aesthetic.
Some might consider this library's underground storage its best feature, though. A robotic retrieval system fetches books and brings them to the librarians. Beyond all the flashy tech, this library has all the essential tech. You won't have any problem with Wifi or finding charging ports, and the desks have adjustable lighting too.
As you learn about the different university libraries, you might be interested in entering the university it is from. If you want the best guidance in entering university, then AdmissionSight can be of service to you. With 10 years of experience from the guidance of experts through college admissions, entering the university of your dreams is no longer a question. Set up with AdmissionSight an initial appointment today to learn more.