The Cal State Schools: What You Need To Know About Them
What is the CSU System
What exactly is the CSU System? Twenty-three campuses across the California State University system provide education at the undergraduate level. The following institutions make up the Cal state schools:
CSU Bakersfield
CSU Channel Islands
CSU Chico
CSU Dominguez Hills
CSU East Bay
CSU Fresno
CSU Fullerton
Cal Poly Humboldt
CSU Long Beach
CSU Los Angeles
Cal Maritime Academy
CSU Monterey Bay
CSU Northridge
Cal Poly Pomona
CSU Sacramento
CSU San Bernardino
San Diego State University
San Francisco State University
San Jose State University
Cal Poly San Luis Obispo
CSU San Marcos
Sonoma State University
CSU Stanislaus
The California State University system has approximately 477,000 students and 53,000 faculty and staff members. A single chancellor and a Board of Trustees of 25 oversee the administration of all of the California State Universities.
The California State Universities (CSUs) are all public colleges in California, and they have earned a reputation for providing students with access to higher education at more reasonable prices. Undergraduate students who are state residents will be required to pay a tuition fee of $7,550 for the academic year 2022-2023 across all 23 campuses.
It should come as no surprise that the tuition and other fees for students from other states are significantly higher. California State University does not provide an average annual tuition cost for students from other states. However, to cover their costs, they charge out-of-state students a rate of $396 per semester unit or $264 per quarter unit.
From San Diego in the south to Humboldt in the far north, Cal state schools can be found all over California. They range from quite small to quite large. The enrollment at Cal Maritime is the lowest at 880 students, while the enrollment at CSU Fullerton is the highest at 40,087 students.
There is a distinct emphasis at play at three of the CSU schools. Cal Maritime is a maritime academy that focuses on educating students in skills that can be utilized on the ocean or in industries related to the ocean. It is the only maritime academy on the west coast that is accredited to award degrees.
San Luis Obispo and Pomona, both part of the California State University system, are polytechnic colleges that focus on the natural and applied sciences. On the other hand, they provide degrees in fields such as the humanities and the social sciences.
Although the remaining campuses in the CSU system do not have a specialized mission, most of them report that business is one of the most popular majors among their students.
Additionally, many CSU campuses are home to many commuter and non-traditional students. Non-traditional students have taken over a year off between high school and college or attend school part-time. Commuter students live off campus and often with their families.
Non-traditional students attend school on a part-time basis. Students who attend schools where a large percentage of the student body commute to class frequently express dissatisfaction with the lack of school spirit and that it can be difficult to make friends for those who live off campus.
The California State University schools strive to lower the barriers to entry into higher education and meet their student body's requirements. Students frequently comment on how helpful their professors are.
Many Cal state schools provide honors programs for bright students interested in pursuing a more rigorous educational experience. In addition, to meet their students' requirements, a number of the CSUs have begun providing education via the internet and on their smaller branch campuses.
Why study at California State University
Affordable and high-quality education
One of the reasons why one should study at California State University is the quality of education. Regarding cost-effectiveness, no other university can compete with California State University.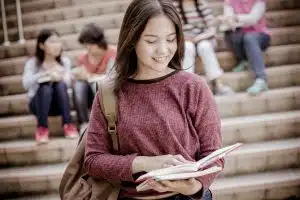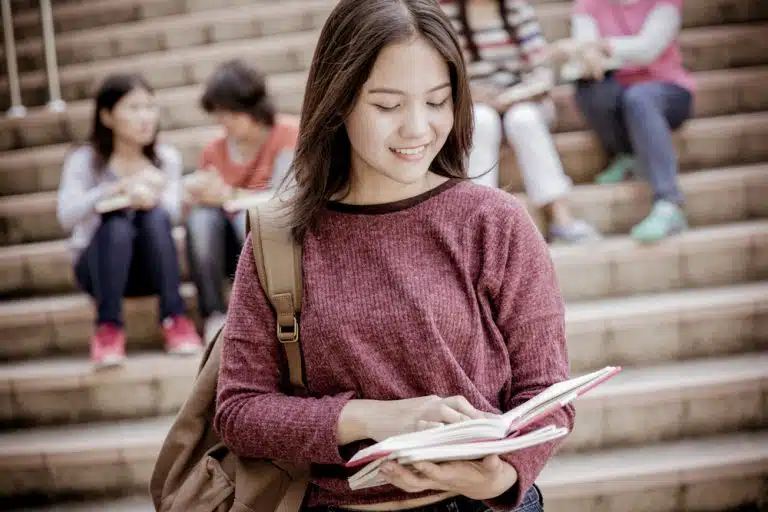 More than half of its graduates leave school without any student loan debt, making it one of the university systems in the country that consistently ranks among the least expensive in the country. All 23 campuses were ranked among the top 100 "Best Bang for the Buck" institutions in 2021 "according to Washington Monthly, universities in the Western United States.
In addition, the university makes available to its students a wide range of financial assistance programs, such as grants, scholarships, loans, fellowships, aid for veterans, and work-study, to ensure that they can pursue higher education. During the school year 2020-2021, 81 percent of students received some form of financial aid, with a total of $4.2 billion being distributed to 388,000 students receiving assistance.
Great social culture
A degree from CSU can transform the lives of students as well as those of their families. The "Social Mobility Index" on CollegeNET consistently places the Cal state schools in high-ranking positions year after year "—which determines the degree to which higher education institutions contribute to the solution of the declining levels of economic mobility in the United States.
This index examines factors such as the cost of attendance, the economic background of the student body, graduation rates, and early career salaries to determine whether or not schools are accepting economically disadvantaged students and placing them in jobs that pay well after graduation.
In 2021, campuses affiliated with California State University took up fifty percent of the top twenty positions, with six campuses ranking among the top ten.
The CSU plays a significant role in ensuring that individuals can move up the income ladder becomes clear. This is clear when considering that the CSU system is responsible for awarding more than half of California's bachelor's degrees and that nearly a third of CSU students are the first in their families to attend college.
A focus on the student's success
Because students' success is the primary focus of Graduation Initiative 2025 (GI2025), enrolling in a California State University program has never been a more exciting time. The ambitious program aims to increase the number of students who graduate from CSU while closing the opportunity and achievement gaps between different student groups.
Since it began in 2016, this initiative has assisted more students in completing their degree programs and graduating on time. Graduation rates have steadily climbed yearly, culminating in California State University's awarding of 132,617 degrees in 2020-21.
To eliminate equity gaps that affect underserved students, California State University (CSU) introduced five GI2025 priorities in the fall of 2021. These priorities are as follows: reengage and reenroll underserved students; expand credit opportunities with summer/intersession; ensure equitable access to digital degree planners; eliminate administrative barriers to graduation; promote equitable learning practices and reduce DFW (D-F-Withdrawal) rates; expand credit opportunities with summer/intersession; expand credit opportunities with summer/inter
Diverse student body
At Cal state schools, they do not discriminate against anyone. California State University is the most inclusive and diverse four-year university in the United States. It welcomes students of any race, ethnicity, age, gender, sexual orientation, ability, or socioeconomic background.
Almost half of the students enrolled at California State University are members of underrepresented minority groups; 21 of the university's 23 campuses are designated Hispanic-Serving Institutions. CSU is responsible for awarding more than half of the undergraduate degrees obtained by Latinx, African American, and Native American students in California.
The university recognizes the value of its diverse student body. It ensures that all students can achieve their academic goals by implementing systemwide initiatives such as the Educational Opportunity Program and GI2025, as well as campus-based programs, cultural centers, and anti-bias training.
World-class faculty
The faculty at CSU are among the most knowledgeable and accomplished in the field; as a result, they can provide students with a high-quality education while working to close equity gaps. They are the leaders who engage with students, meet their learning needs in the physical or virtual classroom, and prepare students for their future.
During the pandemic, CSU instructors demonstrated their creativity and dedication by developing inventive ways to transition to online learning. This allowed the university to continue operating normally.
Equally as important is California State University's (CSU) commitment to hiring a diverse faculty to reflect the student body's makeup. Recruiting and retaining professors of color who can provide students with a unique form of support and who can act as role models is an ongoing effort.
How to choose a California State University school for you
Choosing the right California State University (CSU) school is an important decision that requires careful consideration. Here are some factors to consider when choosing a CSU school:
Academic Programs: Look for the Cal state schools that offer the academic programs that interest you. Some schools are known for strong programs in areas such as engineering, business, or liberal arts.
Location: Consider the location of the CSU school. Do you prefer a more urban or suburban environment? Do you want to be near the beach, mountains, or other outdoor activities? Also, consider the distance from home and the cost of living in that area.
Campus Culture: All Cal state schools have their own campus culture and atmosphere. Research the student body, clubs and organizations, athletics, and campus events to understand the culture.
Cost and Financial Aid: Consider the cost of attendance and financial aid availability. Each CSU school has tuition and fees, and the cost of living can vary depending on location. Research scholarships and grants to see if you qualify for financial aid.
Faculty and Resources: Look into the faculty and resources available at each CSU school. Look for schools with faculty members who are experts in their fields and have a good track record of teaching and mentoring students. Also, consider the availability of research opportunities, internships, and other resources to support your academic and professional goals.
Size: Consider the size of the CSU school. Some students prefer larger schools with more resources, while others prefer smaller ones with a more intimate community.
Ultimately, the best way to choose from the Cal state schools is to visit the campus and talk to current students and faculty. This will give you a better sense of the campus culture and academic environment. Additionally, consider speaking with an academic advisor or a college counselor to help guide your decision-making process.
If you have already decided which CSU school you plan to attend, you should get admissions guidance from AdmissionSight. With guidance from AdmissionSight's top experts in college admission with 10 years of experience, you can get into any college you dream of. You can talk to our experts today to get started.