The Johns Hopkins Motto
Johns Hopkins Motto
Johns Hopkins University was established in 1876 in Baltimore, Maryland, and it was given its current name in honor of Johns Hopkins, who was an abolitionist, businessman, and philanthropist. It is recognized as the first university in the United States to focus on research, which is represented in the Johns Hopkins motto, "Veritas vos liberabit," which translates to "The truth shall make you free."
Embodying the Johns Hopkins motto, the goal of the institution is "the encouragement of research and the advancement of individual scholars, who by their excellence will advance the sciences they pursue, and the society in which they dwell."
We will get a deeper understanding of the Johns Hopkins motto, as well as the impact that it has on the institution as a whole and the students who call it home.
What is the Johns Hopkins University motto?
What is the Johns Hopkins University motto? The Johns Hopkins motto is "Veritas vos liberabit," which translates to "The truth shall make you free." The fundamental commitment of Johns Hopkins University to the production and distribution of new information sets it apart from other types of institutions in a number of ways, but none more so than the others.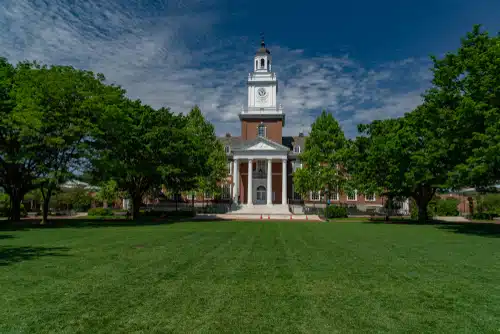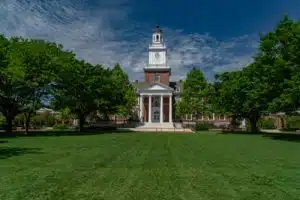 Other types of social institutions have the option of basing their identities on a particular concept, dogma, or doctrine. Nevertheless, Johns Hopkins University is an exception.
Johns Hopkins University, the first research university in the United States, holds the belief that a continual development in knowledge and truth is necessary for the maintenance of a healthy society. With the Johns Hopkins motto, the commitment to free expression that exists at Johns Hopkins serves as the foundation for this concept.
What is Johns Hopkins University's mission statement?
Knowing the ideals of the Johns Hopkins motto, what is Johns Hopkins University's mission statement? "To educate its students and cultivate their potential for lifelong learning, to foster independent and creative research, and to bring the benefits of discovery to the world" is the mission statement of Johns Hopkins University.
JHU is one of the most prestigious educational and research institutions in the entire world. Its distinguished academic offerings include but are not limited to, world-class courses in fields such as medicine and music, nursing and international affairs, biomedical engineering and public health, writing seminars and bioethics, and cosmology and astrophysics.
The tradition of excellence at Johns Hopkins University can be traced back to the founding of the university when luminaries such as Basil Gildersleeve in classics, James Sylvester in mathematics, Ira Remsen in chemistry, Henry Rowland in physics, and Henry Newell Martin in physiology taught the first generation of Johns Hopkins students, and when surgeon William Halsted, pathologist William Henry Welch, internist William Osler, and gynecologist Howard At
These intellectuals were instrumental in laying the framework for the myriad of capabilities that are embodied by the university as we know it today. The schools, divisions, and programs offered by JHU are currently the object of covetousness around the globe.
The idea of "selected excellence," an approach that suggests purposefulness, choice, and discipline, served as the foundation for the areas of distinction at Johns Hopkins University. In the next few years, when our schools and divisions will be determining the academic goals that we will be focusing on, we will need to remain faithful to these ideas.
In order to maintain the highest possible level of rigor in our pursuit of these principles, the decisions that Hopkins makes must, at the very beginning of the process, be informed by objective facts and solid analysis.
Over the course of the past few years, Johns Hopkins has made progress toward reaching this objective. JHU has improved the quality of academic decision-making by building methods to track the composition of our faculty, the profiles of our Ph.D. students, and their performance, as well as trends in our funded research. Every department at our university, as well as the schools that makeup Johns Hopkins University, is now periodically subjected to an external evaluation.
What is Johns Hopkins most known for?
Apart from the Johns Hopkins motto, what is Johns Hopkins most known for? The first president of Johns Hopkins University, Daniel Coit Gilman, was inaugurated in 1876, the same year that the university opened its doors to the general public.
The university was named after a benefactor from the state of Maryland who was dedicated to enhancing both public health and education. Johns Hopkins University is not only a pioneer in the field of medicine, but it is also a pioneer in the field of providing equity to historically excluded people.
In the final decades of the 19th century, this institution was a pioneer in opening the field of medicine to female students on an equal footing with male students.
Since 1979, Johns Hopkins has consistently received a significant amount of cash from the federal government for research. Johns Hopkins University is able to provide need-based financial support to any approved student who is in need of it, despite the fact that the costs associated with attending such a prominent university are extremely substantial. Following in the footsteps of so many of their contemporaries, a significant number of these pupils will eventually work to enhance the levels of education and public health enjoyed by residents of Baltimore, the United States, and the entire global community.
Additionally, Johns Hopkins University is routinely ranked among the best colleges in the United States. The admissions staff is searching for students who are not just academically gifted but who are also actively involved in the communities in which they live. The pre-med program at Hopkins is well regarded, and following graduation, a significant number of students continue their education at medical schools.
According to the post-graduate survey that JHU conducted in 2019, the acceptance rate for JHU graduates into medical schools was 80%. However, students also pursue a variety of different fields and specialties. According to the same survey, for instance, 97% of individuals who applied to law school were granted admission.
U.S. News has classified Hopkins' biomedical engineering department as the best of its kind, making it one of the most prestigious academic opportunities available at the university. In contrast to the application process for other majors, in which students apply to the university without having chosen a concentration, the Bachelor of Medical Engineering program requires students to submit their applications directly to the department. Students have the opportunity to enroll in the university without simultaneously enrolling in the BME program if they so choose.
The university's International Studies Program is another reason for its widespread renown. In addition to the well-known undergraduate concentration, Hopkins also offers other concurrent degree programs. In the five-year BA/MA program, students spend the first three years earning their bachelor's degree at the Homewood campus in Baltimore. Then, in the final two years of the program, they attend the Johns Hopkins School of Advanced International Studies (SAIS) in Washington, D.C. to earn their master's degree in International Relations. This is one of the available choices.
Additional campuses of SAIS can be found in Bologna, Italy, and Nanjing, China. There is also the BA/MA program, which lasts for five years and allows students to receive their education at both Hopkins and Science Po Paris in France.
The Peabody Conservatory may be found on the campus of Hopkins University, which is situated in close proximity to Homewood. Students have the opportunity to pursue a dual-degree program, which allows them to simultaneously receive a Bachelor of Arts or a Bachelor of Science from the Krieger School of Arts and Sciences or the Whiting School of Engineering, as well as a Bachelor of Music or a Bachelor of Fine Arts from Peabody. Both Peabody and one of the Homewood schools have separate admissions processes that students must go through in order to enroll there.
Students are afforded the luxury of flexibility, regardless of the field of study they choose, as there is no required curriculum in existence (there are some distribution requirements, however). Roughly sixty percent of students enrolled in undergraduate programs have either two majors or one major and one minor.
What kind of student is Johns Hopkins looking for?
With everything, there is to know about the ideals of the Johns Hopkins motto, what kind of student is Johns Hopkins looking for? Johns Hopkins University, which was the first university in the United States to be focused on research, maintains a strong connection to its origins. The ideal student at Hopkins is one who is driven by a strong enthusiasm for learning and exploring unexplored regions of the world.
At Johns Hopkins University, guided by the ideals of the Johns Hopkins motto, students are taught how to investigate the larger world that is all around them, regardless of where they came from.
The admissions process at Johns Hopkins University takes a holistic approach in order to locate candidates who are a good fit with the institution's guiding principles. Your academic record is, of course, taken into consideration as part of the admissions process at Johns Hopkins University, in addition to the other aspects of your history that are taken into consideration.
Students at Johns Hopkins come from a wide variety of backgrounds; nonetheless, they all hold certain core beliefs in common that motivate them to do well in their studies. Students at this famous university are encouraged to work together and build each other up, and these core values contribute to their overall success in achieving their common objectives.
Students at Johns Hopkins University are encouraged to think that nothing is impossible while they are there for their education. Students who are already comfortable diving headfirst into the unknown and courageously investigating everything the world has to offer will therefore find that they have a natural place in our program.
Collaboration serves as a driver of innovation at every level at Johns Hopkins University. This spirit of invention will propel you to the top of your field if you are naturally drawn to finding solutions to issues and thinking of them in novel ways. At this research-oriented educational establishment, each day begins with a fresh reminder for the student body to push themselves beyond their comfort zones and achieve more than they previously believed possible.
Students that are naturally inquisitive are naturally drawn to investigate the world around them and everything there is to discover within it. Students like these are the ones who do well academically at Johns Hopkins, and they are also the kind of students the university hopes to mold into well-respected professionals, living the true Johns Hopkins motto.
Students that have great aspirations will discover that they are drawn to the brilliance of Johns Hopkins University, and it is precisely these students who contribute to the institution's status as one of the nation's top-ranked educational institutions.
This type of diversified student body is what makes Johns Hopkins University such a successful research institution since it ensures that no two students will approach a difficult problem in exactly the same manner. The ideal student at Johns Hopkins is one who is not afraid to question not just themselves but also their peers in order to seek out new discoveries and investigate the world around them.
You will feel completely at home at Johns Hopkins University if you are someone who routinely challenges the boundaries of both your own thoughts and the conventional wisdom held by others.
Want to learn more about the Johns Hopkins motto? You've come to the right place. At AdmissionSight, we have over 10 years of experience guiding students through the competitive admissions process.
AdmissionSight can help you put your best foot forward when applying to college. Contact us today for more information on our services.