The Most Common Pre Med Majors
What is Pre Med?
What is pre med? People use the phrase "pre-med" to indicate that they plan to attend medical school and are enrolled in the courses required for admission. The majority of its users are college students. What are the most common pre med majors? Pre-med is only a word to let people know you have aspirations to become a doctor; there isn't really a "pre-med" major. You can major in Spanish and pre-med or in biology and pre-med, for example.
Students identify themselves as "pre-med" to inform others of their intended future path and confirm that they are registering for the proper courses to enter medical school. If you tell your advisor that you are a biology major, she will concentrate on making sure you finish all the requirements for that major, but if you tell her that you are a biology major and also pre-med, she will work with you to make sure you complete all the requirements for applying to medical school.
In a similar way, if you put "pre-med" on your job application, people who look at it will know that you want to become a doctor and may be more likely to give you a job in the medical field.
The most common majors for pre med
What are the most common majors for pre med? As you get ready to enter college, knowing that you want to be a doctor can be helpful. It provides you with direction and some specific objectives to meet. Pre-med is not a degree concentration; therefore, you must still choose a subject of study. Making that choice could seem difficult, but this summary by AdmissionSight can guide you in the right direction, check out the most common pre med majors below:
1. Biochemistry
This field explores the structure and function of biomolecules; it is essentially the chemistry of living things. Students benefit from this field's foundation by learning about intricate processes like metabolism. It may be helpful when you finish the requirements for medical school.
2. Science
Studying biology makes sense because it is the subject that underpins all medical practice. To fulfill the course requirements for medical schools, you must also take courses in this discipline. So only pursue a biology major if you have a genuine interest in it. There is no proof that concentrating on this scientific field would give you a competitive edge over other pre-med candidates.
3. Economics
Physicians can benefit greatly from understanding how individuals and organizations decide how to distribute resources. He continues by saying that acquiring a foundation in business subjects like economics and finance will aid students in better understanding the health insurance market, how to pay for administrative assistance, and other topics.
4. Sport Science
Students can learn about fundamental structures and how they work by studying exercise science. For individuals who want to work in orthopedic surgery or sports medicine, it's a very pertinent field.
5. Philosophy
Students will learn analytical and critical thinking skills through philosophy classes. These degree programs also place a strong emphasis on ethics, which is essential for aspiring doctors. The American Medical Association (AMA) actually lists nine medical ethics principles as being fundamental to the field.
6. Physics
Although it's simple to think of physics as a subject that affects things, it also has applications in medicine.
This discipline aids in our comprehension of various procedures and the application of theory to real-world situations, such as ultrasound and other imaging technologies. Even a reputable publication called Physics in Medicine exists.
7. Psychology
Psychology is strongly grounded in research and statistical analysis, but at its core, it is about people and how they behave, which is why it is one of the most common pre med majors. By studying this field, students can better understand people and gain crucial skills like empathy and communication.
8. Theology
Many diverse religious organizations place great importance on their spiritual traditions. A religious studies major can help you understand how patients' views vary and how that affects them, which is crucial for doctors. For instance, according to orthodox Judaism, electricity use is forbidden on holy days. That might make some treatment strategies more difficult.
9. Sociology
Sociology majors gain a foundational understanding of social structures and general human behavior. This foundation is crucial for doctors, which explains why it was included in the 2015 MCAT framework. Doctors must be able to comprehend and interact with a variety of patient demographics.
10. Spanish
According to the most recent data from the U.S. Census Bureau, roughly 18% of the country's population is Hispanic or Latino, and many of them probably speak Spanish as their mother tongue. According to research, communicating with patients in their native language enhances results. The proper student might find that majoring in Spanish is a wise decision.
Now that you already know the most common pre med majors, let's check out the best colleges for pre-med.
The best colleges for pre med
What are the best colleges for pre med? What are the most common pre med majors? Are you now interested in enrolling in a particular pre-med major? The college or university that you need to enroll in should be next on your list.
Here is the list of the schools that are known for being the best for pre med:
1. Harvard
According to the Office of Career Services at Harvard, 17% of any given class will apply to medical school—this is a sizable portion of the student body! 2013 saw a 93% acceptance rate for pre-med students with a GPA of 3.5 or better to medical schools, compared to an average acceptance rate of roughly 42%.
2. Johns Hopkins
Because Johns Hopkins is a well-known, highly regarded medical school and medical research institution, there are many chances for you to engage in both clinical and research settings. Due to the university's affiliation with one of the nation's greatest teaching hospitals, you can be certain that you will have access to a wealth of resources.
3. Stanford
Not only is Stanford a well-regarded university, but it also has a highly regarded medical school. Pre-med advisors are ready to talk about ideas, organize your coursework, assist you in visualizing your long-term goals, and provide you with possibilities for acquiring relevant experience. For undergraduate students, they also provide internship options, which can help you obtain clinical hours and excellent letters of recommendation.
4. Pennsylvania University
One of the top medical schools in the country, the Perelman School of Medicine at the University of Pennsylvania, offers a wealth of research opportunities. But don't just believe what I say! 72% of Penn students who applied to medical school in 2021 were accepted, which is significantly higher than the national average of 38% in that year.
5. Columbia
There is a top-five medical school in Columbia. This school offers the most common pre med majors. However, as undergrads, students are given a pre-med advisor and are required to go to instructional sessions organized by the Premedical Committee.
You will have plenty of opportunities to gain clinical and research experience thanks to Columbia's convenient New York City location, which also ensures easy access to various clinics and hospitals.
6. Duke
In addition to being among the top universities in the country, Duke has a strong pre-medical program. As soon as they set foot on campus, students are enrolled in the pre-med advising program, and they also have access to amazing options like study abroad programs focused on health and practical research opportunities.
7. University of Washington
You may have noted that the schools on the list up until this point have all been private institutions. The University of Washington, however, is not! Pre-med students gain a lot from UW's research and primary care capabilities, which make it one of the top public medical schools.
8. UNC Chapel Hill
Unfortunately, UNC doesn't keep detailed records of pre-med students' acceptance rates to medical schools. Given that UNC has a stellar reputation across several health professions for both undergraduate and graduate students, we can assume the number is pretty high.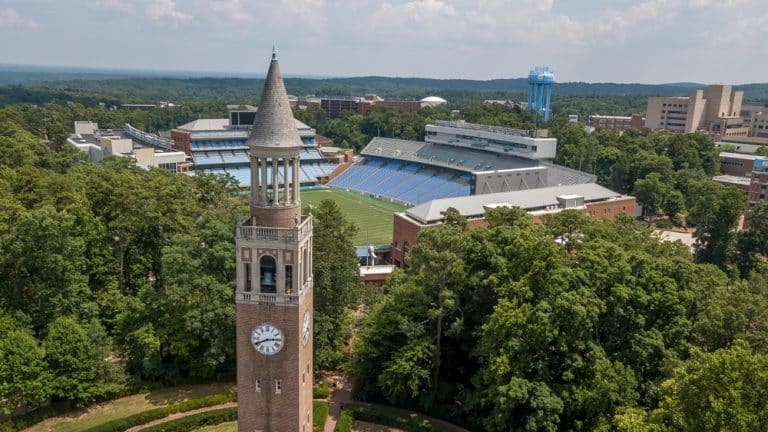 Additionally, they provide special programs that can help you stand out when you apply to medical schools (especially if you want to go into medical research).
9. Cornell
In 2016, 63% of all Cornell candidates were admitted into medical school, and an amazing 76% of pre-meds at Cornell with a GPA of 3.4 or better did as well. At Cornell, you'll be in excellent company if you decide to major in pre-medicine, because 17% of undergraduates there are considering a future in medicine.
10. Northwestern
Northwestern University has a top-20 medical school with a wealth of clinical and research opportunities. The fact that the institution is situated in a busy city helps. Unfortunately, there is no information available on Northwestern students' pre-med admittance rates to medical schools. However, Northwestern does release a list of medical schools where its graduates have been accepted in the previous five years, including prestigious institutions like Harvard and Columbia.
Whether you take up one of the most common pre med majors or not, to maximize their chances of admission, students who want to pursue a career in medicine must maintain a strong grade point average (GPA), particularly in the required courses, and perform well on the Medical College Admission Test (MCAT). Following that, there is no roadblock in the way.
Furthermore, AdmissionSight is available to assist you no matter which route you take. With regard to academic guidance, extracurricular activities, summer program applications, and college applications, we assist you as needed. Call us right away to schedule your consultation.