Know More About the Notre Dame MBA Program
Notre Dame University, located in Notre Dame, Indiana, is a distinguished private Catholic institution known for its academic excellence. Mendoza College of Business, named after the generous benefactors Tom and Kathy Mendoza, is renowned for its strong ethical emphasis and commitment to "Ask More of Business™." As part of Mendoza, the Notre Dame MBA program holds a distinguished position.
It is regarded for its well-rounded curriculum, a focus on innovation and entrepreneurship, and its goal of developing competent, ethical leaders. The program offers a transformative educational experience, blending core business skills with specialization tracks, ethical decision-making, and global immersion opportunities, preparing students to thrive in a complex and rapidly changing business landscape.
The significance of the Notre Dame MBA lies in its approach to education: it equips students with business acumen and fosters values of integrity, social responsibility, and a commitment to serving society.
Notre Dame University MBA Program Structure
Duration of the program
The Notre Dame University MBA program offers flexibility in terms of duration to meet diverse student needs. The traditional full-time MBA program typically spans two academic years (approximately 21 months), starting in August and ending in May of the second year. This structure allows students to undertake a summer internship between their first and second years.
Alternatively, Notre Dame also provides an accelerated one-year MBA program for individuals with a business background. This program starts in May and concludes the following May, offering a faster track to completing the MBA. The duration of the Executive MBA, designed for working professionals, is slightly longer, usually completed over 21 to 22 months, with classes held on alternating weekends.
Full-time and Executive MBA options
Notre Dame University's Mendoza College of Business provides full-time and executive MBA options, catering to different career stages and professional aspirations. The full-time MBA program, which can be completed in one or two years, is primarily designed for early to mid-career professionals seeking to enhance their business skills and leadership abilities.
The program offers a comprehensive curriculum, experiential learning opportunities, and specialization tracks to meet diverse career goals. In contrast, the Executive MBA is tailored for experienced professionals who want to earn an MBA without interrupting their careers. The program, spread over 21 to 22 months, includes rigorous coursework, leadership development, and a capstone project, all structured around a convenient schedule of alternating weekends.
This format enables students to immediately apply what they learn in their current roles while also preparing them for future career advancement. Both MBA options are committed to Notre Dame's core values, emphasizing ethical leadership, social responsibility, and a global perspective in business.
Immersions, study abroad opportunities, and internships
The Notre Dame MBA program strongly emphasizes experiential learning, providing immersive experiences that expose students to real-world business challenges. These immersions might include intense, week-long projects with companies, non-profit organizations, or government entities where students collaborate to solve a specific business problem.
Additionally, Notre Dame understands the value of an international perspective in today's globalized business environment. As such, it offers international study opportunities, known as 'Interterm Intensives,' where students travel to various countries, visits multinational corporations, meet with executives, and gain a deeper understanding of international business practices and cultures.
The program also encourages internships, particularly between the first and second years of the full-time MBA program. Internships are crucial to the learning experience, allowing students to apply classroom learning to real-world scenarios, gain practical business skills, and build professional networks. The university's career services department significantly connects students with internship opportunities that match their career aspirations.
Notre Dame Curriculum
Core business classes
The core business classes in the Notre Dame MBA program lay the foundational knowledge necessary for students to succeed in the dynamic world of business. These classes cover key aspects of business administration, providing a broad understanding of management principles, strategic thinking, and leadership skills.
Core subjects include Financial Accounting, Managerial Economics, Business Analytics, Corporate Finance, Marketing Management, Strategic Management, Operations Management, and Ethical Leadership. These courses aim to equip students with critical thinking abilities and practical skills to analyze complex business problems, make informed decisions, and lead effectively in diverse and dynamic environments.
The program also emphasizes the importance of ethical decision-making and responsible leadership in every course, aligning with Notre Dame's commitment to preparing students for professional success and service to society.
Specialization and concentration areas
The program offers specialization and concentration areas to cater to various interests and career goals. These specializations allow students to tailor their MBA experience, building deeper expertise in particular business areas. Among the specializations are Marketing, Finance, Consulting, Business Analytics, and Innovation & Entrepreneurship.
Each of these areas allows students to delve into specific business disciplines, providing a comprehensive understanding of the selected field. For example, the marketing specialization covers topics like consumer behavior, brand management, and digital marketing, while the finance specialization includes courses on investment management, corporate finance, and financial markets.
These specializations allow students to customize their learning experience and equip them with specialized skills and knowledge that are highly sought after in today's competitive job market.
Integrative and experiential learning approaches
The Notre Dame MBA program is committed to an integrative and experiential learning approach that seeks to connect theoretical knowledge with practical application, bridging the gap between the classroom and the real world of business. Integrative learning comes into play as the Notre Dame curriculum encourages students to connect insights from various business disciplines, facilitating a holistic understanding of business strategy and management.
This approach is particularly evident in case study analyses, interdisciplinary projects, and strategic capstone courses. On the other hand, experiential learning is a significant component of the program, with opportunities for students to apply their knowledge in real-world contexts. This includes internships, field projects, case competitions, and immersive experiences like the international 'Interterm Intensives.'
Such experiences provide students with practical exposure to business challenges, allowing them to hone their problem-solving skills, leadership abilities, and teamwork, thereby fostering a more profound understanding of the dynamics of the business world
Notre Dame Admission Requirements
Application process
The application process for the Notre Dame MBA program is designed to assess the applicant's academic potential, leadership qualities, and career goals. Interested candidates must complete an online application, which includes basic personal information, educational history, and employment details.
Applicants must submit their official academic transcripts from all post-secondary institutions attended. The process also requires GMAT or GRE scores, although some candidates may be eligible for a test waiver based on specific criteria. Two letters of recommendation, preferably from professional or academic references, are required to provide insights into the applicant's abilities and potential.
Applicants must also submit a professional resume and essays detailing their career goals and reasons for pursuing an MBA at Notre Dame. Selected candidates will be invited for an interview, which could be conducted either in person or virtually.
International applicants may have additional requirements, such as proof of English language proficiency. It's also worth noting that the program has several application rounds, allowing flexibility for applicants when they choose to apply.
GMAT/GRE scores
The program requires applicants to submit scores from the Graduate Management Admission Test (GMAT) or the Graduate Record Examinations (GRE) as part of the application process. These standardized tests measure an applicant's readiness for graduate-level academic work, assessing analytical writing, quantitative, verbal, and integrated reasoning skills.
While the program does not specify a minimum GMAT or GRE score for admission, competitive scores can enhance an applicant's candidacy. It's important to note that the program takes a holistic approach to admissions, considering all application elements, including academic record, professional experience, leadership potential, and personal qualities.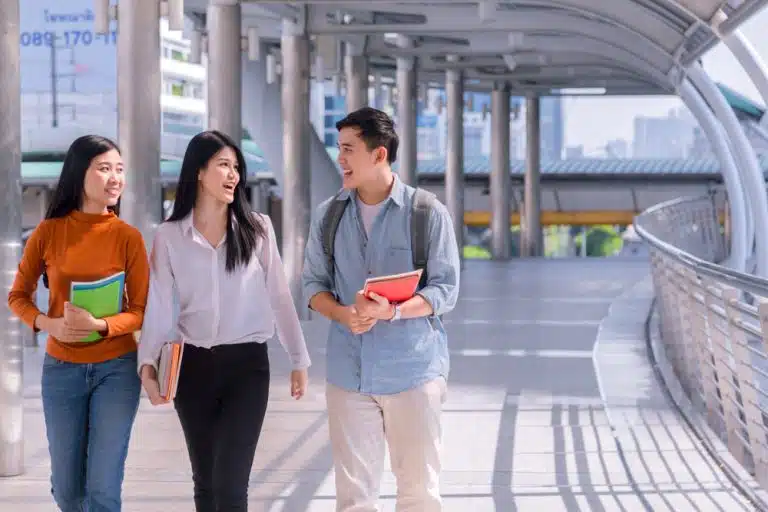 In certain cases, applicants may be eligible for a test waiver based on professional work experience, prior academic performance, or other specific criteria.
Essays and interviews
Essays and interviews are crucial components of the application process for the Notre Dame MBA program, providing an opportunity for applicants to share their stories, career goals, and motivations for pursuing an MBA. The essays typically address personal and professional achievements, career aspirations, and reasons for choosing Notre Dame's MBA program.
The essays showcase an applicant's writing and communication skills and offer insights into their personality, values, and potential to contribute to the Notre Dame community. After the initial application review, selected candidates are invited for an interview, which may be in person or virtually.
The interview allows the Notre Dame Admissions Committee to better get to know the applicant and assess qualities like leadership potential, problem-solving skills, and cultural fit with the Notre Dame community. It's also an excellent opportunity for applicants to ask questions and learn more about the program. The essays and interviews are integral to the holistic admissions process, enabling the committee to assess each applicant's overall fit and potential beyond their academic and professional credentials.
Previous work experience
Previous work experience plays a significant role in the admissions process for the program. The program values the diverse perspectives and practical insights experienced professionals bring to the classroom. While the program does not stipulate a specific number of years of work experience for admission, most admitted students typically have several years of professional experience.
This experience could be in any field, and the admissions committee looks for evidence of progressive responsibility, leadership potential, and significant achievements. Furthermore, the professional experiences of applicants contribute to the richness of class discussions, case analyses, and group projects, enhancing the overall learning environment.
However, the admissions committee takes a holistic approach to admissions, considering all aspects of an application, and outstanding candidates with less work experience but strong academic credentials and leadership potential may also be considered.
International student requirements
International students are warmly welcomed in the Notre Dame MBA program, and they bring diverse cultural perspectives that enrich the learning environment. There are, however, a few additional requirements for international applicants. Apart from the standard application requirements, international students whose native language is not English must demonstrate English language proficiency.
This can usually be done through the Test of English as a Foreign Language (TOEFL), the International English Language Testing System (IELTS), or the Duolingo English Test (DET). However, this requirement may be waived for those who have completed a degree in a country where English is the primary language of instruction.
Furthermore, upon admission, international students must provide financial documentation showing that they have sufficient funds to cover their educational and living expenses. This is necessary to secure a student visa for studying in the United States. The university supports international students throughout this process, helping to facilitate a smooth transition to life and study at Notre Dame.
Notre Dame Financial Aid and Scholarships
Overview of tuition and associated costs
The Notre Dame MBA program is a significant investment in your future, with costs that include tuition, fees, and living expenses. The exact tuition and fees may have changed, so checking the university's official website for the most current information is advisable.
However, the program's cost can generally be broken down into tuition, which covers instruction and some student services, and fees, which may include technology services, health services, and other administrative costs. Additional costs include books, supplies, housing, food, and personal expenses.
The costs may differ if you're considering the one-year or executive MBA options. It's also important to note that tuition and costs are typically subject to change annually. Despite these costs, the program is considered a valuable investment, given its potential to enhance career opportunities and earning potential. Notre Dame Financial aid and scholarships are also available to help offset these costs.
Available scholarships, grants, and fellowships
The Notre Dame MBA program is committed to making the program accessible to all admitted students. It offers a variety of scholarships, grants, and fellowships to assist in funding the MBA. Scholarships are typically awarded based on merit and reflect a candidate's academic achievements, professional accomplishments, leadership potential, and other unique attributes.
These scholarships do not require a separate application; all admitted students are automatically considered. The program also offers several fellowships, which may include a full or partial tuition waiver along with a stipend. These often involve responsibilities such as research assistance or other forms of contribution to the college community.
Furthermore, there may also be specific scholarships or grants for underrepresented groups or individuals with particular career goals. Applicants are encouraged to explore all these options and consider external scholarship resources to help fund their MBA education.
Student loan options
Student loans can be a viable option for students in the program who need additional financial assistance beyond scholarships, grants, and fellowships. Both federal and private student loans are available. U.S. citizens and permanent residents may be eligible for federal student loans, which often have relatively low-interest rates and offer flexible repayment plans.
The U.S. Department of Education administers these loans and requires the completion of the Free Application for Federal Student Aid (FAFSA). Private student loans are also an option and are available from various banks, credit unions, and other lending institutions.
These loans' terms and interest rates can vary widely, so comparing options is crucial. International students, who typically are not eligible for U.S. federal loans, may also consider private loans, some of which are available to international students with a U.S. co-signer. The financial aid office at Notre Dame University guides students in navigating their loan options.
Now that you have an idea of the Notre Dame MBA, if you are still planning your college admission, you should get guidance from AdmissionSight. With guidance from AdmissionSight's top experts in college admission with 10 years of experience, you can get into any college you dream of. You can talk to our experts today to get started.