The Summer Enrichment at Dartmouth (SEAD) Program
In rural communities, the path to college can be challenging, with approximately 80% of residents opting out of higher education (NPR). Dartmouth's Strengthening Educational Access with Dartmouth (SEAD) program stands as a beacon of change, working diligently to break down barriers and empower high-potential youth from under-resourced communities in the Upper Valley.
SEAD Scholars: A Journey to Success
SEAD Scholars constitute a dynamic cohort of motivated students carefully selected from diverse backgrounds across the Upper Valley. Their transformative journey unfolds within the framework of a comprehensive four-year program, seamlessly integrating academic and social enrichment initiatives.
This strategic combination aims to ensure success throughout high school and lay a solid foundation for continued achievement beyond graduation. In essence, SEAD Scholars embark on a trajectory transcending traditional barriers, fostering an environment where potential turns into lasting success.
The SEAD Model
1. Immersive Summer Sessions
The cornerstone of SEAD's approach is the immersive summer session. During a week on Dartmouth's campus, scholars engage in community building, dynamic courses, and enrichment activities. This intensive experience fosters a sense of belonging and lays the foundation for academic and personal growth.
2. Academic Year Curriculum
Junior and Senior years of high school see scholars benefitting from a carefully designed curriculum. Dartmouth undergraduates, trained to guide and mentor, provide after-school programming, day-long retreats, and college site visits. This ongoing support ensures weekly engagement, academic enrichment, and targeted skills-building, preparing scholars for the challenges of college.
3. College Transition and Persistence Support
SEAD's commitment extends beyond high school graduation. The program continues to support scholars through college transition and persistence. Coaching, scaffolded leadership opportunities, and connections to campus resources at their respective higher education institutions create a supportive network for sustained success.
4. Impact and Opportunity
Dartmouth's SEAD program goes beyond traditional models, offering a unique opportunity for collaboration between undergraduate students and first-generation and low-income high school students in Vermont and New Hampshire. This collaborative learning approach capitalizes on individual strengths and builds a continuum of support for a comprehensive, high-impact strategy toward achieving college success.
SEAD is not just a program; it's a transformative journey that propels students from under-resourced communities toward their college dreams. By breaking down barriers and fostering a supportive community, Dartmouth's SEAD program is changing the narrative, one scholar at a time.
Student Opportunities with SEAD
Dartmouth College offers a range of opportunities for students to engage with the Strengthening Educational Access with Dartmouth (SEAD) program. Whether you're passionate about year-round engagement or seeking a short-term commitment, there's a role for you to make a meaningful impact.
Who can participate: ALL students at Dartmouth on campus for at least two terms during the academic year.
Time commitment: 3-4 hours per week, during the 2A/3B time slot.
When: Throughout the academic year (Fall-Winter-Spring).
Ideal for: Students with a keen interest in education and teaching, those who enjoy interacting with a fun-loving cohort, and individuals seeking a sustained, long-term mentoring opportunity with significant impact.
If you want to be part of a transformative educational journey and have the time to spare during the academic year, consider joining as an Educational Access Advisor (EAA). Your commitment can make a lasting difference for first-generation, low-income high school students.
Summer Opportunities: Summer Staff and Sophomore Mentors
SEAD Summer Overview: A live-in educational experience for one week at the end of June, introducing SEAD Scholars to the college experience.
Option 1: Paid Summer Staff
Eligibility: Freshmen, Juniors, and Seniors.
Time commitment: Paid $1000 (plus room and board) for a full-time commitment over 9 days.
When: 1 week in late June on-campus in Wheeler dorm.
This option is ideal for individuals passionate about profoundly impacting the lives of high school scholars, especially those who would be the first in their family to attend college.
If you're not taking classes, can commit to the whole week, value setting boundaries, and seek powerful and lasting relationships with high school scholars, this is an opportunity to dive deep into educational access alongside your Dartmouth peers and get paid to do it!
Option 2: Sophomore Summer Mentors
Eligibility: Sophomores only.
Time commitment: 1 hour per day for 4 days (4-6 hours total).
When: 1 hour each day over the 5 weekdays during SEAD Summer in late June. Mentoring happens in the evening to accommodate course schedules.
This option is ideal for sophomores taking classes who resonate with SEAD's mission and want to contribute. If you have a knack for writing and are looking for short-term, one-on-one engagement to dip your toes into the Summer Enrichment at Dartmouth waters, this is the perfect opportunity for you.
In conclusion, Dartmouth's SEAD program offers diverse avenues for students to contribute to the educational journey of high-potential youth from under-resourced communities. Whether you're drawn to year-round mentoring or a short-term immersive experience, there's a role that aligns with your interests and availability.
Program Breakdown
For those contemplating participation in SEAD, understanding the transformative nature of the program is key. What sets it apart, and how does it pave the way for success?
Let's delve into the intricacies of the SEAD program by examining its four foundational components, offering insight into how each contributes to unlocking your potential and fostering both academic and personal growth.
Academic Enrichment
At the core of the SEAD program lies a strong commitment to academic excellence. This isn't your typical summer review of studies; instead, it's an immersive experience in a challenging academic curriculum designed to stimulate and enhance your intellectual abilities.
The subjects covered are diverse, spanning the entire academic spectrum. Whether navigating the precision of mathematics and sciences or exploring the expansive realms of humanities and arts, SEAD ensures a comprehensive and enriching educational journey.
This academic focus isn't just about filling your head with facts; it's about developing critical thinking skills, encouraging curiosity, and fostering a love for learning.
The SEAD program recognizes that actual academic growth goes beyond memorization — it involves engaging with subjects in a way that sparks creativity and a deeper understanding of the world around you.
Moreover, the broad range of subjects reflects the program's commitment to catering to different interests and learning styles.
Whether you find joy in unraveling the complexities of equations or exploring the nuances of literature and art, Summer Enrichment at Dartmouth's academic enrichment ensures a well-rounded experience that prepares you for the challenges and opportunities in your educational journey.
SEAD Eligibility
To be eligible for SEAD as a sophomore in high school at one of our three participating local high schools, your child must meet the following criteria:
Academic Motivation:
Not failing any classes
Demonstrates a solid record of attendance and engagement
Attendance Requirement:
Can attend both school year and summer programming
First-Generation or Low-Income Status:
Will be the first in the family to participate in a four-year college
Qualifies as "low-income"
If you are academically motivated, can commit to both school year and summer activities, and fit the first-generation or low-income criteria, SEAD might be the perfect fit for you. This program offers a unique opportunity for you to: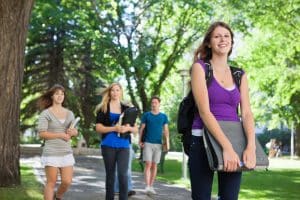 Get a head-start on the school year
Join a cohort of students equally motivated to go to college
Meet Dartmouth College role models
Be the first in their family to attend and graduate from college
Achieve their wildest dreams!
Why SEAD Academic Enrichment Matters to You
You're not here to merely acquire knowledge but to sharpen your intellectual sword. The SEAD academic curriculum, led by Dartmouth faculty and experienced educators, is carefully curated to push your boundaries. You'll tackle complex concepts, engage in critical thinking, and experience the thrill of intellectual discovery.
But it's not just about acquiring knowledge in isolation; it's about how you apply it. SEAD encourages you to embrace intellectual curiosity, nurturing your ability to analyze, synthesize, and communicate your ideas effectively. These skills are vital in your academic journey and will serve you well throughout your life.
Personal Development: Cultivating Skills for Life
SEAD goes beyond the classroom. It recognizes that true success isn't solely determined by academic prowess. Personal development is the second pillar that propels you towards excellence. Through a series of engaging workshops, you'll have the opportunity to enhance essential soft skills that extend far beyond the confines of academia.
Why SEAD Personal Development Matters to You
Imagine stepping into the world with the confidence of a leader, a public speaker's eloquence, and a seasoned professional's time management skills. SEAD's personal development workshops aim to make this vision your reality.
Leadership skills will empower you to take charge of your future, whether in the classroom, on the sports field, or in your career. Public speaking abilities will enable you to articulate your thoughts clearly and persuasively, which is an essential tool for any endeavor. And time management? It's the key to balancing your academic pursuits, personal life, and future aspirations.
In essence, the Summer Enrichment at Dartmouth program is sculpting you into a well-rounded individual who can navigate life's challenges with grace and poise.
Mentorship and Networking: Building Bridges to Success
SEAD recognizes the power of guidance and connections. Mentorship is the third pillar, and it's at the heart of the program. Here, Dartmouth College students, alumni, and faculty step in as your mentors, offering academic advice, career guidance, and the emotional support you need to thrive.
Why SEAD Mentorship and Networking Matter to You
You are not alone on your journey. The Summer Enrichment at Dartmouth program surrounds you with mentors who have walked the path you're embarking on. They've experienced challenges, overcome obstacles, and reached remarkable heights. They're here to guide you, sharing their wisdom and insights.
Your mentors aren't just advisors; they're your partners in success. They'll help you navigate the complexities of academia, offering strategies to excel in your coursework. They'll guide potential career paths, helping you map out your future. And most importantly, they'll be your pillars of support, offering encouragement during moments of doubt and celebrating your achievements.
Networking is another invaluable asset Summer Enrichment at Dartmouth provides. You'll have the opportunity to connect with industry professionals and academics, expanding your horizons and opening doors to future opportunities. These connections can be instrumental in shaping your academic and professional journey.
Extracurricular Activities: Fostering Community and Well-Rounded Growth
SEAD acknowledges that a holistic education extends beyond books and lectures. The fourth pillar, extracurricular activities, adds a dynamic layer to your experience. From team sports to art projects, these activities are thoughtfully designed to enrich your personal journey and foster a sense of community.
Why SEAD Extracurricular Activities Matter to You
Imagine the exhilaration of working in a team, the joy of expressing yourself through art, or the thrill of a friendly competition on the sports field. SEAD's extracurricular offerings aim to bring these experiences to life.
Team sports teach you collaboration, communication, and the importance of working together to achieve a common goal. Art projects provide a canvas for self-expression, allowing you to explore creativity. These activities are not just about skill development but personal growth, teamwork, and the bonds you form with your peers.
Moreover, extracurricular activities create a vibrant community within the Summer Enrichment at Dartmouth program. You'll forge friendships, share experiences, and create memories that will last a lifetime. This sense of belonging and camaraderie is vital to the SEAD experience.
Unlocking Your Full Potential
As you embark on your SEAD journey, remember that these four pillars – Academic Enrichment, Personal Development, Mentorship and Networking, and Extracurricular Activities – are your scaffolding to success. They are designed to propel you toward academic excellence, personal growth, and a future filled with opportunities.
SEAD believes in you, your potential, and your dreams. It believes in your capacity to rise above challenges and carve a path toward a brighter future. This program isn't just about where you come from; it's about where you're headed. SEAD is here to guide you every step of the way, empowering you to become a catalyst for change in your own life and within your community.
So, as you prepare to embark on this transformative journey, embrace every aspect of the SEAD experience. Let the academic enrichment challenge your intellect, the personal development workshops refine your skills, the mentorship and networking opportunities broaden your horizons, and the extracurricular activities enrich your personal growth.
Your potential is boundless, and SEAD is your key to unlocking it. Welcome to a summer of growth, learning, and endless possibilities. Your journey begins here.
What commitments must I fulfill if accepted into the SEAD program?
SEAD, a tuition-free academic enrichment initiative, involves several commitments for successful participation. The program comprises four summer institutes, quarterly immersion days, and a comprehensive school-year program spanning 25 Tuesdays throughout high school, with biweekly sessions during the first two years of college, aligned with the SEAD Scholar's availability.
Students join the program the summer before 11th grade and complete it upon persisting throughout the first two years of college.
Scholars must consistently attend all Summer Enrichment at Dartmouth programming to remain active in the program. Furthermore, they are expected to uphold "academic motivation," ensuring the passing of classes for the remainder of high school and during the initial years of college.
What does the SEAD schedule look like?
During the high school academic year, SEAD sessions take place for two hours on Tuesday afternoons immediately after school.
A group of Dartmouth Student Educational Access Advisors (EAAs) will convene with Scholars at their respective high schools on Tuesday afternoons.
The SEAD partner schools and mentoring session times are as follows:
Oxbow High School | Bradford, VT | 2:30 pm – 4:30 pm
Lebanon High School | Lebanon, NH | 2:45 pm – 4:45 pm
Stevens High School | Claremont, NH | 2:15 pm – 4:15 pm
Weekend immersion days occur on one Saturday each quarter, from approximately 8:00 am to 5:00 pm. The summer institutes are overnight experiences of varying durations (3-7 days) held at Dartmouth College at the end of June.
After the SEAD scholar transitions to college, mentoring sessions will shift to digital platforms with Dartmouth students biweekly to align with the SEAD Scholar's class schedule.
Is there transportation available for the summer institutes and immersion days?
Certainly. All Scholars receive FREE transportation to and from their respective high schools for the summer institutes and quarterly weekend immersion days. Parents/Guardians are responsible for coordinating transportation to and from the high schools at the end of these immersion days, institutes, and weekly meetings.
Are meals included? How about any fees for activities?
Absolutely. SEAD covers the costs of breakfast, lunch, dinner, and snacks during the summer institute and other programming. Additionally, all expenses associated with outings, events, or activities are covered by SEAD.
Does acceptance into SEAD guarantee admission to Dartmouth College for my scholar?
Not necessarily. SEAD is an academic enrichment program coordinated by Dartmouth College and the Dartmouth Center for Social Impact (DCSI). It operates independently of the Dartmouth College admissions process.
Although SEAD Scholars are certainly welcome to apply to Dartmouth College, acceptance into SEAD does not guarantee admission into the college. The program is designed to enhance academic experiences, and while aligned with Dartmouth's values, it is distinct from the college's admission procedures.
If you're set on getting into a world-class college but aren't sure how to make it happen, we can help! AdmissionSight is a leading college entrance expert with over a decade of experience helping students just like you get into the schools of their dreams.
At AdmissionSight, we focus on offering a wide range of services, all aimed at helping students perfect their applications to catch the attention of admissions officers. Contact us today to schedule a free consultation and learn more about what we offer.