The Things to Consider When Picking a College
What are the things to consider when picking a college?
What are the things to consider when picking a college? The search for a college may appear to be overwhelming. It involves leaving at an absurdly early hour, viewing campuses with overly enthusiastic tour guides, asking a gazillion questions, and attempting to digest the voluminous information about each school.
Regardless, there is a tremendous sense of accomplishment when you are able to confidently select the college that will serve as your new home after all the miles traveled. See the factors to take into account when choosing a college on this list prepared by AdmissionSight.
Distance from home and location
Choosing your school should go beyond the campus, whether it's a little school in the center of a big city or a university that occupies most of a small town. You should conduct a study to learn about the communities and campuses, both large and small, as each has advantages.
How far the college is from home is another factor to take into account. While leaving your hometown can be wonderful, remember to consider accessibility and transportation for occasions like holidays when you want to be with your family. Staying close to home is also acceptable. Many times, even when home is only a few miles away, students feel far enough away from it since they are so busy with school and on-campus activities.
Fees and costs
In most cases, especially with reference to private institutions, a student will not pay the full sticker price listed on a school. Inquire about the availability of financial aid and scholarships at the colleges and universities you are considering. Local scholarships and renewable scholarships are also widely available.
Class size
Learning is significantly impacted by class size. One of the things to consider when picking a college is class size. There is a contrast between large lectures with hundreds of students and smaller, discussion-based classes. Think carefully about your preferred learning style as well as the relationship you wish to build with your lecturers. Larger classes are frequently taught by teaching assistants in larger schools.
Minors and majors
Because every school has a unique curriculum structure, think about what you want to accomplish over the next four years. Do you want highly specialized courses in a particular field or a broader range of experiences? You should also look into the majors, minors, and concentrations that each school you're thinking about offers.
Extracurricular and athletic activities
One of the things to consider when picking a college is if your hobbies, interests, etc. are compatible. Are you into athletics, music, theater, or student government? Whatever you intend to do, college is a time to discover new interests and advance cherished pastimes. The ideal school for you will offer you the chance to accomplish both.
Campus life
The tone of your experience will be determined by the school spirit and general atmosphere. Ask pertinent inquiries, such as "How many students reside on campus" or "What are my options for entertainment on the weekends?" You can have a better understanding of college life by asking these questions. Asking particular questions about the residence halls or first-year programs will give you a solid idea of the level of student involvement, as each institution has its own residence life program.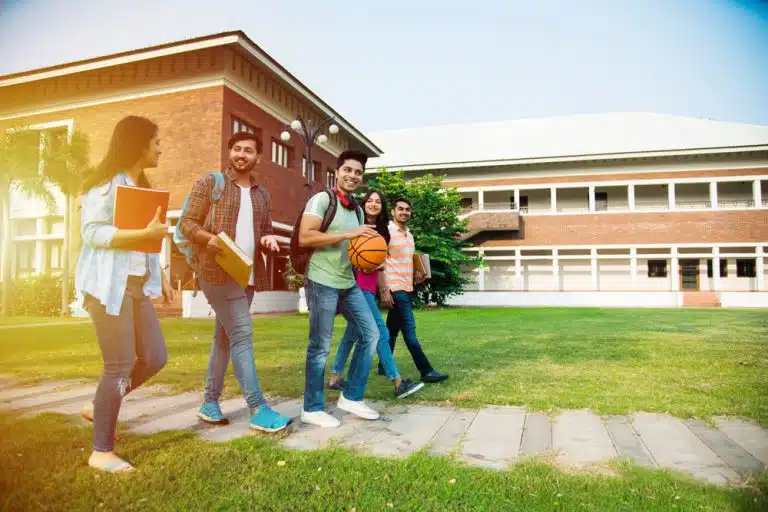 Academic and career support services
What kind of education you will receive greatly depends on how a college supports students with their academics. While other schools provide possibilities like free tutoring groups and writing assistance, some schools provide little support and strive to promote an environment of independence. Knowing the school's placement rates for employment and graduate programs is also important to take into account because it provides information about the effectiveness and breadth of each program.
Security
The safety of the neighborhood is just as important to consider when choosing a school as the safety and policies on campus. What kind of security precautions is the school putting in place? What kind of neighborhood is this? Understanding the school's rules and procedures with regard to student safety will help you decide if it is the right match.
Possibilities for internships
Possibilities for internships are one of the things to consider when picking a college. An excellent method to find your hobbies and build your network is to gain experience in the sector you are interested in. This experience will also be helpful for future employment. Examine the school's possibilities for research, study abroad, internships, and other experiential learning.
Viewpoint
The most important factor to consider when selecting a college is how it makes you feel. The school you choose should feel like home, a place where you can grow and develop not only academically but in all facets of life, regardless of all the programs, opportunities, and scholarships. By giving you the skills you'll need for the rest of your life, the proper institution will cultivate an environment that will both challenge you and assist you in realizing your objectives and goals.
Picking a college major
Picking a college major is one of the most difficult decisions one has to make. Your future is neither predictable nor guaranteed by the major you pick. Many recent graduates work in fields unrelated to what they studied in school. The average twenty-something changes occupations once every three years, and the typical person changes careers two or three times in their lifetime, according to the U.S. Department of Labor.
In order to pursue a professional degree (like an MD) after college, you'll likely need to complete a few prerequisite courses. However, a lot of medical students major in subjects unrelated to science. When choosing your major, take into account these aspects.
Job preparation
Select a major because it will help you be ready for a certain professional route or level of study. You might already be certain that you want to work as a nurse, day trader, therapist, or web developer. Take one or two classes in the necessary field before declaring, look over the course outline for an advanced seminar, and speak with students in the department of your choice. Make sure you are ready for the classes you need to take to get the job of your dreams.
Future earning potential
College is a large investment, and while it can pay you back in many ways other than money, this can be a crucial consideration for students who are paying for it themselves or taking out loans. Almost every branch of engineering, actuarial mathematics, computer science, physics, statistics, government, and economics are among the degrees that yield the greatest pay. Keep your quality of life in mind as well; if you're unhappy at work, that six-figure salary might not be worth it.
Your very own interests
One of the things to consider when picking a college are your interests. Some students decide on a major just because they are passionate about the field. You're more likely to fully participate in your classes and the college experience if you enjoy what you're studying, which can result in better marks and wonderful connections with other people in your field.
If philosophy is what you're meant to do, don't dismiss it because you're unsure about graduate school or the outlook for philosophers on the job market. Employers highly value the critical thinking and writing skills that students gain from majoring in the liberal arts.
Uncertain? Investigate your passions.
It's acceptable if you genuinely don't know what you want to study; many universities don't demand major declarations until the second year. You have four semesters to explore the options. Make the most of any general education requirements by enrolling in classes that interest you. Speak with your instructors, mentors, department chairs, and other students. Look for a job off campus. Finding your ideal degree and possibly even your dream job will be made easier by exploring your hobbies.
Is picking a minor in college effective?
Is picking a minor in college effective? Your major can provide you with the information you need for a prosperous career in the field of your choice. The advantages of a minor in college can be equally obvious:
Learn something useful
Your objective is to learn and acquire new abilities, whether you're a working adult pursuing an online BS (or other bachelor's degree) or a traditional student enrolled in a program on campus. And a minor in college can help you accomplish just that. To concentrate on a particular area of study and get additional information, add a minor in addition to selecting from the existing specializations.
Improve your resume
You can put your college minor on your resume the same way you would your major or degree focus. Employers may be made aware that you have additional valuable abilities if you do this. A minor can also show a possible employer that you are a well-rounded person who can learn skills outside of your area of expertise.
Acquire credits that could be used toward a graduate degree
Some online schools let you use classes you took as part of your undergraduate degree program to help you get a higher degree.  You must complete a number of fundamental courses to get a minor in college, which could eventually speed up your progress toward a master's or PhD in a related field of study.
Now that you know the things to consider when picking a college, the next step is to enroll. You will receive the necessary guidance at AdmissionSight for that step. At AdmissionSight, you may find all the necessary advice from college admissions experts who specialize in college applications. With a free consultation, you may begin your journey right now. Book your consultation today!