The Top Colleges With Sororities
What are the top colleges with sororities?
Which universities have the best sororities? One of the most exciting times for young people is when they start college, and being a member of the top sororities can enhance that experience. There are several different college sororities available to female students. But what are sororities, and how might joining one improve your college experience in terms of ease, enjoyment, and significance?
Discover the top colleges with sororities in the list below.
Purdue University
Popular Sororities: Alpha Chi Omega, Delta Zeta
As one of the top ten universities offering top-notch instruction, particularly in engineering, Purdue University is also a place rich in tradition and culture. The campus of this university in Indiana is home to numerous organizations.
One of the biggest in the nation is its cooperative, fraternity, and sorority communities. More than 90 organizations represent more than 6,000 students.
Sororities are rather widespread. These communities make up about 20% of the undergraduate students at universities. Currently, Purdue University is home to more than 80 fraternities and sororities.
Alpha Chi Omega is one of them. This sorority, founded on April 26, 1918, commemorated its 100th anniversary in 2018. The lyre is the emblem used to represent Alpha Chi Omega, which was initially created as a musical fraternity. They promote education, prevention, and awareness in the fight against domestic abuse. The colors of the Alpha Chi Omega sorority are red and olive green.
Delta Zeta is a well-known sorority on campus. This sorority takes pride in the sense of community it gives its members. They adhere to their promises of giving, community service, and friendship.
Indiana University Bloomington
Popular Sorority: Alpha Delta Pi
Indiana University Bloomington is among the top colleges with sororities. Nearly 8,000 people belong to sororities and fraternities, which account for 24% of undergraduates. To discover more about the sorority and fraternity life on campus, the university's Student Affairs office requires prospective students to complete the Prospective Member Orientation, an engaging online program.
It helps them as they research their alternatives and locate a sorority that upholds their principles. After all, choosing to join a sorority is frequently a lifelong choice.
Alpha Delta Pi is one of the most well-known sororities at UI. This 1851-founded sorority places a high focus on sisterhood, scholarships, and activity on campus.
Their different commitments and actions are a reflection of these principles. Numerous charities, such as Ronald McDonald House Charities, have received their assistance. Students must have a GPA of 3.0 or higher to join this sorority.
Arizona State University
Popular Sorority: Alpha Epsilon Phi
Sororities have been a component of campus life at Arizona State University for more than 85 years. The university is home to more than 70 organizations with Greek letters. The New American Fraternity and Sorority Community were founded to foster sororities that are impact- and values-driven.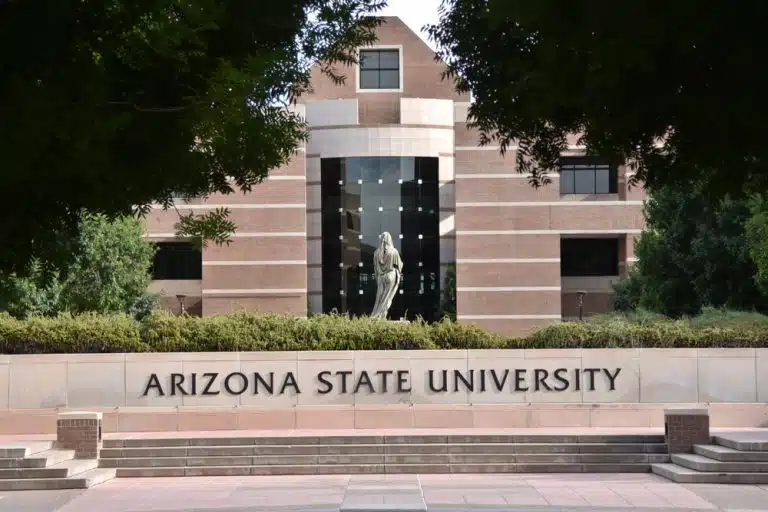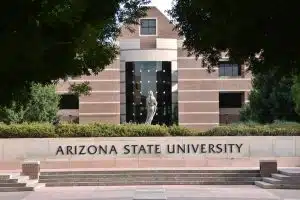 Community members typically excel academically, are chosen to leadership positions, earn money for charity causes, put in hours of volunteer work, and uphold campus traditions year after year. Female applicants must attend a recruitment orientation to take part in educational workshops about the official application procedure and potential house tours.
Alpha Epsilon Phi, one of the most well-known sororities at Arizona State University, was founded in 1909. This group is committed to helping women achieve their full potential. Individuality is valued highly. Members are frequently urged to grow their skills and talents. All women who value the sorority's history are welcome to join.
Pennsylvania State University
Popular Sorority: Alpha Omicron Pi
The Pennsylvania State University requires sororities to be recognized as affiliate groups of a national or international sorority. The university boasts one of the largest fraternity and sorority communities in North America. There are now 27 officially recognized sororities at the institution. Thus, it ranked highly among the top colleges with sororities.
The fundamental values of these sororities' membership, such as academic excellence, volunteerism and philanthropy, leadership, sisterhood, social activity, and alumni involvement, are upheld by their members.
Housing is available in South Halls for PSU's authorized Panhellenic Sorority Chapters. Through their charitable endeavors, sorority members make significant contributions to the university and local communities.
One of the recognized sororities on campus is Alpha Omicron Pi. This group, which was founded in 1897, upholds the following fundamental principles: honor, decency, scholarship, and college allegiance. On-campus formal recruitment is how the majority of members join the sorority.
Members are required to attend weekly meetings when they initially sign up to learn about AOII, including its background, guiding principles, and policies. They continue to advance philanthropic initiatives and commitments. Since 1967, Alpha Omicron Pi has supported the Arthritis Foundation by making millions of dollars available for research, family support programs, and educational projects.
Ball State University
Popular Sorority: Alpha Pi
Fraternity and sorority life at Ball State University is robust, with more than 2,000 members. They worked together to donate more than $280,000 to charities in 2018.
Ball State University undergraduate women who satisfy the minimal GPA requirements of 2.6 for incoming first-year students and a cumulative GPA of 2.6 for both current Ball State and transfer students are eligible to participate in main recruitment through the Panhellenic Association. Depending on whether a person is a new member or an active member, different member dues apply.
With an average monthly cost of $500, fraternity homes provide students with a more affordable option than resident halls. Additionally, new members of sororities may apply for scholarships.
University of California, Berkeley
Popular Sorority: Kappa Kappa Gamma
On our list of the top colleges with sororities is the University of California. The four pillars of the community—scholarship, leadership, service, and community—direct the fraternity and sorority community at the University of California. Over 50 local, national, and international sororities and fraternities now have 3,400 undergraduate members.
When one joins a sorority at the University of California, Berkeley, one feels a sense of belonging. They adhere to the values of leadership, social interaction, community service, and sisterhood.
The University of California's first sorority was created in 1880. The first national college sorority west of the Rockies, as the name suggests. Kappa Kappa Gamma is a fraternity that values friendship, leadership, academics, and tradition.
The sorority was founded on strong shared principles to give women a place to reach their potential and make a positive difference in their college years and beyond. The first female architect in California, Julia Morgan, created the sorority house for Kappa Kappa Gamma. Later, it underwent renovations to become what it is now.
University of Georgia
Popular Sorority: Alpha Delta Pi
Many things make the University of Georgia one of the top colleges with sororities. The National Panhellenic Conference's Panhellenic Council, which oversees female fraternities and sororities, was formed by the University of Georgia. The council's job is to foster harmony and cooperation within the Greek community.
Additionally, it is in charge of organizing and sponsoring official opportunities for community service. The institution currently recognizes 19 Panhellenic chapters in total. At the University of Georgia, students frequently join sororities to expand their social networks and create enduring friendships. Sorority members are given housing that is accessible by foot from the campus.
The Adelphean Society, commonly known as Alpha Delta Pi, is renowned for its goal of enhancing people's moral, intellectual, and social facets of life. It was the first secret club for college women and was established in 1851.
On the campus of the University of Georgia, the Alpha Delta Pi chapter is very active. The Clarke County Mentoring Program, UGA athletics, Arch Society, and Relay for Life are just a few of the organization's initiatives and occasions. Their symbol is a diamond.
Vanderbilt University
Popular Sorority: Zeta Phi Beta
Undergraduate members of Greek organizations at Vanderbilt University will make up 32% of the student body in 2019 and 2020. Academic performance is one of the fraternities' and sororities' strengths at Vanderbilt. Their above-average GPA is evidence of their strong academic accomplishment. Vanderbilt University is recognized as one of the top colleges with sororities.
Members of sororities are also having an impact outside of the classroom. They make significant contributions to the development of Nashville and the larger global community through their philanthropy and volunteer work in the city.
The Zeta Phi Beta Sorority, Inc., which was established back in 1920, is one of the renowned sororities on campus. Their guiding idea is to reject sorority elitism and socializing in favor of solving contemporary social mores, ills, poverty, and health issues.
The NAACP, Urban League, and March of Dimes are the focal points of their charitable activity. Innovating programs on campus, giving back to the Nashville community, and upholding the ideals of their founders and charter members are all goals of the Vanderbilt chapter.
The University of Texas at Austin
Popular Sorority: Alpha Kappa Alpha
There are six governing councils at the University of Texas at Austin, which is home to about 60 sororities and fraternities. It encourages sisterhood, community service, academic excellence, and leadership. Their basic principles include the creation of a diverse and inclusive community.
One of the many recognized sororities on campus is the Alpha Kappa Alpha Sorority, Inc. Since 1959, the University of Texas at Austin's Delta Xi chapter has been committed to assisting its members in achieving lifelong professional and personal development.
They are also very involved in promoting strong advocacy and social change. They also support family preservation, environmental stewardship, educational enrichment, and health enhancement. The minimum GPA requirement of 2.5 must be met by new members. Additionally, they must perform well in school and adhere to strong moral and ethical standards.
University of Alabama
Popular Sorority: Alpha Gamma Delta
The University of Alabama is among our list of top colleges with sororities. The Office of Fraternity and Sorority Life, where chapter support services are provided, was established at the University of Alabama. The university has the option to acknowledge the 24 sororities that are present on campus.
Diversity, risk management, and membership recruiting are prioritized. Alpha Chi Omega, Alpha Delta Chi, Alpha Delta Pi, Alpha Gamma Delta, Alpha Omega Epsilon, and Alpha Omicron Pi are just a few of its well-known sororities.
In the recruitment process, Alpha Gamma Delta accepts letters of recommendation from its undergraduate and alumna members. This sorority's founding slogan is "Inspire the Woman," and it was established by 11 women at the home of a professor in Syracuse. Influence the world A squirrel is their well-known mascot, and a pearl is their gem. One of Alpha Gamma Delta's charitable initiatives is raising awareness of and providing information about diabetes.
Michigan State University
Popular Sorority: Chi Omega
Since 1872, there has been a thriving fraternity and sorority culture at Michigan University. The development of lifetime friendships and sisterhood, personal and professional development, and access to an alumni network that extends beyond the university campus are some of the key benefits of joining a sorority in college.
At Michigan University, there are roughly 24 sororities that are governed by three councils. The majority of these sororities are dedicated to leadership, philanthropy, women's empowerment, service, and a host of other things.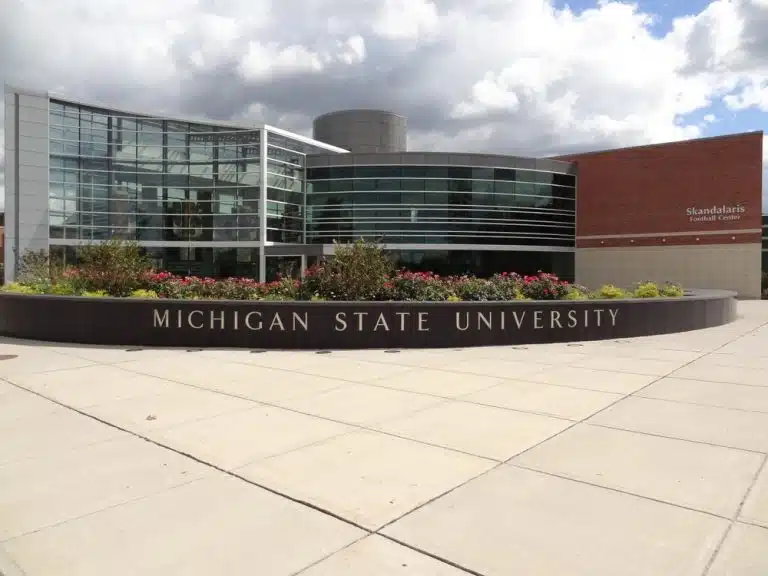 The Chi Omega sorority was founded in 1895 and has grown to be the largest sorority in the world with 385,000 initiated members spread among 181 university chapters and more than 240 alumnae chapters. The hiring procedure may be entirely unstructured, only loosely unstructured, minimally unstructured, or continuously unstructured.
Since 1905, Michigan State University has had a chapter of Xi Gamma. Two years are required for members to reside in the sorority house, but new members frequently receive priority placement.
The sorority places a strong emphasis on chances for personal development, community involvement, and lifetime friendships. Their charitable contributions are made to the Make-A-Wish Foundation. Hence, Michigan State University is unquestionably among the top colleges with sororities.
What are the pros of sororities?
What benefits do sororities offer? Now that you have the list of top colleges with sororities, it is important to know if a sorority is right for you.
For their members, sororities provide a wide range of options. Making a decision will be made easier for prospective students if they consider the benefits of joining one.
Developing social skills
Many first-year students are naturally reserved around strangers. Participating in social activities is the best method to get someone to come out of their shell. They will have the chance to do that by joining a sorority.
They will get the opportunity to interact with fresh people from all origins who have various experiences and motivations. Although intimidating at first, becoming accustomed to socializing with a sizable group of like-minded ladies can help one's social skills and enable one to express themselves more effectively.
Build professional network
Networking, an essential component of college life, opens you to a world of possibilities. Students can develop relationships with other students on campus and even with employees of the same organization by joining a sorority.
The former members of the sorority, in particular, can be quite helpful to new members who can learn a lot from them. One day, the relationships they forge within the sorority will be of use to them, whether it be by helping them secure interviews, receive mentorship, get recommendation letters, or list references.
Establish a culture of giving
The majority of sororities support advocacy. Their core principles consistently reflect this dedication to making society a better place to live. Members engage in active volunteerism or fundraise for worthwhile causes.
They will learn from this experience and develop as people who care about others and are dedicated to academic excellence. They will form a lifelong habit of helping others.
Encourage scholastic excellence
The majority of sororities uphold a predetermined academic requirement that sets them apart from other school organizations. It is common to discover sororities that foster a desire for excellence. They frequently provide educational assistance programs for their fellow members, enabling them to achieve their academic objectives. Additionally, they reward and encourage students who succeed academically.
Acquire leadership skills
A solid college skill that will be incredibly beneficial long after graduation is leadership. Through a range of programs, sororities provide opportunities for leadership development. Members frequently assume leadership roles within the organization. Additionally, conferences and committee participation help them develop their leadership abilities.
Create long-lasting friendships
In many sororities, friendship is frequently taken for granted, but the bonds formed with sisters are frequently lifelong. They have a bond that can only be formed in a sorority since they have similar frustrations, difficulties, and objectives.
What are the cons of sororities?
What drawbacks do sororities have? Now that the benefits of joining a sorority have been outlined, it is time to consider some of the drawbacks associated with doing so, if you are considering enrolling in one of the top colleges with sororities. Avoiding unfavorable outcomes can be made easier by being aware of what one is entering into!
Calls for time and effort
Sorority initiation is not a simple process. One factor that can eat up a freshman's limited free time is the pledging procedure. They can anticipate investing a significant amount of time outside of the classroom in meetings, visiting the chapter houses, and carrying out assigned responsibilities.
Members of sororities must devote a lot of time and energy to the initiation process, frequently risking disruptions to their study and sleep schedules. Sorority members are still forced to attend meetings following the pledging process or face fines.
Quite expensive
It might be expensive to join a sorority. Sorority members are required to pay dues for a single semester, which may exceed $1000, on top of costly tuition fees and other education-related costs. They frequently have to pay these dues and additional fees for t-shirts, membership insignia, and Big Formal tickets.
Possibility of being a venue for abuse
The culture of drinking and drug misuse cannot be avoided. These risks are typical in Greek organizations. Unaware college freshmen may succumb to peer pressure and get into trouble by abusing alcohol out of a desire for acceptance. Even while some drinking events are frequently social, they run the risk of leading to serious alcohol problems down the road.
Being a member of a sorority calls for dedication and a great deal of hard work on your behalf. Before joining a sorority, students need to educate themselves on both the positive and negative aspects of such organizations, even though this decision is frequently a question of individual taste.
Having all the necessary information is important before choosing any course of action. AdmissionSight is always here to assist you if you have any questions or concerns. We have more than ten years of expertise assisting students in successfully navigating the challenging admissions process.
Consult with AdmissionSight and find out what we can do to help you get into the school of your choice by ensuring that you are sufficiently aware and well-prepared for the application process.