The UC Santa Barbara Campus Tour
Nestled between azure waves and stunning mountains, the University of California, Santa Barbara, fondly known as UC Santa Barbara or UCSB, is a thriving hub of academic excellence and pioneering research. Planning a UC Santa Barbara campus tour allows prospective students and curious visitors to experience this dynamic, collaborative learning environment.
As one of the most prestigious members of the University of California system, UCSB has a proud legacy of producing Nobel laureates, trailblazers in technology, and leaders in the arts. Embarking on a UC Santa Barbara campus tour is the perfect way to capture the spirit of this vibrant university and witness its renowned intellectual and cultural vitality.
Just as vital as the strong academic standing is the breathtaking campus. The blend of Spanish-inspired architecture with state-of-the-art facilities, all amid an idyllic natural setting, provides a unique backdrop to robust academic life. It is a world waiting to be explored and experienced, making a campus tour an indispensable part of the prospective student's journey.
A campus tour at UCSB offers more than just a glimpse into the university's surroundings. It's a dive into the culture, the spirit, and the vibrant energy that pulse through every lecture hall, dorm room, and dining commons. It's the chance to witness first-hand the camaraderie amongst students, the commitment of the faculty, and the immersive opportunities that define the Gauchos' (UCSB's mascot) student life.
With every step taken on the winding paths, a campus tour lets you experience the inspiring learning environment, sense the thrill of innovative research, and imagine the countless possibilities. Whether walking through the arched entryway of the iconic Storke Tower, or feeling the ocean breeze while strolling past the Lagoon, a tour of UCSB promises a sensory, informative, and memorable experience.
In the upcoming sections, we will explore the various ways to tour this incredible campus and the highlights you can expect to see. From official guided tours to self-guided walks and even an immersive virtual tour, UCSB's doors are open for exploration. So, let's embark on this exciting journey together, discovering what makes the University of California, Santa Barbara, a standout institution.
Is the UC Santa Barbara campus open to the public?
Is the UC Santa Barbara campus open to the public? UC Santa Barbara warmly welcomes visitors to its stunning campus, known for its breathtaking blend of natural beauty and architectural marvels. Getting on a UC Santa Barbara campus tour offers an unparalleled opportunity to experience this aesthetic harmony.
While the campus remains open to the public for such tours, it's important to note a few guidelines to ensure the safety and well-being of visitors and the university community. These guidelines help make every UC Santa Barbara campus tour a smooth, insightful, and memorable experience, capturing what makes this university truly exceptional.
The University of California, Santa Barbara, as a beacon of knowledge and research, believes in fostering a relationship of mutual respect and understanding with its visitors. Consequently, guests are asked to follow a few simple guidelines while on campus. These include respecting campus property, avoiding restricted areas that might interfere with academic activities or research, and abiding by university policies, including parking, pet control, and non-smoking areas.
It is also worth noting that while the UCSB campus is generally open to the public, certain areas or buildings, especially those dedicated to research and study, might require special permission or have limited visiting hours. These restrictions help ensure an optimal learning environment for students and faculty.
Whether you're a prospective student, a proud parent, an alum looking to stroll down memory lane, or simply a local or tourist intrigued by UCSB's reputation, you're encouraged to visit. Remember to enjoy the campus responsibly, respecting the university's mission and commitment to its students.
In the next section, we'll delve into the fascinating journey of an official guided tour at UCSB, providing insight into the unique stories and legacies that define the campus. So, gear up to enter a world where academic brilliance and cultural vibrancy coexist seamlessly.
Does UC Santa Barbara have campus tours?
Does UC Santa Barbara have campus tours? Stepping into the world of UC Santa Barbara through a UC Santa Barbara campus tour can feel like unlocking a treasure chest of knowledge, culture, and unparalleled beauty. One of the best ways to explore this treasure is through official guided tours, meticulously curated to provide an engaging and comprehensive snapshot of the university's multifaceted persona.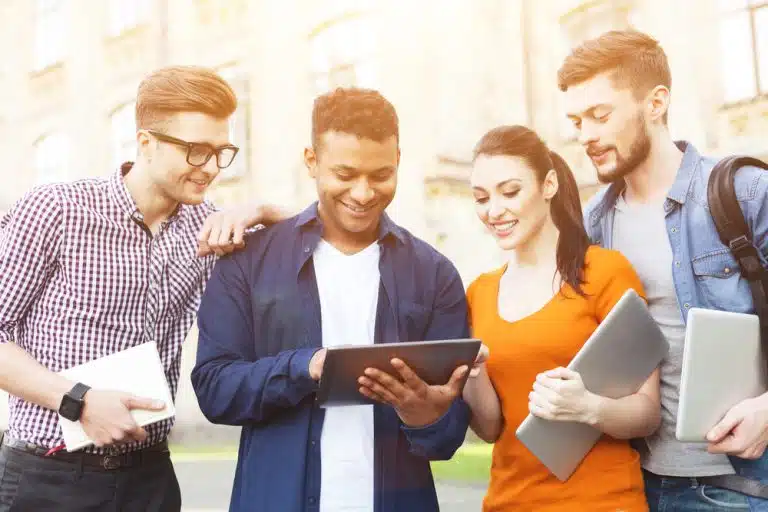 Each UC Santa Barbara campus tour is a curated journey that showcases the university's rich academic tapestry, vibrant student life, and stunning natural settings, offering visitors a deeply immersive experience.
UCSB's Visitor Center is the starting point of these tours, managed by a dedicated team of staff and student ambassadors brimming with enthusiasm and personal insights about the university. To participate in a guided tour, book a slot through the UCSB Visitor Center website or contact them via phone. Keep in mind that tours are popular and spots fill up quickly, so it's recommended to book well in advance.
Guided tours at UCSB typically last around 75 minutes, covering key campus areas and highlighting the university's academic prowess, thriving student life, notable architecture, and awe-inspiring natural surroundings. These tours are not just walking around the campus; they are narrated journeys that reveal UCSB's rich history, its commitment to research and innovation, and the vibrant community spirit that defines the Gauchos.
Expect to meander through a wide array of spaces on these tours – from the hum of intellectual discourse in the Davidson Library, the architectural grandeur of the Storke Tower, to the serene beauty of the Lagoon and the well-equipped laboratories where cutting-edge research takes place.
While every tour can vary slightly depending on the day and guide, the aim remains to immerse visitors in the UCSB experience. The university's student guides bring a personal touch to these tours, infusing their narratives with anecdotes and insights that bring the campus to life.
The next section will discuss the equally engaging option of self-guided tours at UCSB, which provide a unique opportunity for personal exploration. Whether you prefer a group tour structure or a self-paced walkabout, UCSB opens its arms to all kinds of explorers.
Does UC Santa Barbara have self-guided tours?
Does UC Santa Barbara have self-guided tours? While UC Santa Barbara campus tours, led by guides, offer a structured and narrated exploration of UCSB, self-guided tours provide a unique, personalized experience. A self-guided tour allows you to explore at your own pace, focusing on the areas that particularly pique your interest. Whether following a group or charting your course, each campus tour provides an engaging perspective on the university's vibrant community and intellectual landscape.
Self-guided tours are straightforward to undertake. UCSB provides a comprehensive self-guided tour brochure for download from the UCSB Visitor Center website. This resource outlines a suggested route with detailed descriptions of key landmarks and facilities, enabling you to plan your tour efficiently.
Here are a few tips to enhance your self-guided tour experience:
Plan ahead: Review the self-guided tour brochure before your visit and mark out the areas that particularly intrigue you.
Set a pace: While a guided tour lasts about 90 minutes, a self-guided tour can be as long or as short as you like. Ensure that you allocate enough time to fully enjoy your visit.
Pack essentials: Carry water, sunblock, and a hat for those sunny Santa Barbara days. Don't forget your camera to capture picturesque moments.
Engage: Don't hesitate to interact with the students, faculty, and staff. They are great sources of first-hand information about the university.
Places of interest that should not be missed include the University Center, with its buzzing eateries and lounges; the iconic Storke Tower, offering panoramic views of the campus; the cutting-edge Henley Hall, home to the Institute for Energy Efficiency; and, of course, the Campus Lagoon and beach for a taste of the university's unique coastal location.
For those who cannot visit in person or prefer remote exploration, UCSB offers a richly immersive and detailed virtual tour. Stay tuned to the next section to learn more about how you can explore the mesmerizing UCSB campus from the comfort of your home.
Does UC Santa Barbara have a virtual tour?
Does UC Santa Barbara have a virtual tour? In today's digital age, exploring the beautiful UCSB campus isn't limited by geographical constraints. Thanks to UCSB's immersive virtual UC Santa Barbara campus tour, you can explore the campus from anywhere around the globe, from the comfort of your home or even on the go.
Accessing the virtual tour is as easy as visiting the UCSB Visitor Center's website and selecting the "Virtual Tour" option. There, you will find a highly interactive, 360-degree view of the campus, complete with audio narrations and clickable points of interest.
The virtual tour covers all the essential aspects you'd experience in a guided or self-guided tour. From the hustle and bustle of the University Center to the tranquility of the Campus Lagoon, the virtual tour provides a comprehensive overview of UCSB's facilities, landscapes, and key landmarks.
Virtual tours hold several distinct advantages, especially for international or remote prospective students:
Accessibility: You can explore the campus regardless of location or time zone, making it convenient for students worldwide.
Flexibility: Unlike guided tours, which operate at specific times, virtual tours can be accessed whenever and as often as you want.
Detailed Information: Along with panoramic views, the virtual tour provides many details about different locations, helping you gain in-depth insights.
A virtual tour offers an invaluable opportunity to witness UCSB's vibrant academic and cultural scene from a distance. However, nothing beats the tangible, sensory delight of physically being on campus.
What can you see at UC Santa Barbara?
What can you see at UC Santa Barbara? Embarking on a UC Santa Barbara campus tour offers much more than a mere walk-through of its premises. It's an immersive experience that beautifully intertwines academia, nature, architecture, and culture into a tapestry of exploration. Every step taken during a UC Santa Barbara campus tour provides a unique insight, with each building, landscape, and gathering spot telling its part of the UCSB story.
This is a campus visit and a journey into a dynamic world that seamlessly blends educational excellence with breathtaking natural beauty and vibrant student life.
Noteworthy Buildings and Departments: There are several noteworthy buildings and departments that embody UCSB's commitment to academic excellence. The Davidson Library, a hub of knowledge and intellectual pursuit, is one of the largest libraries in California. Henley Hall, the cutting-edge research center, epitomizes UCSB's dedication to innovation. You can also visit the revered College of Creative Studies, considered a "graduate school for undergraduates," and the College of Engineering, known for its high-impact research.
Recreational Facilities: UCSB has abundant recreational facilities. The Recreation Center offers state-of-the-art fitness equipment, an Olympic swimming pool, and a rock climbing wall. The Events Center, locally known as the "Thunderdome," is the heart of athletic events and concerts.
Natural Preserves and Beach Access: One of UCSB's unique aspects is its harmony with nature. The campus houses multiple natural preserves, including the Campus Lagoon and the Manzanita Village wetlands. It is one of the few universities globally that boasts a beach, offering a tranquil escape for students.
Student Culture and Ambiance: UCSB's campus vibrates with the energy and enthusiasm of its students. The Arbor, an iconic spot, often hosts student clubs and organizations, demonstrating the vibrant student culture. The University Center is another hotspot, buzzing with food vendors, study spaces, and student services.
The UC Santa Barbara campus tour lets you glimpse the infectious Gaucho spirit, the sense of community, and the shared pursuit of knowledge. It offers a real sense of the empowering and nurturing environment that makes UCSB stand out.
Conclusion
Whether guided, self-guided, or virtual, a campus tour at the University of California, Santa Barbara, is a journey into a unique world of academic rigor, vibrant culture, and natural beauty. It's an invitation to immerse oneself in the UCSB way of life, offering an opportunity to envision a potential future as part of its dynamic community.
The university's remarkable blend of architectural charm and state-of-the-art facilities, its commitment to sustainability showcased through well-preserved natural reserves, and its proximity to the Pacific Ocean provides a distinctive backdrop to the rigorous academic environment. Walking through the campus, physically or virtually, one can almost hear the hum of intellectual discourse, feel the thrill of innovative research, and sense the camaraderie that binds the Gauchos together.
UCSB's dedication to fostering a nurturing and inspiring environment for its students is palpable in its well-equipped departments, the bustling University Center, and the tranquility of its green spaces. Campus tours provide a unique opportunity to appreciate these aspects first-hand, painting a vivid picture of the wealth of experiences that await every student here.
In conclusion, the UC Santa Barbara campus tour offers a window into the Gaucho life – a life of learning, exploration, and growth, all set within a campus like no other. It's more than just a tour; it's a step closer to becoming part of a world-class university, a vibrant community, and a legacy of excellence.
So, whether you walk the campus's sunlit paths, meander through on your own, or navigate the grounds from a screen, each step brings you closer to discovering why UC Santa Barbara could be the perfect place for your academic journey.
If you're set on getting into a world-class college but aren't sure how to make it happen, we can help! AdmissionSight is a leading college entrance expert with over a decade of experience helping students just like you get into the schools of their dreams.
At AdmissionSight, we focus on offering a wide range of services, all aimed at helping students perfect their applications to catch the attention of admissions officers. Contact us today to schedule a free consultation and learn more about what we offer.