The Ultimate Guide to Completing the Common App for Any College
Back in the day, students who wanted to send in undergraduate college applications to multiple schools had to fill out each application by hand and send them in by mail. Now, thanks to computers and the internet, high school students applying to many of the top colleges and universities in the United States don't have to deal with that task. That is thanks, in a large part, to the Common Application. But what is the Common App and how can using it impact your experience of applying to your top schools? If you're wondering how to complete the common app for college, then you have come to the right place!
At AdmissionSight, we work tirelessly with the students that partner with us to guide them through the many ups and downs of the college application experience. While students can (and many do) opt to go the journey primarily alone, with some guidance from their parents, peers and high school counselors, more and more students these days are opting for the specific and hands-on guidance that comes with working with an admissions consultant. The admissions consultants at AdmissionSight use their years of experience and knowledge within the undergrad application ecosystem to help boost our student's chances of success at even the most competitive and selective institutions.
The tools and strategies that we implement and pass onto our students plays a major role in the high level of success that our students enjoy. In fact, 75.0 percent of the students that we work with end up getting into an Ivy League school or a top 10 school that isn't in the Ivy League.
And while tools and strategies for success are a big part of our job, it is not the only part. Another major responsibility that we take on is to answer any questions that our students have regarding the application process. Unsurprisingly, a lot of those questions have to do with the application itself. And for hundreds of thousands of high school (and transfer) students each year, that means filling out the Common Application.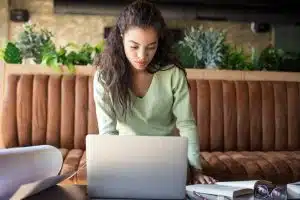 So, if you are wondering how to complete the common app for college or want to know how many colleges accept the common app, then you have come to the right place!
Let's break down all that and more in the ultimate guide to the Common Application so that whether or not you end up working with an admissions consultant or going it alone, you'll know the most important things about this popular and useful tool within the college application ecosystem.
Let's get started!
What is the Common Application?
Where else could we start on a total breakdown of the Common Application if not by answering the simple question, "What is the common application?" To put it simply, the Common App – as it is commonly called – is an online college application that students can use at hundreds of schools.
All schools that have agreed to use the Common App are willing to accept the same forms, which means that a student only has to complete the main sections of the Common App one time! From there, they can then use that part repeatedly and interchangeably at any of the schools that they want to apply to that accept the Common app.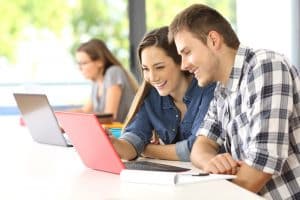 This makes the entire application process much easier for students and allows them to focus more of their time and energy on the school-specific sections of the application process. With that in mind, it is important to keep in mind that a large number of schools (especially more competitive and prestigious schools) tend to also have supplemental and school-specific sections that students also have to fill out and complete in order to submit a finished application.
So, essentially, the Common App is a catch-all that allows students to fill out some crucial aspects of their applications one time for multiple schools. It cuts back on the time and effort required to complete these tasks.
In all, more than 1,000 schools accept the Common Application, and it is starting to become rarer and rarer for schools to not accept it. After all, the ease and simplicity of the process not only helps students but also helps schools by increasing the number of applicants and therefore improving the likelihood that the admissions committees at different schools across the country will find students that will be a great fit on their campus.
As there are hundreds of schools that accept the Common App, there are too many to list. However, we have listed some of the colleges that accept it. You will see a wide range of schools from highly selective to less selective, small private universities to big public schools:
Brown University
Bryn Mawr College
California Institute of Technology
Duke University
Georgia Institute of Technology
Harvard University
Northwestern University
Penn State
Princeton University
Rice University
Smith College
Stanford University
University of Chicago
University of Michigan
University of Pennsylvania
University of North Carolina
University of Southern California
Vanderbilt University
Wellesley College
Yale University
With that basic information out of the way, let's go a bit deeper in terms of what it's really like to fill out and submit a Common Application of your own.
What information and documents are needed to complete the Common Application?
This is a great place to start for any student who is looking to prepare to fill out their own Common Application. The first steps include filling out basic personal information as well as filling out some key paperwork. In order to make sure that you are indeed who you say you are, the Common Application will request that you include your Social Security Number, so you'll want to make sure that your parents have that on hand for you when you are ready.
On top of that, you will also have to complete information regarding your family's income, your parent's employment status and their highest degree earned. This is most important if you plan on filling out the FAFSA portion of the Common App as well.
On top of that, students will also need a copy of their high school transcript. If you have college credits already, you may need a college transcript instead. Standardized test scores, such as the ACT or SAT, were necessary in the past, but as you likely know, they are now optional at a large portion of the schools in the United States. Still, if you took either the SAT or ACT and want to use your score as a way to improve your chances of getting into your top schools, you'll definitely want to include that information as well.
Create your account
After gathering that basic information, you will be ready to create your Common Application account. You can start that process simply by heading over to the Common App website and creating your profile.
The first step of doing this is by clicking the "Apply Now" button and then getting started on your registration type. You will also have to create a login profile by using your e-mail address.
From there, students will be asked to provide basic information, such as their name, address, phone number, birth date, and more. Students should be aware that they need to use their full and legal name so that schools can match the application with any supporting documents. Next, students simply have to set their communication preferences and accept the site's privacy policy before clicking the "Create Account" button.
Complete the general application
Once you have created your account, you can start working through the general application information. This portion of the application is the details that go to any school that a student ends up applying to.
The basic information included in this portion R a student grades, courses and the extracurricular activities that they took part in during high school. This section also includes standardized test scores if necessary. To make the entire process easier, the general application portion of the Common Application is split up into seven sections, including:
Profile (for the student)
Family
Education
Testing
Activities
Writing
Courses & Grades
Make sure to keep an eye on the specific instructions for each section so that you do not miss any important components of the process.
Complete the essay section
If you have already started preparing to apply to colleges, then chances are good that you know just how important the essay section of any college application can be. These personal essays allow admissions officers at various colleges and universities to get valuable insight into who you are as a person on top of as a student. Within the Common Application, there are essay prompts that students are expected to fill out.
Students can choose between several essay prompts, allowing themselves to select the options that they feel they have the best chance of answering effectively and uniquely. While reviewing the essay prompts, it is advised that students spend some time thinking about each prompt and figuring out which one they connect to most deeply. It is important that students do not feel intimidated or overwhelmed by the essay section, as this may lead them to write something that is more general. I'm specific to who they truly are.
Because these essays I haven't worn a limit of just 650 words, students need to figure out how to get their message across and answer the questions within the prompt effectively and directly. Prompts change from one year to the next, so while you cannot get a head start on your essay prompt before the Common Application for your application cycle is available, students can easily find prompts from previous years and get a very solid idea of what kind of questions they can expect to be provided on how to complete the common app for college.
Add your schools
Once all of the previously mentioned sections are completed, students can start adding schools to their list. While all schools are required and receive the general application portion, it is important to keep in mind that many schools also have requirements that are specific to their admissions process. By adding schools, students will be able to see what additional material and information they will have to provide to complete submissions to certain schools.
One important thing to keep in mind is that students are limited to having just 20 schools on their "My Colleges" list. However, students can adjust that list at any time by removing and adding different schools.
Review your school requirements
When you have your list of schools that you intend to apply to, you want to be sure to review the requirements that any of these schools may have on top of the general information in your Common Application. This will include information about the school's application deadlines, their submission fees and more. On top of that, this will also be the part of the application that will include any additional essay or writing prompts that students need to fill out as part of the application.
It is easy to uncover these requirements in the "My Colleges" tab, and students can also explore these requirements when starting an application for a specific school.
When it comes to strategizing for success within the common app, is it vice that students take a look at any of your acquisitions from the schools that they intend to apply to well in advance. This gives students ample time to prepare by starting essay prompts, retrieving necessary documents and more. This would also be the time to start reaching out to high school teachers or counselors if you intend to apply to any schools that require one or more letters of recommendation.
Students can choose to either submit completed documents within their application or can invite people to provide the needed documents directly on the website through invitations.
Does the Common Application come with a fee?
This is certainly a thing to keep in mind, because the more schools a student applies to the more expensive The entire process becomes. The submission fee of a school is dictated by the school itself, and they usually vary between $25 to $100 per school. With that being said, students can fill out fee waivers that can reduce the cost if they are eligible based on their financial need.
On top of that, there are schools that do not charge application fees at all, making the entire application process completely free.
How to submit your Common Application?
Once you have all of your information prepared and your schools selected, you can simply submit your applications directly through the Common Application site. Before you do that, however, you are going to want to make sure to review the general portion of the application as well as all of the specific sections required by various schools that you plan on submitting as well. This includes all of your essay supplements. Making sure to go over everything with a fine-tooth comb to look for any spelling errors or other mistakes/areas that could use improvement.
After that, you can begin the submissions process by clicking on the "Review and Submit" button under the "Application" heading. As long as you have everything in place and do not have any missing sections, you can then go to a PDF version of all of your applications to look it over one last time. If you do not spot any errors upon this final review, you can click on "Continue."
From there, you will be routed to the payment page. If there is a fee attached to an application, you will be able to pay it now. From there, all you have to do is sign and date it, and click the "Submit" button.
After that, you will want to submit the supplemental writing samples and other additional information that schools require. You will be able to launch this from the Common App, as well. To make things easy to track, the Common App will then put green check marks next to any schools that you have already submitted to, allowing you to go through one by one easily and in a timely manner.
Keep in mind that you will have to go through this process for each school one by one. It can seem like meticulous work, but trust us when we say this is much easier than how it used to be!
Need help with the Common App?
At AdmissionSight, we make it our job to help each and every student that we work with get the support that they need when they need it. If you're still wondering how to complete the common app for college, then you have come to check out other articles related to the common app.!If you are curious to learn more about the Common App and how to use it to your advantage to get into the schools at the top of your list, contact us at AdmissionSight to schedule a free consultation.