The Ultimate Guide to Writing the Dartmouth Supplemental Essays
As one of the most prestigious universities in the country, it's no wonder tens of thousands of high school graduates eagerly fill out the Darmouth application in hopes of receiving the illustrious acceptance letter a few months later. While the majority of the application is rather straight-forward, it's the Dartmouth supplemental essays that usually give students trouble. These open-ended and detailed essays might appear like nothing more than a burden, but they're actually a great way to increase your chances of getting accepted. The Dartmouth supplemental essays are easily the best way for students to explain their academic prowess, describe their personality, and express their desire to attend the college. AdmissionSight has an excellent track record for helping students successfully complete their applications, and we're here to help you write the best Dartmouth supplemental essays.
Your application is your ticket to Dartmouth
Dartmouth College is a popular Ivy League University located in Hanover, New Hampshire. With an admission rate of 10.4%, Dartmouth admits more students on average than other Ivy League schools like Stanford, Yale, or Harvard. Founded in 1764, Dartmouth is the ninth-oldest university in the US and 1 of 9 other colleges that were chartered before the American revolution. Daniel Webster, Dr. Suess, and Robert Frost are just a few of the famous alumni who have helped give Dartmouth it's prestige.
Each year, thousands upon thousands of eager high school graduates apply to Dartmouth with the high hopes of one day gracing this school's famous halls. A whopping 23,641 students applied with the hopes of joining the graduating class of 2023. Understandably, only a select few thousand gained admittance. While extracurricular activities, course grades, and standardized test scores play a major role in determining a student's acceptance or rejection, the Dartmouth supplemental essays are also highly considered.
The admission specialists at AdmissionSight have worked with countless students who dream of attending universities like Dartmouth. We completely understand how the school's low acceptance rate and general prestige can be cause for concern. While a vast majority of students who apply to Dartmouth have the qualifications needed to be accepted, too many don't take the necessary time or effort required to fill out their applications successfully. This is where AdmissionSight can help. We've helped students gain admittance to some of the most esteemed Ivy League Schools in the country simply by effectively filling out their application. Here, we'll explore how you can successfully complete the Dartmouth supplemental essays.
What are the Dartmouth Supplemental Essays?
Before jumping into the finer details, it's important to discuss what the Dartmouth supplemental essays are for. Admission officers only get a glimpse of who you are when looking at other parts of your application. These long-form essays give you an opportunity to express yourself, your goals, and personality in more detail. By that same token, admission officers then have a better idea of who the person is behind the application. If you feel the press already, don't worry! The experts at AdmissionSight are here to help. We'll take a deep dive into each supplemental essay to help you curate the best response possible.
Intro Essay
While arguing a Dartmouth-related case before the U.S. Supreme Court in 1818, Daniel Webster, Class of 1801, delivered this memorable line: "It is, Sir…a small college. And yet, there are those who love it!" As you seek admission to the Class of 2024, what aspects of the College's program, community, or campus environment attract your interest? (Length = 100 words)
The Dartmouth supplement essays kick off with the class "why" question. It's worded slightly differently than on other college applications, but it still is asking for the same type of response. Admission officers want to know why you've chosen Dartmouth out of all the other prestigious colleges you could have chosen. Considering the manner in which this first prompt is phrased, you're supposed to answer in a way that expresses what you love about the college and what it has to offer overall. It's clear that the prompt is emphasizing campus life, so it's important to focus on what you'll be doing at Dartmouth if you were to be accepted. The question makes reference to college programs, community aspects, and even the campus environment. You could talk about certain classes you're interested in taking, different clubs you want to join, or even different parts of the campus you're excited to frequent for daily studies. Research is a key component of this prompt in order to show admission officers that you're not only excited about attending Dartmouth, but you're also already familiar with what this campus has to offer.
Selective Essays – Choose one of the following
The Hawaiian word mo'olelo is often translated as "story" but it can also refer to history, legend, genealogy, and tradition. Use one of these translations to introduce yourself. (Length = 250 – 300 words)
Dartmouth chose an interesting lead-in for this fairly common supplemental essay prompt. Don't get too caught up in the different translations or why they decided to start with a Hawaiian translation. Despite the listing of different meanings, we suggest sticking with the initial "story" definition. This makes it easier for students to answer the meat of the question without getting too caught up in the flare. After all, the question is really just a fancy way of asking you to tell your story. Let admission officers know about who you are, what your background is, what your family and traditions are like. This is a question you've seen on dozens of similar applications before, so don't get bogged down in the phrasing. Simply take it as an opportunity to tell more about yourself through storytelling. It could be anything related to your background, upbringing, childhood, and more. Narrow in on a story or general theme and then relate it back to the prompt.
In the aftermath of World War II, Dartmouth President John Sloane Dickey, Class of 1929, proclaimed, "The world's troubles are your troubles…and there is nothing wrong with the world that better human beings cannot fix." Which of the world's "troubles" inspires you to act? How might your course of study at Dartmouth prepare you to address it? (Length = 250 – 300 words)
At this point, you've probably noticed that the Dartmouth supplemental essays mirror questions asked in other applications but are preceded by interesting quotes or stories that relate to the college in some way. In this case, the prompt is asking you to talk about what problems in the world inspire you to take action and how attending Darmouth would help you address that problem. If you've mentioned critical issues in the world that you have a desire to fix in other areas of your application, you might want to focus on something different or maybe hone in more specifically in this response. You'll be doing a decent amount of research for this piece since you want to come across as knowledgable on the subject as well as the ways in which Dartmouth can help you achieve your goals. After you describe the "trouble" that inspires you to act, you'll need to detail programs, research opportunities, courses, clubs, and other offerings at Dartmouth that will help you make a difference in the area you've chosen.
In The Painted Drum, author Louise Erdrich '76 wrote, "… what is beautiful that I make? What is elegant? What feeds the world?" Tell us about something beautiful you have made or hope to make. (Length = 250 – 300 words)
This is the go-to prompt for anyone who considers themselves creative and artistic. Whether you like baking from scratch, making water-color paintings, building things from scrap wood, composing hip-hop beats, coding websites, or snapping stunning photos of sunsets, you'll probably find it easiest to tackle this theme when compared to other Dartmouth supplemental essays. Don't feel like you have to have a Top 100 Hit or best-selling work of art to impress admission officers with this prompt. You can easily talk about a large art project you had in high school and how you're insanely proud every time somebody compliments on it. This angle would be focusing on something beautiful that you've already made, which is one-half of the potential answers.
In this supplemental essay, you can also write about a piece of art or something beautiful that you hope to make in the future. Maybe your experience living in multiple different places has inspired you to write an adventure novel or a series of short stories. Keep in mind that this "something beautiful" isn't necessarily limited to something material or visual. Don't be afraid to get creative with where you take the answer, but be sure to always bring it back to the initial quote in one way or another. If you're struggling to find a topic, think about areas of your life you love engaging with, like music, political discussions, gardening, and anything in between.
"Yes, books are dangerous," young people's novelist Pete Hautman proclaimed. "They should be dangerous—they contain ideas." What book or story captured your imagination through the ideas it revealed to you? Share how those ideas influenced you. (Length = 250 – 300 words)
In this Dartmouth supplemental essay, you need to talk about a particular story or book that has captivated you over the years. Furthermore, you need to talk about how that certain book helped shape how you view the world. Did the Great Gatsby make you rethink the importance of human interaction and the threat of isolation and loneliness? Did Into Thin Air make you rethink what's possible in terms of human endurance and determination? Did Man's Search for Meaning solidify how you view human will? When you're brainstorming different books or stories to mention, be sure to keep in mind what the choice says about who you are and how you see the world.
It's always a good idea to pick a topic that wasn't required reading. This ensures your selection will stand out amongst the crowd and reveals more about your personality. After all, admission officers will get their fair share of essays on the Catcher in the Rye. However, if you've really been influenced by one of these more famous works, don't be afraid to write about it. Just be sure to make it as unique and personal as possible. Also, don't completely ignore the initial question in the prompt that asks how the piece captured your imagination. You don't have to stick stringently to discussing how the book has changed how you view the world. While this is a large portion of the topic, don't be afraid to talk about how the book changed the ideas you have as well.
"I have no special talent," Albert Einstein once observed. "I am only passionately curious." Celebrate your curiosity. (Length = 250 – 300 words)
As a word of caution to students who are reading these Dartmouth supplemental essay prompts for the first time: don't forget to bring your responses to these questions back to the original quote in one way or another. While the most important part of your response is answering the question directly, admission officers will want to see at least a semblance of reference to the initial quote or idea that prompted the question in the first place. It's easy to ignore these parts and simply go into the question itself, but this will be apparent in your answers.
In this prompt, you're not even asked a question. The statement that follows an Einstein quote is simply: "Celebrate your curiosity". While you might have had time earlier in the application to tout your academic achievements and flaunt your test scores, this prompt is asking you to discuss what you're interested in. Try your best to choose a concept, idea, or topic that you haven't already discussed in the application. It's okay if you've alluded to it already, but you want to keep the responses to Dartmouth supplemental essays varied since the same person will most likely read them all. When answering this question, you could talk about a subject in school, area of philosophy, or a certain idea that's always inspired you to learn more. Also, you could discuss the importance of curiosity in your life.
Labor leader Dolores Huerta is a civil rights activist who co-founded the organization now known as United Farm Workers. She said, "We criticize and separate ourselves from the process. We've got to jump right in there with both feet." Speak your truth: Talk about a time when your passion became action. (Length = 250 – 300 words)
As a leading Ivy League School with an impressive list of alumni, Darmouth is interested in admitting students who maintain unshakeable fortitude and determination in making their dreams come true. In addition to learning what drives and motivates you, admission officers want to learn about times when you had to transform your desire into action in order to achieve your goals. Maybe you were able to rally some friends together to make signs and protest for a cause that you're passionate about. Perhaps you worked through your local religious community to help the needy in your area. Regardless of what story you tell, Darmouth wants to know that you've taken action on your passions in the past.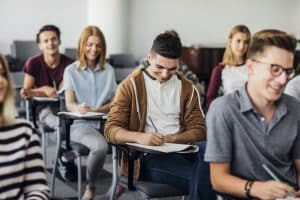 AdmissionSight is here for you
Students from across the country have put their faith in the admission specialists at AdmissionSight to help them overcome the challenge of gaining admittance to some of the top Ivy League Schools. Whether you want some tips in choosing a college, need help choosing a suitable summer program, or want help with your supplemental essays, we've got the expertise to help you accomplish your collegiate goals. After years in the industry, we've come to know that the admissions process forwards and backward, making us just the people you want on your side. Reach out to us today to learn about what we have to offer.