Know More About the University of Michigan MBA Program
The University of Michigan is one of the most prestigious public institutions in the United States, renowned for its commitment to academic excellence, extensive research facilities, and vast contributions to various fields of study. The Ross School of Business is recognized globally for its rigor, diversity, and distinctive blend of business theory and practical experience it provides students. At the heart of the Ross School's offerings is the University of Michigan MBA program.
The MBA program distinguishes itself by focusing on action-based learning, which involves students working on real-world business challenges. Furthermore, the program's flexibility allows students to tailor their education to their career goals through various electives and concentrations. With a strong emphasis on leadership development, Ross's MBA program is an incubator for future business leaders, industry disruptors, and innovators.
University of Michigan Ann Arbor MBA Program Overview
Duration of the Program
The Master of Business Administration (MBA) program at the University of Michigan's Ross School of Business typically spans two years. This full-time residential program begins in the fall semester each year. It is structured to allow students to complete core courses in the first year, providing a solid foundation of business principles.
The second year is primarily dedicated to electives, enabling students to delve deeper into their areas of interest and specialization. While the duration is traditionally two years, the Ross MBA program does offer some flexibility in pacing for those who wish to pursue concurrent degrees or are part of special programs.
Core Curriculum Details
The University of Michigan MBA core curriculum is carefully curated to comprehensively understand essential business principles. Foundation courses provide a deep dive into key areas like accounting, finance, marketing, operations, strategy, and organizational behavior, laying the groundwork for advanced business studies.
Action-based learning is a unique feature of the Ross MBA program, allowing students to work on real-world business problems and bridge the gap between theory and practice. This approach is exemplified by the Multidisciplinary Action Projects (MAP) course, where students collaborate with sponsor organizations worldwide to solve live business challenges.
The program's focus on leadership development is another integral part of the curriculum, cultivating the skills necessary to inspire teams, manage complexities, and drive positive change in the business world. This is achieved through various leadership exercises, simulations, and personalized coaching, encouraging students to reflect, learn, and grow as they progress through the program.
Electives and Specializations
The second year of the University of Michigan Ann Arbor MBA Program allows students to tailor their studies through various electives and specializations. With over 100 electives, students can dive deeper into areas of interest or explore new territories in business studies.
The program provides opportunities to specialize in finance, marketing, strategy, entrepreneurship, operations management, and more, thus catering to diverse career aspirations. In addition to traditional business domains, interdisciplinary electives bring perspectives from fields such as law, public policy, and engineering, supporting the development of well-rounded business professionals.
The electives and specializations deepen the students' business understanding and allow them to build unique skill sets that align with their individual career goals and differentiate them in the global job market.
Format and Teaching Style
The University of Michigan MBA program employs a multifaceted format and varied teaching styles to deliver a dynamic and engaging learning experience. The program blends traditional classroom lectures with case studies, simulations, group projects, and the signature action-based learning approach, offering a richly diverse educational setting.
Professors, distinguished in their respective fields, employ Socratic teaching methods to stimulate critical thinking and facilitate lively classroom debates. This pedagogical approach encourages active participation from students and fosters a collaborative learning environment.
In addition, the format supports experiential learning through initiatives like the Multidisciplinary Action Projects, wherein students work directly with real-world businesses to solve complex challenges. This combination of teaching methodologies ensures that students gain robust theoretical knowledge and develop practical skills essential for the business world.
University of Michigan Application Process
Application Deadlines
The application process for the University of Michigan MBA program is typically organized into multiple rounds. The application deadlines usually occur in three rounds: Round 1 in late September or early October, Round 2 in early January, and Round 3 in late March or early April.
However, these dates may vary slightly from year to year, and it's always best to check the official Ross School of Business website for the most accurate and up-to-date information. Applying in the earlier rounds often offers advantages such as better chances of admission, earlier notification of acceptance, and more options for financial aid.
Required Materials for Application
The application to the University of Michigan Ross School of Business requires several key components that provide a comprehensive understanding of the candidate's academic and professional background. Official transcripts from all previous undergraduate and graduate studies are required to reflect the applicant's academic performance and capabilities.
Applicants must also submit GMAT or GRE scores, which provide a standardized measure of their analytical and quantitative skills. Another important element is the letters of recommendation, typically requested from current or former supervisors or professors, who can provide insights into the candidate's leadership potential, team collaboration skills, and other relevant qualities.
A professional resume is also required, highlighting the applicant's work experience, achievements, and career progression. Finally, the application includes essays, which offer candidates an opportunity to showcase their personalities, motivations for pursuing an MBA at Ross, and long-term career goals. The essays are a critical aspect of the application, enabling the admissions committee to evaluate the candidate's fit with the Ross culture and values.
Interview Process
The interview process is crucial to the University of Michigan MBA application process. After an initial review of submitted applications, selected candidates are invited to participate in an interview, typically conducted by an admissions officer, an alum, or a current student.
This process aims to better understand the candidate's experiences, motivations, career aspirations, and overall fit with the Ross MBA program. Interviews can occur on campus, in select cities worldwide, or virtually.
The format is usually a behavioral-based conversation, covering topics such as candidates' professional experiences, teamwork and leadership examples, reasons for pursuing an MBA, and why they are interested in Ross. The interview allows the admissions committee to assess the candidate further. It allows the applicant to ask questions and gain a more profound understanding of the Ross MBA program.
Admissions Criteria
Admission to the University of Michigan MBA program is highly competitive and based on each applicant's holistic evaluation. Key factors considered include academic performance, as evidenced by undergraduate transcripts and GMAT or GRE scores, illustrating the applicant's quantitative and analytical skills.
Professional experience is also important, emphasizing career progression, leadership roles, and the ability to contribute a unique perspective to the class. The admissions committee carefully reviews the submitted essays and letters of recommendation to understand the candidate's motivations, career goals, and potential for success in the program.
Personal qualities such as leadership potential, interpersonal skills, and a demonstrated commitment to community involvement are also considered. Moreover, the interview provides further insight into the applicant's fit with the Ross culture and community. Lastly, the committee seeks candidates who clearly understand and are passionate about the Ross approach to management education, particularly its emphasis on action-based learning.
University of Michigan Tuition and Financial Aid
Tuition and Fees
The tuition and fees for the full-time University of Michigan MBA program are subject to yearly review and adjustment. The program's cost tends to align with those of other top-tier MBA programs in the United States. Tuition fees typically differ for in-state residents and out-of-state or international students, with the latter being slightly higher.
In addition to tuition, students should also budget for other expenses such as books, supplies, housing, meals, personal expenses, and health insurance. Prospective students are encouraged to check the official Ross School of Business website or contact the school for the most current and detailed information on University of Michigan tuition and associated costs.
Scholarship Opportunities
The University of Michigan's Ross School of Business is committed to helping its students finance their MBA. It offers a range of scholarship opportunities based on both merit and need. Merit-based scholarships are offered to applicants with exceptional academic performance, leadership skills, or professional achievements. Need-based scholarships are also available and are typically determined by the applicant's financial situation.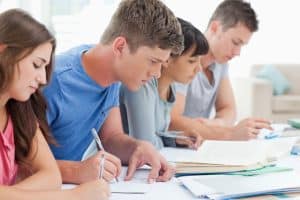 Some scholarships are specifically dedicated to underrepresented groups, international students, or those pursuing certain career paths. Additionally, there are fellowship opportunities that provide financial support and connect students with unique resources and experiences.
All admitted full-time MBA students, including international students, are considered for scholarships; specific application procedures may vary, so it's recommended to check the official Ross School of Business website for the most accurate information.
Other Forms of Financial Aid
In addition to scholarships, the Ross School of Business provides several other financial aid options to help offset the cost of the University of Michigan MBA program. Federal and private student loans are commonly utilized by students, with several loan options available for both domestic and international students. For U.S. citizens and permanent residents, federal financial aid may be available as Federal Direct Unsubsidized and Graduate PLUS loans.
Furthermore, the school offers several graduate assistantship positions, which provide partial tuition remission and a stipend in return for part-time work in research or administrative roles. It's also worth exploring external scholarships or grants from professional organizations, foundations, or companies. Prospective students should review the Ross School of Business financial aid website or consult with the Office of Financial Aid to explore all possible financing options.
Now that you have an idea about UMichigan, your college admissions to that university should be next on your mind. To ensure that you get into UMichigan, you can get help with AdmissionSight. With ten years of experience with college admission experts, AdmissionSight can help you get into UMichigan. You can talk to our experts today to get an initial consultation.