The University of Michigan vs Wellesley: A Comprehensive Analysis
When it comes to choosing a college, there are many factors to consider. Two popular choices among students are the University of Michigan and Wellesley College. In this article, we'll take a look at various aspects of The University of Michigan vs Wellesley to help determine which one offers the better education. From campus facilities to job prospects for graduates, we'll cover everything you need to know in order to make an informed decision.
Location and Campus Facilities: Which is Better?
The University of Michigan is located in Ann Arbor, a bustling college town with a vibrant downtown area. The campus itself is large, with plenty of green space and architecturally impressive buildings. At Wellesley College, students can enjoy a serene setting outside of Boston. The campus is relatively small but offers plenty of facilities, including an art museum, sports complex, and state-of-the-art science center. Ultimately, it depends on what type of setting you prefer, but both schools offer plenty of resources for students.
One unique feature of the University of Michigan's campus is the Matthaei Botanical Gardens and Nichols Arboretum. These expansive gardens and natural areas offer students a peaceful retreat from the hustle and bustle of campus life. The gardens feature a wide variety of plants and flowers, including a large collection of native Michigan species. The arboretum offers miles of hiking trails and stunning views of the Huron River. For students who enjoy spending time in nature, the University of Michigan's campus is an ideal location.
University of Michigan vs Wellesley: Admission Requirements and Acceptance Rates
When it comes to admission requirements, both schools are highly selective. The University of Michigan looks for students who have taken a rigorous high school curriculum, achieved high grades, and scored well on standardized tests. Wellesley College values academic excellence as well but also considers a variety of personal qualities when making admissions decisions. Their acceptance rates are similar, with Michigan accepting around 25% of applicants and Wellesley around 20%.
However, there are some differences in the application process between the two schools. Michigan requires applicants to submit two essays, while Wellesley only requires one. Additionally, Michigan offers early action and early decision options, while Wellesley only offers early decision.
Once accepted, students at both schools can expect a challenging academic environment. Michigan is a large public university with a wide range of academic programs, while Wellesley is a small, private liberal arts college with a focus on women's education. Both schools have high graduation rates and strong alumni networks that can provide valuable career connections for graduates.
University of Michigan vs Wellesley: The Cost of Tuition
The cost of tuition is one of the biggest factors for students and families to consider. Michigan's in-state tuition for the 2020-2021 academic year was around $15,558 while out-of-state students paid around $51,200. Wellesley's tuition for the same academic year was approximately $58,600. However, both schools offer financial aid packages to help make college more affordable for students. It's important to consider all of your options when it comes to paying for college.
Aside from tuition costs, there are other expenses to consider when attending college. These include room and board, textbooks, transportation, and personal expenses. These costs can vary greatly depending on the location and type of school you attend. For example, a student attending a college in a major city may have higher living expenses than a student attending a college in a rural area.
It's also important to consider the return on investment (ROI) of your education. This means looking at the potential earnings and job opportunities that come with your degree. Some degrees may have a higher ROI than others, and it's important to research and consider this when choosing a major and school.
Academic Programs Offered: A Side-by-Side Comparison
Both the University of Michigan and Wellesley College offer a wide range of academic programs. Michigan has over 260 programs with highly ranked schools of business, engineering, law, medicine, and more. Wellesley College has a smaller selection of majors, but its liberal arts curriculum is well-regarded, with a focus on intellectual rigor and critical thinking skills. Students at both schools have the opportunity to pursue their academic interests in depth.
At the University of Michigan, students can also take advantage of interdisciplinary programs that allow them to combine multiple fields of study. For example, the Program in the Environment combines courses from various departments to provide a comprehensive understanding of environmental issues. Similarly, the Program in International and Comparative Studies allows students to explore global issues from a variety of perspectives.
Wellesley College, on the other hand, offers a unique program called the Albright Institute for Global Affairs. This program brings together students from various academic disciplines to explore global issues and develop solutions to real-world problems. The institute also hosts a speaker series and provides opportunities for students to participate in internships and research projects related to global affairs.
University of Michigan vs Wellesley: Faculty Quality and Student-to-Teacher Ratios
The quality of faculty and student-to-teacher ratios are important indicators of academic quality. The University of Michigan has over 6,000 full-time faculty members, including Nobel laureates and other distinguished scholars. The student-to-teacher ratio is around 15:1. At Wellesley College, the ratio is even lower, at 7:1. The faculty at Wellesley is known for their commitment to teaching and an active research agenda.
In addition to the impressive faculty at the University of Michigan, the school also offers a wide range of academic programs and research opportunities. With over 275 degree programs, students have the ability to explore a variety of fields and interests. The university also has a strong commitment to diversity and inclusion, with initiatives and programs aimed at creating a welcoming and supportive community for all students.
At Wellesley College, the small student-to-teacher ratio allows for personalized attention and mentorship from faculty members. The college also has a strong emphasis on women's education and leadership development, with programs and resources dedicated to empowering women to become leaders in their fields. Additionally, the college has a beautiful campus located just outside of Boston, providing students with access to a vibrant city and all it has to offer.
Student Life: Comparing the Social Scene and Extracurricular Activities
Both schools offer a vibrant student life experience with plenty of clubs, organizations, and events. The University of Michigan has a lively social scene, with Greek life playing a significant role. Wellesley College has no Greek life but students can join one of over 200 clubs and organizations. Both schools offer a variety of recreational opportunities, from intercollegiate athletics to outdoor adventure programs.
However, there are some differences in the types of extracurricular activities offered at each school. The University of Michigan has a strong focus on sports, with a wide range of varsity teams and a large fan base. In contrast, Wellesley College places a greater emphasis on the arts and community service. The college has a renowned arts program, with opportunities for students to participate in theater productions, music ensembles, and visual arts exhibitions. Additionally, many students at Wellesley College are involved in community service projects, both on and off campus, as part of the college's commitment to social responsibility.
University of Michigan vs Wellesley: Sports and Athletics
The University Michigan has a highly regarded sports program, with a long history of success in football and basketball. They have over 30 varsity sports teams and compete in the Big Ten Conference. At Wellesley, athletics are an important part of student life, but on a smaller scale. They have 14 varsity teams and are a member of the New England Women's and Men's Athletic Conference. Ultimately, your preference for school spirit and competitive sports will determine which program is better for you.
However, it's important to note that both schools offer a range of recreational and intramural sports for students who may not be interested in varsity athletics. At Michigan, students can participate in activities such as rock climbing, yoga, and ultimate frisbee through the Recreational Sports program. Similarly, Wellesley offers a variety of club sports, including fencing, rugby, and equestrian. So, while varsity sports may be a deciding factor for some, both schools provide opportunities for students to stay active and engaged in sports and fitness.
Job Prospects for Graduates: A Detailed Analysis of Post-Graduation Employment Rates
Graduating from college with good job prospects is a major concern for most students. Both Michigan and Wellesley have strong career centers, with resources such as career counseling, job fairs, and networking events. Michigan graduates have a wide range of career options, from tech to finance to health care. Wellesley graduates are known for their success in fields such as education, government, and the arts. Both schools have high post-graduation employment rates, with recent data showing around 95% of graduates finding employment within six months of graduation.
However, it is important to note that post-graduation employment rates can vary depending on the major or field of study. For example, graduates with degrees in STEM fields tend to have higher employment rates and starting salaries compared to those in the humanities. It is also important for students to gain relevant work experience through internships or co-op programs, as this can greatly improve their job prospects after graduation. Therefore, it is recommended that students research and consider the job market and demand for their chosen field of study before making a decision on their major.
University of Michigan vs Wellesley: Student Diversity
Diversity and inclusivity are important values for many students. The University of Michigan has a diverse student body, with a mix of people from various racial, ethnic, and socioeconomic backgrounds. They have also made efforts to foster a more inclusive campus culture, such as offering bias training and implementing more diverse curriculum. At Wellesley, the student body is predominantly female, but the school has been working to improve diversity in recent years, including hiring a chief diversity officer and increasing resources for underrepresented students.
Another example of a university that values diversity is the University of California, Los Angeles (UCLA). The school has a large population of international students, representing over 100 countries. Additionally, UCLA has a strong commitment to supporting underrepresented minority students, with programs such as the Academic Advancement Program and the Center for Community College Partnerships.
Similarly, the University of Texas at Austin has made strides in promoting inclusivity on campus. The school has a diverse student body, with over 20% of students identifying as Hispanic/Latino and over 4% identifying as African American. UT Austin also offers a variety of resources for underrepresented students, including the Multicultural Engagement Center and the Gender and Sexuality Center.
University of Michigan vs Wellesley: Alumni Networks
Alumni networks can be valuable resources for job opportunities and career advice. Both Michigan and Wellesley have active alumni networks, with graduates from both schools holding prominent positions in a variety of fields. Michigan has over 575,000 alumni worldwide, while Wellesley has over 35,000. Both schools offer opportunities for alumni to connect with each other and current students, including mentorship programs and networking events.
Michigan's alumni network is particularly strong in the fields of business, law, and engineering. Many alumni hold leadership positions in major corporations, and the school's Ross School of Business has a dedicated alumni network that offers career resources and networking opportunities. Additionally, Michigan's alumni association hosts events around the world, allowing graduates to connect with each other no matter where they live.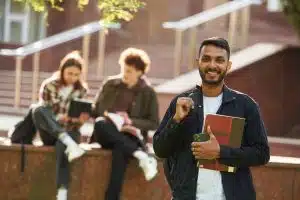 Wellesley's alumni network is known for its strong sense of community and support for current students. The school's alumnae association offers mentorship programs, career services, and networking events, as well as opportunities for graduates to give back to the school through volunteering and fundraising. Many Wellesley alumni also stay connected through regional clubs and affinity groups, which bring together graduates with shared interests or backgrounds.
Conclusion: Which School Offers a Better Education?
So, which school offers a better education, the University of Michigan or Wellesley College? The answer ultimately depends on your individual preferences and priorities. Both schools have their strengths, whether it be Michigan's large selection of academic programs, or Wellesley's focus on intellectual rigor and critical thinking skills. It's important to consider factors such as campus setting, student-to-teacher ratios, and job prospects for graduates when making your decision. Whichever school you choose, you can rest assured that you will receive a high-quality education that will prepare you well for the future.
However, it's worth noting that a good education is not solely determined by the school you attend. Your own dedication, hard work, and willingness to learn are just as important in achieving academic success. It's also important to remember that education is a lifelong journey, and the skills and knowledge you gain in college are just the beginning. So, while choosing the right school is important, it's ultimately up to you to make the most of your education and continue learning throughout your life.
If you're set on getting into a world-class college but aren't sure how to make it happen, we can help! AdmissionSight is a leading college entrance expert with over a decade of experience helping students just like you get into the schools of their dreams.
At AdmissionSight, we focus on offering a wide range of services, all aimed at helping students perfect their applications to catch the attention of admissions officers. Contact us today to schedule a free consultation and learn more about what we offer.