The Unsurpassed Excellence of MIT Business School
Renowned for its world-class faculty, innovative curriculum, and vibrant community, MIT Business School consistently shapes leaders who change the world and redefine the future of business.
We'll be talking about a luminary institution that stands out in the landscape of business education—none other than the Massachusetts Institute of Technology's Business School, commonly known as MIT's business school.
But why should anyone who's serious about business have their sights set on MIT's business school? Well, there's more to this powerhouse institution than meets the eye. When it comes to carving out a successful business career, the lessons and experiences you'll glean from MIT's business school will prove instrumental.
In this blog, we'll bring into focus the defining attributes of MIT's business school, from its innovative programs and renowned faculty to its active alumni network and extensive industry ties.
This journey into the heart of MIT's business school promises to be enlightening, proving just how integral this institution is to the global business ecosystem. Stay tuned!
Is MIT Business School hard to get into?
Is MIT Business School hard to get into? MIT's business school, renowned for its excellence and innovation, stands as a symbol of academic rigor and achievement.
It has long been considered one of the top destinations for aspiring business professionals, known for its cutting-edge research, distinguished faculty, and track record of producing successful graduates. But does this prestigious institution come with an intimidatingly high barrier to entry? Well, let's find out.
Imagine being part of a buzzing hive of innovation and learning where new ideas are continuously crafted into game-changing inventions. This is exactly the environment that MIT's business school, also known as the Sloan School of Management, fosters every single day. This program has always attracted aspirants from around the globe.
Each year, thousands of applications flood the admissions office, with dreams and aspirations attached to each one. Despite the sheer volume of applications, the acceptance rate is rather selective, hovering around the 12.1% mark in recent years.
This percentage translates into a dynamic and driven community of students, selected for their unique skills, passion, and potential.
So, what does this tell us? This signals a high level of competition for admission, which should encourage prospective applicants to put their best foot forward in the application process.
To conclude, while daunting, the admission statistics serve as a testament to the quality of education and the exceptional community at MIT's business school.
Every student admitted brings something unique to this institution, further enriching the learning experience and maintaining Sloan's reputation as one of the premier business schools in the world.
What are the admission requirements for MIT Business School?
What are the admission requirements for MIT Business School? Embarking on the journey to attend one of the world's premier institutions, like the MIT Sloan School of Management, might feel overwhelming at first.
However, fear not. This guide seeks to simplify the process and break down the admission requirements, helping prospective students better understand what it takes to join the MIT Sloan community.
Educational Qualifications
An essential stepping stone towards attending Sloan is acquiring an undergraduate degree from an accredited institution. While the school does not mandate a particular field of study, a well-rounded academic profile with evidence of quantitative skills can make an application shine.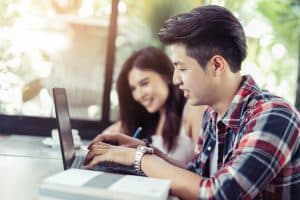 Entrance Exams and Scores
A key element in the application is standardized test scores. The school accepts both the GMAT and GRE scores, offering flexibility to applicants. The average GMAT score for admitted students tends to be around 720, reflecting the competitive nature of the applicant pool. For those more comfortable with the GRE, rest assured that there's no preference for one test over the other at Sloan.
Letters of Recommendation
Sloan requires two letters of recommendation. These letters should come from individuals who know the applicant well, preferably in a professional or academic context. The aim is to shed light on an applicant's abilities, character, and potential, highlighting qualities that may not be evident from grades or test scores.
Statement of Purpose/Essays
Crafting a compelling statement of purpose and answering essay prompts can be an opportunity to stand out. This is a chance to share a personal journey, career goals, reasons for choosing Sloan, and how the school's MBA program will help achieve those ambitions.
It's not just about flaunting accomplishments; it's about sharing genuine stories and experiences that define who an applicant is.
Interviews
Interviews at Sloan are by invitation only and are an integral part of the selection process. They provide an opportunity for the admissions committee to get to know an applicant better, assess interpersonal skills, and gauge cultural fit with the Sloan community. It's also a chance for the applicant to ask any lingering questions about the program.
Work Experience
While not a strict requirement, the average work experience of admitted students is around five years. Sloan values applicants with a track record of making a substantial impact in their field. The quality of work experience, leadership skills, and professional achievements can significantly boost an application.
Other Additional Requirements
Finally, applicants must submit a professional resume and academic transcripts and complete an online application form, providing personal information and a history of employment and education. An application fee is also required to complete the process.
To conclude, getting admitted to MIT Business School involves a holistic review of multiple factors. While it may seem daunting, every component of the application offers a chance to showcase unique strengths and the potential to contribute to the Sloan community.
It's about sharing a compelling story that resonates with the school's values of innovation, collaboration, and global impact.
What are the key benefits of studying at MIT's business school?
What are the key benefits of studying at MIT's business school? The Massachusetts Institute of Technology, or MIT, is widely recognized for its excellence in science, technology, engineering, and mathematics.
However, MIT's business school also offers an exceptional experience for aspiring business professionals. Join us as we unravel the key benefits that this prestigious institution has to offer.
Academic Excellence
At the heart of Sloan is an unyielding commitment to academic excellence. Renowned faculty and pioneers in their respective fields take charge of shaping the minds of tomorrow. The curriculum stays abreast of cutting-edge business trends, and the classroom becomes a hub of intellectual dialogue and debate.
Each course is meticulously designed to stimulate minds, provoke thought, and build a strong foundation of business knowledge and skills.
Practical Experience and Case Studies
Sloan transcends the boundaries of conventional education by seamlessly blending theory with practice. A rich collection of case studies brings real-world business dilemmas into the classroom, challenging students to don the hat of decision-makers.
Simultaneously, internships and field projects offer hands-on experience and a chance to apply classroom learning to solve real business problems.
Research Opportunities
With access to a multitude of research centers and labs, students can immerse themselves in pioneering research endeavors. Whether it's about exploring new start-up strategies, studying market trends, or investigating the impact of digital technologies on business, opportunities for research are aplenty.
Not to mention the rewarding experience of working alongside faculty members who are at the forefront of creating business knowledge.
Diverse and Global Student Body
Walking into a Sloan classroom feels like embarking on a global journey. Students come from various parts of the world, bringing with them unique perspectives and experiences.
This diversity fosters a vibrant and inclusive learning environment, enhancing not just the quality of class discussions but also promoting cross-cultural understanding and cooperation.
Professional Network and Alumni Community
Joining Sloan means stepping into a powerful network of business leaders, entrepreneurs, and innovators. Students can connect with an impressive array of alumni who are making a mark in various sectors worldwide. This robust network can serve as a platform for mentorship, partnerships, and even job opportunities.
Career Services and Job Opportunities
The Career Development Office at Sloan is dedicated to helping students navigate their career paths with confidence. They offer career coaching, resume reviews, interview preparation, and job search resources.
Top companies from around the world actively recruit at Sloan, offering a wide array of job opportunities in various sectors. So, whether it's about landing that dream job or starting a new venture, Sloan provides the support needed to achieve career aspirations.
Studying at MIT's business school isn't just about earning a degree; it's about a transformational experience that shapes students as leaders, thinkers, and change-makers. The benefits reaped here can be stepping stones towards not just a successful career but a journey of lifelong learning and impact.
What are some tips for preparing a strong application to MIT Business School?
What are some tips for preparing a strong application to MIT Business School? We're here to help you navigate the exciting journey of preparing a strong application to MIT's business school. As one of the most prestigious institutions in the world, MIT's business school has rigorous admission standards.
But don't worry, we've got you covered with some simple and basic tips to help you stand out and present a compelling application.
Preparing an Impactful Resume
The resume serves as a snapshot of academic achievements, professional experiences, skills, and accomplishments. Here are some tips to craft an impactful resume:
Keep it concise: Try to limit the resume to one or two pages, focusing on the most significant experiences and accomplishments.
Use action verbs: Start bullet points with action verbs like 'led', 'managed', or 'designed' to show active participation and leadership.
Highlight accomplishments: Rather than listing job duties, focus on achievements and the impact made in each role.
Tailor the resume: Align the resume to highlight experiences and skills that Sloan values, like leadership, teamwork, and innovation.
Writing Compelling Essays
Essays offer a chance to showcase personality, values, goals, and reasons for choosing Sloan. Here's how to make essays compelling:
Answer the prompt: Stay focused on the essay prompt and ensure each sentence contributes to answering the question.
Be authentic: Share genuine experiences and reflections. Remember, the goal is to show the person behind the achievements.
Show research: Demonstrate an understanding of Sloan's values and culture, and how these align with personal goals and values.
Securing Strong Letters of Recommendation
Letters of recommendation provide a third-person perspective on an applicant's abilities and potential. Here's how to secure strong recommendations:
Choose wisely: Select recommenders who know the applicant well and can speak in detail about accomplishments, character, and potential.
Provide information: Help recommenders by providing a brief on key points to cover, specific accomplishments, and instances that showcase abilities.
Request early: Give recommenders ample time to write the letter. It's a sign of respect for their time and also ensures they aren't rushed.
Preparing for Potential Interview Questions
An interview is a chance to make a lasting impression. Here are some tips to prepare:
Research common questions: There are several resources available online that list common MBA interview questions.
Practice: Conduct mock interviews with friends or mentors, focusing on speaking clearly, confidently, and concisely.
Understand Sloan: Familiarize with Sloan's culture, values, and expectations. This understanding can help tailor responses to reflect alignment with the school.
Highlighting Relevant Work Experience and Achievements
Work experience is an essential part of the application. Here's how to effectively highlight it:
Show impact: Rather than listing job responsibilities, focus on projects led, challenges overcome, and impact made.
Highlight leadership: Show instances of leading teams or initiatives, as Sloan values leadership potential.
Showcase progression: Display career progression to show growth and potential for future advancement.
With these tips in hand, it's time to embark on the journey toward crafting an application that does justice to its potential and promises a place in the dynamic world of Sloan.
Where does MIT rank in business?
Where does MIT rank in business? It's no secret that the Massachusetts Institute of Technology (MIT) is a powerhouse in the realm of business education. Renowned for shaping some of the best minds in the business world, the MIT business school has consistently maintained a strong presence in various rankings over the years.
According to the reputable U.S. News & World Report, MIT's Sloan School of Management has secured a coveted position in the 2023-2024 Best Business Schools list—an impressive fourth place.
This high ranking is a testament to the unwavering commitment of Sloan to delivering world-class business education, shaping future leaders, and driving impactful research.
Standing tall among the top business schools, Sloan has proven its academic prowess and stood the test of time, proving its worth amidst rigorous competition. This standing is not merely a number; it reflects the exceptional caliber of education and the vibrant ecosystem that Sloan provides for its students.
One of the significant factors contributing to Sloan's high ranking is its unwavering commitment to academic excellence. Renowned faculty members, groundbreaking research, and a curriculum designed to foster innovation, leadership, and entrepreneurship make Sloan a beacon of superior business education.
The pedagogy ensures that students are equipped with not only the requisite business knowledge but also a problem-solving mindset to tackle real-world business challenges.
Additionally, the emphasis Sloan places on practical learning experiences boosts its position in the rankings.
Be it through global labs, action learning courses, or internship opportunities, students at Sloan get to apply classroom concepts to real-world business scenarios, preparing them to excel in their careers post-graduation.
What truly sets Sloan apart is its diverse and global student body. With students hailing from all corners of the globe, Sloan boasts a dynamic community where diverse ideas converge and fuel creative solutions.
This multicultural exposure shapes global leaders, a trait highly valued in the interconnected business world of today.
In conclusion, MIT's Sloan School of Management stands as a beacon of excellence in the landscape of global business education. With its high-ranking, diverse, and global student body and unwavering commitment to academic excellence and practical experience, Sloan offers an unmatched educational journey.
Whether it's the interactive and immersive learning environment or the myriad of opportunities to grow professionally and personally, Sloan continues to be a dream destination for aspiring business leaders across the globe.
Should an interest in applying to MIT's business school be brewing, remember that the journey of application can be as enriching as the program itself. It's a chance to examine yourself, understand your personal strengths better, and chart out your career ambitions.
AdmissionSight, a leading college admissions consulting firm, stands ready to guide aspiring Sloan applicants. With our deep understanding of the admissions process and a team of experienced consultants, we can help make the application journey less daunting and more successful.
From helping craft compelling applications and essays to preparing for interviews, we provide tailored guidance every step of the way.
So why wait? It's time to take the first step towards realizing the dream of joining MIT's Sloan School of Management. Book an initial consultation with us and embark on an exciting journey toward being part of the prestigious Sloan community.
After all, dreams become a reality when preparation meets opportunity, and this could be the perfect opportunity. Contact us today!