A Closer Look at Wharton Sports Business Academy
Suppose you're a student with a passion for sports and a curiosity about the business behind the games. In that case, the Wharton Sports Business Academy (WSBA) might be the key to unlocking your potential in the sports industry.
Spearheaded by the Wharton Sports Analytics and Business Initiative (WSABI), this academy delves into the diverse academic aspects of the sports world. Forget about dry textbooks and endless theories; WSBA offers a practical and engaging exploration of the business and legal dimensions of intercollegiate, Olympic, and professional sports enterprises.
So, what's in it for you?
Academic Insights from the Pros
WSBA opens its doors to a dynamic learning environment, bringing together Wharton faculty and guest speakers who are industry experts. Picture this: you, sitting in lectures led by sports agents, broadcast network executives, league and team executives, and brand marketers. It's not just theory; it's real-world knowledge from professionals.
As you sit in these lectures, it's not a one-sided discourse of theoretical jargon. It's an immersive experience where you absorb real-world knowledge, where the complexities of the sports business are unraveled by those who have navigated its intricacies themselves. These professionals don't just teach; they share insights, anecdotes, and practical wisdom that textbooks can't capture.
This isn't about distant theories; it's about understanding the pulse of the sports industry from the very individuals who have shaped its rhythm. It's a front-row seat to discussions that transcend the theoretical, providing you with a genuine understanding of the challenges, strategies, and successes that define the business of sports.
Bridging Business Disciplines and Sports Passion
At the Wharton Sports Business Academy (WSBA), the exploration goes beyond the thrilling moments on the sports field; it dives deep into the intricate playbook of the business side of sports. If you've ever wondered about the intersection of management, law, negotiation, marketing, and leadership within the sports industry, WSBA is your guide to unraveling these connections.
The program is designed to be your compass in navigating the multifaceted world of sports business. It's not merely about knowing the game's rules; it's about understanding the strategies, negotiations, and intricate moves behind the scenes that make the sports industry a dynamic playing field.
Career Exploration in the Business of Sports
Suppose you've ever wondered about the diverse career paths within the dynamic realm of sports business. In that case, the Wharton Sports Business Academy (WSBA) answers your questions and provides you with a comprehensive roadmap for your journey.
WSBA recognizes that the sports industry isn't just about athletes on the field; it's a vast ecosystem with opportunities in various domains. The program serves as your guide, helping you navigate this complex landscape and discover many career options available.
Moreover, WSBA goes further by facilitating direct engagement with industry leaders. Imagine having the chance to interact with professionals who have not only carved successful careers in the sports business but have also played pivotal roles in shaping the industry.
This unique opportunity provides invaluable insights into the qualities and skills that drive a sports organization toward success.
Whether you're interested in sports management, marketing, analytics, or any other facet of the sports business, WSBA offers you a glimpse into the day-to-day operations of these roles. It's a chance to explore, ask questions, and understand the intricacies of each career path, enabling you to make informed decisions about your future.
From Classroom to Boardroom: Developing Leadership Skills
WSBA goes beyond traditional teaching methods. Imagine working with a small team of talented and diverse students, collaboratively crafting a business plan for a new sports-focused venture. It's a hands-on, practical experience that enhances your understanding of the sports business and sharpens your leadership skills through teamwork.
The Wharton Global Youth Certificate of Completion
The cherry on top is that all participants who complete the program walk away with a Wharton Global Youth Certificate of Completion. It's not just a certificate; it's a testament to your dedication and newfound expertise in the sports business arena.
The Wharton Sports Business Academy isn't just a program; it's a pathway to discovering and shaping your future in the dynamic and ever-evolving world of sports business. So, if you're ready to step onto the field of opportunities, consider WSBA as your playbook for success. Your journey in the business of sports starts here.
Schedule Breakdown
For course meetings, your active participation is needed from Monday to Friday. Each day will include live online classes, small group discussions, collaborative teamwork, guest speakers, and individual work on the Wharton Online Learning Platform.
Live Session Schedule
The schedule runs from Monday to Friday, approximately 10:00 AM to 3:30 PM Eastern Daylight Time (UTC-4). While daily details might change, you can use the tentative schedule below as a preliminary guide:
10:00 AM – 10:30 AM: Discuss current events
10:30 AM – 11:00 AM: Attend a live lecture
11:00 AM – 11:15 AM: Take a short break
11:15 AM – 11:30 AM: Engage in asynchronous reading or watch a video
11:30 AM – 11:45 AM: Participate in live review and group discussion
11:45 AM – 12:30 PM: Attend another live lecture
12:30 PM – 1:30 PM: Enjoy a lunch break; Optional Office Hours/Coffee Chat available
1:30 PM – 2:30 PM: Listen to a live guest speaker
2:40 PM – 3:20 PM: Engage in small group work
3:20 PM – 3:30 PM: Join a live large group discussion and wrap up the day.
Topics Covered in Sessions
The sessions will explore various subjects, including:
Sports law
Sports, Society, and Culture
Sports, Science, and Medicine
Professional sports franchises
The business of television/streaming
Collective bargaining and negotiation
Innovation/emerging platforms
Media, social media, and content
Social/responsibility impact
Youth sports
Technical Requirements
To fully participate in this course, ensure your computer meets the minimum system requirements for both Canvas LMS and Zoom Videoconferencing. For details, check out the following links:
Canvas LMS Support Resources
Zoom Requirements and Support
Please note that all programming comes from the Wharton School, University of Pennsylvania, and follows Eastern Daylight Time.
Eligibility
High school students currently in grades 10-11, showing solid academics, and having an interest in sports, business, and management, are welcome to apply. International applicants are also encouraged.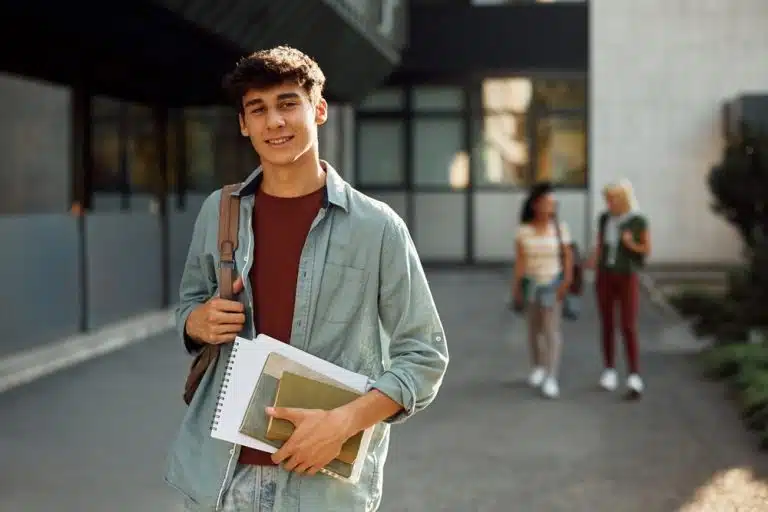 Admission
Admission to the Sports Business Academy is selective and considers academic excellence, demonstrated leadership, and a genuine interest in the sports industry. If interested, apply by the priority deadline.
Remember, being part of the Sports Business Academy doesn't guarantee admission to Penn.
Admission to Wharton Global Youth programs is highly selective. Successful applicants usually have:
A minimum 3.3 unweighted GPA (or equivalent)
Well-written essays expressing interest in the program content
Recommendations reflecting academic performance and potential
Involvement in extracurricular activities or personal achievements showing curiosity, collaboration ability, initiative, ambition, or a diversity of interests and ideas.
Applications are reviewed at various points in the admissions cycle. Check the Application Deadlines chart for admissions notification timeframes. You'll be notified via email once decisions are available.
Important Dates and Deadlines
Take note of the most critical dates to prepare early and ace your application.
Priority Deadline: March 15, 2023
Decisions Released: April 12, 2023
Final Deadline: May 31, 2023*
Final Decisions Released: Rolling Admissions
Priority Deadline
Applying by March 15, 2023, gives you a better chance of getting into your preferred session and finding out about your admission sooner. Programs are likely to fill up during this period. International applicants are strongly encouraged to apply by this deadline.
Final Deadline
Applying by May 31, 2023, gives you more time to work on your application, but fewer spaces are available in the program. Your preferred program or session dates may already be filled.
Important Note
If there are still spots available in a specific program or session, applications will be accepted until the final deadline. However, if the programs or sessions fill up, the application process will be closed, and new applications won't be considered.
Application Process
To apply, submit your application and all supporting documents online by the specified deadlines. Using early by the priority deadline is strongly advised. Applications will be considered once all materials are received and the application is complete. You can apply to multiple programs, but a new application is needed for each.
Important Note
The online application for Wharton Global Youth programs is hosted by Summer Discovery. Wharton faculty and staff independently review applications and make admissions decisions. Taking part in Wharton's high school programs doesn't guarantee admission to Penn.
Application Requirements
For your application to Wharton Global Youth programs, you must provide the following:
1. Transcript
High school transcripts or grade reports are necessary. Upload an unofficial copy directly to the online application. Two marking periods of grades are required for review.  If your current high school transcript lacks two marking periods, we recommend uploading your 8th-grade transcripts. If additional grades become available later, email them to [email protected] before the application deadline.
2. Essay/Short Answer Prompts
The short essays let the Wharton Global Youth admissions committee learn more about you and assess your writing skills. Quality and thoughtfulness matter more than quantity.
Why Business of Sports? (300-450 words)
Explain your interest in studying and pursuing a career in the business of sports. Keep your response between 300 and 450 words.
Leadership Example (Not exceeding 450 words)
Since this is a leadership-focused program, share an example or examples of when you demonstrated leadership outside the classroom. Your response should not exceed 450 words.
3. English Proficiency Scores
If you're not a native English speaker, provide English proficiency test scores. However, if your high school teaches in English, this requirement is automatically waived. Preferred scores are TOEFL (minimum score: 100 iBT) or IELTS (minimum score: 7).
If unavailable, you can submit PSAT, SAT, or ACT scores. Upload an unofficial copy of your score report to the online application.
4. Standardized Test Scores
Submitting standardized test scores is optional. If you share them, upload an unofficial copy to the online application, ensuring your name is included on the report.
5. Application Fee
A non-refundable application fee of $100 is required for each application. Pay it directly through the application system using a credit card. If you're applying through a community-based organization or scholarship agency, check the Costs & Aid page for potential fee waiver eligibility.
Program Fees
For the Sports Business Academy program, the fee is $4,799.
Online Program Fees Include
Online Program Fees Do Not Include:
Non-refundable $100 application fee
Textbooks or academic materials required for coursework
Technology required for programming
Scholarship Opportunities
The Wharton Global Youth Program aims to assist academically ambitious students with demonstrated financial need. Various need-based scholarships and financial awards offer full or partial funding for eligible program participants.
Applicants to the Management and Technology Summer Institute should visit the M&TSI site for information on available program scholarships.
Scholarship Instructions
Follow the steps below for a scholarship application. Review the eligibility criteria for the scholarships listed below.
If you meet the criteria, proceed to the scholarship application linked below to apply formally.
To qualify, applicants must:
Submit a summer 2023 program application by the priority deadline (refer to the chart below for program-specific deadlines).
Submit a scholarship application by the stated deadlines.
Online Programs Scholarship Key Dates
Priority Program Application Deadline: March 15, 2023
Scholarship Application Deadline: March 22, 2023
Scholarship Decisions Released: Within 48 hours of admissions decisions
Additional Details
If applying to multiple summer programs, submit only one scholarship application. There is no need to select a specific scholarship opportunity; the Wharton Global Youth review committee will decide the most fitting one. Financial documentation isn't required for the scholarship application, but verification may be requested.
If not admitted into a summer program, applicants won't be considered for a scholarship. A confirmation email is automatically sent upon submitting the scholarship application. Scholarship information is confidentially reviewed and does not impact admission decisions.
Wharton Global Youth Program Scholarships
These scholarships are available for all summer programs in 2023.
Scholarships from the Wharton Global Youth Program aim to help students passionate about business who might face challenges attending a summer program due to costs. These partial awards range from $500 to $5,000, aiming to cover specific program fees.
Remember that scholarship funds are limited, and not all applicants are guaranteed financial assistance. Scholarships go to students with a track record of good academics and proven financial need. Family income, family size, relevant expenses, and other financial circumstances determine the need.
Eligibility Criteria
To qualify for a Wharton Global Youth Program Scholarship, students must:
Be from a historically underrepresented group or identify as first-generation to college
Demonstrate financial need
Wharton Sports Business Academy: Frequently Asked Questions
1. What should I anticipate in an online program? How is the online experience structured?
Online programs are crafted to resemble the Wharton undergraduate experience, much like face-to-face classes, with adjustments for interactive activities and peer interaction. Though the subjects covered may differ between programs, students can anticipate a combination of pre-work done at their own pace, live lectures, interactive simulations, seminar-style recitations with 20-30 students, collaborative project work in small groups, and individual assignments.
Throughout their studies, students will encounter various faculty and instructors. Assignments aim to link the material and prepare students for more advanced content. Most programs include a collaborative small group capstone or final project to apply learned lessons and encourage independent and innovative thinking.*
*Note: The Understanding Your Money online course is flexible and individual, lacking live or synchronous components.
2. How are programs adapted for the online structure?
Online programs enhance experiential learning opportunities and peer interactions through collaborative group work, engaging simulations, facilitated small group discussions, and real-world case studies.
These programs also feature an instructional team, including Wharton faculty and instructors, guest speakers from various industries, and undergraduate and graduate student teaching assistants fostering community and facilitating learning.
3. What portion of the course is conducted in real-time, and how much is done independently?
The academy aims to make live interactions dynamic, collaborative, and concise, allowing for meaningful participation and flexibility. Any content that can be pre-recorded or given asynchronously will be available through the Canvas platform as independent work.
The proportion of live to asynchronous content delivery will vary by program. All programs will have at least 2 hours of live daily programming, and some may offer up to 6 hours of live daily programming.
Besides live daily interactions, students will also get independent assignments, asynchronous pre-work, small group work or projects, office hours, and optional events and challenges within the GYM virtual community.*
*Note: The Understanding Your Money online course is flexible and individual, without live or synchronous components.
Please visit program-specific web pages to learn more about the hourly commitments for each program.
4. How does it work if I am in a different time zone?
The programs have students from all around the world, united by academic success and curiosity. While all programming is based in Philadelphia, PA, in the Eastern Standard/Daylight Time zone, only some are in the same time zone.
For students with time zone constraints, consider the Future of the Business World (FBW) online program, which offers the most flexible options. In FBW, live programming is repeated twice daily, allowing students from different time zones to participate when it suits them best.
If you're set on getting into a world-class college but aren't sure how to make it happen, we can help! AdmissionSight is a leading college entrance expert with over a decade of experience helping students just like you get into the schools of their dreams.
At AdmissionSight, we focus on offering a wide range of services, all aimed at helping students perfect their applications to catch the attention of admissions officers. Contact us today to schedule a free consultation and learn more about what we offer.