Tips for Staying Engaged in Online Courses
Online courses have always been an alternative option for college students. Taking classes online presents an increased opportunity for flexibility. Students can enroll in classes that are completely online or hybrid with online and offline options. To get the most of their education, students should enroll in the classes in which they will be most likely to succeed. Learn more about acing your online courses.
Attending classes online asks students to show up in different ways than traditional face-to-face classroom settings. Independent, self-motivated, driven students are more likely to succeed in online classes.
These students can motivate themselves, manage their own schedules, and build connections outside of a classroom. For these ambitious students, acing online courses may even be easier than traditional classes.
For other students, online courses require the development of a completely different skill set. From staying engaged and holding oneself accountable, students need specific strategies so they can be productive in online classes.
This means staying on top of assignments, taking steps to limit distractions, and following through with assignment due dates and test deadlines.
To successfully ace online courses, students can follow these tips:
Explore the Learning Management System (LMS)
Every online course will use a LMS to post announcements, submit assignments, keep track of course grades, and facilitate student connections. Spend time exploring the LMS to know where everything for the course is located. Find out if all the classes modules and work are posted ahead of time or weekly. Knowing how to use the LMS will require students to use their technological skills.
Read the syllabus in its entirety.
The syllabus is the key to passing the course. Read over the syllabus from top to bottom. Pay special attention to the course objectives and assignment due dates.
The course objectives will lay out what you can expect to learn in the class. This will guide you through the course material and help you with completing the assignments.
The assignment due dates are the most important part of the syllabus. Calculate how many assignments you'll have each week and what you'll be doing. This will give you a sense of how much time you'll need to invest in the class.
Course syllabi with lots of readings and assignments to complete each week will require a greater time investment. Use the syllabus to plan ahead and estimate how much time will be needed.
Have materials prepared.
To be productive in online classes, you can make sure you have all the materials you'll need. Students will need a laptop or personal computer to assess their course materials.
They may want to have their own, rent one from a school loan program, or have access to computers at a library or computer lab. A consistent workspace is also helpful to establish a routine and store all your materials for class.
The course instructor might provide a list of supplies to purchase, like a class textbook, novels or nonfiction books, a website or newspaper subscription, a composition notebook, or a binder and section dividers. These materials should be obtained by the course deadline.
In addition to the materials professors suggest, students will also want to have a range of materials at their disposal.
These materials include writing utensils like pens and pencils, highlighters, notebooks, binders, note cards, sticky notes, printer paper, and poster boards. For more creative classes, students might want to have scissors, glue, and other crafting items on hand.
Whatever the course, you will want to have the materials you need close by and easily accessible.
Take note of assignment types.
When reviewing the syllabus, pay attention to the types of assignments along with their due dates. Most assignments in online courses will feature readings of textbook chapters, book chapters, articles, or web pages.
Beyond readings, you may be asked to plan, research, and write papers and essays of different lengths, conduct scientific research, work on projects with groups, and craft presentations.
Each type of assignment will require different materials and lengths of time to complete. Take note of whether assignments are due weekly or monthly and if due dates are predictable, like every Friday submitting a quiz or having class readings every Tuesday before class.
Students should also differentiate between coursework and assessments. Readings and one page reflections are coursework.
Weekly quizzes and a mid-term are assessments. Notice whether the course has a final exam to study for at the end of the semester. Keeping track of upcoming assessments will help with allocating study time each week.
Calendar all class meetings and deadlines.
When reviewing assignments on the syllabus, use a scheduling tool, like a Google or Outlook calendar, to schedule due dates. Using a calendar is an effective time management tool as it adds your deadlines to their respective days and helps you to stay organized.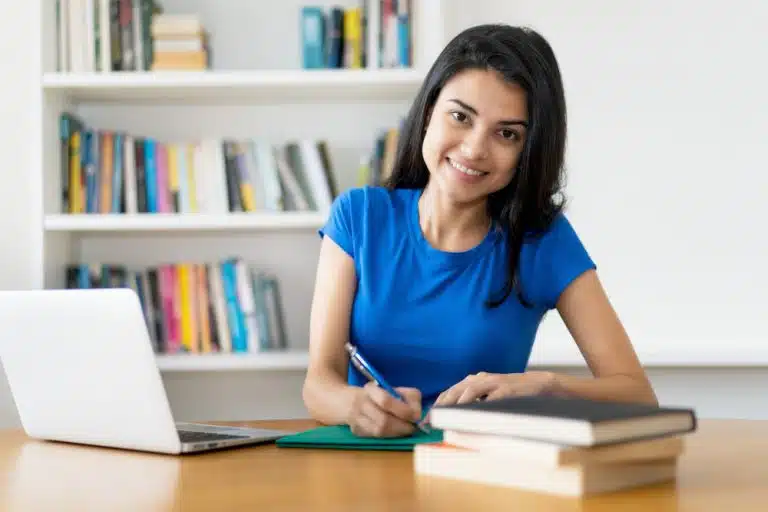 Daily and weekly, you can use your calendar to track how many assignments you'll need to complete for the week as well as get a sense of what's coming up in the future. Calendars are great for visual and spatial learners who need to see their due dates and measure how much time they have to complete them.
Set reminders for due dates.
Along with calendaring due dates, you should also set a reminder. Most calendars include a reminder feature that will alert you at different times before the deadline.
Set reminders for a time that is most beneficial to you, whether it is one week before or two days. Use reminders to check in and monitor your progress on assignments, especially ones that have multiple parts or that will take you some time to complete.
Reach out to your instructor early.
If you start to have problems keeping up, understanding the material, or being able to complete assignments on your own, reach out to your instructor as soon as possible.
Most professors of online courses set virtual office hours at different times throughout the week. You can find these office hours on the syllabus or class page.
Plan to attend virtual office hours at least once throughout the semester. You'll need to visit them more frequently if you are struggling. Professors want to help their students be successful, even when they do not see them face-to-face. Making sure you grasp the material and can complete the assignments is something a professor will be happy to help you with.
If your instructor doesn't have office hours listed, send them an email. Use the email to let the professor know what questions you have, what material you are struggling with, and what help might be most useful for you.
Avoid waiting until an assignment's deadline is due or passed to seek help. The sooner you reach out, the sooner the instructor can provide you with the support you need. Advocate for yourself and speak up as soon as you run into any problems.
Make at least one to two friends.
Meeting asynchronously can make it difficult to make friends in your classes, but strive to make at least one friend in each class. The social aspect is often missing from online courses. Professors will usually take steps to help students form community, usually through group discussions and group projects.
Embrace opportunities to work in groups as a chance to collaborate and form connections. Learn the names of your classmates and ask for their contact information. Some online classes form WhatsApp groups or use other social media apps to communicate and plan outside of class.
Having someone to discuss class material with and get feedback on assignments before submitting them can help you be more productive.
Being engaged with your classmates also contributes to making sure you still have the typical college experience, even if you are in front of a computer screen. Relationships with classmates are valuable for helping students stay engaged and motivated to be productive.
Schedule homework and study time.
Some of the benefits of online courses are the flexibility they offer students. This flexibility has to be carefully guarded though, as online students often have many other responsibilities. Jobs, family responsibilities, and social obligations can take up alot of time and leave no room for online courses.
Having a calendar and setting reminders is a good first step. Setting times to complete homework and study is also important. You'll be doing a lot of self-studying in online courses. Schedule in blocks of time to complete these tasks when you are most alert and able to do a substantial amount of work.
If you work well in the morning, wake up one to two hours before your usual wake up time to complete readings and assignments. If you get a burst of energy in the evenings, set a two to three hour block of time to work after dinner before going to bed.
Have a check-in or accountability partner.
You don't have to do online courses alone. There are many ways to develop check-ins and hold yourself accountable. Set a time each week, maybe on a Sunday before classes start, to check your calendar and plan your schedule for the week. Maybe you set aside Tuesday and Thursday evenings to work each week. Check in on your previous weeks to see how you did.
Select an accountability partner to help you stay on track. This can be a classmate taking similar courses, a friend who has already graduated college, or a mentor. Have a set time to check-in with your partner.
A Friday check-in will help you to think about what you have accomplished and come up with a plan to get through your upcoming tasks. Make sure you pick someone who has the traits that lead to success. An accountability partner who slacks off or procrastinates may not be as helpful in motivating and inspiring you.
Develop a routine.
Developing a routine helps to create consistency in your schedule. You can predict what you will do and use different times of the day to guide your tasks. A morning routine will help you get your day started, and if you are a morning person, ensure you have time set aside to work on tasks early.
If you prefer the night, be sure to schedule in time after dinner and any evening responsibilities, like caring for children or other family members.
Change the environment.
If working at home is not proving fruitful, change your environment and move your workspace somewhere else to help in acing your online courses. If you can, leave your house and work at a library or coffee shop. Going to a different place to work can cue your mind that it is time for homework and assignments.
It can help eliminate the monotony of too much routine. Grab your laptop and set up at a table outside at the park. The sunshine and the clean air could be all the change in environment you need to refocus and concentrate on your work.
Try to rotate your workspace, even if you don't leave your house. Instead of working in your bedroom, work at your dining room table or in your living room. If you have access to your school's campus, using the school facilities can be a great way to work in a different location and meet classmates.
If you live near friends from your course, try meeting at their house for weekly study times. Being in a new place can also limit distractions you'd find in your home like TV and video games.
Participate and socialize.
One of the best ways to stay engaged in and ace your online courses is to participate during class times. If classes are held at a set time, it is easy to log in and be present. While the professor lectures, take notes and write down your questions.
If the professor asks a question, raise your hand to answer. Use the questions you write down to generate your own discussions.
If you do not feel comfortable speaking up in class, stick around after class has ended. Writing down your questions will help you to remember what you wanted to ask and help you seek out clarity. You can also use the time at the end of class to connect with your professor or make a plan to reach out for more time at a later date.
Beyond participating during class, use class discussion boards and forums to respond to and connect with peers. Whether assigned or not, most LMS have a messaging or discussion board feature that enables classmates to socialize with each other.
If these boards are not active in your online course, start a group chat or group email chain. If your classmates are local, take opportunities to meet in person and socialize outside of class times.
The friends you make from class can be a valuable support system for acing online courses. They can be a sounding board to discuss assignments, get advice on dealing with the courses, or an avenue for hanging out socially outside of class. Connections formed with classmates even in online classes can quickly become life-long friends.
Get rest and recharge.
Students might be tempted to work late nights and early mornings to ace their online courses. Rest and relaxation times are just as vital as scheduling time for homework. It is okay and absolutely necessary to turn off your computer and get some sleep at night which is imperative in acing your online courses.
Getting rest is just as important as working hard. Avoid staying up all night week after week as this can cause health problems long-term.
Other ways to get rest include having a cut off time at the end of each day after which all work stops. This can be an hour before your bedtime.
Taking a break from your work is expected. Be sure you are using your schedule and reminders to balance out your workload. Doing this will avoid those late nights cramming to finish an assignment or study for a test before the next day.
Plan for the future.
Looking ahead to the future will help you with planning what to do each semester and in acing your online courses. Use your syllabi and calendars to know when your courses will start and end.
This will let you know how many courses you'll need to finish and how many semesters you'll need to finish them in. Online courses can range from three weeks to 12 weeks, so pay attention to upcoming deadlines and due dates.
Academic advisors' job is to help you with planning for the future. Meet with your academic advisor as soon as you can during the semester. They will make sure the online courses you are enrolled in will count for your program and degree.
They will also help you to identify courses you still need to take and calculate how long until completion. Programs may take as little as one year or more than the four years of a traditional degree program.
It might also be unreasonable to expect online students to take a full course load of classes, 12 to 15 semester hours. So, the academic advisor can help you figure out how many semesters it will take to finish the program with the number of courses you plan to take each year. Keep this plan in mind as you enroll in classes each semester.
You'll want to have a good idea of how many semesters you'll be taking online courses before completion. This future planning will also help with scheduling other events like graduation and full-time job interviews.
The AdmissionSight Promise
At AdmissionSight, we know the ins and outs of college admissions and college success. Even at Ivy Leagues, professors are grappling with how to keep you engaged in acing your online courses.  Follow our tips to acing your online courses. Reach out to an AdmissionSight consultant today to start planning for your higher education future.