Tips for taking Online Classes
What is an online class?
So, what exactly is an online class? A class that takes place via the internet is referred to as an online class. In most cases, they are carried out through the use of a learning management system, through which students can monitor their course syllabus and academic progress, as well as communicate with one another and with the teacher of their respective course. Self-paced learning is also the norm in online classes, which gives students more leeway in terms of when and how they do their assignments.
What to expect in an online class?
The form that one's education can take depends entirely on their preferences. Therefore, what you should anticipate in an online class looks very different depending on the program you want to take.
Free online courses could be the answer to your question if you are interested in acquiring fundamental information regarding a specific subject. These are more likely to be self-paced, which frequently means that an instructor will provide less direct assistance to the student. There are options accessible in practically every imaginable field of study, including both soft and hard talents, and they may be found in the marketplace.
On the other hand, if you are hoping to make a more significant shift in your profession or advance into a managerial position, you should give some thought to enrolling in a paid online program that offers a certification or helps members of your team move into new internal positions or gain new skill sets. This qualification could take the form of, among other things, a certificate, a professional certification, or an entirely online degree program.
Structure and format might vary widely among paid online classes as well. Some of them demand that you show up for live lectures at a specific time while some schools require you to finish your schoolwork on your own time, but they nevertheless give you weekly due dates.
Moreover, even courses that are advertised as being offered "online" could nonetheless need students to visit the physical campus at some point. Before enrolling in your program, it is imperative that you familiarize yourself with its website and read up on its specifics. Each of the programs will provide a one-of-a-kind educational experience and it is best if you can use some tips for taking online classes.
Your virtual classroom (which is frequently referred to as a learning management system, or LMS), email, videoconferencing, and even more methods of communication are all viable options for interacting with your fellow students when taking classes online. There are certain online courses that could need you to work in groups.
Prior to making a commitment to online learning, it is important to investigate what credentials and types of coursework can assist you in achieving your objectives. This is true whether you are looking to further your own education or enroll your staff in courses that will assist them in keeping their skills current. But first things first, you need to decide whether or not online education is a good fit for either you or your staff.
Tips for taking Online Classes
To make sure that you can make the most out of your online program, here are some tips for taking online classes:
1. Consider a course taken online to be the same as a "real" course.
When it comes to taking lessons online, you need to have the self-control to sit down and tell yourself, "I am going to work on this," in addition to the commitment to actually carry out what you say you are going to do. In spite of the fact that you have some leeway in determining when during the week you will get your work done, you can't put it off indefinitely.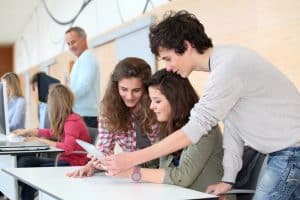 Keep in mind that you are paying for this online course, just like you would if you were attending a conventional, in-person class. This is one of the easiest ways to ensure that you actually complete the course. If you want to receive anything worthwhile out of your course, you have to actually be there. If you approach your online classes in the same manner that you would an in-person class or, even better, a career, you will be on the correct path from the beginning.
2. Accept responsibility for your actions.
At the beginning of the semester, you should sit down and write down some goals for yourself, and then check in with yourself once a week. In a more conventional kind of classroom, you will frequently be provided with verbal or visual reminders of the approaching due date for an assignment.
If your instructor does not proactively remind you, however, it is your responsibility to ensure that you have scheduled sufficient time to finish the work so that you do not begin an assignment the day before it is due.
If you're having problems being responsible for yourself, team up with a fellow student, ask your spouse or a close friend to help, or find someone else who can serve as an accountability partner to check in with you. Even if your life outside of school is a complete mess, you may still get the most out of your online class provided you are well organized, take initiative, and are self-aware.
3. Practice time management.
This is one of the most important tips for taking online classes. Many people find that the ability to design their own class schedules is one of the most appealing aspects of taking classes online. However, if you are unable to effectively manage your time, having such independence might also work to your detriment. If you don't have them, you run the risk of having to cram right before your classes or turning in work that isn't up to par.
Even though how you manage your time will depend on your schedule, the way you learn, and your personality are universally useful strategies that can help you practice managing your time better and enhance your talents in this area.
At the beginning of the semester, you should review the course curriculum and develop a list of the more important assignments. Make a note of them on a calendar that you consult on a regular basis so that you can anticipate the amount of work that will be required of you in the weeks to come.
Don't forget to add in past commitments that may interfere with your regular study plans, such as weddings or vacations, so that you may give yourself enough extra time to do projects. This will ensure that you don't fall behind.
You should make a weekly timetable that you stick to, allocating specific hours each week to activities such as reading, viewing lectures, finishing assignments, studying, and engaging in online discussion forums.
When working on your tasks, you should attempt time-blocking, which involves allocating a specific amount of time to each activity before moving on to the next one and setting a timer to keep you accountable for completing each task in the allotted period of time.
Check-in on yourself at regular intervals throughout the course of the term and evaluate how you're using your time. A little bit of introspection and adjustment can go a long way toward achieving one's goals.
4. Establish a regular study area and maintain your organization.
Organize your study space to make it as conducive to learning as possible. You will start to fall into a habit if you continue to carry out your responsibilities at that location. It is crucial to identify what kind of atmosphere will work best for you, as your workspace, whether it be your kitchen table, a library, or the corner booth in a neighborhood coffee shop, can have a significant impact on your productivity.
Try several environments to see what works best for you to increase your productivity. Make sure that there is access to high-speed internet wherever you go so that you are not forced to struggle with a slow connection while attempting to complete an online course.
Creating a regular workstation or office for yourself can also assist you in maintaining your organization. You will be able to stay on track toward achieving your objectives more easily if you are aware of the specific locations of essential dates, files, forms, syllabi, books, and assignments. When preparing your place to study, make sure you do the following:
Maintain a connection to the internet capable of fast speeds.
Ensure that you have all of the necessary textbooks, materials, and software for the class.
Put on some headphones if you plan on attending any lectures or participating in any conversations (especially important in shared spaces)
5. Eliminate distractions.
There are a lot of things that can divert your attention from your studies, such as Netflix, social media, or even just the dishes stacking up in the sink. The most successful students who take classes online are those who have learned how to limit their exposure to distractions and carve out dedicated study time.
Your one-of-a-kind personality and the particular circumstances you find yourself in will determine the level of difficulty that these interruptions present to you. Listening to music might help some people block out the distractions of a busy household environment. Others might decide to work from a local coffee shop or library to avoid the temptation to multitask at home, and this could be their solution. You will, in the end, need to discover a tactic that is successful for you specifically.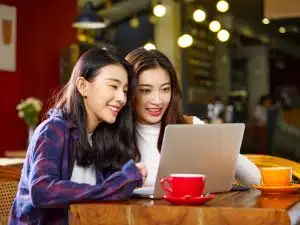 Regardless of where you decide to get your job done, you should seriously consider shutting off your mobile phone so that you aren't distracted every time a new notification or text message arrives.
6. Determine the most effective way for you to learn.
When you've decided where you'll learn, the next step is to consider the times and methods that will help you achieve your greatest results. If you find that you function best in the morning, getting some studying done early thing is a good idea. More of a creature of the night? Make sure to give yourself at least an hour and a half after dinner to relax in front of your computer.
If the kids need your attention in the morning and evening, try to schedule a study session during the middle of the day when they are at school. Make a cup of coffee the way you always do put on the music you always listen to, and do anything else it takes to be in the zone so you can get down to business.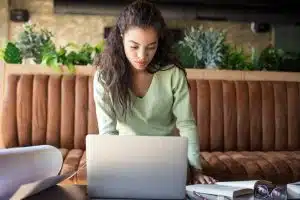 Because not everyone learns in the same way, you should consider what kinds of knowledge assist you to understand new ideas the most effectively and apply appropriate methods of study.
Print out transcripts of the video lectures to review, for instance, if you are someone who learns best through seeing things. If you think listening is the best way to learn, make sure that you leave enough room in your schedule to play and replay any audio or video content that is included in the course.
7. Take an active role in the process.
Participating in the online forum for the course will assist you in better understanding the course topics and will allow you to engage with other students in the class. This could involve making a comment on a paper that a fellow student has written and posting it on a discussion board, or it could involve posting a question related to a project that you are currently working on. If you have a question, make sure to read what the other students and your professor are saying and then ask for clarification if necessary.
Be sure that you are also checking in as frequently as you possibly can. Due to the adaptability of online education, you are able to accommodate a discussion response into your schedule even if you only have thirty minutes to spare before you have to go for dinner. Make it your mission to participate in the class discussion threads on a daily basis.
And if you think you could be going behind, don't be afraid to speak out. Do not wait until the last minute before the due date of a project to ask questions or report problems. Send an e-mail to your instructor and take the initiative to seek support.
8. Make the most of your network.
It's possible that taking classes online will give you the impression that you're the only one in the class, but this couldn't be further from the truth. The majority of online courses are centered on the idea of working together to accomplish tasks and discuss topics presented in class. Professors and teachers actively encourage students to work together to complete assignments and participate in class discussions.
Introduce yourself to the other students and participate in the online discussion boards to begin forming ties with them. When it comes to cramming for tests or getting feedback on work, your fellow students can be a very helpful resource. It is okay to ask them for help in forming a virtual study group, so don't be scared to do so. There is a good chance that they will value it just as highly as you do.
Now that you have run through these tips for taking online classes, it will be easier for you to cope with the set up and develop a learning habit that will help you maximize your full learning potential.
Moreso, if you'll be needing any help and want to have academic guidance, AdmissionSight is here for you. We work one-on-one with the student throughout the duration of the highly individualized, hands-on private consulting program. The student will have unlimited access online to discuss academic advising, extracurricular activities, summer program applications, and college applications.
Over the past decade, AdmissionSight has helped countless students. Feel free to set up an appointment today to book your initial consultation.