Tips On Deciding "What College Should I Go To?"
How Do You Know If Going To College Is Right For You?
You might be wondering what comes next as you approach the end of your high school career or have just graduated. Getting a higher education can be one of the best choices you can make for your future, regardless of your situation. Before deciding about "What college should I go to?", be aware, before signing up for a college tour, that college is not for everyone and not every institution is a good fit for students headed to college.
A college education can alter your life. It can open a new world for you, provide you the chance to make lasting friends, and pave the way for a fulfilling career. It's still a substantial commitment. An associate's degree can be earned in two years on average, whereas a bachelor's degree may take up to four years to complete. Consider the following before enrolling:
1. Consider Your Career Objectives.
Going to college might not be the ideal choice for everyone, depending on your interests, abilities, and ambitions. For instance, a technical school may be the greatest place to learn about some lucrative, in-demand professions like plumbing, electrical work, and other practical skills. Additionally, these trades can be learned on the job, possibly through an apprenticeship. College may not be worthwhile for those wishing to begin a career in these disciplines given the advantages it offers.
On the other hand, the reality of the current economy is that a college degree is a requirement for many occupations. This makes sense in some circumstances. College is where professionals like doctors, accountants, physicists, computer programmers, and many more learn the fundamental knowledge and abilities that support their daily work.
In other instances, some businesses will not accept somebody who does not have a degree, even if that degree is in a relevant area. Going to college can help provide at least a basic degree of credentialing for future employment for those who are unclear about their professional aspirations.
One of the major career advantages of getting a college degree—significantly better earnings—isn't even taken into account. According to the Social Security Administration, persons with college degrees earn at least $500,000 more in their lifetimes than those without.
2. Examine Your Finances.
College can be expensive, as everyone who hasn't been living under a rock for the past two decades knows. According to US News and World Report, the average private college will cost more than $38,000 per year for the 2021–2022 academic year. In-state tuition for public colleges is above $10,000, with out-of-state costs approaching $23,000.
A four-year degree might cost you anywhere between $40,000 to more than $150,000, according to simple math. Additionally, you'll have to pay for books, accommodation & board, and other miscellaneous costs in addition to tuition.
But you shouldn't let this stop you from going to college. Based on academic achievement and financial need, several colleges provide extensive financial aid programs. Contact any colleges you're thinking about to find out more about their programs. Additionally, there are student loans available from the federal government as well as from private businesses. These may be very helpful resources for financing your education.
However, you should use them wisely to avoid taking on more debt than your potential future employment would be able to bear.
3. Take Into Account Your Plans And Life Circumstances.
Before thinking about "What college should I go to?" you should also consider your personal situation. Whether you choose to attend college full- or part-time, for a two- or four-year degree, it is a significant commitment. While you work on your education, you might have to put other aspects of your life on hold.
Make sure you have room in your life for education to be one of your top objectives, especially in light of the price and possible advantages. Most soon-to-be high school graduates won't be overly concerned about this. However, individuals who have a lot of obligations at home, those who are raising a loved one or a child, and those in other situations could find that education is not the best option.
Thank goodness, remote learning, and accredited online programs have transformed education. Those who don't have a lot of scheduling flexibility now have an easier time obtaining a degree thanks to technology.
Many people find college to be a good experience, but not everyone does. Some people may decide it's not worth the cost, time, or effort. On the other hand, attending college might be one of the wisest choices you ever make. It can help you learn new skills, widen your intellectual and cultural horizons, and make friendships that will last a lifetime.
When Should You Start Looking At Colleges?
It takes time and effort to apply to colleges. Standardized tests, college essays, and deadlines must all be balanced by students. Additionally, students must maintain their regular classwork and extracurricular commitments. In other words, students who plan to attend college are typically quite busy.
Now, when should you start looking at colleges? Begin your college search and list-making during your junior year of high school, following expert advice. College applications can take longer than individuals think. It takes time to schedule a time to complete essays (and additional essays), asks for letters of recommendation, and sit for standardized tests.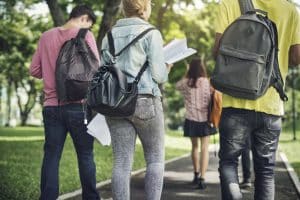 If you want to apply to any colleges through early action (EA) or early decision, we strongly advise starting the college research process during your junior year (or sooner) (ED). Students applying through EA or ED must submit their applications earlier than those submitting by regular decision, as the names suggest (RD). Deadlines for Early Action and Early Decision applications often come in November. However, Regular Decision deadlines normally occur in January.
How Do I Decide Which College To Choose?
The decision of which institution to attend is a significant one, and students should carefully consider all of their alternatives before deciding on one. What college should I go to? While each student has unique needs and interests, everyone should take the following considerations into account while making a choice.
Geographic Location
For many students, location is one of the most important considerations when talking about "How do I decide which college to choose?" You may be eligible for in-state tuition if you choose to continue your education at a public university in your home state, which could result in significant financial savings for you.
Since automobile rides are typically less expensive than airfare, you can also reduce your travel expenses. Think about whether you would prefer to live in a small town, a large metropolis, or somewhere in between.
Small college towns frequently provide a more personal feeling of community that allows you to forge close bonds with classmates and lecturers. Schools in big cities, on the other hand, may give you access to additional social and cultural events, as well as internships with significant businesses and charities.
Academic Fields of Study
Make sure any school you are thinking about has a major that fits with your academic route if you already have a clear idea of it. For instance, students who are certain they want to major in art history should not give colleges that do not offer this degree a meaningful consideration. On the other hand, students who are still unsure of their academic objectives might want to think about picking a college that offers a wide range of majors.
Academic Excellence
No school can provide the top programs in every subject of study, despite what its marketing team may like you to think. Looking at rankings might help you gauge a college's general academic standing and reputation before enrolling. The college's accreditation should then be verified.
Next in choosing "What college should I go to?" is to check to discover if specific academic departments have the necessary accreditation. For instance, you'll probably want a school that has been approved by a relevant professional organization if you intend to pursue a business administration degree.
If the faculty in your target department has gotten any honors or recognition for any ground-breaking publications or discoveries, you may use that information to estimate their career and research accomplishments.
Size of School
There are all different sizes of schools and universities, from little liberal arts colleges with fewer than 1,000 students to massive state universities with more than 50,000 students enrolled each year.
Smaller institutions might not offer as many programs, but they frequently offer specialized degrees, including majors that students choose themselves, and experiential learning opportunities.
Smaller class numbers at small universities may also make it easier for you to get one-on-one assistance from professors and academic counselors.
Because they can benefit from the variety of courses, extracurricular activities, and professional resources available at large colleges, students with specific interests and aspirations often succeed there. Larger schools frequently have well-stocked libraries, cutting-edge research labs, and nationally renowned athletic programs.
Total Cost
You'll frequently be eligible for lower tuition costs if you select a public university close to your home. The average tuition and fees for in-state students attending a four-year public university were $9,349 in 2019–20, while out-of-state students paid $27,023, according to the National Center for Education Statistics. Private institutions charged students an average of $32,769 in tuition and fees in 2019–20, regardless of residency status.
When checking into "What college should I go to?", you should estimate the entire cost of attendance, and also account for accommodation and board, transportation, books and supplies, and other supplemental student expenses. The best universities provide competitive financial aid programs and reasonable tuition rates. Consult an academic counselor to learn more about the loans, grants, scholarships, and work-study programs that your chosen school offers.
The Campus Setting
When selecting a college, it's critical to take the campus environment into account because personal and professional development also takes place outside of the classroom. Depending on your interests, you might want to investigate colleges that place a high priority on Greek life or have a thriving art scene.
Consider colleges with renowned athletic teams if you enjoy the spirit of sports camaraderie so you may attend games and other social events. Similar to this, you can meet new people through recreational and competitive activities at colleges with active intramural sports clubs.
Resources and Support Systems
You should consider your needs and desires as a whole person, not simply as a student, to promote long-term success. Make sure the college can accommodate your spiritual life, as well as any medical concerns or unique educational needs, before deciding on it.
When starting college, many students struggle with homesickness and other emotional issues, so it's a good idea to find out in advance if counseling services and health and wellness programs are offered. Even though tutoring and writing support are offered at almost all higher education institutions, make sure you have easy access to them in case you ever need them.
Lastly, your preferred college needs to provide a variety of career services to assist you in finding internships, connecting with possible employers, and composing compelling resumes and cover letters.
What Do I Do If I Don't Want To Go To College?
College comes after high school, then marriage and a family will follow. It's a common route that parents lay out for their children from a young age—one that many kids desire to take. Some people eventually reconsider going to college as they get older due to financial issues or less-than-stellar grades, but what happens when you think about "What do I do if I don't want to go to college?"
You must first and foremost develop a strategy for your life beyond high school. This strategy may change sooner rather than later, but unless you're independently wealthy, you'll need to take action.
Here are a few ideas:
Attend A Trade School
If you will skip the "What college should I go to?" part, think about attending a trade school.
Trade schools usually referred to as vocational or technical schools, provide instruction in the skills required for a variety of jobs. Trade school programs typically last one to two years to complete, and following successful completion of a program, a certification or, in certain cases, an associate degree is awarded.
Healthcare programs frequently feature massage therapy, medical or dental assisting, and accountancy. Industrial programs frequently feature heating and air conditioning maintenance or welding. Design programs frequently feature cosmetology, floral, and interior design.
Take A Job
You should give getting a job some thought, especially if your parents have asked you to help out with household expenditures like paying the rent now that you're out of school. If you already had a respectable part-time job during high school that you liked, see if you can up the burden. Be realistic if you want to locate something that is a step up.
In many businesses, whether big or small, employees can climb the management ladder and attain positions of power. Supercenters like Wal-Mart and Target, as well as other specialty retailers, frequently promote staff members from the inside. Just be aware that if you're a new employee, you'll start at the bottom.
Do An Internship
Not just students can pursue internships. Young people who are interested in learning more about the industry can find internships with many large enterprises, as well as smaller businesses and startups. Although it is frequently far from glamorous, working as an intern might help you get started. Nowadays, a lot of internships are paid, and some unpaid internships result in permanent paying jobs. However, keep in mind that you could still need to work a paying job "on the side."
Take A Year Off
If the query "What college should I go to?" still lingers in your mind. You might want to consider taking a gap year. A gap year is a one-year break between high school and college. With the permission of the institution, they will be attending the next year, many students choose to take a break from their studies in order to select precisely what they want to study and what kind of profession they would like to pursue.
Many youngsters gain "real world" confidence that helps them thrive when they return to school, contrary to the fears of some parents who worry that their children would decide to forgo college altogether. Better if you engage in hobbies like traveling and working abroad, a gap year is sometimes regarded as a résumé booster.
Examine A Class
Many people don't know that it's possible to enroll in a college course without being concerned about your GPA. You can attend a class but not receive a mark or college credit if you audit it. A community college offers reasonably priced class auditing. Additionally, it's a wonderful method to decide whether you're very convinced that you don't want to attend college—you never know!
Volunteer
Similar to internships, volunteering is a beneficial approach to gaining practical experience without committing to "real" employment. It also offers the chance to lend a hand to others. Call around to organizations that interest you to see if your help may be needed; nonprofits frequently need volunteers. Even though you won't get paid, treat your job seriously by being on time, following instructions, and being a good sport. If the encounter doesn't feel right, kindly explain why you're leaving rather than disappearing.
College is not appropriate for everyone, despite numerous programs to raise the proportion of Americans with college degrees. However, you won't be able to slack off your parents and stay in the house all day, so be sure to have backup plans prepared.
AdmissionSight is here to help you decide "What college should I go to?" and how to know if college is right for you. Book an initial consultation with AdmissionSight to know us more and our services and programs you can benefit from.