Tips On How To Get Recruited For College Basketball
College basketball recruitment
What is a basketball recruitment? The process of locating, assessing, and enlisting high school basketball players for a college or university basketball program is referred to as college basketball recruitment. Read on to get some tips on how to get recruited for college basketball.
As high school basketball players begin to attract the attention of college coaches, whether, through their play in high school games or on the AAU basketball circuit, the recruitment process often starts.
Coaches often go to games and competitions to watch their players play, but they can also use game tapes, statistics, and recommendations from other coaches.
A coach would frequently get in touch with a player's family after spotting a possible recruit to express interest, find out more about the player's abilities and character, and possibly offer the player a scholarship to attend their university.
The coach can extend an invitation to the athlete to come to campus, meet the players and staff, and go to a game.
Top prospects may receive offers from several schools due to the often-fierce competition during the recruitment process. The recruitment process is governed by NCAA regulations, which place restrictions on the times that coaches can get in touch with players and the advantages that can be provided to recruits.
College basketball recruitment process
How to get recruited for college basketball? What is the college basketball recruitment process? High school basketball players can take a number of actions as part of the college basketball recruiting process to improve their chances of being recruited by a college or university basketball program.
AdmissionSight listed down the college recruitment process:
Self-evaluation: High school basketball players should assess their competencies in order to gauge their level of readiness for the collegiate game. Setting goals for their future development should take into account their strengths, limitations, and potential improvement areas.
Exposure: Players should participate in high school games as well as AAU or club team events to attract the attention of college coaches. College coaches who visit these tournaments to evaluate players get exposure.
Make a highlight reel: To demonstrate their skills and abilities to college coaches, players should make a highlight reel of their best plays. The player's best qualities should be highlighted in a brief, eye-catching reel.
Speak with college coaches: Athletes who are interested in playing college basketball should get in touch with college coaches. Emails, calls, and social media platforms can all be used for this. Also, players can email coaches their highlight videos to help put them on their radar.
Campus visits: Players may be invited to campus visits and meetings with the team and staff by their coaches. Players can use this as a time to learn more about the program and school, and coaches can assess the player's character and demeanor.
Scholarship offers: A coach may extend a scholarship to a player if they show interest in them. This offer may come with a certain amount of financial aid to pay for tuition, fees, room, and board.
Commitment: A player must choose where they want to attend college and play basketball after receiving scholarship offers from one or more colleges. The history of the program, the coaching staff, the location, the academic offerings, and the financial aid may all play a role in this choice.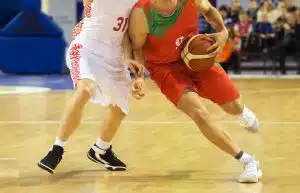 Not every high school athlete will be selected by a Division I program, and the recruitment process may be very tough. NCAA regulations also apply to the recruiting process, putting restrictions on when coaches can get in touch with players and the perks that can be provided to recruits.
How to get recruited for college basketball?
How to get recruited for college basketball? Basketball recruiting requires a combination of talent, effort, exposure, and networking. High school basketball players can follow these tips on how to get recruited for college basketball and recommendations to improve their chances of getting recruited:
Improve your abilities: To catch the eye of college coaches, you must show off your basketball prowess on the court. Concentrate on developing your core skills, including passing, shooting, defending, and ball handling. To learn from seasoned coaches and players, attend camps and clinics.
Join a competitive team: Participating on a top-tier AAU or club team might open doors for college coaches who go to competitions and games. These teams frequently travel to several cities and states, giving athletes the chance to face off against elite talent and display their skills.
Establish connections with coaches: Contact college coaches via email, phone, or social media to let them know that you are interested in their program. If you can, go to their games or practices and say hello to the coach or any of their assistants. When communicating, act professionally, with respect, and with persistence.
Do well in school: College coaches frequently seek out student-athletes who shine both on and off the field. If you keep up a good academic record and take hard classes, your chances of getting into the school and getting academic scholarships will go up.
Attend recruiting camps and showcases: Attend showcases and camps hosted by recruiting agencies and universities, which bring together the best high school athletes for evaluation and exposure. You might be able to show off your skills and make connections with coaches from other schools at these events.
Keep in mind that not every athlete will be recruited by a Division I program and that the recruitment process can be unpredictable.
You can, however, increase your chances of getting noticed by college coaches and possibly getting a scholarship to play basketball at the next level by working hard and seizing opportunities to show off your skills.
Knowing the tips on how to get recruited for college basketball is important for the reason of wanting to be part of the basketball team varsity and maybe get the college basketball scholarships. In the next portion, let's check out the scholarship options for college basketball.
Can you play basketball without a scholarship?
Without receiving an athletic scholarship from college recruiters, your chances of playing college basketball for a dominant team in NCAA Division 1 are quite limited.
These kinds of large universities occasionally hold "trials" for one or two walk-on players, but you should be aware that there's a risk you won't get any actual playing time if you do.
Colleges and universities in the NCAA Division 2 and NAIA provide partial scholarships and are more receptive to walk-ons competing for roster positions. Also, as a walk-on, you can pave the way to receiving partial scholarships (partial funding for books, food, or tuition, for example) the next year because college coaches and recruiters evaluate these awards annually.
You can also choose to play for an NCAA Division 3 institution, which is not permitted to provide athletic scholarships by the NCAA.
Does basketball offer full scholarships?
The amount of the scholarship is largely determined by what the American college's head coach wishes to offer.
With a full scholarship, the student-athlete is only responsible for incidental expenses after tuition, fees, room, and board, and textbooks have been paid for. In this situation, all expenses are paid in full, and the potential value can reach an astounding $400,000 over four years.
One in four of the athletes we work with at U.S. Sports Scholarships will be given a full scholarship.
College basketball scholarships
What are the college basketball scholarships options? Student-athletes who have been recruited to play for a college or university basketball program are given college basketball scholarships.
These financial aid packages cover tuition, fees, room and board, and other college-related expenses.
Basketball scholarships are extremely sought-after, and many Division I institutions only grant a small number of them each year. Several colleges in Divisions II and III also provide scholarships, though the funding may be less.
Basketball student-athletes must complete NCAA academic and eligibility requirements in order to be considered for a basketball scholarship.
This includes meeting sports eligibility requirements for amateur status, recruiting, and performance, as well as keeping a minimum GPA in high school and taking certain core courses.
Depending on the school and the player's ability level, different scholarships may be offered. While partial scholarships only pay a fraction of the costs, full scholarships cover all of them.
Additionally, coaches have the option of awarding walk-on places, which give individuals the chance to join the team but do not come with financial help.
It's important to remember that college basketball scholarships are annually renewable, and in order to keep them, student-athletes must continue to do well in class and on the court. The kinds of perks that can be provided to student-athletes, such as financial incentives or gifts, are also restricted by NCAA regulations.
The tips on how to get recruited for college basketball could help you be part of your dream college varsity team. AdmissionSight, the world's leading Ivy League and college admissions consulting company, can help you enroll in a top-tier university if you're unsure how to go about doing it.
With AdmissionSight, our college admission experts will provide the necessary guidance every step of the way. You can get assistance to make sure you get into the college of your choice.
In order to help you plan your entire college career and make sure you get accepted to the college of your choice, AdmissionSight will evaluate your academic and extracurricular profile and give you a roadmap.
We will also be able to help you maintain your academic direction and competence so that you won't simply rely on athletic scholarships.
AdmissionSight is the world's leading Ivy League and college admission consulting company. You may obtain all the necessary advice from the team by making an appointment. Book your consultation today!