Top Film Schools Around the World
Attending the top film schools is a chance to hone your artistic abilities and immerse yourself in your field. It's a place where you may study the fundamentals and concepts of filmmaking while trying to develop your own distinctive style. Being surrounded by your students will expose you to a wide range of genres, characters, and styles as an aspiring filmmaker.
It's crucial that you choose the correct film school because there are thousands of them in the world. Before committing to a certain institution, it's crucial to assess your unique needs. In this post, we discuss the benefits of attending film school, give a global list of top-notch schools, and discuss some things to think about when selecting the best school for you.
Why attend film school?
Why attend film school? Attending a school for filmmaking may help you identify the precise filmmaking or production role that is a good fit for you if you are interested in a career in the film industry. You could go to filmmaking school in order to:
Improve your technical abilities. In the industry of filmmaking, there are several technical abilities that professionals must possess, such as audio engineering, lighting, and camerawork. By going to school, you could be able to improve your technical abilities and contribute significantly to the making of a movie.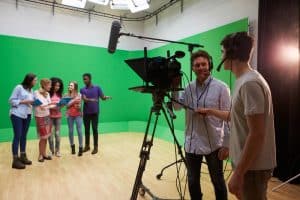 Expand your network. By meeting people who share your interests or aspirations for their filmmaking, you may expand your network while attending filmmaking school. A broad network enables you to hear about more employment openings in the entertainment sector and may provide you access to additional professional support inside the sector.
Develop your knowledge of numerous production aspects. By enrolling in classes that address topics like audio design, directing, or film marketing. This gives you the chance to obtain expertise in a variety of tasks that filmmakers perform, which could improve your qualifications and make it easier for you to find employment in the field once your schooling is over.
Things to consider when choosing a film school
Here are some things to consider when choosing a school:
Programs
Most top film schools have several specialization options that let you focus on various aspects of filmmaking. According to the kind of film career you wish to follow, you can decide which school to enroll in. Make sure to learn about the many kinds of programs each institution provides when doing your research on them. For instance, some film schools grant degrees in screenwriting, whereas others could award you a certificate in Film and TV Development. Additional typical filmmaking school courses include the following:
Directing
Production
Acting
Graphic Design
Post-production
Sound Creation
Set creation
Course organization
To accommodate a student's academic needs, many top schools provide various course arrangements. It is typical for schools to provide students with part-time, full-time, online, and in-person education options. For instance, colleges may mandate that you visit in person if you wish to enroll in an acting class so that the professors can assess your acting development. Review the prerequisites and available alternatives for the course to see whether the structure suits your needs.
Deadline
There are frequent application deadlines that students must adhere to. Most dates specify the semester in which they may approve your application and provide you permission to start your academic career. You might choose your filmmaking school based on the application deadline if you need to start your film study as soon as possible. You might apply to schools with enough time left before their deadline for fall semester applications ends, for instance, if you intend to start attending school in the fall semester.
What are the top film schools?
Although attending one of the best schools is not a requirement for a job in the entertainment industry, it can provide aspiring filmmakers with a significant professional head start.
You can pick up the fundamentals of your craft, network with people who might work with you in the future, and even get some practical experience before receiving your diploma.
So, what are the top film schools? The best schools in the world are listed here, organized by area.
Top film schools in the US
American Film Institute
The American Film Institute (AFI), the institution David Lynch stated he would give up everything "in a heartbeat" to attend, is arguably the most well-known of all US schools for filmmaking because of its year-round festivals and star-studded events.
As many as four personal films can be produced by students while they are enrolled in the program, and they can receive guidance from visiting industry professionals like 12 Years a Slave filmmaker Steve McQueen. The American Film Institute also lists South Park producer Anne Garefino and Black Swan director Darren Aronofsky among its prior fellows and boasts alumni with 27 Emmy nominations just in 2017 alone.
CalArts
One of the most prestigious film schools in Los Angeles is the CalArts School of Film and Video, which Walt Disney founded shortly before his death in 1966. CalArts is situated in the suburb of Valencia and is the training ground for many of Hollywood's top animators and directors.
Several well-known Disney animators, including Andrew Stanton (Finding Nemo), Brad Bird (The Incredibles), Chris Buck, and Jennifer Lee, have come after Tim Burton, one of CalArts' earliest grads (Frozen). There are four film studies degrees available at CalArts: the BA, MA, MFA, and DMA (Doctor of Musical Arts).
Los Angeles Film School
It is simple to understand how the Los Angeles Film School came to be known as one of the most illustrious institutions for aspiring Hollywood filmmakers given its location right in the heart of Hollywood on Sunset Boulevard.
The Los Angeles Film School also includes the Los Angeles Recording School, home of the renowned RCA facility where Elvis Presley and The Rolling Stones previously recorded their music, and grants bachelor and associate degrees in all facets of the entertainment industry. It also provides online courses in graphic design, digital filmmaking, and the entertainment industry.
Kanbar Institute of Film & Television, NYU
The Kanbar Institute of Film & Television, a division of New York University's Tisch School of the Arts, is one of the top film schools in the US outside of Los Angeles. The Kanbar Institute of Film & Television, which is situated in the heart of one of the most famous and culturally active cities in the world, has produced notable graduates like revered director Martin Scorsese and Vince Gilligan, the widely acclaimed creator of the US TV series Breaking Bad.
There were six alumni of the Tisch School of the Arts that received Oscar nominations in 2017. The school has a campus in Singapore in addition to its main campus in New York City. The Kanbar Institute of Film & Television provides a postgraduate MFA (Master of Fine Arts) in Filmmaking in addition to several undergraduate film studies degrees.
USC School of Cinematic Arts
The USC School of Cinematic Arts at the University of Southern California is where many of Hollywood's most renowned directors got their start. One of the most cutting-edge film institutions in Los Angeles, the USC School of Cinematic Arts receives millions of dollars in funding each year from celebrities like George Lucas and provides top-notch media facilities including an IMAX theater and research lab.
Kevin Feige, the head of Marvel Studios, and comedy writer and producer Judd Apatow are both alumni of the USC School of Cinematic Arts. The USC School of Cinematic Arts offers BA, BFA, and MFA degrees in film.
Additional top US film schools include:
Boston University's College of Communication
Chapman University's Dodge College of Film and Media Arts
Colorado Film School
Columbia University's School of the Arts
Emerson College's Department of Visual & Media Arts
Loyola Marymount University's School of Film and Television
New York Film Academy
Syracuse University's College of Visual and Performing Arts
UCLA's School of Theater, Film and Television
University of North Carolina's School of the Arts
The University of Texas at Austin's Moody College of Communication
Top film schools in Canada
Toronto Film School
One of the top film schools in Canada is without a doubt the Toronto Film School. It is a career-focused institution with a strong dedication to delivering practical industry expertise, and it offers a broad curriculum spanning everything from film and TV production to interior design. All students get diplomas upon completion of the one- to two-year programs at the said school.
Vancouver School of Film
Another of Canada's top film schools, it offers 13 programs that span every aspect of the entertainment arts sector. The condensed one-year program that Vancouver Film School provides its students covers everything from 3D animation to sound design and focuses on developing both practical abilities and knowledge of the business. The school issues diplomas to its graduates.
Other top film schools in Canada:
Carleton University's School for Studies in Art and Culture
Concordia University's Mel Hoppenheim School of Cinema
Simon Fraser University's School for the Contemporary Arts
University of British Columbia's Department of Theatre and Film
York University's Faculty of Fine Arts
Top film schools in Europe
London Film School
The London Film School, one of Europe's most esteemed schools, is situated in the center of London and is only open to postgraduate students pursuing a master's or Ph.D. The prestigious school, which has been around for more than 60 years, focuses on developing production and craft skills in a real-world setting and has been recognized as one of only three Film Academies in the nation by the UK government agency Creative Skillset. Despite only having 220 students, the school's student body is truly international, with current students coming from more than 30 different nations.
National School of Film and Television (NFTS)
The National Film and Television School (NFTS), frequently hailed as the best school for filmmaking in the UK, is tucked away in northwest London, close to Slough. The National Film and Television School, the only film school in the UK with its own film and television facilities, offers a variety of specialized postgraduate degrees, including 17 master's programs, 14 diplomas, five certificate awards, and numerous short courses.
Among the noteworthy graduates of the National Film and Television School are Nick Park, the creator of Wallace and Gromit, and David Yates, the director of the Harry Potter movies.
Academy of Performing Arts Film and TV School (FAMU)
One of the oldest and most prominent film academies in the world is the Academy of Performing Arts Film and TV School (FAMU), which was founded in Prague, the capital city of the Czech Republic, in 1946. FAMU draws an extraordinary international cohort every year thanks to its role in fostering filmmakers like Milos Forman (One Flew Over the Cuckoo's Nest) and its availability of programs in both Czech and English.
La Fémis
La Fémis is one of the top film schools in Paris and is situated on the former site of the Pathé studios, where the infamous Lumiere brothers are credited with inventing cinema in 1894. In addition to providing exchange programs with US colleges like CalArts and Columbia University, La Fémis offers courses that are entirely taught in French. There are about 200 pupils in the school, and 8 percent of them are from abroad.
Lodz Film School
The Polish National Film, Television, and Theater School, also known as Lodz Film School, has produced many of Poland's leading filmmakers, helping to influence the Polish film industry. Lodz Film School is one of Europe's top schools for filmmaking, constantly adding new programs and cutting-edge technology. The Lodz Film School offers a wide range of full-time, part-time, postgraduate, and Ph.D. programs with study periods ranging from two to five years.
Top film schools in Europe also include:
London Metropolitan University's Sir John CASS Faculty of Art, Architecture, and Design
University of Television and Film Munich
National Film School, Italy
National Film School of Denmark
Norwegian Film School
Screen Academy Scotland
University of the Arts London's College of Communication
Russian State University of Cinematography
Top film schools in Asia
Shanghai Film Academy
Being the only film academy in China and the biggest in all of Asia, the Beijing Film Academy is well-positioned with James Cameron from Avatar as a visiting fellow and one of the world's fastest-growing film industries as a backdrop. Along with a wide variety of undergraduate and graduate Chinese-language degrees, the Beijing Film Academy also offers a BFA taught in English. The school also provides a short-term training program, a Chinese language learning program, and an exchange program.
Korea Academy of the Arts of Film (KAFA)
The Korean Academy of Film Arts (KAFA), South Korea's premier school for filmmaking founded in 1984, is the center of the country's film industry. Some Korean Academy of Film Arts alums, including Bong-Joon Ho (Snowpiercer), are actively generating attention in the US while many of them currently rule their home market.
Other top film schools in Asia:
City University of Hong Kong's School of Creative Media
Film and Television Institute of India
Hong Kong Baptist University's Academy of Film
Whistling Woods International Film School, India
How to get into film schools?
It's a good idea to start by being familiar with the admissions requirements of the institutions you're interested in since this will enable you to take steps to stand out in your application. Next, educate yourself on how to get into filmmaking schools and the admissions process. Here are a few actions you may take to submit a strong application to filmmaking school.
Step 1: Gain beneficial film experience 
Getting experience making original films is a surefire way to show that you have the talent required to thrive in the film business and school. If you have no prior experience, begin practicing filming. Work on new projects if your old ones are redundant or out of date.
You can start with amateur promotional videos and short flicks. Just keep them succinct and effective. By doing this, you'll develop as a filmmaker and increase your chances of getting into filmmaking school. Additionally, whether you're applying to film school or not, you must endeavor to advance your career in the industry.
Step 2: Enroll in courses related to film
You might enroll in a theater or acting class to get ready for film school. Although taking courses like these might not be required for entrance to the school or the department you wish to concentrate on, they will broaden your outlook. Additionally, being familiar with various aspects of filmmaking will help you tell tales more effectively and set yourself apart from competitors who just have a limited understanding of one area.
Everything that broadens your horizons and makes you more versatile is an advantage when applying to schools. It will be easier for you to submit an application if you have mastered the craft of storytelling and are knowledgeable about the various facets of film production.
Step 3: Develop Technical Competencies
Most people become overconfident in their natural aptitude and start to believe that is all they need. Contrary to popular belief, prospective students must conduct research and put in work to hone their talent and transform it into a skill. Even if talent can one day make you famous in the real world, the school demands that you have technical filmmaking skills.
Step 4: Research the Best School for You
To narrow down your options and locate the finest ones for you, research and contrast various schools. Check out the exact film majors the school provides, the types of coursework it offers, and the professors it employs.
Step 5: Submit Your Application to a Filmmaking School
Fill out the online application form after learning about the requirements of your desired institution, and send it along with your academic record, CV, portfolio, visual sample, and recommendation letters.
Once you've exhausted all your options. You will have to wait for the school to decide about your application. You must be patient because the admissions committee typically takes some time to respond.
Consider enrolling in one of the top film schools in the world if film studies pique your interest. If you're still struggling to weigh your alternatives, call AdmissionSight right away. You may reach out for an initial consultation to discuss with AdmissionSight experts your college admissions strategies and how to start your application.