Top Psychology Colleges in the US
It's no surprise that students continue to choose psychology as one of the most popular subjects to study for their undergraduate degrees in this day and age. Students who choose to major in psychology are afforded the opportunity to gain a deeper understanding of how individuals think as well as the chance to investigate personality types, human development, and behavior. You have found the ideal place if you are looking for the most reputable educational institutions from which to earn a degree in psychology. This article explains what to expect from a degree in psychology, outlines potential career paths, and lists the top psychology colleges in the country.
What is a psychology major?
It is essential for you to have a solid understanding of what is a psychology major before beginning your search for the best psychology colleges.
The field of study known as psychology examines human behavior in both an individual and a social context. As a student majoring in psychology, you will gain knowledge about the myriad of factors (such as cultural and environmental factors) that can have an impact on one's mental health, as well as the myriad of dynamics that can have an impact on the psychology of a specific group. You will also gain an in-depth understanding of the world of psychological disorders and gain knowledge regarding common mental health issues such as anxiety and depression.
You will begin by gaining a fundamental understanding of cognitive function and then progress to the study of more advanced theories concerning the factors that motivate specific patterns of behavior. This major, which focuses on physiology, statistics, and experimental psychology, will provide students with a strong foundational understanding of the inner workings of the human brain.
Is a psychology major the best option for you?
Is a psychology major the best option for you? Those who are interested in assisting others and learning more about the nuances of human interaction may find that psychology is an interesting and rewarding field that offers a wide variety of career opportunities.
When considering whether or not a major in psychology is the right choice for you, here are some questions to ask yourself:
Am I looking forward to conducting in-depth research on topics relating to human relationships and mental health?
Am I open-minded? When it comes to the things I'm learning, am I capable of maintaining objectivity and adjusting my perspectives appropriately?
How do I respond when given feedback? Will I be able to take the criticism that I receive from my teachers and classmates and use it to improve?
Am I prepared to spend a significant amount of time reading and gaining an understanding of clinical research that pertains to the field?
What Can You Do with a Psychology Degree?
Knowing what you can do with a psychology degree is another item to think about before you pick your top psychology colleges. Different types of psychology degrees lead to a variety of different career options in the field of psychology. Some require a bachelor's degree as a bare minimum, while the majority of others demand either a Master's or Doctoral degree.
Students who have simply earned a Bachelor of Arts or Bachelor of Science in psychology have the option of pursuing employment in psychology such as a case manager, rehabilitation expert, career counselor, probation officer, market researcher, or teacher.
Case managers and rehabilitation specialists aid patients, instruct patients in useful living skills, and aid with sessions of applied treatment. Colleges, non-profit organizations, and employment agencies are all possible places of employment for career counselors.
They assist individuals in navigating the job market and finding careers that are a good fit for them. By conducting interviews, gathering data, and providing interpretations of the results, market researchers assist advertising organizations in gaining insight into the thoughts of their clients.
When you earn a master's or doctoral degree, the doors to potential careers open up for you. As a psychologist, you have the option of working in either a clinical, counseling, or research context. According to the Bureau of Labor and Statistics, the annual salary that is considered to be the median for these professionals is $77,030. In the field of psychology, job opportunities are also on the rise. Within the following five years, it is anticipated that they would rise by 14%.
How Can You Prepare Yourself for Majoring in Psychology?
How can you prepare yourself for majoring in psychology? You may give yourself a good chance of succeeding in the psychology major if you make effective use of both the time you spend in class and the time you have free. You can get a head start on your college schoolwork by enrolling in advanced placement classes such as AP Statistics and AP Psychology.
You may hone your writing abilities in the English classes you take, and you can hone your research abilities in the science classes like chemistry and biology. When it comes to carrying out experiments and composing papers, they will be of great use to you. Taking courses in relevant branches of psychology, such as marketing or child development, is also beneficial.
Investigate, whenever you have some spare time, the aspect of psychology that piques your curiosity the most. Volunteering in a church nursery, a nursing home, for the High School Big Brothers Big Sisters program, or for a non-profit organization focused on mental health are all examples of possible volunteer opportunities.
Participate in a group or on a sports team if you want to learn more about social psychology. You will have the opportunity to investigate the dynamics of the group firsthand. Are you thinking about biopsychology? Participate in the Scientific Olympiad at your high school or submit an entry to the science fair.
Find the Best Psychology Programs
When you go into the process with a clear idea of what you want from a university, the process of selecting one is far less stressful. You can narrow your options among the top psychology colleges by considering what you want to study and where you see yourself working after graduation. Do you intend to pursue a doctoral degree? Look for graduate psychology programs that have a high percentage of students accepted into grad school. Do you want to conduct research in biopsychology?
Look for educational institutions that have departments of biology and psychology that are ranked highly. Are you interested in child and adolescent psychology? You would be better off attending a college that had a daycare or preschool right there on the campus.
Students graduating with a bachelor's degree in psychology are faced with a competitive employment market for psychology-specific occupations after they receive their degrees. You will be at an advantage if you attend an institution that offers a robust career center as well as internship opportunities.
During your travels to the colleges you are considering, make it a point to stop by these centers and learn more about the services they provide, including how long after graduation their services are available. Find out where other graduates from your major are employed.
Top Psychology Colleges in the US
Below are the most prestigious schools of psychology in the United States:
Yale University Department of Psychology
The Department of Psychology may be found at Yale University, which is an American private Ivy League research university that was established in 1701. The training of researchers who will enhance and improve the knowledge base on which the science of psychology is based is the major objective of the graduate education program in psychology that is offered at Yale University. These researchers can work in academic or practical contexts.
About 15 new students are accepted into the Ph.D. program each year through the Department of Psychology's graduate program. The members of the Yale University faculty who are affiliated with the Department of Psychology are recognized as being at the forefront of research and scholarship in this expansive and fascinating discipline.
Stanford University
The Department of Psychology can be found at the prestigious private research university that was established in 1885 and is at Stanford. The mission of the Department of Psychology at Stanford University is to educate future scientists who will contribute to the expansion of psychological theory and the production of new information that can be applied to the solution of practical issues.
It has a long-standing legacy of research that breaks new ground theoretically and has a major impact on the world today. The psychology department at this university is widely recognized as having one of the best programs in the country and has been consistently listed among the best psychology departments at American universities for many years.
Harvard University
The best psychology colleges in the US consistently include Harvard University. It was established in 1636 and is a private Ivy League research university. Undergraduate students at Harvard University choose to major in psychology at a rate that makes it one of the most popular study areas.
Approximately sixty-five graduate students are now enrolled in the Psychology Graduate Program. These students are participating in one of four research programs: cognition, brain, and behavior; developmental; clinical science; or social. Those who are interested in postdoctoral research will find that the Department of Psychology provides an atmosphere that is both rich and vibrant.
Vanderbilt University
The Department of Psychology may be found at Vanderbilt Institution, which is a private research university located in Nashville, Tennessee. The university was established in 1873. The Combined BA/MA (4+1 Program) in Psychology and a Master of Education (M.Ed.) in Child Studies are both programs that can be pursued through the Department of Psychology and Human Development.
Peabody College's Department of Psychology and Human Development grants undergraduate degrees in Child Development, Cognitive Studies, and Child Studies. These three concentrations are all part of the Child Studies major.
Students in the Honors Program are allowed to participate in scientific research with a faculty member on a more in-depth level than is typically achievable within the confines of a standard academic major. This opportunity is made possible through the joint sponsorship of an Honors Program by the two departments.
Princeton University
The Department of Psychology can be found at Princeton University, which was established in 1746 and is a private Ivy League research university. The objective of the graduate program at the Department of Psychology is to provide students with the knowledge and skills necessary to earn the degree of Doctor of Philosophy (Ph.D.) and to launch successful careers as scholars in the field of psychological science.
Students who graduate with a degree in psychology have found employment in a variety of fields, including research, clinical psychology, education, public policy, medicine, business, law, economics, and even the performing arts on occasion.
Rice University
William Marsh Rice University is a private, non-profit institution of higher learning that was established in 1912 and is home to a Department of Psychology. In the School of Social Sciences at Rice University, the Department of Psychology offers a distinctive combination of fundamental and practical aspects of psychology. Students who are interested in obtaining a Ph.D. in psychology and going on to teach and do research at the university level are the target audience for the school's graduate psychology program.
Washington University in St. Louis
The Department of Psychological and Brain Sciences may be found at Washington University in St. Louis, which is a private research university that was established in 1853. Aging and Development, Clinical Psychology, Behavior, Brain, Cognition, and Social and Personality Psychology are the four core research programs that the Department of Psychology offers.
The Department of Psychological and Brain Sciences is home to roughly 80 postgraduate students at any given time and confers approximately 200 bachelor's degrees annually. At Washington University, the undergraduate program offers the most students in psychology.
Duke University Department of Psychology and Neuroscience
Duke University is one of the top psychology colleges to attend if you're thinking about getting a psychology degree. Established in 1838 and is a private research university. In addition to a minor in Psychology, the undergraduate Psychology program allows students to major in either an A.B. or B.S. in Psychology.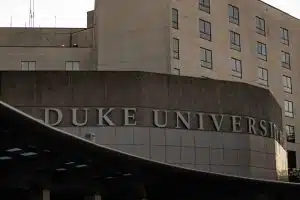 The degrees are structured to ensure that students acquire both breadth and depth in the field of psychology, including topics ranging from the brain bases of cognition and action to the societal forces that shape conduct. This approach is embraced by the Department of Psychology and Neuroscience at Duke University, which makes use of a wide variety of research methods and collaborates with researchers from a wide variety of subjects.
Brown University Department of Cognitive, Linguistic & Psychological Sciences
The Department of Cognitive, Linguistic, and Psychological Sciences may be found at Brown University, which was established in 1764 and is a private research university that is a member of the Ivy League. A Departmental Undergraduate Group, often known as a DUG, is a collection of students who are majoring in the same field and who get together to discuss and organize departmental events to foster a feeling of community within their academic department.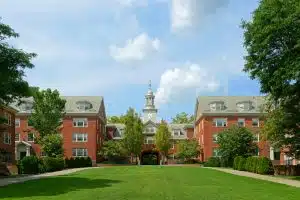 The Department of Cognitive, Linguistic, and Psychological Sciences (CLPS) is committed to the interdisciplinary investigation of the mind, the brain, behavioral patterns, and language. It provides Ph.D. degrees in three different fields, including Psychology, Linguistics, and Cognitive Science. After being accepted by the department, Ph.D. candidates spend their first year deciding which of the three programs they want to pursue.
University of Pennsylvania
The University of Pennsylvania is a private Ivy League research campus that was established in 1740. The university is home to a Department of Psychology. The Department of Psychology at the University of Pennsylvania is the oldest psychology department in North America that is still actively conducting research and teaching, and it has a long and illustrious history. Its graduate program is responsible for the education of an unusually high percentage of today's most eminent psychological scientists.
After learning about the top psychology colleges, the next goal is to acquire admission. We at AdmissionSight have more than ten years of expertise assisting students in navigating the tough admissions process to the greatest colleges in the globe. Consult with AdmissionSight and see what we can offer to make sure that you are well-prepared and knowledgeable enough to enter your choice of school.