Top Safety Schools You Should Have on Your College List Just in Case
No matter what colleges or universities a high school student plans on applying to – whether they are looking at the most prestigious and selective private schools like the Ivy League, or big state schools that they can attend with in-state tuition, it is never a bad idea to have some safety schools on the list of schools that they want to apply to. Read on to know more about the top safety schools to consider.
But what are safety schools?
Safety schools are generally considered to be any college or university that has an acceptance rate either slightly below or above 75.0 percent. Considering the fact that many of the top schools in the country have overall acceptance rates below 10.0 percent, you can easily get an idea of just how different the process is at dream schools compared to safety schools.
However, just because a school is considered to be a safe school in no way means that it is not a great school in its own way. For that reason, you may be wondering what the top safety schools to consider are out there. If you are gearing up for your own application cycle in the next year or two, now is a great time to get started on doing research when it comes to your dream schools, your safety schools, and every school in between.
At AdmissionSight, we make it our primary goal to help the high school students that we work with every application cycle identify the schools that are the best first for them and then offer them the tools and strategies we have accumulated over the years to help them overcome even the most competitive acceptance rates (at schools like Harvard, Columbia, and Stanford) and get in. With that in mind, we also help students identify safe schools that they can apply to in the event that they do not end up making the cut at these highly competitive schools.
So, if you are curious to learn about top safety schools to consider, want to know how many safety schools you should have, or simply want to see a list of the top 10 safety schools with high acceptance rates, then you have absolutely come to the right place! Let AdmissionSight break down the answers to those questions and many more so that you can be better prepared to identify the safety schools that you would be happy to attend in the event that you do not get into your dream schools.
Let's get started!
What are safety schools?
So, you already know that in general, safety schools are considered to be schools that have overall acceptance rates that are around 75.0 percent from one year to the next. That means that along with strong extracurriculars and personal essays on your application, you should be in the 75th percentile of accepted students in terms of both your high school grade point average and your standardized test scores (if you choose to take either the SAT or ACT).
With that being said, it is important to keep in mind that safety schools are very different from one person to the next. A student with a 3.8 GPA and a 32 on the ACT is going to be looking at very different safety schools than a student with a 3.3 GPA and a 25 on the ACT. Truthfully, one person's safety school could be another student's dream school.
It is also important to keep in mind that the top schools in the country – whether they are private or public, research universities or liberal arts schools – that have overall acceptance rates of 20.0 percent or less should not be considered safe schools for anyone, no matter how impressive their application profile is.
So, when it comes to the top safety schools to consider, your list of considered schools might end up being very different from one of your classmates.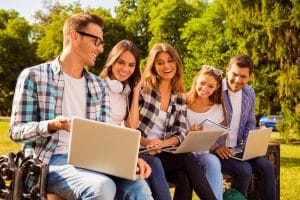 On top of that, it is also useful to keep in mind that there are some schools that are less selective than top schools but still hold prestige practice which is known as yield protection. Schools that do not want to be seen as safe schools (as that reputation can harm a school's reputation of prestige for obvious reasons) will make sure that they are only accepting a certain percentage of their applicant pool.
Schools that don't want to be seen as safe will often practice yield protection where they may reject or waitlist exceptional candidates who they believe will be accepted and enroll in more prestigious schools. For that reason, if you have an application profile that seems destined to be highly considered at top schools, programs that practice yield protection may not be safe schools for you!
The truth is that your safety schools should depend heavily on where your application profile lines up in the Academic Index, as well as the activities you took part in outside of the classroom and the achievements you enjoyed throughout high school.
Finally, the truth is that even if your safety schools are likely going to be target schools for other students – especially if you see yourself as a candidate to get into an Ivy League school or a different top 10 school that is not in the Ivies – it is still considered wise to apply to some true safety schools as well if not for anything else than having some peace of mind and reducing the level of anxiety that many students deal with in the time between submitting college applications and actually hearing back from those schools.
How Many Safeties Should You Have?
These days, it is generally advised that students apply to somewhere between 5 and 12 schools, with most students tending to apply closer to 12 than to 5. Assuming that you are going to apply to 12 schools, you should save about 2-4 of those spots for true safety schools. 4-5 of your schools should be your target schools, and the remaining schools should be your reach schools. Given the fact that you should have a 75.0 percent chance of getting accepted to your safety schools, your target schools should offer about a 50.0 percent chance of you getting in and your reach schools can be 25.0 percent or less chance.
When you're picking the top safety schools to consider for your application strategy, don't just look at the schools with highest acceptance rates. Consider each school in terms of fit academically and culturally as well.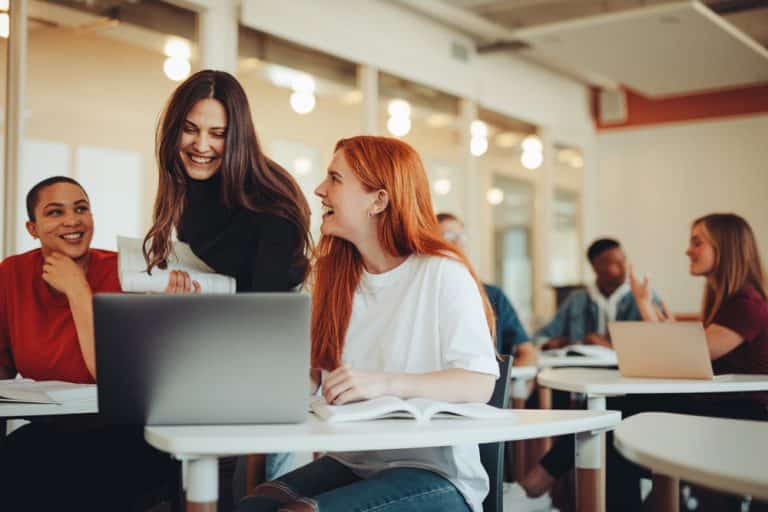 While you may want to commit all of your applications to target and reach schools in the hopes that it will improve the chances that you get into a school that you are really excited about, the truth is that having a balanced list of schools that you are applying to is a really important, and mature, part of the college application process.
That fact is even more true with COVID-19 test-optional policies and lowered acceptance rates at elite schools. Students who only apply to riches may end up having no options at all, unfortunately.
How to Find Good Safety Schools?
Again, it is important to know that safety schools are going to differ depending on what kind of student you are. With that in mind, true safety schools are those schools that have high acceptance rates close to and beyond 75.0 percent. How can you identify good safety schools for you?
There are some important considerations to make and types of schools to keep in mind when you are looking for the top safety schools to consider. Here are two good ways to get started in your search for safety schools that could be great fits for you.
Consider applying to your main state schools: One of the best places to start your search for safety schools is to look at your state schools. Some state schools (like UCLA, UC Berkeley, University of Michigan, University of Texas, and more) are considered target and reach schools for other students, but there are typically state schools that have rather forgiving acceptance rates as well. In fact, there are some state schools that even guarantee admission for in-state applicants as long as those students have a certain level of academic success. Texas is among those schools, and students automatically get in if they are at a certain class rank in their high school or earn a certain score in either the ACT or SAT. All this is to say is that in-state schools are great options for safety schools for a lot of students and are definitely worth considering!
Consider private colleges that offer substantial merit-based financial aid: The interesting truth about a lot of private schools in the United States is that they actually have rather high acceptance rates and can attract really impressive applicants thanks to their large endowments that contribute to major financial aid. Since the merit-based aid that these schools offer is not need-based, it can help cover costs for students even if they do not qualify for federal financial aid. If you have a strong academic profile, with high standardized test scores, GPA, and class rank, you will likely be eligible for some form of merit aid depending on the school.
10 Safety Schools with High Acceptance Rates
Now that you have learned a fair amount of information about how you can start to identify great safety schools for you, you may be curious to learn about some of the most popular and highly regarded safety schools that are out there! Well, if that is the case, then you have come to the right place.
We have decided to break down some of the best safety schools to help you get started on your research in this part of your college application journey.
Let's get started on breaking down these 10 great schools that you could consider to be safe schools. Who knows, you might end up finding a school that you'd love to go to despite the fact that it has the reputation of a safe school!
Acceptance Rate: 62.0 percent
We are starting out with what is arguably one of the top safety schools to consider in the entire country. The University of Illinois is a fantastic option and is a target school for tens of thousands of students within the state of Illinois each year. It offers great academics with that classic Big Ten college experience, meaning big football Saturdays, fun Greek life, and much more. It offers more than 150 undergraduate degree programs through its 16 colleges and boasts one of the largest public university library collections in the world
No. 2 DePauw University
Acceptance Rate: 67.0 percent
On the opposite side of the size spectrum, DePauw University is a fantastic option that offers two colleges, the College as well as the Liberal Arts and the School of Music. Though DePauw is on the smaller side of schools, it offers 50 courses of study and is home to more than 100 clubs and student organizations.
No. 3 Yeshiva University
Acceptance Rate: 63.0 percent
Yeshiva has campuses in both New York City and Israel and is a Jewish institution where students can expect to get a dual curriculum of both Jewish studies and the liberal arts. Students have the option to take part in an entire yearlong study abroad program in Israel as part of their education at Yeshiva.
No. 4 Texas A&M, College Station
Acceptance Rate: 71.0 percent
There are a number of Texas A&M schools in the state of Texas, but the College State is the flagship branch and is one of the most popular state schools in the state. It offers more than 100 undergraduate degree programs and has direct funding ties with NASA, the NSF and the NIH. It is a very popular school for Texas natives and the vast majority of students are from the state. For many students, A&M is seen as a safe school for students who have the goal of attending the University of Texas, Austin.
No. 5 Virginia Tech
Acceptance Rate: 70.0 percent
Another fantastic public research university where the majority of students hail from the state of Virginia. It offers more than 100 bachelor's degree programs and has a total of seven undergraduate colleges. Unsurprisingly given the name, Virginia Tech is a major hub for engineers and is one of the biggest producers of professional engineers in the United States.
No. 6 Wheaton College
Acceptance Rate: 85.0 percent
This is a Christian liberal arts school located in the state of Illinois that offers a total of 40 majors for undergraduate students. Wheaton is also quite famous for its Conservatory of Music, but other popular majors include business, biology, and applied sciences.
No. 7 Furman University
Acceptance Rate: 61.0 percent
Furman is a rather unique university that features a campus that houses all students from freshman to senior year. The school has 40 different areas of study and a majority of students take part in community service within the Greenville, South Carolina community. The campus is a beautiful one and features an Asian garden, an 18-hole golf course, and a complete replica of Henry David Thoreau's Walden cabin.
University of Colorado, Boulder
Acceptance Rate: 80.0 percent
Another highly popular state university, UC Boulder is nationally recognized for many of its programs including physics, engineering, aerospace and environmental law. Boulder is a beloved college town that has a great mix of university housing, apartments and larger homes. Boulder is also a beloved school for students who love the great outdoors and want to spend their winter semesters skiing and snowboarding and their spring semesters camping and hiking.
University of Iowa
Acceptance Rate: 86.0 percent
University of Iowa is a fantastic public university that has a lot of pride in its alumni community. It is one of the best undergraduate programs in the country for students who want to pursue writing and journalism but offers over 200 majors, minors, and certificates. Thanks to the huge number of options, students are encouraged to learn across disciplines to follow their passions.
Indiana University, Bloomington
Acceptance Rate: 76.0 percent
To finish up this list, we wanted to mention the flagship campus of Indiana University. Bloomington is a beautiful and welcoming town and the school offers a staggering 550 academic programs. Students have the chance to build their own majors at IU, and some of the most popular majors include business management, marketing, computer, information sciences, and more.
Let AdmissionSight help you choose the right safe schools
At the end of the day, you will likely not end up attending one of your safety schools, but that does not mean that the process of identifying the right options for you is any less important. Finding the top safety schools to consider should be something that you pay attention to and commit energy to when you are identifying your target and reaching schools as well.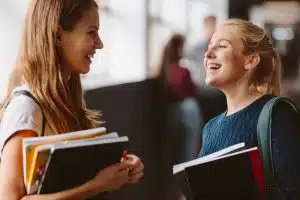 Hopefully, this breakdown of 10 different options has helped get the ball rolling when it comes to you doing your own research to find the right safety schools for you. If you are interested in learning more about how to pick the right schools and how to get into your target and even reach schools, contact AdmissionSight today to schedule a free consultation.