Transforming Futures with the UCLA Economics Program
The UCLA economics program equips students with a robust understanding of the principles that drive the world economy, providing an environment that fosters intellectual growth, analytical skills, and the potential to ignite successful careers in diverse fields.
In an ever-changing world where the dynamics of economic systems significantly impact every aspect of society, understanding these systems and having the ability to analyze and interpret their patterns are more important than ever.
With a perfect blend of theory and practice, UCLA's economics program imparts the knowledge necessary to comprehend these complex systems and their significance in shaping our world.
Students don't merely learn economics; they live it. They're given the tools to address pressing economic issues, foresee market trends, and navigate the sometimes turbulent waters of global economic policy.
So read on as we take a closer look at the importance of UCLA's economics program and its ability to empower students with a profound understanding of economics.
Does UCLA have an economics program?
Does UCLA have an economics program? UCLA indeed offers a well-rounded, comprehensive economics program. But as we all know, just the existence of a program only tells us part of the full story. It's all about the quality, depth, and opportunities that come along with it. That's precisely what we will delve into in this blog post.
The University of California, Los Angeles, famous for its vibrant campus life and robust academic programs, boasts an economics program that stands out for all the right reasons. With a firm foundation in both theory and practice, this program brings the global economy to the fingertips of its students, cultivating the leaders of tomorrow.
Taking a look at the curriculum, one cannot help but be impressed. It includes courses in microeconomics, macroeconomics, econometrics, and a wide array of electives that range from international trade to health economics, from environmental economics to public finance.
Students are encouraged to explore diverse economic topics and apply their knowledge to real-world scenarios.
Not only does this program offer in-depth knowledge, but it also hones practical skills. At UCLA, it's not just about reading books and understanding theories. It's about hands-on experience, about getting those sleeves rolled up and diving headfirst into economic analysis.
This practical approach is woven into the fabric of the program and is a major component of its success.
Upon completion of the economics program at UCLA, a world of opportunity opens. Graduates find themselves equipped with a comprehensive understanding of economics as well as practical skills to apply this knowledge. Whether aiming for a career in academia, government, finance, or entrepreneurship, UCLA economics alumni are ready to make their mark on the world.
So, if you're ready to explore the intriguing world of economics and leave your mark, remember this: UCLA is waiting with open doors and endless opportunities.
What are the admission requirements for the economics program at the University of California, Los Angeles?
What are the admission requirements for the economics program at the University of California, Los Angeles? If you're interested in pursuing a degree in economics and dreaming of becoming a part of the prestigious UCLA community, you've come to the right place.
Here, we will explore the basic and straightforward admission criteria that you need to fulfill in order to apply for the economics program at UCLA. Whether you're an aspiring economist or just curious about the requirements, we've got you covered.
High School GPA and Academic Performance
At the very heart of the admissions process, GPA stands tall, often acting as a reliable barometer of a student's academic commitment. UCLA's economics program is no exception to this rule. The requirement for a high GPA, a testament to consistent academic prowess, cannot be emphasized enough.
Typically, the evaluation process focuses on the GPA from sophomore to senior years, taking into account both the weighted and unweighted grades. Students should aim for a GPA above 4.0 on a weighted scale, given the high competition for the limited spots in the program.
In addition to the overall GPA, UCLA's admissions office also pays keen attention to academic performance. Excelling in rigorous coursework such as Advanced Placement (AP) or International Baccalaureate (IB) classes can demonstrate the student's ability to thrive in a challenging academic environment, thereby reinforcing the candidacy for admission.
Standardized Test Scores
A robust GPA is one of many factors for entry into UCLA's economics program. Enter the realm of standardized test scores. The SAT and ACT scores provide a standardized measure of aptitude, assisting the admissions office in evaluating potential students.
While UCLA doesn't stipulate a minimum SAT or ACT score, applicants need to remember that higher scores naturally improve their chances of acceptance. Based on historical admission trends, SAT scores above 1400 or ACT scores above 30 have been associated with successful applications.
Required Coursework and Prerequisites
Every undergraduate program has a unique set of prerequisites, and the UCLA economics program is no different. Prospective students must successfully complete specific coursework in high school to ensure they have solid foundational knowledge.
One crucial requirement is mathematics. Candidates should have taken and excelled in classes up through pre-calculus or higher, demonstrating the strong mathematical foundation necessary for economics studies. Advanced courses such as calculus and statistics are highly recommended.
Further, a strong understanding of social studies, including history and government, is expected. Courses in these subjects will provide a context for economic theories and policies.
In addition to these specific courses, completion of a robust college preparatory curriculum during high school is highly favored by the admissions office.
Letters of Recommendation
Picture a letter that encapsulates all the academic achievements, skills, and potential in two pages or less. That's the power of a letter of recommendation. UCLA requires three such letters from individuals who can provide an insightful evaluation of the applicant's abilities.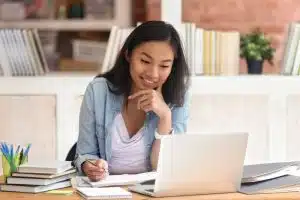 The recommenders should ideally be academic professionals, such as professors or research advisors, who have directly observed the applicant's academic performance. These letters can offer a deeper perspective on the candidate's abilities and potential, often serving as a decisive factor in the selection process.
Statement of Purpose
Think of the statement of purpose as a golden ticket—a chance to communicate directly with the admissions committee. It should reflect not only the academic journey and accomplishments so far but also highlight future aspirations and explain why UCLA's graduate economics program is the perfect fit.
In writing this important document, focus on clearly articulating personal goals, research interests, and reasons for choosing UCLA. This is an opportunity to showcase individuality, dedication, and suitability for the program.
Resume/CV
Lastly, an updated resume or curriculum vitae (CV) is a must. This document should capture all academic achievements, work experience, research projects, publications, and any other relevant accomplishments.
Remember, this is not just a document; it's a comprehensive snapshot of the academic journey so far. Therefore, ensure that it is meticulously prepared, professionally presented, and devoid of any inaccuracies.
Navigating the admissions process for UCLA's economics program may seem daunting at first. However, with the right preparation and mindset, it can turn into an enlightening journey.
How to apply to UCLA's economics program?
How to apply to UCLA's economics program? Applying for a university program can seem like a daunting process, especially for prestigious schools like the University of California, Los Angeles (UCLA).
If you've set your heart on joining UCLA's highly regarded economics program, you're in the right place! Here, we'll walk you through the crucial steps that can make your dreams a reality.
Step 1: Online Application Submission
It's time to embark on the first step towards your UCLA economics adventure: the online application submission. UCLA has embraced the convenience of technology to make your application process smooth and hassle-free.
The university's official website is your gateway to accessing the online application portal. Take your time to explore the platform, read the instructions carefully, and gather all the necessary information before you begin.
Prepare to share your personal details, contact information, and academic history—all the crucial elements that help the admissions committee get to know you better.
Step 2: Application Deadlines
Time waits for no one, and when it comes to submitting your application, it's important to be aware of the deadlines. The university has specific cutoff dates that you must meet to be considered for admission. Mark your calendars and make a note of these deadlines so you can plan your application timeline accordingly.
UCLA understands that life can throw unexpected curveballs, and they've got your back. The university provides options for both fall and winter quarters, offering some flexibility in case you need to adjust your plans.
However, keep in mind that early applications often have an advantage, as they demonstrate your commitment and enthusiasm for joining the program.
Step 3: Required Documents
Now that you're on track with the application process, it's time to gather all the necessary documents. These documents are like puzzle pieces that create a holistic picture of your academic achievements, potential, and suitability for UCLA's economics program.
The most essential document is your official high school transcript. It reflects your academic performance throughout your high school years, including your grades, GPA, and course load. Remember to request your transcripts well in advance, ensuring they arrive on time.
Additionally, standardized test scores play a role in evaluating your aptitude and readiness for the program. UCLA typically requires either the SAT or ACT scores, so make sure you've taken the relevant exams and that your scores are within the acceptable range.
Besides transcripts and test scores, you may also need to submit letters of recommendation, personal statements, and other supplementary materials.
These documents provide insights into your character, motivation, and potential contributions to the UCLA community. Take the time to craft a compelling personal statement and select recommenders who can vouch for your abilities and passion.
Additional Considerations
Embarking on a journey toward a graduate or undergraduate degree in economics at UCLA is undoubtedly exciting. However, pursuing higher education often comes with financial considerations.
In this blog post, we will delve into the world of financial aid and scholarships, exploring the additional opportunities available to support your academic aspirations at the UCLA economics program.
Financial Aid
When it comes to financing your education, UCLA understands that the cost of attending university can be a significant factor. That's why the university offers a range of financial aid programs to support eligible students.
Financial aid can come in various forms, including grants and work-study opportunities. Let's explore some key aspects of UCLA's financial aid offerings.
Grants: UCLA provides need-based grants, such as the University Grant, which aims to bridge the gap between the cost of attendance and what a student can contribute. These grants do not need to be repaid and are a valuable resource for students who require financial assistance.
Work-Study Programs: Work-study programs allow students to gain valuable work experience while earning money to help cover educational expenses. UCLA partners with various employers, both on and off-campus, to offer part-time employment opportunities to eligible students. These positions often align with students' career interests and can provide valuable networking opportunities.
Scholarships
Beyond financial aid, UCLA's economics program offers scholarships specifically tailored to support students in their pursuit of academic excellence.
Scholarships can open doors to new opportunities and provide recognition for your dedication and achievements. Let's explore some of the scholarships available within UCLA's economics program.
Departmental Scholarships: The economics program at UCLA may offer department-specific scholarships to exceptional students who demonstrate academic excellence and show potential in the field of economics. These scholarships can provide financial assistance while also recognizing your achievements within the program.
External Scholarships: Additionally, there are numerous external scholarships available to economics students. These scholarships may be provided by organizations, foundations, or private donors and can be based on various criteria, including academic performance, leadership, community involvement, or specific research interests. Research and explore external scholarship opportunities that align with your goals and aspirations.
Application Process
To maximize your chances of receiving financial aid or scholarships, it is crucial to review the application process and deadlines carefully. Here are some important points to keep in mind:
FAFSA: To be considered for most financial aid programs, including federal grants and loans, you must complete the Free Application for Federal Student Aid (FAFSA). The FAFSA determines your eligibility for need-based aid and is typically available starting October 1st each year.
CSS Profile: In addition to the FAFSA, UCLA requires the CSS Profile for some institutional scholarships. The CSS Profile provides a more comprehensive view of your financial situation, allowing the university to assess your eligibility for various scholarships and aid programs.
Departmental Applications: For department-specific scholarships within the UCLA economics program, additional application materials may be required. These materials can include essays, letters of recommendation, or documentation of specific achievements. Pay close attention to any requirements or instructions outlined by the department.
Where does UCLA rank in economics?
Where does UCLA rank in economics? UCLA has long been recognized as a prestigious institution with a rich academic history. When it comes to the field of economics, the university consistently garners attention for its notable contributions to research, faculty expertise, and student outcomes.
According to the highly regarded U.S. News & World Report's Best Economics Schools ranking for the 2023-2024 academic year, UCLA proudly holds the 12th position.
Factors Influencing UCLA's Ranking
Faculty Excellence
One of the key factors determining a university's ranking in any field is the expertise and caliber of its faculty. UCLA's economics program boasts an exceptional faculty body, comprising renowned scholars and researchers. These distinguished individuals contribute to cutting-edge research, provide valuable mentorship to students, and enhance the reputation of the program.
Research Output
Research output and scholarly productivity play a significant role in evaluating the quality and impact of an economics program. UCLA has a strong tradition of impactful research in various areas of economics, ranging from macroeconomics and econometrics to behavioral economics and public policy.
The university's commitment to advancing knowledge through groundbreaking research contributes to its high ranking.
Student Opportunities
Another crucial aspect that influences a program's ranking is the opportunities provided to students. UCLA's economics program offers students access to a plethora of resources, including research centers, internships, and career development services.
These opportunities equip students with real-world experiences and foster their intellectual growth, making them well-prepared for future endeavors.
Alumni Success
The achievements and success of a program's alumni further validate its quality and impact. UCLA's economics graduates have a strong track record of excelling in various professional domains, including academia, government, finance, consulting, and industry. The accomplishments of UCLA alumni contribute to the program's reputation and ranking in the field.
Beyond its ranking, UCLA remains committed to providing an exceptional economics education and fostering an environment that nurtures critical thinking, creativity, and analytical skills. The university's commitment to diversity, inclusion, and interdisciplinary collaboration further enhances the overall learning experience for students.
If you are interested in applying for the UCLA economics program, you are embarking on a journey that can shape your future in the world of economics and beyond. UCLA offers a stimulating academic environment, a wealth of resources, and a network of accomplished professionals to support your growth and success.
To maximize your chances of securing admission to this prestigious program and receive guidance throughout your college application process, we encourage you to book an initial consultation with AdmissionSight.
Our team of experienced consultants specializes in college applications and can provide invaluable insights, personalized advice, and assistance tailored to your unique strengths and aspirations. Don't miss out on this opportunity to receive professional guidance and enhance your chances of gaining admission to UCLA's economics program.
Remember, your college education plays a pivotal role in shaping your future, and choosing the right program is a crucial decision. So, take the first step and set yourself on the path to success in the world of economics at UCLA. Contact us and book your initial consultation today!