Tufts vs Colgate: A Comprehensive Look at the Two Schools
When it comes to choosing a college, many factors come into play. Two esteemed institutions that often come up in the discussion are Tufts University and Colgate University. While both schools offer a liberal arts education, they have distinct differences. In this article, we aim to provide a thorough comparison and analysis of Tufts vs Colgate across several key areas.
Location and Campus Size: Which School Has the Advantage?
The location and campus size of a university can play a significant role in a student's college experience. Tufts is located in Medford/Somerville, Massachusetts, just a few miles from Boston. Colgate, on the other hand, is nestled in the quaint town of Hamilton, New York. While Tufts has the benefits of city life, Colgate offers a more secluded and intimate setting.
Regarding campus size, Tufts has a much larger student body, with approximately 11,000 students across all its campuses, while Colgate has around 2,900. If you're someone who prefers a smaller and more tight-knit community, Colgate may be the better option. However, if you crave the energy of a larger student body, Tufts may be the way to go.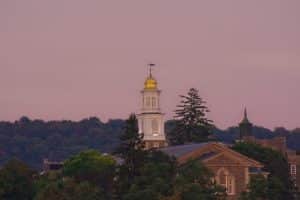 Another factor to consider when it comes to location is the surrounding area. Tufts is located near Boston, which offers a plethora of opportunities for internships, networking, and cultural experiences. Colgate, on the other hand, is situated in a more rural area, which may limit these opportunities. However, Colgate is surrounded by beautiful natural scenery and outdoor recreational activities, which may be appealing to some students.
When it comes to campus size, it's not just about the number of students. Tufts has multiple campuses, including the School of Medicine and the School of Dental Medicine, which may offer unique opportunities for students in those fields. Colgate, on the other hand, has a more centralized campus, which may make it easier for students to navigate and feel a sense of community. Ultimately, the decision between a larger or smaller campus will depend on your personal preferences and priorities.
Academic Programs and Majors: What Sets Tufts vs Colgate Apart?
Both Tufts and Colgate offer a robust liberal arts curriculum, but their respective programs and majors differ slightly. Tufts has a well-regarded School of Arts and Sciences, a School of Engineering, and a School of the Museum of Fine Arts at Tufts University. The university is also well-known for its International Relations, Biopsychology, and Community Health majors.
Colgate, on the other hand, offers over 50 majors across various departments, including the sciences, social sciences, humanities, and the arts. The university also has a core curriculum called the Liberal Arts Core that all students must complete. Both schools have an array of noteworthy academic programs, but the differences in focus and structure may play a deciding factor in your college decision.
One unique aspect of Tufts is its Experimental College, which allows students to design and teach their own courses. This program encourages students to explore their interests and passions outside of traditional academic disciplines. Additionally, Tufts has a strong emphasis on interdisciplinary studies, with programs such as Environmental Studies and Cognitive and Brain Sciences that draw from multiple fields of study.
Colgate also offers a variety of unique academic opportunities, such as its off-campus study programs. Students can choose from over 100 programs in more than 50 countries, allowing them to gain international experience and cultural immersion. The university also has a strong commitment to research, with opportunities for students to work alongside faculty members on projects in fields such as neuroscience and environmental studies.
Student Life and Extracurricular Activities: A Closer Look at Tufts vs Colgate
Participating in extracurricular activities is an essential part of the college experience. Both Tufts and Colgate offer a range of clubs, organizations, and sports teams for their students to get involved with. Tufts has over 300 student-run organizations, including a robust arts community and several active sustainability groups. Colgate also boasts a diverse selection of clubs, with a particular emphasis on community service and outdoor recreation.
Student life at both schools is rich and varied, but Tufts is known for being more politically active and socially conscious, with a significant emphasis on social justice and activism. Colgate, meanwhile, is known for its tight-knit community and campus traditions like the old-school pep rally, "Maroon Madness."
Additionally, both Tufts and Colgate offer opportunities for students to study abroad and participate in international programs. Tufts has a robust study abroad program, with over 80 programs in more than 40 countries. Colgate also offers a variety of study abroad options, including semester-long programs and short-term study tours led by faculty members. These programs allow students to gain valuable cultural experiences and broaden their perspectives.
Admission Requirements and Selectivity: How Does Tufts vs Colgate Compare?
When it comes to applying to Tufts or Colgate, it's essential to understand the admission requirements and their selectivity. Both universities are highly selective, with Tufts accepting just 11% of its applicants, and Colgate accepting around 17%. Tufts has test-optional admissions, meaning you can choose not to submit test scores, while Colgate requires applicants to submit either the SAT or ACT.
Other factors that may affect your chances of acceptance include extracurricular activities, essays, and letters of recommendation. It's best to thoroughly research each school's admissions process and requirements to increase your chances of acceptance.
Additionally, Tufts and Colgate both consider demonstrated interest in their admissions process. Demonstrated interest can include attending information sessions, campus visits, and communicating with admissions representatives. It's important to show your interest in the school to increase your chances of acceptance.
Tuition and Financial Aid: Which School Offers the Better Value?
The cost of attending college is often a significant factor in the decision-making process. Tufts and Colgate are both private institutions, and their tuition costs are on the higher end. For the 2022-2023 academic year, Tufts tuition is $65,222, while Colgate tuition is $64,290.
However, both schools offer need-based financial aid and scholarships to help alleviate the cost of attendance. It's crucial to research each school's financial aid policies and to fill out the Free Application for Federal Student Aid (FAFSA) to determine your eligibility for aid.
Additionally, Tufts and Colgate also offer work-study programs, which allow students to work part-time on campus to earn money towards their tuition and other expenses. These programs not only provide financial assistance but also offer valuable work experience and networking opportunities.
Faculty and Teaching Quality: A Comparative Analysis at Tufts vs Colgate
One of the most critical aspects of a college education is the quality of the faculty and teaching. Both Tufts and Colgate have highly esteemed faculties, with both schools boasting well-known professors and accomplished scholars. Tufts has a student-to-faculty ratio of 10:1, while Colgate's student-to-faculty ratio is around 9:1. This means that students can expect personalized attention and ample opportunities for individualized instruction.
Both schools also have a strong emphasis on undergraduate teaching, with a focus on interactive and student-led learning. It's worth taking a closer look at each school's faculty members and their respective areas of expertise to determine which school aligns best with your academic goals.
Additionally, Tufts and Colgate both offer opportunities for students to work closely with faculty members on research projects and other academic endeavors. Tufts has a well-established undergraduate research program, with students working alongside faculty members in a variety of fields.
Colgate also offers research opportunities for undergraduates, with a focus on interdisciplinary collaboration and hands-on learning. These opportunities can be invaluable for students looking to gain practical experience and build relationships with faculty members in their field of study.
Research Opportunities and Facilities: Which School Provides More Resources?
For students interested in research opportunities, access to state-of-the-art facilities, and resources can make a significant difference. Tufts and Colgate both have robust research programs and ample resources for students to conduct cutting-edge research. However, Tufts has a more extensive research infrastructure across its schools and campuses, with a particular emphasis on biomedical research.
Colgate, on the other hand, has well-funded research opportunities in the arts, humanities, and social sciences. Ultimately, the research opportunities and facilities at each school can play a significant role in determining which institution aligns best with your academic interests.
It's worth noting that both Tufts and Colgate offer undergraduate students the opportunity to work closely with faculty members on research projects. This can be a valuable experience for students looking to gain hands-on experience in their field of study and build relationships with professors. Additionally, both schools have dedicated research centers and institutes that provide students with access to specialized equipment and resources.
Alumni Network and Career Outcomes: What Can You Expect After Graduation?
When it comes to planning for your future, understanding job prospects and the strength of a school's alumni network can be essential. Tufts and Colgate both have highly successful graduates, with many alumni going on to prestigious graduate programs or careers in their respective fields.
Tufts has notable alumni across various fields, including Nobel laureates, Pulitzer Prize winners, and Academy Award nominees. Colgate, meanwhile, has a robust "Alumni Network" program that connects students with successful alumni in their fields of interest. Both schools offer excellent post-graduate opportunities, and it's worth researching each school's connection to industries or graduate programs that interest you.
Additionally, it's important to consider the location of each school and how it may impact your career prospects. Tufts is located in the greater Boston area, which is home to many top companies and organizations in fields such as healthcare, technology, and finance.
Colgate, on the other hand, is situated in upstate New York, which may offer unique opportunities in industries such as agriculture, environmental science, and education. It's worth researching the job market and networking opportunities in each location to determine which school may be the best fit for your career goals.
Diversity and Inclusion: Tufts vs Colgate
Both Tufts and Colgate are committed to creating a diverse and inclusive community. Tufts has several programs and initiatives dedicated to fostering a diverse and welcoming community, including a robust College Access and Opportunity Program that provides support to low-income and first-generation students.
Colgate has a similarly strong commitment to diversity, with campus programs like "The Sophomore Residential Seminar," where students explore various aspects of identity and social justice.
It's important to consider your own values and how they align with each school's commitment to diversity and inclusivity when making your college decision.
Additionally, both Tufts and Colgate have active student organizations and clubs that promote diversity and inclusion on campus. These groups provide a space for students to connect with others who share similar backgrounds and experiences, as well as educate the broader campus community on issues related to diversity and social justice. Tufts has organizations like the Asian American Alliance and the Latinx Center, while Colgate has groups like the Black Student Union and the Rainbow Alliance.
Conclusion
In conclusion, Tufts and Colgate both offer unique and valuable college experiences, but they differ in several areas. Both universities provide an exceptional liberal arts education, but their approach, size, location, and culture may be significant factors in determining which school aligns best with your needs and goals.
This comprehensive comparison should provide insight into several critical factors to consider when choosing between Tufts and Colgate. Ultimately, the choice comes down to personal preference and individual priorities. By doing thorough research and weighing the pros and cons, you can make an informed decision about which school is the right fit for you.
Want to learn more about getting into College? You've come to the right place. At AdmissionSight, we have over 10 years of experience guiding students through the competitive admissions process.
AdmissionSight can help you put your best foot forward when applying to college this fall. Contact us today for more information on our services.