Tufts vs Scripps: A Side-by-Side Comparison
When it comes to choosing a college, there are countless factors to consider. From the location and campus size to the academic programs offered, admissions requirements, and student life, each school has its own unique strengths and challenges. In this article, we'll examine two well-respected institutions of higher education – Tufts vs Scripps – and conduct a thorough side-by-side comparison of their similarities and differences.
Location and Campus Size at Tufts vs Scripps
One of the most noticeable differences between these two schools is their location and campus size. Tufts University is located in Medford, Massachusetts, just a short distance away from Boston, with a relatively large campus that spans over 150 acres. In contrast, Scripps College is located in Claremont, California, in the greater Los Angeles area, and it is significantly smaller, with a campus size of fewer than 35 acres. Both campuses, however, are well-maintained and offer plenty of green space for students to enjoy.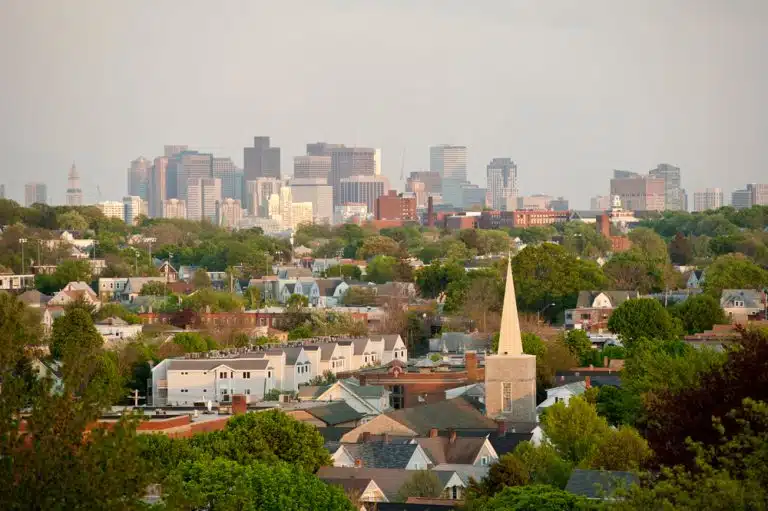 Another difference between the two schools is the climate. Tufts experiences all four seasons, with cold winters and hot summers, while Scripps has a Mediterranean climate with mild winters and warm, dry summers. This can be a factor for students who prefer a certain type of weather or are sensitive to extreme temperatures.
Additionally, the location of each school offers unique opportunities for students. Tufts is located near Boston, a major city with a rich history and many cultural attractions. Students can easily access internships and job opportunities in the city, as well as attend concerts, museums, and other events.
Scripps, on the other hand, is located in the greater Los Angeles area, which offers a diverse range of experiences, from beaches to mountains to urban areas. Students can take advantage of the many opportunities for outdoor activities, as well as internships and jobs in the entertainment industry.
Academic Programs Offered at Tufts vs Scripps
Another important consideration for prospective students is the range of academic programs offered by each school. Tufts boasts over 90 majors across eight undergraduate schools, including arts, sciences, and engineering, as well as a range of graduate programs.
Scripps, on the other hand, offers a smaller number of majors overall (around 50), but its curriculum is highly focused on the liberal arts and humanities, with a strong emphasis on women's education.
In addition to the range of majors offered, both Tufts and Scripps provide students with opportunities to pursue interdisciplinary studies and engage in research. Tufts has several interdisciplinary programs, such as the Experimental College and the Tisch College of Civic Life, which allow students to explore a variety of academic fields and apply their knowledge to real-world issues.
Scripps, on the other hand, has a strong emphasis on undergraduate research, with opportunities for students to work closely with faculty members on projects in the humanities, social sciences, and natural sciences.
Admissions Process and Requirements at Tufts vs Scripps
Getting into either Tufts or Scripps is no easy feat, as both schools are highly selective. Tufts has an acceptance rate of around 11%, with an average SAT score of 1460 and an average ACT score of 32. Scripps is similarly competitive, with an acceptance rate of around 30% and an average SAT score of 1390, and an average ACT score of 32. Both schools require strong academic records, letters of recommendation, and extracurricular activities, as well as personal essays and interviews for some applicants.
In addition to the standard admissions requirements, Tufts also offers an Early Decision option for students who are certain that Tufts is their top choice. This option requires students to apply by November 1st and receive a decision by mid-December. If accepted, students are required to withdraw all other college applications and commit to attending Tufts.
Scripps also offers a unique program called the Scripps College Academy, which provides support and resources for high-achieving, low-income students who are interested in attending Scripps. This program includes summer workshops, mentorship opportunities, and college counseling to help these students navigate the admissions process and succeed in college.
Student Life and Extracurricular Activities
Both Tufts and Scripps offer a rich and diverse student life experience. Tufts has over 300 student-run organizations, including cultural clubs, political groups, and sports teams, as well as paid research and leadership opportunities. Scripps has a smaller range of extracurricular activities, but they are equally vibrant and inclusive, with clubs focused on art, music, politics, and more. Additionally, both schools have active study abroad programs and encourage community service and engagement.
At Tufts, students can also participate in a variety of community service initiatives, such as the Tufts Literacy Corps, which provides tutoring and mentoring to local children, and the Tufts Wilderness Orientation program, which promotes environmental stewardship and outdoor education.
Scripps students can take advantage of the school's unique Core Curriculum, which emphasizes interdisciplinary learning and encourages students to explore a wide range of academic subjects. Both schools also offer opportunities for students to engage with the local community through internships, volunteer work, and other outreach programs.
Diversity and Inclusivity on Campus at Tufts vs Scripps
In today's world, diversity and inclusivity are more important than ever, and both Tufts and Scripps are committed to fostering a welcoming and inclusive campus community.
Tufts has a diverse student body, with around 33% of students identifying as students of color, and a range of programs and resources designed to support underrepresented groups. Scripps is a women's college, but it welcomes students of all gender identities, and it has a strong commitment to promoting diversity and equity through its curriculum and campus culture.
At Tufts, the Office of Diversity and Inclusion offers a variety of programs and initiatives to support students from diverse backgrounds, including mentorship programs, cultural celebrations, and workshops on topics such as microaggressions and allyship. Additionally, Tufts has a number of student organizations dedicated to promoting diversity and inclusion, such as the Asian American Alliance, the Black Student Union, and the Latinx Center.
Scripps also has a number of resources and programs to support diversity and inclusivity on campus. The college has a Center for Diversity and Inclusion, which offers a range of services and programs to support students from underrepresented backgrounds. Scripps also has a strong commitment to incorporating diverse perspectives into its curriculum, with courses that explore topics such as race, gender, and sexuality from a variety of perspectives.
Faculty and Staff Quality
One of the greatest strengths of both Tufts and Scripps is their high-quality faculty and staff. Both schools have renowned professors and scholars in a variety of fields, as well as dedicated staff members who work tirelessly to support student success. Additionally, both schools prioritize small class sizes and personalized attention, with a low student-to-faculty ratio and ample opportunities for one-on-one mentoring and advising.
Furthermore, Tufts and Scripps have a strong commitment to diversity and inclusion among their faculty and staff. Both schools actively seek out and hire individuals from diverse backgrounds, and provide ongoing training and support to ensure that all members of the community feel valued and included. This commitment to diversity not only enriches the educational experience for students but also helps to create a more equitable and just society.
Career Services and Post-Graduation Opportunities
One of the most important factors for many students when choosing a college is the availability of career services and post-graduation opportunities. Both Tufts and Scripps offer robust career centers, with resources for job searching, networking, and post-graduate education. Tufts has a strong focus on entrepreneurship and innovation, with partnerships with local businesses and start-ups, while Scripps emphasizes service and social justice, with opportunities for internships and community-based projects.
Additionally, Tufts offers a variety of career-related events and workshops throughout the year, including career fairs, alumni panels, and resume-building sessions. Students can also take advantage of Tufts' extensive alumni network, which includes successful professionals in a wide range of industries.
At Scripps, students have access to a unique program called the Scripps College Academy, which provides mentorship, academic support, and college preparation for high-achieving students from under-resourced schools. This program not only helps students succeed in college but also provides them with valuable connections and resources for post-graduation opportunities.
Research Opportunities for Students
For students interested in pursuing research, both Tufts and Scripps offer ample opportunities for hands-on experience. Tufts has a strong focus on interdisciplinary research and innovation, with state-of-the-art facilities and a dedicated research park. Scripps emphasizes undergraduate research, with funding and support available for students to pursue original projects and collaborate with faculty members.
At Tufts, students can participate in research across a wide range of fields, including engineering, biology, and social sciences. The university also offers summer research programs, allowing students to work on projects full-time and gain valuable experience. Additionally, Tufts has partnerships with local hospitals and research institutions, providing students with opportunities to work alongside professionals in their field.
Scripps College has a strong commitment to undergraduate research, with a dedicated research program that provides funding and support for students to pursue their own projects. The college also hosts an annual research conference, where students can present their work and receive feedback from faculty and peers. Scripps also offers research opportunities abroad, allowing students to explore different cultures and gain a global perspective on their research.
Student-Faculty Ratio and Class Size at Tufts vs Scripps
As previously mentioned, both Tufts and Scripps prioritize small class sizes and personalized attention. Tufts has a student-to-faculty ratio of 10:1, meaning that students have ample opportunity to engage with and learn from their professors. Scripps is also similar, with a student-to-faculty ratio of 10:1, which allows for close relationships between students and faculty members.
Small class sizes not only allow for more personalized attention from professors but also foster a collaborative learning environment among students. At Tufts, the average class size is 20 students, while at Scripps, it is even smaller at 15 students. This means that students have more opportunities to participate in class discussions and receive feedback on their work.
In addition to small class sizes, both Tufts and Scripps offer a variety of resources to support student learning. Tufts has a Writing Center and a Center for STEM Diversity, while Scripps has a Writing Center and a Quantitative Skills Center. These resources provide students with additional support and guidance outside of the classroom, helping them to succeed academically.
Tuition Fees and Financial Aid Opportunities at Tufts vs Scripps
Of course, one of the biggest considerations for many students and families when choosing a college is the cost of tuition and the availability of financial aid. Tufts has a tuition cost of around $65,222 per year, with a range of need-based and merit-based scholarships and grants available. Scripps is slightly less expensive, with a tuition cost of around $60,712 per year, and similarly generous financial aid packages.
It's important to note that both Tufts and Scripps also offer work-study programs, which allow students to earn money while gaining valuable work experience on campus.
Additionally, Tufts has a loan repayment assistance program for graduates who pursue careers in public service, while Scripps offers a program that covers the cost of internships for students with financial needs. These opportunities can help alleviate the financial burden of attending college and provide valuable resources for students to succeed both during and after their time at these institutions.
Athletic Programs and Facilities Offered
Sporting events and athletics can be an important part of campus life for many students, and both Tufts and Scripps offer comprehensive athletic programs and facilities. Tufts has a range of NCAA Division III varsity sports teams, as well as club and intramural sports options. Scripps has NCAA Division III teams as well, with an emphasis on women's sports, as well as fitness and wellness programs for all students.
Alumni Network and Support
After graduation, students want to feel supported and connected to their alma mater, and both Tufts and Scripps have strong alumni networks and ongoing support for graduates. Tufts alumni are highly successful and accomplished, with many notable figures in fields such as politics, medicine, and the arts. Scripps alumni are similarly impressive, with a strong emphasis on social justice and community engagement.
Tufts University has a dedicated Office of Alumni Relations that offers a variety of resources and events for alumni to stay connected with the university and each other. These resources include career services, networking opportunities, and regional alumni chapters. Additionally, Tufts alumni have access to a vast online community where they can connect with fellow alumni and stay up-to-date on university news and events.
Scripps College also has a robust alumni network, with a focus on empowering graduates to make a positive impact in their communities. The college's Office of Alumnae Engagement offers a range of programs and events, including mentorship opportunities, career services, and regional alumnae clubs. Scripps alumni also have access to an online platform where they can connect with each other and access resources such as job postings and professional development opportunities.
Conclusion: Tufts vs Scripps
Overall, Tufts and Scripps are both highly respected institutions of higher education, each with its own unique strengths and offerings. Ultimately, the choice between these two excellent schools will depend on each student's individual priorities and goals. We hope that this side-by-side comparison has provided helpful insights for anyone considering these remarkable institutions.
Want to learn more about getting into College? You've come to the right place. At AdmissionSight, we have over 10 years of experience guiding students through the competitive admissions process.
AdmissionSight can help you put your best foot forward when applying to college this fall. Contact us today for more information on our services.