Tufts vs Yale: A Comprehensive Look
For many high school students, selecting the right college to attend can be a challenging decision. With so many options available, it is crucial to consider several factors before determining the best fit. In this article, we will compare Tufts vs Yale based on various criteria, ultimately helping you make an informed decision.
Location and Campus Size: How Do Tufts and Yale Compare?
Tufts and Yale, both situated in the Northeast region of the United States, have very different campus sizes and locations. Tufts University, located in Medford/Somerville, Massachusetts, encompasses over 170 acres of land, making it smaller than Yale University's campus, which comprises over 1,000 acres and is located in New Haven, Connecticut. Additionally, Yale's stunning Gothic architecture and picturesque quadrangles set it apart from Tufts' mixed architectural styles. However, both universities offer easy access to nearby metropolitan cities like Boston and New York City, making it easy for students to take advantage of the cultural and professional opportunities those cities offer.
Despite the differences in campus size and architecture, both Tufts and Yale offer a wide range of academic programs and extracurricular activities for students. Tufts is known for its strong programs in international relations, engineering, and the arts, while Yale is renowned for its programs in law, business, and medicine. Both universities also have active student organizations, including clubs for sports, music, and community service.
Another factor to consider when comparing Tufts and Yale is the cost of attendance. While both universities are private institutions with high tuition fees, Tufts offers more need-based financial aid to students, making it a more affordable option for some families. Yale, on the other hand, has a larger endowment and can offer more merit-based scholarships to students.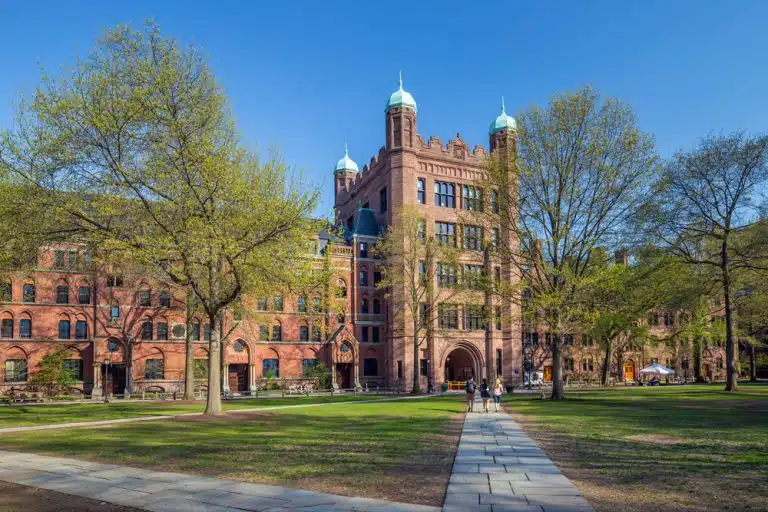 Academic Programs Offered: A Comparison Between Tufts and Yale
When it comes to academic offerings, Tufts offers a range of undergraduate and graduate programs in notable fields like engineering, international relations, and business. On the other hand, Yale is renowned for its undergraduate and graduate programs in law, medicine, and public policy. Yale's interdisciplinary approach to learning allows students to major in any subject while maintaining a broad view of the world around them, while Tufts has an academic model centered on the liberal arts and interdisciplinary studies. Both universities are highly respected in the academic world, therefore the choice depends on the individual preferences of the student.
In addition to their academic programs, Tufts and Yale both offer a variety of extracurricular activities and resources for students. Tufts has a strong focus on community service and offers numerous opportunities for students to get involved in volunteer work. Yale, on the other hand, has a rich tradition of student-run organizations and clubs, including a cappella groups, debate teams, and sports teams.
Furthermore, both universities have unique campus cultures and traditions. Tufts is known for its quirky and creative student body, with events like the annual Naked Quad Run and the Spring Fling concert. Yale, on the other hand, has a more traditional and prestigious atmosphere, with notable alumni including former presidents and Supreme Court justices.
Admission Criteria: What Are the Differences Between Tufts and Yale?
When it comes to admissions criteria, both universities have rigorous standards. Tufts acceptance rate for the class of 2024 was 15%, while Yale's was 6.54% for the class of 2023. As Ivy League universities, both institutions require evidence of a strong academic record, including high grades, standardized test scores, and glowing recommendations from past and present teachers or mentors. Tufts and Yale also assess each applicant's extracurricular activities, essays, and interviews, looking for individuals who have demonstrated potential, leadership, and passion both inside and outside of the classroom.
However, there are some differences in the admissions criteria between Tufts and Yale. Tufts places a greater emphasis on demonstrated interest, meaning that applicants who have shown a strong interest in the university through campus visits, interviews, and other interactions may have an advantage in the admissions process. Yale, on the other hand, places a greater emphasis on intellectual curiosity and creativity, looking for applicants who have pursued unique and innovative projects or research.
Another difference between the two universities is their approach to standardized testing. While both require applicants to submit SAT or ACT scores, Tufts has adopted a test-optional policy, meaning that applicants can choose not to submit test scores if they feel that they do not accurately reflect their abilities. Yale, on the other hand, still requires test scores from all applicants, although they do not have a minimum score requirement.
Faculty and Staff: A Comparative Analysis of Teaching Staff at Tufts and Yale
Tufts is known for its distinguished faculty, many of whom have earned national recognition for their contributions to their fields. Similarly, Yale's faculty is made up of numerous award-winning academics and researchers, including Nobel laureates, MacArthur geniuses, and Pulitzer Prize winners. Both universities boast faculty members who bring a wealth of knowledge and expertise to their classrooms, providing unique perspectives to their students.
However, there are some differences in the teaching staff at Tufts and Yale. Tufts has a higher percentage of faculty members who prioritize teaching over research, with a focus on providing personalized attention to their students. On the other hand, Yale has a larger number of faculty members who prioritize research and scholarship, often leading to groundbreaking discoveries and advancements in their respective fields. Despite these differences, both universities are committed to providing their students with a top-notch education, and their faculty members play a crucial role in achieving this goal.
Tufts vs Yale: Student Life
Tufts and Yale have very different campus cultures. Tufts encourages its students to be globally aware and socially responsible, as evidenced by the school's emphasis on civic engagement, activism, and community service. At Yale, student life is characterized by a strong sense of competitiveness, whether academically or through athletic rivalry. Both campuses, however, offer students numerous opportunities to get involved, from clubs and organizations to volunteering and internships.
One major difference between the two campuses is the size of the student body. Tufts has a smaller student population, which allows for a more tight-knit community and personalized attention from professors. Yale, on the other hand, has a larger student population, which can lead to a more diverse range of perspectives and experiences. Additionally, Tufts is located in a suburban area, while Yale is situated in an urban environment. This can impact the types of activities and events available to students, as well as the overall atmosphere of the campus.
Tufts vs Yale: Extracurricular Activities
Both universities offer students a range of extracurricular activities to choose from, covering academic, athletic, cultural, and social fields. At Tufts, students can select from over 300 clubs and organizations, ranging from academic-focused groups like the International Relations Association and the Philosophy Society to performance societies like the Beelzebubs and the S-Factor. At Yale, students can choose from over 500 extracurricular activities, from political groups like the Yale College Democrats and Republicans to arts groups like a cappella singing organizations like the Whiffenpoofs and the Whim 'n Rhythm.
Aside from the clubs and organizations mentioned above, both Tufts and Yale offer unique extracurricular activities that cater to specific interests. For example, Tufts has a Quidditch team for Harry Potter fans, while Yale has a competitive debate team that has won numerous national championships. Additionally, both universities have community service organizations that allow students to give back to their local communities and make a positive impact.
It's worth noting that extracurricular activities can play a significant role in a student's college experience, providing opportunities for personal growth, leadership development, and social connections. Both Tufts and Yale recognize this and encourage students to get involved in activities that align with their interests and passions.
Sports Programs Offered: A Comprehensive Comparison Between Tufts and Yale Athletics
Both Tufts and Yale offer their students a range of sports programs, with each university having numerous varsity sports teams. Yale has a greater number of sports programs, with 35 varsity teams compared to Tufts' 16. Yale athletics offers the chance for students to be part of winning teams and offers prestigious scholarships for exceptional athletes. At Tufts, student-athletes abide by the NESCAC principles, which value academic success and sportsmanship while also encouraging students to pursue athletic excellence.
However, Tufts offers a unique program called "Club Sports" which allows students to participate in sports that are not offered as varsity programs. These sports include ultimate frisbee, equestrian, and fencing, among others. Club sports at Tufts are student-run and provide a great opportunity for students to engage in physical activity and build community outside of the classroom. Yale does not offer a similar program, but does have intramural sports for students who want to participate in sports at a more casual level.
Tufts vs Yale: Career Services
Both universities are known for their outstanding career services offices, which offer students and alumni access to a range of resources meant to support and guide them in their job search efforts. At Tufts, students can take advantage of expert guidance from the Career Center, which offers job-searching assistance, career counseling, and on-campus recruiting services. At Yale, the university's Office of Career Strategy provides similar services, including access to job and internship databases and career counselors. Ultimately, the strength of each Career Center lies in its ability to foster professional networking and connection building.
However, there are some differences between the two universities' career services. Tufts' Career Center has a strong focus on helping students explore their career interests and develop their skills through workshops and career fairs. On the other hand, Yale's Office of Career Strategy places a greater emphasis on connecting students with alumni and employers through networking events and job shadowing opportunities. Both approaches have their benefits, and it ultimately depends on the individual student's needs and preferences.
Alumni Network: Who Are the Most Successful Graduates of Tufts vs Yale?
Tufts and Yale benefit from having strong alumni networks that help students with career advancement and professional development. Tufts has notable alumni in fields like entrepreneurship, entertainment, and politics. Notable Tufts alumni include Meredith Vieira, Tracy Chapman, and Pierre Omidyar, the founder of eBay. Yale's alumni network offers important connections as well, with notable alumni including Presidents George W. Bush and Bill Clinton, actor Paul Giamatti, and Supreme Court Justice Sonia Sotomayor.
However, the success of alumni from both universities is not limited to these fields. Tufts alumni have also made significant contributions in the fields of science and technology, with notable alumni including Dr. Craig Mello, a Nobel Prize-winning biologist, and Dr. David Baltimore, a Nobel Prize-winning virologist. Yale alumni have also excelled in various fields, including journalism, literature, and finance. Notable Yale alumni in these fields include Pulitzer Prize-winning journalist Bob Woodward, Pulitzer Prize-winning author Michael Chabon, and billionaire investor Stephen Schwarzman.
Both universities also have alumni who have made significant contributions to society through philanthropy and social activism. Tufts alumni include Wendy Kopp, the founder of Teach for America, and Peter Lewis, a philanthropist who donated millions to progressive causes. Yale alumni include Gloria Steinem, a feminist icon and social activist, and Paul Farmer, a physician and anthropologist who co-founded Partners in Health, a global health organization.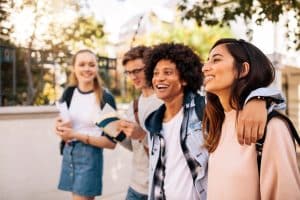 Research Opportunities: How Do Research Programs at Tufts Compare to Those at Yale?
Both universities offer numerous opportunities for undergraduate and graduate students to engage in research. Tufts places a strong emphasis on interdisciplinary research, with nine research centers and institutes focused on fields like biomedical engineering and global health. Similarly, Yale facilitates an extensive research program, with resources like the Center for Biomedical and Interventional Technology and programs focused on fields like cancer research and sustainability.
However, there are some differences between the research programs at Tufts and Yale. Tufts has a unique program called the Tufts Summer Scholars Program, which allows undergraduate students to conduct research with faculty members during the summer months. This program provides students with a stipend and housing, making it an attractive option for those looking to gain research experience outside of the academic year.
On the other hand, Yale has a strong focus on research in the humanities and social sciences, with programs like the Yale Initiative for the Interdisciplinary Study of Anti-Semitism and the Program on Ethics, Politics, and Economics. These programs provide students with opportunities to engage in research on topics that are not traditionally associated with scientific research, but are still important areas of study.
Tufts vs Yale: Cost of Attendance
When it comes to tuition costs, both universities are expensive, and room and board fees vary depending on the type of housing students select. The cost of attending Tufts in 2021-2022 was $78,080, while attending Yale costed even more at $80,900. Both universities offer financial assistance through scholarships, grants, and student loans to ensure that the cost of attendance does not prevent students from accessing their world-class education. Yale offers a particularly generous financial aid program, with nearly 50% of students receiving need-based scholarship while many students graduate with little to no debt.
It is important to note that the cost of attendance goes beyond just tuition and room and board fees. Other expenses such as textbooks, transportation, and personal expenses can add up quickly. Tufts and Yale both offer resources to help students manage these additional costs. Tufts provides a textbook loan program and emergency funds for unexpected expenses, while Yale offers a program that provides free shuttle services to students and a fund to cover emergency expenses. These resources can greatly alleviate the financial burden on students and allow them to focus on their academic pursuits.
Tufts vs Yale: Student Diversity
Tufts University prides itself on its commitment to diversity, equity and inclusion, with over 40% of undergraduate students identifying as people of color, and a similar diversity among its faculty and staff. Similarly, at Yale, almost half of the undergraduate student body identifies as a person of color. Furthermore, Yale offers a number of student centers for communities of students from marginalized backgrounds. Both Tufts and Yale make concerted efforts to ensure that their student populations are inclusive and diversity is celebrated.'
However, there are some differences in the diversity of the student populations at Tufts and Yale. While both universities have similar percentages of students of color, Tufts has a higher percentage of international students, with over 20% of the undergraduate population coming from outside the United States. In contrast, Yale has a higher percentage of female students, with women making up 51% of the undergraduate student body. These differences in diversity highlight the unique strengths and priorities of each institution.
Tufts vs Yale: Campus Housing Options
Both universities offer on-campus housing options, with Tufts offering accommodation for all four years of study while Yale requires students to find off-campus housing after their sophomore year. Tufts offers traditional dormitory-style housing, and more recently built apartment-style houses for upperclassmen, while senior or graduate students can find a range of off-campus housing options with help from the university. Yale offers a diverse range of housing, ranging from single-sex living arrangements to themed residential colleges such as Silliman College and Grace Hopper College. Both Tufts and Yale offer safe and secure housing options to their students with state-of-the-art facilities.
However, there are some differences in the housing options offered by the two universities. Tufts has a limited number of on-campus housing options, which means that some students may have to find off-campus housing after their first or second year. On the other hand, Yale has a larger number of on-campus housing options, which means that most students can find accommodation on campus throughout their undergraduate years.
In terms of cost, both universities offer a range of housing options at different price points. However, Tufts tends to be slightly more expensive than Yale, especially for upperclassmen who choose to live in the newer apartment-style houses. Yale also offers more financial aid options for students who need help covering the cost of housing.
Social Media Presence: A Comparison of Online Engagement Strategies Adopted by Tufts vs Yale
In today's digital age, social media presence is crucial, and both Tufts and Yale are adept in this area. Tufts has a strong social media presence across all major platforms, frequently sharing student life, departmental news, and campus events. The university's Instagram account, for example, features snapshots of everything from student life to academic research, giving followers a glimpse of what life at Tufts is like. Yale also has a strong social media presence, with active accounts across platforms like Facebook and Twitter, showcasing news, research findings, and showcasing life on campus.
However, there are some differences in the online engagement strategies adopted by Tufts and Yale. Tufts tends to focus more on student-generated content, encouraging students to share their experiences and perspectives on social media. This approach creates a sense of community and authenticity, as followers get a firsthand look at what it's like to be a student at Tufts. On the other hand, Yale's social media strategy is more focused on promoting the university's achievements and research findings. While this approach is effective in showcasing Yale's academic excellence, it may not be as engaging for prospective students who are looking for a more personal connection with the university.
Conclusion
Comparing two world-renowned universities like Tufts and Yale might seem like a daunting task, but in reality, both universities offer their students ample opportunities to learn, grow, and succeed. It's important to weigh the differences in programming, location, and campus culture when making a decision between these two universities. Tufts University might be a better fit for students who value interdisciplinary learning and a more socially conscious environment. Meanwhile, Yale might be a better choice for students who want to focus their studies on law, medicine, or public policy. With this article, we hope to have provided students with an in-depth look at both these incredible institutions and assisted them in making an informed decision.
How AdmissionSight Can Help You With College Admissions
AdmissionSight is a college consulting firm that provides personalized assistance to students throughout the college admissions process. Here are some ways that AdmissionSight can help you:
Admissions strategy: AdmissionSight can help you develop a strategic plan for your college application process. Our professional consultants can assist with identifying schools that are a good fit for your academic, extracurricular, and personal goals and help you plan and prioritize your application strategy.
Application review: AdmissionSight can review your application and provide feedback on how to improve it. We can offer suggestions on making your application stand out and highlighting your strengths and unique qualities.
Essay coaching: AdmissionSight can help you craft compelling essays that showcase your personality, goals, and achievements. We can guide you through the essay writing process and provide feedback on your drafts to help you refine your writing.
Interview preparation: AdmissionSight can provide interview coaching to help you feel confident and prepared for college interviews. Our experts can offer tips on how to present yourself professionally and how to answer common interview questions.
Extracurricular planning: AdmissionSight can help you plan and develop your extracurricular activities to make them more impactful and meaningful. We can suggest activities that align with your interests and goals and provide guidance on demonstrating your leadership and initiative.
Overall, AdmissionSight can provide valuable guidance and support throughout the college admissions process to help you maximize your chances of getting accepted into the college of your choice.
With a high success rate of over 75%, we have built a strong network in the past decade. Book an initial consultation today, free of charge!