UC Irvine vs USC: Which University is Right for You?
Choosing the right university can be a challenging decision. With so many options available, it can be difficult to determine which university will best suit your needs. If you are deciding between the University of California, Irvine (UC Irvine) and the University of Southern California (USC), you will want to carefully consider various factors to find the right fit. In this article, we will compare UC Irvine vs USC, highlighting their differences and similarities to help you make the best decision for your future.
Location: Where UC Irvine and USC are Located
UC Irvine and USC are both located in Southern California, but they are in different regions. UC Irvine is located in Irvine, California, a quiet suburban city about an hour southeast of Los Angeles. USC, on the other hand, is located in Los Angeles, California, in the heart of the city.
The location of UC Irvine provides students with a peaceful and safe environment. The campus is well spread out and far from the hustle and bustle of the big city. In contrast, USC is situated in a more urban area, surrounded by the entertainment and culture that Los Angeles has to offer. Students who love the city life and crave diversity may prefer USC over UC Irvine.
Despite being located in different regions, both UC Irvine and USC offer their students access to a variety of outdoor activities. UC Irvine is located near several beaches, including Newport Beach and Laguna Beach, which are popular destinations for surfing, swimming, and sunbathing. USC, on the other hand, is located near several parks, including Griffith Park and Runyon Canyon Park, which offer hiking trails and scenic views of the city.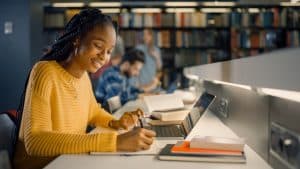 Another factor to consider when choosing between UC Irvine and USC is the cost of living. Irvine is known for being an expensive city, with high housing costs and a high cost of living. In contrast, Los Angeles has a more diverse range of housing options, with both expensive and affordable neighborhoods. However, students should also consider the cost of transportation, as Los Angeles is known for its heavy traffic and long commutes.
UC Irvine vs USC: Reputation
Both UC Irvine and USC are well-respected universities with a great reputation. But USC is known for its prestigious academic programs and it is one of the top private universities in the country. USC graduates have a strong advantage when it comes to finding high-paying jobs upon graduation. However, UC Irvine is also highly regarded, with a solid reputation for academic excellence which employers frequently recognize.
In addition to their academic reputation, both UC Irvine and USC have strong connections with industry leaders and employers. USC has a well-established network of alumni who are successful in various fields, and they often provide job opportunities and mentorship to current students. UC Irvine also has a strong network of alumni who are leaders in their respective industries, and the university frequently partners with companies to provide internships and job opportunities to students.
Another factor that sets UC Irvine apart is its commitment to diversity and inclusion. The university has a diverse student body and faculty, and it actively promotes a welcoming and inclusive environment for all. This commitment to diversity and inclusion is highly valued by many employers, who seek to hire graduates who can work effectively in diverse teams and understand the perspectives of people from different backgrounds.
Campus Culture: What Life is Like at UC Irvine and USC
UC Irvine and USC have different campus cultures. UC Irvine has a relaxed, laid-back environment that is known for being low-key and easygoing. Students can enjoy the sun and beach culture as well as the beautiful campus scenery. USC, on the other hand, has a more active social scene and, with its location in metropolitan Los Angeles, offers numerous opportunities for entertainment and diverse experiences.
Despite their differences, both UC Irvine and USC offer a variety of extracurricular activities and clubs for students to get involved in. UC Irvine has a strong focus on sustainability and offers many environmentally conscious clubs and organizations. USC, on the other hand, has a thriving Greek life community and a wide range of sports teams for students to join. No matter what your interests are, both campuses provide ample opportunities to get involved and make the most of your college experience.
UC Irvine vs USC: Student Body
USC has a more diverse student body than UC Irvine, with higher representation from underrepresented minorities, international students, and lower-income students. UC Irvine has a predominantly Caucasian and Asian student body composition. UC Irvine is known for being one of the most diverse universities within the University of California system, with international students from over 50 different countries. Both universities emphasize creating inclusive and diverse environments to promote a healthy learning experience.
Despite the differences in student body composition, both UC Irvine and USC have a strong commitment to promoting diversity and inclusion on their campuses. UC Irvine has a number of student organizations and programs dedicated to supporting underrepresented groups, including the Black Student Union, the Asian Pacific Student Association, and the LGBT Resource Center. USC also has a variety of resources and initiatives aimed at promoting diversity and inclusion, such as the Center for Black Cultural and Student Affairs and the Latinx Student Assembly.
Another factor that contributes to the diversity of the student body at both universities is their location in Southern California. The region is known for its cultural and ethnic diversity, and both UC Irvine and USC attract students from a wide range of backgrounds who are drawn to the opportunities and experiences available in the area. This diversity not only enriches the student experience, but also prepares students to be global citizens who are able to navigate and thrive in a multicultural world.
UC Irvine vs USC: Admissions Requirements
When it comes to admissions requirements, both UC Irvine and USC have highly competitive acceptance rates. UC Irvine receives far more applications than USC. The average GPA for UC Irvine is generally around 4.0, while USC's average GPA is around 3.8.
In addition to GPA, both universities also consider standardized test scores, extracurricular activities, and essays when making admissions decisions. UC Irvine requires either the SAT or ACT, while USC allows students to submit either test or both. USC also requires two letters of recommendation, while UC Irvine only recommends them.
It's important to note that both universities have different application deadlines. UC Irvine's application deadline is November 30th for fall admission, while USC's deadline is December 1st. UC Irvine also offers early admission, with a deadline of November 1st. USC offers early decision, with a deadline of November 1st, and early action, with a deadline of November 15th.
Majors Offered: Which Majors are Available at UC Irvine and USC
UC Irvine has a wider selection of majors than USC. UC Irvine has more than 80 undergraduate majors, while USC has over 50 different majors. Both universities have numerous well-regarded professional programs, UC Irvine has garnered national attention in the health sciences and biological sciences fields, while USC has strong programs in business, communication, and media studies.
Additionally, UC Irvine offers unique majors such as Criminology, Law and Society, and Pharmaceutical Sciences. USC, on the other hand, offers majors such as Public Policy, International Relations, and Cinematic Arts. Both universities provide students with a diverse range of majors to choose from, allowing them to pursue their passions and interests.
UC Irvine vs USC: Tuition Costs
Both UC Irvine and USC have similar tuition costs, but USC's tuition fees are much higher than UC Irvine's. UC Irvine's in-state tuition is under $15,000 per year, while USC's tuition is over $50,000. Students who are considering attending USC should also weigh the high cost of living expenses in Los Angeles as renting an apartment in a popular area can cost an average of $4,000 per month. UC Irvine is relatively cheaper in comparison, with significantly lower living expenses.
It's important to note that both UC Irvine and USC offer financial aid and scholarships to help offset the cost of tuition. Students should research and apply for these opportunities to help make attending their desired university more affordable. Additionally, both universities offer work-study programs that allow students to earn money while gaining valuable work experience. These programs can help students cover the cost of living expenses and reduce the need for student loans.
Financial Aid: What Options are Available to Help Pay for College at UC Irvine or USC
Financial aid options are similar at both universities, with scholarships, need-based grants, work-study programs, and loans available to eligible students. USC offers more financial aid options than UC Irvine, with grants up to full tuition cost for deserving students.
It is important to note that financial aid packages vary depending on individual circumstances, such as family income and academic achievements. Students are encouraged to fill out the Free Application for Federal Student Aid (FAFSA) to determine their eligibility for federal and state financial aid programs.
In addition to traditional financial aid options, both UC Irvine and USC offer merit-based scholarships for exceptional academic achievements, as well as athletic scholarships for talented student-athletes. Students can also explore external scholarship opportunities through private organizations and foundations.
UC Irvine vs USC: Campus Resources
Both UC Irvine and USC have excellent on-campus resources and facilities. UC Irvine has state-of-the-art science labs, top-rated medical facilities, and a world-class arts center. Meanwhile, USC has a vast network of libraries, a world-caliber music conservatory, as well as internship and study abroad programs.
Additionally, UC Irvine offers a variety of sports and fitness facilities, including a large gymnasium, Olympic-sized swimming pool, and multiple sports fields. Students can also take advantage of the campus counseling center, which provides mental health services and support.
At USC, students can access a range of career services, including resume building workshops, job fairs, and networking events. The university also has a strong focus on community service, with opportunities for students to volunteer and make a positive impact in the local area.
Student Life Outside the Classroom: What Activities Are Available for Students Outside of Class
Both UC Irvine and USC have many extracurricular activities for students to participate in outside of class. UC Irvine provides outdoor activities and sporting facilities, a vibrant art scene, and many cultural events. USC, on the other hand, has more opportunities for students in business, media, and entertainment. USC's location in Los Angeles provides students with local attractions and access to numerous networking events and internships.
Additionally, UC Irvine has a strong focus on community service and offers many volunteer opportunities for students to get involved in. The school also has a variety of student-run clubs and organizations, ranging from academic and professional groups to cultural and social clubs.
Meanwhile, USC has a thriving Greek life community, with over 50 fraternities and sororities on campus. The university also hosts many events throughout the year, such as concerts, festivals, and guest speaker series, providing students with a diverse range of experiences and opportunities to connect with others.
UC Irvine vs USC: Career Services
Both UC Irvine and USC provide a wide range of career services to help students prepare for life after college. UC Irvine has nationally ranked career programs with resources for career development, workshops, and internships for students. USC has a well-known Career Center which offers services including resume building, networking, and job search guidance for students.
In addition to the career services mentioned above, UC Irvine also offers career counseling and advising to students. This includes one-on-one appointments with career counselors who can help students explore their career interests, develop job search strategies, and prepare for interviews. UC Irvine also hosts career fairs and networking events throughout the year, providing students with opportunities to connect with potential employers.
Similarly, USC offers a variety of career-related events and workshops, such as mock interviews and career panels featuring alumni and industry professionals. The university also has a strong alumni network, which can be a valuable resource for students seeking career advice and job opportunities. USC's Career Center also provides resources for graduate students, including assistance with academic job searches and career exploration in non-academic fields.
Research Opportunities: Comparing Research Opportunities Between UC Irvine and USC
Both universities offer vast research opportunities for students. UC Irvine is particularly distinguished for its cutting-edge research in the life sciences and for providing students with numerous opportunities for undergraduate research. USC is known for its research centers for engineering, entertainment, and technology fields. Students at both universities have a wealth of opportunities to work on projects with professors in research labs on campus.
If you are torn between UC Irvine and USC, it's important to consider various factors. To make the best choice, you should consider your goals and what you want to achieve during your college years. Both UC Irvine and USC have much to offer, but they differ significantly in their culture, campus life, and academic programs. Consider what matters most to you and don't hesitate to reach out to the universities for more information.
It's also important to consider the location of each university when comparing research opportunities. UC Irvine is located in Orange County, which is home to many biotech and pharmaceutical companies, providing students with potential internship and job opportunities. USC, on the other hand, is located in Los Angeles, which is a hub for the entertainment industry and technology startups. This location can provide students with unique research opportunities in these fields.
If you're set on getting into a world-class college but aren't sure how to make it happen, we can help! AdmissionSight is a leading college entrance expert with over a decade of experience helping students just like you get into the schools of their dreams.
At AdmissionSight, we focus on offering a wide range of services, all aimed at helping students perfect their applications to catch the attention of admissions officers. Contact us today to schedule a free consultation and learn more about what we offer.