UC Santa Barbara vs UPenn: A Comprehensive Analysis
If you're a high school senior or a transfer student looking to attend a prestigious university, you may have heard of the University of California, Santa Barbara (UCSB) and the University of Pennsylvania (UPenn). These two higher education institutions offer unique experiences and opportunities that are worth exploring. In this article, we'll compare and contrast UC Santa Barbara vs UPenn in terms of location, campus size, student population, academics, research opportunities, student life, career services, financial aid, reputation and rankings, as well as prospective student tips. By the end of this comprehensive analysis, you'll have a better idea of which school is the better fit for you.
UC Santa Barbara vs UPenn: An Overview of UC Santa Barbara and UPenn
UC Santa Barbara, founded in 1909, is a public research university that's located on the coast of California, just north of Los Angeles. The main campus of UCSB spans over 1,000 acres and is home to over 26,000 undergraduate and graduate students. UPenn, founded in 1740, is a private Ivy League research university that's based in Philadelphia, Pennsylvania. The university has a total enrollment of over 23,000 students, with over 10,000 undergraduates.
UC Santa Barbara is known for its strong programs in engineering, environmental science, and marine biology. The university is also home to the Kavli Institute for Theoretical Physics, which is one of the leading research centers in the world for theoretical physics.
UPenn, on the other hand, is renowned for its business, law, and medical schools. The university is also home to the Wharton School of Business, which is consistently ranked as one of the top business schools in the world.
UC Santa Barbara vs UPenn: Location and Campus Size
When it comes to location, both UCSB and UPenn have their pros and cons. UCSB is situated in the beautiful beach town of Santa Barbara, which features a mild climate, stunning ocean views and plenty of outdoor activities.
On the other hand, UPenn is located in the heart of Philadelphia, one of America's oldest and most historic cities that's renowned for its arts and culture. As for campus size, UCSB is considerably larger than UPenn, but that doesn't necessarily mean that it's more crowded or difficult to navigate. Both schools have excellent facilities and amenities that cater to their respective student populations.
One advantage of UCSB's location is its proximity to other popular California destinations, such as Los Angeles and San Francisco. This makes it easy for students to explore and experience different parts of the state during their time at the university. In contrast, UPenn's location in Philadelphia provides students with easy access to major East Coast cities like New York and Washington D.C., which can be great for networking and career opportunities.
When it comes to campus size, UCSB's larger size allows for more diverse academic and extracurricular offerings. The university has a wide range of majors and programs, as well as numerous clubs and organizations for students to get involved in. However, UPenn's smaller campus size can create a more tight-knit community and a greater sense of camaraderie among students. It also allows for easier access to resources and facilities, as everything is located in a more condensed area.
UC Santa Barbara vs UPenn: Student Population
Diversity is an important factor to consider when choosing a university. UCSB has a diverse student body that's made up of nearly 30% Hispanic/Latino students, 30% Asian American students, 5% African American students, and 3% international students.
UPenn, on the other hand, has a smaller student population but is still highly diverse, with over 21% international students and roughly 25% Asian American, African American, Hispanic/Latino and multiracial students combined. In terms of admissions, UCSB and UPenn have different requirements and standards. UCSB has a 32% acceptance rate, while UPenn has a highly selective 7% acceptance rate. Admissions criteria at both schools are based on academic performance, extracurricular activities, essays and letters of recommendation.
It's worth noting that both UCSB and UPenn have made efforts to increase diversity in their student populations. UCSB has implemented outreach programs to attract more underrepresented minority students, and UPenn has a dedicated office for diversity and inclusion initiatives. Additionally, both schools offer resources and support for students from diverse backgrounds, such as multicultural centers and student organizations.
UC Santa Barbara vs UPenn: Academics
Academics are the bread and butter of any university experience. Both UCSB and UPenn have a range of programs and departments that cater to a broad spectrum of academic interests. Some of the most popular majors at UCSB include psychology, economics, biology, communication, and computer science.
At UPenn, the most popular majors are finance, economics, political science, computer science and nursing. The faculty at both schools are highly respected, with Nobel laureates and Pulitzer Prize winners among their ranks. The curriculum at both colleges is rigorous and challenging, with students expected to work hard and stay focused in order to succeed.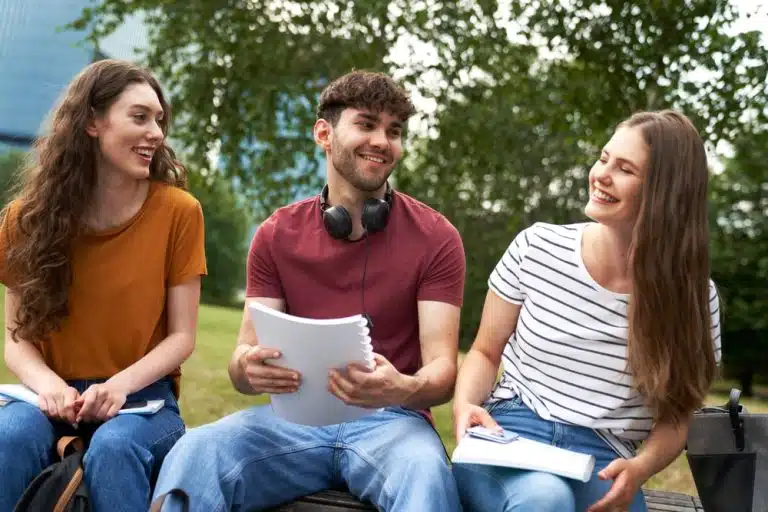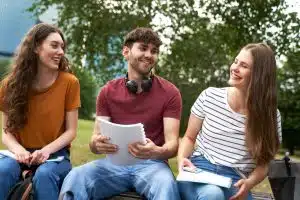 Additionally, both UCSB and UPenn offer a variety of academic resources to support student success. These resources include tutoring services, academic advising, research opportunities, and study abroad programs.
Students are encouraged to take advantage of these resources to enhance their academic experience and achieve their goals. Furthermore, both universities prioritize interdisciplinary learning, allowing students to explore multiple fields of study and gain a well-rounded education. Overall, the academic programs, faculty, and curriculum at UCSB and UPenn provide students with a challenging and rewarding educational experience.
UC Santa Barbara vs UPenn: Research Opportunities
Research is a key aspect of higher education, and both UCSB and UPenn take it seriously. UCSB has a robust research program that's comprised of multiple institutes and centers, including the Materials Research Laboratory, the Marine Science Institute, and the Institute for Collaborative Biotechnologies.
UPenn has equally impressive research facilities, such as the Abramson Cancer Center, the Penn Center for Health Informatics and the Penn Center for Innovation and the Penn Institute for Biomedical Informatics. Both schools provide ample funding and resources for students who wish to pursue research projects in their respective fields.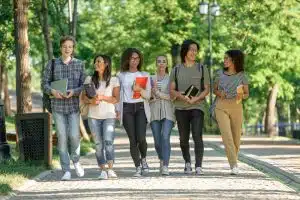 Additionally, both UCSB and UPenn offer various research projects for students to get involved in. These projects range from environmental studies to biomedical research and provide students with hands-on experience in their field of study.
Students can work alongside faculty members and researchers to conduct experiments, collect data, and analyze results. These research projects not only enhance students' academic experience but also provide valuable skills and knowledge that can be applied in their future careers.
UC Santa Barbara vs UPenn: Student Life
Student life is an essential component of college life. Both UCSB and UPenn have a plethora of activities and clubs that cater to students' diverse interests. UCSB has over 500 registered student organizations, ranging from cultural groups to academic clubs and fraternities and sororities.
UPenn has over 450 student clubs and organizations, including academic clubs, sports teams, performing arts groups, and social organizations. Housing is another significant consideration when it comes to student life. UCSB has a range of on-campus housing options, including residence halls, apartments, and suites, while UPenn has a housing system that's based on a college house program.
Aside from the numerous clubs and organizations, both UCSB and UPenn offer a wide range of activities for students to participate in. UCSB is located near the beach, providing students with opportunities to surf, swim, and sunbathe. The university also has a state-of-the-art recreation center that offers fitness classes, intramural sports, and outdoor adventure programs.
UPenn, on the other hand, is located in the heart of Philadelphia, providing students with access to museums, theaters, and historical landmarks. The university also has a robust athletics program, with 33 varsity sports teams that compete in the Ivy League.
When it comes to student life, both UCSB and UPenn prioritize student wellness and mental health. UCSB has a variety of resources available to students, including counseling services, peer support groups, and wellness workshops.
UPenn has a comprehensive wellness program that includes mental health services, stress management resources, and mindfulness programs. Both universities also have dedicated staff members who work to create a supportive and inclusive campus community for all students.
UC Santa Barbara vs UPenn: Career Services
Going to college is a stepping stone to the future, and both UCSB and UPenn place emphasis on career readiness and job placement. UCSB has a comprehensive Career Services program that provides students with resources and guidance on internships, career exploration, and resume writing.
UPenn has a robust Career Services office as well, that includes career exploration and development planning, and job search resources. The alumni network at both schools is also valuable and can help students gain access to job opportunities and industry connections.
UCSB's Career Services program offers a variety of workshops and events to help students prepare for their future careers. These include networking events, career fairs, and employer information sessions. Additionally, the program offers one-on-one career counseling and mock interviews to help students feel confident and prepared for job interviews.
UPenn's Career Services office also provides students with access to career coaches and industry experts who can offer guidance and advice on career paths and job search strategies. The office also offers a range of online resources, including job search databases and resume builders, to help students navigate the job market.
Financial Aid: Tuition, Scholarships and Grants
College is an investment, and both UCSB and UPenn recognize that. UCSB offers competitive tuition rates for both in-state and out-of-state students, ranging from roughly $14,000 to $43,000 per year. UPenn, being a private Ivy League school, has a higher tuition rate ranging from $57,870 to $62,590 per year. Both schools offer financial aid, scholarships, and grants to eligible students, though the amount may vary based on need and merit.
At UCSB, students can apply for financial aid through the Free Application for Federal Student Aid (FAFSA) and the California Dream Act Application. The financial aid package may include grants, work-study programs, and loans. The university also offers scholarships based on academic achievement, leadership, and community service. Students can also explore external scholarship opportunities through various organizations and foundations.
Similarly, UPenn offers need-based financial aid through the CSS Profile and the FAFSA. The university also provides merit-based scholarships to exceptional students. Additionally, UPenn has a no-loan policy for students with a family income below $75,000, meaning that these students will not have to take out loans to cover their tuition and fees. UPenn also offers work-study programs and grants to eligible students.
Reputation and Rankings: What Do the Experts Say?
The reputation and ranking of a university can influence which school a student may choose to attend. Both UCSB and UPenn are well-regarded and have earned recognition from various publications and organizations. UCSB currently ranks #30 among national public universities according to U.S. News & World Report. UPenn, on the other hand, ranks #6 among national universities according to the same publication. These rankings are based on factors such as academic reputation, student selectivity, faculty resources, and graduation and retention rates.
However, it is important to note that rankings are not the only factor to consider when choosing a university. Other factors such as location, campus culture, extracurricular activities, and available resources should also be taken into account. For example, UCSB is located in sunny Santa Barbara, California, which offers a unique coastal lifestyle and a variety of outdoor activities. UPenn, on the other hand, is located in Philadelphia, Pennsylvania, which offers a rich history and cultural scene.
Furthermore, it is worth considering the specific programs and departments within each university. While UPenn may have a higher overall ranking, UCSB may have a stronger program in a particular field of study. It is important to research and compare the specific offerings of each university to determine which one is the best fit for an individual student's academic and personal goals.
Prospective Student Tips: How to Choose Between UCSB and UPenn
Choosing between two excellent universities can be challenging. Some tips to consider when making your decision include visiting each campus, researching programs and departments that align with your academic interests, talking to current students, reviewing admissions criteria and the cost of attendance, and considering location and campus culture. Ultimately, the decision should be based on your individual needs and goals.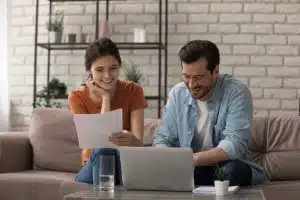 When considering UCSB, it's important to note that the campus is located in sunny Santa Barbara, California, which offers a unique coastal lifestyle. The university is known for its strong programs in environmental studies, marine biology, and engineering. Additionally, UCSB has a vibrant student life with over 500 student organizations and a strong Greek life presence.
On the other hand, UPenn is located in the heart of Philadelphia, Pennsylvania, which offers a bustling city atmosphere. The university is known for its strong programs in business, law, and medicine. UPenn also has a strong commitment to community service and offers many opportunities for students to get involved in service projects both locally and globally.
Conclusion: Which School is Right for You?
Choosing between UCSB and UPenn is a significant decision that requires thoughtful consideration and research. Both universities offer unique opportunities and experiences that should be evaluated based on your individual needs, interests, and goals. Whether you prefer a warm coastal town or a historic urban area, a large campus or a smaller one, a public or private university, UCSB and UPenn have plenty to offer. We hope this comprehensive analysis has provided you with valuable insights to help you make an informed decision.
It is important to note that while both universities have strong academic programs, they also have different areas of expertise. UCSB is known for its strong programs in environmental studies, marine biology, and physics, while UPenn is renowned for its business, law, and medical schools. Consider your intended major and career goals when making your decision.
Additionally, it is important to consider the campus culture and community. UCSB has a laid-back, beachy vibe with a strong emphasis on outdoor activities and social events, while UPenn has a more fast-paced, competitive atmosphere with a focus on networking and professional development. Think about what type of environment you thrive in and what type of community you want to be a part of for the next four years.