UChicago Campus Size: A Comprehensive Guide for Aspiring College Students
What is the UChicago campus size?
What is the size of the UChicago campus? The University of Chicago is a prestigious institution with a campus that spans an impressive 217 acres. Nestled in the heart of Chicago's historic Hyde Park neighborhood, the campus is a harmonious blend of natural beauty, iconic architecture, and state-of-the-art facilities.
To put the campus size in perspective, it is helpful to understand that one acre is roughly equivalent to 43,560 square feet or about the size of a football field. At 217 acres, the UChicago campus is large enough to accommodate numerous academic buildings, research centers, libraries, residence halls, athletic facilities, and green spaces, providing students with an immersive and comprehensive college experience.
The campus is divided into several key areas, with the Main Quadrangle, or "the quads," acting as the central hub. Here's a closer look at the different zones and their notable features:
Main Quadrangles
This core section of the campus consists of interconnected green spaces flanked by stunning Gothic-style buildings. The quads serve as a gathering point for students and faculty, hosting various events, study sessions, and casual conversations. Key buildings in this area include the Harper Memorial Library, Cobb Lecture Hall, and Rockefeller Chapel.
North Campus
The North Campus is home to several academic buildings, research centers, and libraries, such as the Gordon Center for Integrative Science, the Regenstein Library, and the Pritzker School of Molecular Engineering. This area also includes the Ratner Athletics Center, which offers a variety of fitness and recreational facilities.
South Campus
The South Campus houses several residence halls, dining facilities, and academic buildings, including the Booth School of Business, the Law School, and the School of Social Service Administration. Additionally, the Reva and David Logan Center for the Arts, which promotes interdisciplinary collaboration in the arts, is located here.
East Campus
The East Campus features a mix of residential, academic, and recreational facilities. This area is home to the university's medical center and the Comer Children's Hospital. Also located here are the Court Theatre and the Smart Museum of Art, offering cultural enrichment for the campus community.
West Campus
The West Campus is primarily residential, featuring several residence halls and apartment buildings, as well as the university's administrative offices. This area also includes the Midway Plaisance, a mile-long, tree-lined parkway that serves as a recreational space for students and the local community.
Moreso, although the campus is expansive, it is also designed to be pedestrian-friendly, with many of the major buildings and facilities within walking distance of one another. This layout encourages interaction among students and faculty, fostering a sense of community that is integral to the UChicago experience.
In addition to its architectural beauty, UChicago's campus offers numerous green spaces and natural areas, providing a serene escape from the urban environment. Some popular spots include Botany Pond, the Midway Plaisance, and the many smaller gardens and courtyards scattered throughout the campus.
In conclusion, the University of Chicago's 217-acre campus is thoughtfully designed to balance academic pursuits, recreational activities, and community-building, creating an inspiring and engaging environment for its students. With its mix of architectural styles, green spaces, and modern facilities, the UChicago campus size fosters a layout of an immersive and enriching college experience.
How to navigate the UChicago campus?
How to get around the University of Chicago campus? Navigating the UChicago campus is relatively simple, thanks to its pedestrian-friendly layout and the variety of transportation options available.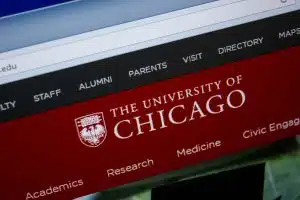 Here are some tips and resources to help you get around the campus and beyond:
Campus Maps
Familiarize yourself with the campus layout by referring to the university's official campus maps, which can be found online or in printed form at various locations on campus. These maps provide a detailed overview of buildings, green spaces, and key landmarks, helping you plan your route and locate specific destinations.
Walking and Biking
Given the compact nature of the UChicago campus, walking is often the easiest and most convenient way to get around. Most buildings and facilities are within a 10-15 minute walk from one another. The campus is also bicycle-friendly, with numerous bike racks and dedicated bike lanes available for those who prefer to cycle.
University Shuttles
UChicago offers several free shuttle services for students, faculty, and staff, providing convenient transportation throughout the campus and surrounding areas. The daytime Campus North and Campus South routes operate on weekdays, while the Evening Shuttles run daily, ensuring safe transportation during nighttime hours.
Public Transportation
For those looking to venture beyond the campus, UChicago is well-connected to public transportation. The Chicago Transit Authority (CTA) operates multiple bus routes that serve the campus and surrounding neighborhoods, while the nearby Metra train station provides convenient access to downtown Chicago and other parts of the city. The CTA's U-Pass program offers full-time students discounted fares during the academic year, making public transportation an affordable option.
Ridesharing and Carpooling
UChicago encourages sustainable transportation options and has partnered with Zipcar, a car-sharing service that allows members to rent vehicles by hour or day. Additionally, ridesharing apps like Uber and Lyft are available for those who prefer to use on-demand transportation services.
Accessibility Services
For individuals with disabilities, UChicago offers the Accessibility Shuttle, which provides door-to-door transportation service within the campus and the surrounding community. To utilize this service, individuals must register with the Student Disability Services office or the Office for Access and Equity, depending on their affiliation with the university.
Familiarize Yourself with Landmarks
As you spend more time on campus, you'll become more familiar with key landmarks, such as the Main Quadrangles, the Regenstein Library, and the Ratner Athletics Center. These recognizable locations can serve as reference points to help you navigate the campus with ease.
By utilizing these resources and transportation options, navigating the UChicago campus will become second nature. Whether you're walking, biking, or taking advantage of the university's shuttle services, you'll find it easy to explore and enjoy all that the campus has to offer.
What is the impact of UChicago campus size on student life?
What effect does the size of the UChicago campus have on student life? The UChicago campus size provides a rich and diverse environment for student life. It has a significant impact on various aspects of the student experience, ranging from academic pursuits and extracurricular activities to social interactions and personal growth. Here are some ways the UChicago campus size influences student life:
Intellectual Environment
The expansive campus houses a wide variety of academic buildings, research centers, and libraries, creating an intellectually stimulating atmosphere. With ample space for cutting-edge facilities and resources, students have access to world-class learning opportunities and can engage in interdisciplinary collaborations.
Sense of Community
Despite its large size, UChicago's campus is designed to foster a close-knit community feel. The pedestrian-friendly layout encourages interaction among students and faculty, while the iconic quads serve as a central gathering point for study sessions, events, and casual conversations. This sense of connection enhances the overall campus experience and contributes to a strong support network for students.
Extracurricular Activities
The UChicago campus size allows for a diverse range of extracurricular activities and student organizations. Athletic facilities, performance spaces, and cultural centers provide students with opportunities to pursue their passions and interests outside of the classroom. This variety of options contributes to a well-rounded college experience and promotes personal growth.
Residential Experience
With several residence halls and apartment buildings spread across the campus, students can choose from a range of housing options that suit their preferences and needs. The residential communities foster a sense of belonging and camaraderie among students, further enhancing the campus experience.
Campus Resources and Support Services
The campus size enables UChicago to offer a comprehensive array of resources and support services to its students, such as academic advising, career services, and mental health counseling. These resources help students navigate their college journey and ensure their well-being and success.
Exposure to Diversity
The expansive campus is home to a diverse student body, representing various cultural backgrounds, interests, and perspectives. This diversity enriches the campus experience by promoting open dialogue, fostering empathy, and broadening students' worldviews.
Connection to the Hyde Park Neighborhood
UChicago's campus size and location within the Hyde Park neighborhood provide students with access to a vibrant college community. The surrounding area offers a variety of shops, restaurants, cultural attractions, and recreational spaces, allowing students to explore and enjoy the local community during their college years.
In conclusion, the University of Chicago's campus size plays a crucial role in shaping the student experience. From academic resources and extracurricular opportunities to social interactions and personal growth, the campus size significantly impacts various aspects of student life, offering a rich and diverse environment for students to thrive.
Is UChicago's campus size right for you?
Is the size of UChicago's campus appropriate for you? Determining whether the UChicago campus size is right for you will depend on your personal preferences, priorities, and expectations for your college experience. Here are some factors to consider when deciding if UChicago's campus size aligns with your needs and interests:
Academic Environment
UChicago's large campus offers a wealth of academic resources. If you value a rigorous intellectual environment with numerous opportunities for interdisciplinary collaboration and research, UChicago's campus size may be a great fit for you.
Urban vs. Rural Setting
Consider whether you prefer an urban setting with access to vibrant city life or a more rural, secluded environment. UChicago's campus is nestled in the historic Hyde Park neighborhood, offering a unique blend of college-town feel and urban excitement. If you appreciate the advantages of city living, UChicago's location and campus size might be ideal.
Accessibility and Transportation
Think about how important accessibility and transportation options are to you. UChicago's campus is well-connected to public transportation, providing easy access to downtown Chicago and other parts of the city. The campus also offers shuttle services and supports biking and walking as primary modes of transportation.
Personal Preferences
Ultimately, your personal preferences and priorities will play a significant role in determining whether UChicago's campus size is right for you. Consider taking a campus tour to get a feel for the atmosphere and environment. Speak with current students, faculty, and alumni to gain insight into their experiences and perspectives.
Deciding if the UChicago campus size is right for you will depend on various factors, including your academic goals, social preferences, and personal priorities. By carefully considering these aspects and exploring the campus firsthand, you can make an informed decision about whether UChicago's unique blend of resources, community, and urban setting aligns with your ideal college experience.
In conclusion, the University of Chicago's 217-acre campus offers a unique and inspiring environment for students, combining world-class academic resources, a close-knit community, and a vibrant urban setting. Choosing the right college is a significant decision, and understanding the impact of campus size on your college experience is crucial.
At AdmissionSight, our goal is to help you navigate the complex world of college admissions and make an informed decision about the best fit for your needs and aspirations. By providing expert guidance and personalized support, we aim to empower you to make the most of your college journey at institutions like UChicago, where the campus size and diverse opportunities create an unparalleled environment for academic and personal growth. Contact us to book your initial appointment!