UChicago Cost of Attendance
Known for producing groundbreaking thinkers, researchers, and leaders across numerous fields, UChicago's commitment to comprehensive and challenging learning experiences truly sets it apart from other prestigious universities. However, a UChicago education does come with a significant price tag. This guide aims to provide a comprehensive overview of the UChicago cost of attendance, financial aid, and more.
How Much Does It Cost to Go to the University of Chicago Each Year?
Understanding the financial commitment of attending a prestigious institution like the University of Chicago (UChicago) is paramount for prospective students and their families.
So, how much does it cost to go to the University of Chicago each year?
Diving into the numbers, tuition for the academic year 2023-2024 at UChicago is pegged at $63,801. This is a standard cost whether you reside on-campus, commute, or live off-campus. In addition to tuition, students must pay a Student Life Fee of $1,818.
The Food and Housing estimate is $19,221 for students opting for on-campus living. Meanwhile, off-campus students must budget $15,000 for food and housing costs.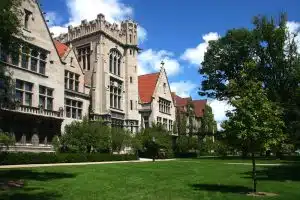 On the other hand, a commuter student's expenses will largely depend on individual situations, including location, utilities, food, and internet access. However, they must allocate $7,500 for a maintenance allowance.
In addition to these expenses, all students should plan for books and personal expenses of about $3,750 and an estimated travel allowance of $450.
The estimated UChicago attendance cost for the 2023-2024 academic year is $89,040 for on-campus students, $77,319 for commuters, and $84,819 for off-campus students.
First-year students will also have a one-time Class Fee of $1,320. Also, the cost of health insurance ($4,800) is not yet included in these figures and should be considered.
Remember, these figures are estimates, and your actual costs may vary. However, by having this detailed cost breakdown, you are already taking a step towards responsible financial planning for your future at UChicago.
UChicago's firm commitment to making education affordable through financial aid initiatives assures students that a world-class education at UChicago is within reach, regardless of their financial circumstances.
What Kind of Financial Aid Does the University of Chicago Offer?
The University of Chicago (UChicago) stands tall because of its exceptional academic offerings and its comprehensive commitment to making education accessible to all. A broad array of financial aid options is available at UChicago, ensuring the university meets 100% of demonstrated family need.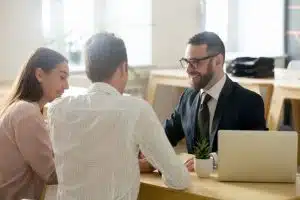 Prospective students might wonder, "What kind of financial aid does the University of Chicago offer?" Let's delve into the waters of UChicago's financial aid together.
Exploring Grant Aid
Grants represent a significant part of the financial aid package at UChicago. This aid is essentially a gift that does not need to be paid back. The University Grant is a primary example of this, which is awarded based on the student's financial need.
Other federal and state grant options include Federal Pell Grant, Federal Supplemental Educational Opportunity Grant (FSEOG), and Monetary Award Program (for Illinois residents only).
Understand that applying early and accurately is critical to maximizing your grant aid opportunities.
Unlocking Scholarships
Scholarships are a key aspect of making high-quality education, such as that offered by the University of Chicago, more affordable. Potential students might qualify for various scholarships include merit, outside, Odyssey, and the Chicago Commitment Scholarships.
Merit scholarships are awarded based on superior academic and extracurricular achievements, demonstrated leadership, and community involvement. These are awarded for four years of study, given that the recipient maintains good academic standing.
Meanwhile, students are also encouraged to apply for Outside Scholarships from different agencies, which can further reduce their family's expenses.
The Odyssey Scholarship program, funded by the generous anonymous donor "Homer" and additional alumni and friends, has been providing extensive academic, social, and career support for students from lower-income families or those who are first-generation college students for over a decade now.
Lastly, the Chicago Commitment Scholarships exemplify UChicago's commitment to local students by providing specific scholarship opportunities to high school students in the Chicago area.
Remember, scholarships are typically competitive, so it is crucial to put forward your best effort in the application process.
Balancing Work and Study
Student employment is a critical component of the financial aid structure at the University of Chicago. Most students opt to work on campus in diverse settings such as the University's on-campus hospital, museums, offices, libraries, and laboratories.
While it is not obligatory for students to work, choosing not to work means forgoing the work-related funding portion of their financial aid package.
Students who qualify for financial aid might be eligible for Federal Work-Study, which means the government subsidizes the wages for these positions, and the earnings from such work are deemed as financial aid rather than income.
Conversely, students who do not qualify for Federal Work-Study can seek "student employment" roles that don't require Federal Work-Study eligibility. Both types of positions are posted by the Office of Student Employment, which enforces a 20-hour per week work limit during the academic year.
Despite UChicago's commitment to providing all-grant financial aid packages, allowing students to graduate with minimal debt, there is an expectation of "self-help" from students and families to help offset the cost of a UChicago education.
This comes in the form of Federal Work-Study eligibility and/or work expectations, aiding students in managing their personal expenses during the academic year.
Considering Loans
At the University of Chicago, there is a concerted effort to provide comprehensive financial aid packages without involving student loans. However, it is important to note that multiple borrowing options exist for students and families who might need assistance in covering expenses not accounted for by their aid package or family contribution.
UChicago participates in the Federal Direct Loan programs, providing students and families with the opportunity to supplement their need-based financial aid with loan funds.
Alternatively, private loans exist, but they should be considered a last resort. While the University's Financial Aid does not endorse specific lenders for private alternative loans, they encourage students to exhaust all federal loan options before resorting to this option.
Private student loans should be used sparingly due to variable or uncapped interest rates. Federal Direct Loans typically offer better terms with more favorable interest rates and repayment fees.
While borrowing might not be the preferred choice for many students, it is key to understand that student loans can effectively bridge funding gaps that might otherwise put a financial strain on the family.
The University of Chicago provides a comprehensive and flexible financial aid program that aligns with the varying financial situations of its students. Whether through grants, scholarships, work-study opportunities, or loan options, the school endeavors to bridge the gap between family resources and the UChicago cost of attendance.
Each student's financial aid package is tailored to meet their demonstrated need, ensuring that every deserving student can access a world-class education.
Tips for Managing the UChicago Cost of Attendance
Attending a prestigious university like the University of Chicago (UChicago) is an investment in your future, one that comes with significant financial considerations.
To ensure your focus remains on academics rather than monetary concerns, it is essential to develop a sound financial management strategy.
Let's explore some tips for managing the UChicago cost of attendance effectively.
Develop a Budget
The first step in managing your finances is creating a comprehensive budget. This involves documenting your income sources and detailing all expected expenses, including tuition, fees, housing, food, personal expenses, books, travel, and more. Make sure to factor in any financial aid, scholarships, or grants you receive.
Remember, a budget isn't set in stone. It is a living document that you should revisit and revise as circumstances change. The key is to maintain a balance, ensuring your spending does not consistently exceed your income.
Understand Your Financial Aid Package
Comprehending your financial aid package is crucial in managing your UChicago costs. Make sure you understand the composition of your aid (grants, scholarships, work-study, and loans) and the terms associated with each. Keep in mind that loans need to be repaid, so borrow only what you need.
Maximize Your Resources
Take advantage of the resources available to you as a UChicago student. These comprehensive support services range from academic advising and career planning to health and wellness resources, emphasizing the University's commitment to fostering a nurturing and enriching environment for its students.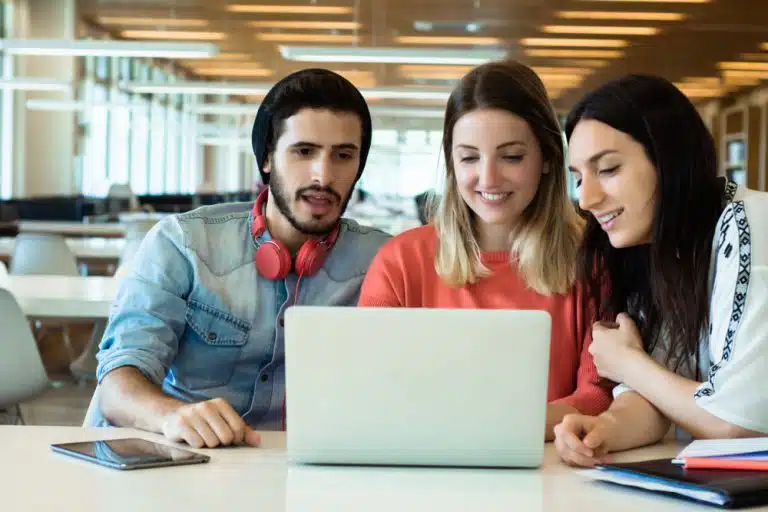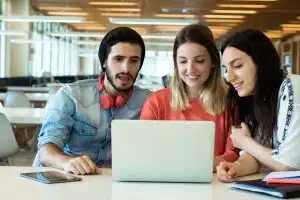 Plan for Major Expenses
Certain expenses, like tuition and housing, are predictable. Plan for these in advance to avoid last-minute financial stress. If you are living off-campus, consider sharing a place with roommates to reduce rent and utility costs.
Utilize Work-Study Opportunities
If you qualify for the Federal Work-Study program, take advantage of this opportunity. Not only can you earn money to offset educational expenses, but you will also gain valuable work experience.
Be a Savvy Spender
Always look for student discounts, buy used textbooks when possible, and consider selling them back at the end of the semester. When grocery shopping, plan your meals in advance and stick to your list to avoid impulse purchases.
Save for Emergencies
Even with careful planning, unexpected expenses can arise. Try to set aside a little money each month for an emergency fund. Even a small cushion can be a big help when unexpected costs occur.
Educate Yourself
Finally, make learning about personal finance a priority. The more you know, the better equipped you will be to make smart financial decisions. UChicago offers numerous resources to aid in your financial literacy journey. Check the UChicago Financial Aid website, specifically their page on managing your money in college, for valuable tips directly from the university.
Attending UChicago is an investment in your future, and managing your finances wisely is part of that journey. While it may seem challenging, with a little planning and discipline, you can effectively manage the UChicago cost of attendance and other expenses and focus on what matters most—your education.
Is UChicago Worth It?
Choosing a university is a monumental decision, not only because of its immediate implications but also due to its long-term effects on your career and life. One of the key questions prospective students often ask is, "Is UChicago worth it?"
Let's examine the value of a UChicago education in a comprehensive manner, considering various factors like academic rigor, campus life, financial aid, and post-graduate outcomes.
Academic Excellence
Renowned for its commitment to rigorous academic inquiry, UChicago provides an intellectual environment that encourages critical thinking, creativity, and innovation. The university's core curriculum ensures a broad-based education, equipping students with a versatile set of skills and knowledge.
This approach to education not only prepares students for specific careers but also makes them adaptable to the ever-changing demands of the job market.
Faculty and Research Opportunities
UChicago's faculty is composed of leading scholars and researchers in various fields. As a UChicago student, you will have the opportunity to learn from and work alongside, these experts. Such engagement with groundbreaking research and scholarship can open doors to unique learning experiences and career opportunities.
Campus Life and Community
UChicago's vibrant campus life offers a wealth of opportunities for personal growth and leadership. From a diverse range of student organizations to robust arts scene and Division III athletics, there is a niche for everyone. These experiences outside the classroom can contribute significantly to your personal development and future employability.
Financial Aid and Accessibility
Despite its high sticker price, UChicago's commitment to meeting 100% of demonstrated financial need makes it accessible to students from all economic backgrounds. The university's no-loan policy for students from families with modest incomes further eases the financial burden.
In this light, the UChicago cost of attendance can be seen as an investment, made more manageable by the university's robust financial aid program.
Career Outcomes and Alumni Network
UChicago boasts impressive post-graduate outcomes. Its graduates are sought after by employers in diverse fields, from finance and consulting to education and the arts.
Furthermore, the university's strong alumni network, spanning across the globe, can provide valuable connections and opportunities throughout your career.
The question of worth is ultimately subjective and depends on what you value in a university education. UChicago offers a compelling value proposition with its academic rigor, renowned faculty, vibrant campus life, robust financial aid program, and strong post-graduate outcomes.
Deciding where to invest your time and resources for higher education is a significant decision that can shape your future. The University of Chicago presents a compelling option with its world-class education, renowned faculty, diverse student life, comprehensive financial aid, and impressive post-graduate outcomes.
However, every individual's circumstances and goals are unique. You must weigh these factors against the cost of attendance to determine if UChicago aligns with your personal and financial aspirations.
The path to your future is in your hands, and only you can decide if UChicago is the right fit for your academic journey and beyond.
Remember, education is more than a stepping stone to a job—it is an investment in lifelong learning and personal growth. And, as many UChicago students and alumni have found, this can be an investment with rich, enduring dividends.
AdmissionSight, a leading college admission consulting company in the US, is an invaluable partner for students aiming to gain admission to prestigious institutions like the University of Chicago.
With our expert guidance and personalized approach, AdmissionSight can help demystify the complex application process, offering support from academic planning to essay editing and interview preparation.
With the right tools, strategies, and insights to craft a compelling application, our experts help students increase their chances of securing a spot at this esteemed institution.
To start your college application journey, book an appointment for an initial consultation with us!