UChicago Dorm Room: What You Need To Know
Where do most students live at UChicago?
Where do most students live at UChicago? When you enroll at the University of Chicago, you join a campus community that is brimming with intellectual and social vigor. Seven residence halls have 48 Houses in total with UChicago dorm rooms arranged around House common areas within each residence hall. The Houses typically contain 80 students, although they can have anywhere from 40 to 110 students, representing all four years of the College, all countries, and all fields of study.
Traditions, a House Council, and resident personnel are all unique to each House. Students get together for cultural events, fundraising, intramural sports, and trips to the city center or across Chicago's many neighborhoods during weekly House meetings, study breaks, and excursions.
The University owns and operates several structures throughout Hyde Park. These apartments are ideally positioned close to public transit, close to the campus, and close to a variety of eateries, stores, parks, and other amenities.  Graduate housing on campus is in high demand.  On a first-come, first-served basis, apartments are posted when they become available. 
In addition, a lot of students opt to reside in Hyde Park, which is located on Lake Michigan's southwest shore.  Residents of Hyde Park, which is supported by the University of Chicago, have a history of standing up, dismantling obstacles, and altering the course of history. 
For Harris graduate students, the South Loop, Wicker Park/Bucktown, and Lakeview are other attractive neighborhoods.  Explore all the Chicago neighborhoods to determine which one best suit your lifestyle. 
How do dorms work at UChicago?
How do dorms work at UChicago? Typical first-year students (those who have never attended college before) are required to live on campus for the first six quarters of their studies at the University of Chicago.
Although they are encouraged to do so, students who are transferring from other institutions or universities are exempt from the College's residency requirement. The residency requirement does not consider summer quarters; however, the residency requirement is satisfied during the quarters spent in study abroad programs. For graduate/advanced degree-seeking students or married/family housing, Housing & Residence Life does not provide on-campus housing.
Accommodations
In the myHousing portal, the new student housing application typically goes live in early May and closes at the end of June. The application gives each student the chance to respond to a variety of lifestyle and living preference questions.
According to their registration for Humanities courses, incoming new students are randomly assigned to a residence hall and House. Most students rapidly establish connections in any residence hall and House they are given because each of the halls and Houses is distinctive and interesting.
Following this first assignment, the replies to each student's housing application's questions on lifestyle and living preferences are utilized to match them with roommates or suitemates. Since, on average, between 25 and 30 percent of new students are given single-occupancy UChicago dorm rooms, not every new student will have a roommate or suitemate.
UChicago believes that living with students from different backgrounds benefits all students, hence new students are not allowed to request specific roommates or suitemates. Although each student's lifestyle and living choices are examined and considered during the assignment process, students should not anticipate that all their preferences will be exactly matched.
The residence halls are fully co-ed. Although gender-inclusive housing is available for students who would prefer to reside in the same room with students of the opposite biological sex, the UChicago dorm room, and suitemate assignments are often decided based on the same biological sex.
In addition, single-sex lodging is available on at least one level or in a separate area in each residence hall. Students may specify their preference for single-sex or gender-inclusive accommodation on their housing application.
Specific housing accommodations
Student Disability Services works to remove any physical or mental barriers that might hinder students with disabilities from fully participating in the university community. This includes offering resources, support, and accommodations to all students with disabilities.
You can contact Student Disability Services as you accept the admissions offer if you need specific housing accommodations. as soon 
Resident Staff
Resident Heads – Each of the Houses has a resident head who is an advanced graduate student, faculty member, or employee of the university. They and their family welcome House meetings into their homes, encourage the House sports teams, host study sessions (with free food), and assist all students by offering assistance and resources.
Resident Assistants – Additionally, the House is home to resident assistants (RAs), who are typically third- or fourth-year students. RAs are more experienced students who can help newer students by sharing their knowledge of campus.
Resident Deans – Senior faculty members known as resident deans work to integrate Chicago's cultural scene and the university's intellectual life into their residents' daily lives. They organize gatherings for the entire community, including dinners, receptions, trips to the opera or symphony, and casual conversations with notable figures from throughout the University.
Dining
Within the House communities, residential dining is a vital part of daily life. The home Dining Commons' house tables serve as a true extension of communal space.
Each resident is given a meal plan that enables them to use it in their House's dining hall, and they are invited to meet up with friends from their neighborhood for a meal or snack as their academic schedule permits.
What do UChicago dorms come with?
If you are getting ready to pack for college, you might wonder "What do UChicago dorms come with?" Each UChicago dorm room includes a twin extra-long bed and mattress, a dresser, a free-standing wardrobe, or a built-in closet (all of which have hanging rods inside), a desk, a desk chair, a bookcase, or wall-mounted shelves for students to use. All beds include height adjustments, allowing for a maximum clearance underneath of about 36″.  In addition, every UChicago dorm room has garbage cans and window coverings.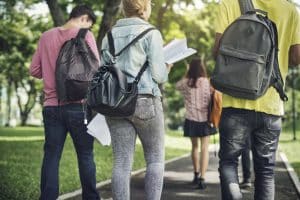 We'll also quickly go over each residential hall and what they offer below.
Residential Halls
Burton Judson Courts – This neo-Gothic structure, also known to students as B-J, is connected to Arley D. Cathey Residential Dining Commons by two grassy courtyards.
Six houses

Room types include singles and doubles.

Dining Hall: Cathey Dining Commons

Features Wi-Fi, a club room, cable TV, a multipurpose theater, a library, and a large community kitchen.

Common bathrooms are available on each floor.
Campus North Residential Commons – Together with Mortenson Construction, Studio Gang, under the direction of famous Chicago architect Jeanne Gang, created this iconic building. Construction on the project began in 2013, and it was completed and ready for use by students in the autumn of 2016.
Eight houses

Has apartment-type rooms, single rooms, and doubles.

Dining Hall: Baker Dining Commons

Music practice rooms, interior courtyards, Wi-Fi, cable TV, and a reading room are all available.
International House – John D. Rockefeller, Jr. established the International House at the University of Chicago in 1932. It is a vibrant program center and residence hall. The goal of International House is to foster friendship, respect, and understanding amongst students and academics from many cultures.
International House serves the larger Chicago community as a thriving residential community as well as a hub for a variety of various programs and as a cultural and intellectual institution.
Five houses

Singles, doubles, and triples Stanford dorm room types

Dining hall: Woodlawn Dining Commons

Has a basement exercise room, library, interior courtyard, cable TV, and Wi-Fi.
Max Palevsky Residential Commons – One central mailroom serves Max Palevsky East, Central, and West and connects them via a shared basement. Bartlett Dining Commons, located directly south of Max Palevsky East, serves meals to locals. Except for Hoover, which has single-sex floors, all the houses are co-ed.
Eight houses

Single and double suites are available.

Dining hall: Bartlett Dining Commons

Features a large common basement for students, a central mail room, building lounges, music practice rooms, an interior courtyard, Wi-Fi, and cable TV.
Renee Granville-Grossman Residential Commons – The Renee Granville-Grossman Residential Commons, which was completed in the fall of 2009, has a contemporary aesthetic while preserving the traditional character of the Houses.
Eight houses

Features apartments, single Stanford dorm room, and double rooms

Dining hall: Cathey Dining Commons

Kitchens, a reading room, building commons, music rooms, study rooms, Wi-Fi,

and cable TV available for students to use.
Snell-Hitchcock Hall – The neo-Gothic Snell-Hitchcock building is situated on the main quad. There is no elevator for each House which is made up of four levels.
Two houses

Singles and doubles available

Dining hall: Bartlett Dining Commons

Has a community kitchen, tea room, reading room, courtyard, Wi-Fi, and cable TV.
Woodlawn Residential Commons – Turner Construction built the residential hall that Elkus Manfredi Architects had planned. The hall opened in the fall of 2020 after the first stone was laid in 2018.
Eleven houses

Room types include apartments, single rooms, and double rooms

Dining hall: Woodlawn Dining Commons

The apartments have four rooms, with a large newly-made kitchen and bathroom.

Has a music room, laundry room, recreation room, commons room, community




kitchen, and multiple terraces.
Most resident halls include shared floor restrooms, which each floor shares and which have separate toilets and shower stalls that are maintained by housekeeping workers. Each House has three different bathroom options: a men's room, a women's room, and an all-gender facility. Students are allowed to use the restroom that corresponds to their gender identity. Some Houses, although not all, may also contain single-use restrooms that are gender-neutral.
The semi-private restrooms in the Max Palevsky Residential Commons are shared by all the residents in the apartments and rooms. The bathroom does not have a gender identification in these room types.
How much is the room and board at UChicago?
Room Cost
How much is the room and board at UChicago? Every UChicago student's tuition includes a single room allowance as well as meal costs. This cost is representative of what students normally pay for housing and meals; it is not specific to any one student. Your financial assistance award will not be altered if you switch dorms or select a meal plan that is more expensive or less expensive.
Regardless of residence hall or room type, the room rate is the same for all new students.
New Student Room Rate for 2022–2023: $11,268.00 (annually)/$3,756.00 (quarter)
Each quarter, room fees are billed. The price listed above is the cost per student. 
Meal Plan Cost
The purchase of a meal package is mandatory for all students living on campus. While returning and visiting students are allocated to the default meal plan that corresponds to their room type, new students are expected to subscribe to the Unlimited Meal Plan. However, they have the option to modify their meal plan during specific change periods.
On the UChicago Dining website, you can find more details about each meal plan as well as the modification procedure.
Regardless of residence hall or Stanford dorm room type, the meal plan cost is the same for all new students.
New Students Unlimited Meal Plan for 2022-2023: $2,376 per month/ $7,128 annually (per quarter)
Fees for meal plans are billed every three months. The prices listed above account for the fee per student.
What is special about Uchicago's residential life?
What is special about UChicago's residential life? A strong sense of tradition is needed to create thriving House communities. Houses have unique traditions that assist in identifying who they are and what they value doing together, from chilly dives into Lake Michigan to House mascots and birthday customs.
Numerous Houses engage in intramural (IM) sports competitions, which range from ultimate frisbee to inner-tube water polo. The prized Maroon Cup is won by the House with the most victories before the end of June.
The Houses are renowned for their ardent participation in university-wide occasions like the yearly Scav Hunt, Kuvia, and competition for the best homecoming banner. You can expect on seeing the Houses anywhere there is a friendly competition on campus.
On a social level, common House activities include study breaks, getting together for s'mores at the Point, bonfires, barbeques, guest lectures, eating out in the city, Super Bowl parties, volunteering, Scrabble competitions, movie evenings, and visits to Chicago's world-class performance venues.
Living in a UChicago dorm room and enjoying the residential life might be your dream as you approach your freshman year in college. However, you must secure your spot first in this prestigious university. It was reported that only 6.5% of the Class of 2025 pool of 37,977 candidates received acceptance offers. 
At AdmissionSight, we have over 10 years of experience guiding students through the competitive admissions process to get accepted to the top universities in the world. On average, 75% of our students are admitted to an Ivy League university, Stanford, MIT, UChicago, and Caltech, one of the highest track records in the industry. Feel free to set up an appointment with AdmissionSight today to book your initial consultation.