UChicago Enrollment
The university joins MIT, Stanford, Duke, Georgetown, and Johns Hopkins, which are comparable to their Ivy League rivals. Non-Ivy League institutions can be just as exceptional, if not more so, than the Ivies. It depends on your expectations for a school.
UChicago ranks high in the subjects of mathematics, public policy, and economics. If you wish to pursue any of these professions, Chicago is the place to be. However, regardless of what you wish to study, you will face the Core Curriculum, which teaches undergraduates how to approach challenges from a multidisciplinary standpoint.
The Core includes courses in the humanities, social sciences, physical sciences, biological sciences, and the history of civilization. Students take these courses alongside their major to broaden their knowledge and perspectives.
How Many Students Are Enrolled At UChicago?
Given that UChicago is ranked high among the top universities, you might wonder "How many students are enrolled at UChicago?" In total, there were 17,834 students for the UChicago enrollment in the academic year 2020–2021, with 7,056 undergraduate students and 10,778 graduate students making up the student body. A total of 15,610 full-time and 2,224 part-time students are enrolled, with a gender split of 9,731 male and 8,103 female students.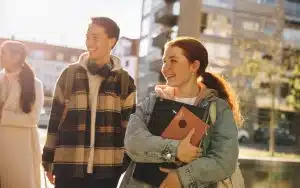 About 15,610 full-time and 2,224 part-time students are attending the University of Chicago. Seven thousand two hundred twenty (7,220) undergraduate students are enrolled full-time, while thirty-six are enrolled part-time. 8,590 graduate students are enrolled full-time, while 2,188 are enrolled part-time.
What Is UChicago's Acceptance Rate?
One important factor to check before applying is, "What is UChicago's acceptance rate?" The class of 2026 at the University of Chicago had the lowest acceptance rate, at 5%. This is less than the acceptance percentages at Cornell (6.9%) and Dartmouth (6.24%).
In comparison to the Class of 2024, the admission rate for the Class of 2025 was 6.48 percent, or.83 percentage points lower. Just under 38,000 applications were submitted for the Class of 2025, which is an increase of approximately 3,600 students over the 34,372 applicants for the Class of 2024. The average SAT score for the Class of 2025 was 1535. The following are five years' worth of admissions fluctuations for UChicago enrollment:
| | | | |
| --- | --- | --- | --- |
| Class | Total Applications Accepted | Total Applications Received | Total Admissions Acceptance Rate |
| 2025 | 2,460 | 37,977 | 6.48% |
| 2024 | 2,511 | 34,372 | 7.31% |
| 2023 | 2,065 | 34,900 | 5.92% |
| 2022 | 2,329 | 32,291 | 7.21% |
| 2021 | 2,419 | 27,694 | 8.73% |
What GPA Is Required for UChicago?
Many colleges have minimum GPA requirements, but in reality, this is frequently the bare minimum that is needed to submit an application without it being rejected right away. The GPA criterion that counts is the GPA you need to have a legitimate possibility of being admitted. Now, what GPA is required for UChicago?
The University of Chicago needs you to be at the top of your class with a GPA of 4.48. To compete with other applications, you'll need to receive almost all A's. You should also enroll in challenging classes, such as AP or IB courses, to demonstrate that college-level coursework is simple.
Is UChicago Test Optional for 2023?
The UChicago Empower Initiative, a test-free admissions procedure, was introduced by the University of Chicago on June 14 in an effort to make its undergraduate College more accessible to first-generation and low-income students. With greater financial aid and programmatic resources available thanks to UChicago, the first top-ranked college to adopt a test-optional policy, more students will be able to pursue higher education, regardless of their history, geography, or financial situation.
The UChicago Empower Initiative is a strategic initiative to address major obstacles faced by underserved and underrepresented students. It focuses on three areas: increased financial support, on-campus programming, and online resources for first-generation, rural, and underrepresented students; and full tuition aid for students whose families cannot afford to pay their tuition. Each seeks to strengthen historically disadvantaged groups through greater equity and access in the extremely competitive admissions process.
As a response to the popular query "Is UChicago test optional for 2023?", the UChicago Empower Initiative will roll out starting with the 2023 graduating class. Offerings, in particular, will comprise:
Free resources and more application process flexibility:
A new test-optional policy that lets students choose the data that best reflects their abilities and readiness for college.
All students are eligible for a new optional two-minute video introduction opportunity (replacing the optional alumni and on-campus interviews).
More chances to add unconventional elements and accomplishments as application supplements.
A new option that will save money and streamline the application process is for domestic students to self-submit their transcripts.
Establishing new and growing relationships with organizations including MyinTuition, RaiseMe, The College Board, Making Caring Common, Nudge for College, Turning the Tide, and the Coalition for Access, Affordability, and Success.
What Are the Requirements for UChicago Enrollment?
It's crucial to organize your resources when you're wondering how to eventually be part of UChicago enrollment. Both mandatory and optional items are included in the UChicago application. Let's find out what are the requirements for UChicago enrollment below.
SAT Score Requirements for UChicago
When considering the minimum score criteria, the University of Chicago is an extremely competitive institution. UChicago's SAT 25th percentile score is 1500. It indicates that fewer than 25% of accepted students have test scores below 1500.
UChicago's SAT 75th percentile score is 1570. This indicates that almost 75% of accepted students received scores below 1570. We were able to find that the average (50th Percentile) SAT score for UChicago is 1535.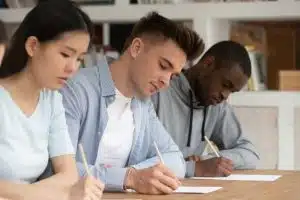 You can also focus on the 25th and 75th percentiles of each sector separately. The 25th and 75th percentile scores in math are 770 and 800, respectively. The 25th percentile and 75th percentile scores for EBRW are 730 and 770 respectively. We can see that you need more points in the math part to equal EBRW's percentile score.
Try to score higher than necessary in the other portion if you feel your performance in one section is lacking. As a result, you can still reach the requisite composite score even if you receive more points than necessary in one section but fewer in another.
SAT Score Guidelines
The technique used to evaluate students' scores is determined by the college's SAT score policy. Every school has a distinct version of this policy. The "highest segment" strategy is what UChicago does in this situation.
This practice is also known as "superscoring." The University will take into account your highest section SAT score across all tries when enforcing this regulation.
For instance, if you took the SAT twice, your composite score on your first attempt would be 1516. Math makes up 768 of the 1516 total points, while EBRW makes up 748. Your composite SAT score for the second attempt was 1513. However, this time he scored 755 in EBRW and 758 in Math. As a result, your first and second attempts yielded your highest scores in math and EBRW, respectively. The highest score in each topic will also be taken into account because UChicago has a policy of using the highest section score.
As a result, UChicago will accept your Math score of 768 and your EBRW score of 755. The student gains because his score increased by 7 points and is now 1523.
Therefore, it is essential to retake the SAT exam because the highest section policy benefits pupils. You have the chance to improve your overall score.
ACT Score Requirements for UChicago
UChicago's 25th and 75th percentile ACT composite scores are 33 and 35, respectively. There are no minimum score criteria at UChicago. A score below the 25th percentile, however, will make it challenging for you to be admitted.
The average of the four section scores makes up the ACT composite score. Therefore, you must score roughly what you anticipated in each component if you want to receive the anticipated aggregate score.
Application Requirements for UChicago
Application for Admission
Both the Coalition Application and the Common Application are accepted by the University of Chicago. In UChicago, both platforms are treated equally. To apply to UChicago, you must select one of these two portals. You must complete all the necessary fields that apply to all applications. The additional forms that you must complete while applying to UChicago are listed below.
Additional Activities
The extracurricular activities must be mentioned for UChicago. You must include your activities here that you engaged in outside of class. It could be anything, such as a club, a contest, or something else entirely.
There are no preferences or requirements for extracurricular activities at UChicago. The college is simply interested in learning about what interests and matters to you. No certificate of participation in the activity is required by the college.
Your extracurricular activities might be mentioned in the Common App's "Activities" section. Additionally, you can note it in the "Activities/Experience" area of the Coalition App. The Common App and Coalition App only enable you to list 10 and 8 activities, respectively, so keep that in mind. You can put it in the "Additional Information" area if you feel it is insufficient.
Essays
One more essay from the list of prompts is expected of you. Any prompt in the list is yours to select. You must also include a brief essay on "why you want to attend the University of Chicago" with this. Both the application and a supplement for this are accessible.
UChicago Account
You must register for a UChicago account. You can go to getstarted.uchicago.edu to create the account. You will get an email with instructions on setting up your UChicago Account if you have already begun working on a coalition or Common App. You will be able to accomplish the following things with this account:
Revisit your profile
Submit an application for financial aid
Put materials online
Verify admissions results
Application Fee or Waiver
You must provide $75 in application costs when submitting your UChicago application. Both the Coalition and Common App accept application fees. If you are requesting need-based financial help, there will be no application cost from the university.
Secondary School Report
Your secondary school report must be turned in by your guidance counselor. The school reports give you a summary of your high school academic performance.
High School Transcript
Your school counselor needs an authentic transcript from UChicago. For the duration of your high school career, it gives comprehensive coursework and grades.
Your academic journey to college will be outlined in your transcript. UChicago is interested in your transcript so they can see how you challenged yourself over the course of four years of high school.
Recommendation from Teachers
You need two teachers who taught you a significant subject to write recommendation letters for you. The following should be the main topics:
Science
Mathematics
Social Studies
History
English or Literature
Foreign Language
Mid-Year Report
Your mid-year report, along with a transcript or grades, must be submitted by a high school counselor for the first semester or trimester. Use the grade report form on the application portal or the mid-year report from the school for this report.
There is a test-optional policy at UChicago. So, whether or not to send the SAT score is up to you. Regardless of how your test scores are submitted, the University will still assess your application. You should submit your scores if you believe they are good and could have an impact on the decision.
It is best to withhold your results if you believe they will have a detrimental impact your chances at UChicago enrollment.
Optional Requirements
The following are optional pre-requisites:
Financial Aid Request
Video Profile
Supplementary Material
Admission Deadlines in University of Chicago
| | | | | |
| --- | --- | --- | --- | --- |
| | Early Action | Early Decision I | Early Decision II | Regular Decision |
| Application Deadline | Nov-01 | Nov-01 | Jan-04 | Jan-04 |
| Admission Decision | Mid-December | Mid-December | Mid-February | Late March |
| Student Reply Due Date | May-02 | Mid-January | Early March | May-02 |
How To Get Into UChicago?
How Are Applicants Scored by the University of Chicago?
Rigor of the secondary school record, essay, recommendations, character/personal attributes, extracurricular activities, and talent/ability are all considered "extremely important" elements for UChicago enrollment. GPA, class rank, test scores (UChicago does not require testing), first-generation status, legacy status, place of residence, religion, ethnicity, volunteer work history, paid employment history, and degree of interest are all "considered" factors.
The University of Chicago is looking for true distinction in one or more activities, not just that you filled the 10 spots on the Common App Activity List. One recent freshman class, for instance, had both a finalist and a quarterfinalist on Teen Jeopardy! the author of two contemporary operas, Oman's Woman of the Year, the No. 2 Scrabble player in the world, a nationally ranked archer, the first ever high school student to present research at NASA, and a student with a patent pending for an artificial intelligence swim goggle that is being made in collaboration with Olympic swimmers.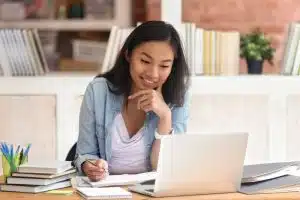 Last but not least, according to the admissions office, they "want you to, through your application, show us who you are in your own voice. What is your story? Why did you choose to pursue certain opportunities? What activities are most meaningful to you? The very best way to approach your UChicago application is to simply be yourself and write in your own voice. We care about you and who you really are, not what you think we want to see in an application."
Let's take a look at more tips on how to get into UChicago.
Organize early.
As soon as you can, begin developing your application. If at all feasible, start preparing for college as soon as you enter high school to ensure your academic success. This will guarantee that your GPA is in line with the average GPA at UChicago and that your test scores are comparable to the average SAT and ACT scores at UChicago. The summer before your senior year, start planning for your essays, application questions, teacher recommendations, and supplementary resources.
Clearly define your story.
Verify the clarity of your application narrative. How do you see yourself as a student and a member of the community? Is each component of your application strengthening it? You will benefit from this when editing your writing, especially for your UChicago supplemental essays.
Check everything again and again.
Ask a buddy to evaluate your application and make a note of anything that might not support the story you are trying to tell. Ask them to proofread your supplemental essays and application for grammar and spelling before the UChicago application deadline.
Do your best.
Go above and above! Instead of going to a UChicago interview, submit a video introduction. Create a video profile or auxiliary materials file if you are an artist, have more research, or have other materials.
The bottom line is…
Admissions to colleges can be very stressful. Remember your initial motivation for attending UChicago if there is one thing you learn from this information on how to get into UChicago. Consider your motivations for wanting to pursue higher education as you fill out your application. Center that enthusiasm, and the rest will come naturally.
Aiming for a successful UChicago enrollment or to any college will always be challenging. You should make use of all of your resources and ask for guidance to produce good results. AdmissionSight has guided college aspirants for more than 10 years now. By working hard and cooperating with AdmissionSight's experts in your college admissions process, you can get admitted to the school of your choice, or if not, to the best school that's fit for you. Let's talk more by scheduling a free consultation with us.