UChicago's Graduation Requirements
What are the graduation requirements for UChicago?
What are the prerequisites for graduating from the University of Chicago? In order to be eligible for the degree, you will need to fulfill UChicago's graduation requirements:
1. General Education Requirements
You will develop the skills of critical inquiry, argumentation, and analytical thinking in both quantitative and qualitative contexts through the completion of these requirements, which are more commonly referred to as the Core.
This lays the groundwork for all of your subsequent studies in College. The Core is a fundamental component of what is known as the "Life of the Mind," and it is intended to be finished during the first two years of study.
The majority of Core needs are satisfied by completing sequences that consist of two or three courses, and a total of 15 courses are needed to fulfill all of the Core criteria (1500 units of credit).
In their first year, the majority of students will concentrate substantially, if not solely, on the required Core classes.
There are seven prerequisites for general education that every student is required to fulfill, and they can be broken down into three categories:
Humanities, Arts, and Civilization Studies
Social Sciences
Mathematical Sciences, Physical Sciences, and Biological Sciences
All students must additionally complete a Language Competency requirement.
2. Major Program Requirements
You are required to get a degree in at least one of the more than fifty majors that are available at UChicago.
They range in size from ten to nineteen courses (1000-1900 units of credit), and the way in which you need to fulfill certain of your foundational Core requirements may be determined by your major.
3. General Electives
After you have fulfilled the criteria for your Core curriculum, which amounts to a total of 1500 units, and the requirements for your major, which range from 1000 to 1900 units, you will need to earn additional credits in order to meet the minimum of 4200 units necessary to graduate.
These additional classes are known as "General Electives," and they might consist of anything that does not fulfill a requirement for a general education or a major.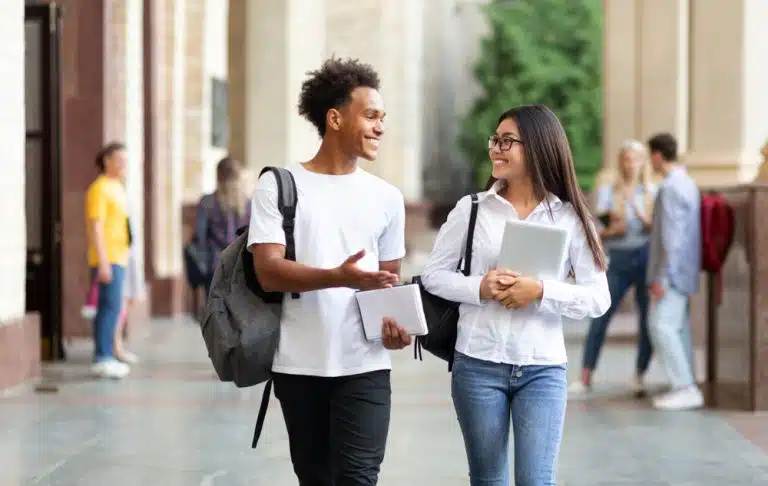 This includes classes that are taken to fulfill the requirements for secondary majors, minors, and language proficiency.
Depending on the scope of the student's chosen concentration, every student is required to finish anywhere from 800 to 1700 general elective units.
4. Credit for a minimum of 42 courses throughout the course of a quarter.
This number can be reached in part by passing an exam or receiving advanced standing (transfer credit), depending on the circumstance.
5. Residency Requirement
A student must be in residence at the University of Chicago campus for at least six quarters and must successfully complete a minimum of 1800 units of credit while in residence. Additionally, the student must maintain a minimum 2.0 GPA while in residence.
In addition, students are expected to finish more than half of the requirements for their major or minor while living on campus.
This residency and course requirement may also be fulfilled by participating in some study abroad programs that are offered by the college (mostly those that focus on civilization studies).
6. Degree Application
The "College Degree Application" form, which may be accessed through the my.uchicago.edu portal, must be completely filled out and submitted by the Friday of the first week of the quarter in which the student intends to graduate.
7. Payment and Returns
The settlement of any and all overdue bills, as well as the returns and delivery of any equipment and library materials.
What GPA do you need to graduate from UChicago?
What minimum GPA is required to graduate from the University of Chicago? In order to graduate, aside from completing all of UChicago's graduation requirements, you need to have a cumulative grade point average of at least 1.75 and a grade point average of at least 2.0 in your major(s).
In undergraduate classes, students receive grades according to the following scale:
A 4.0
A– 3.7
B+ 3.3
B 3.0
B– 2.7
C+ 2.3
C 2.0
C– 1.7
D+ 1.3
D 1.0
F 0.0
In the calculation of official grade point averages, the grades A through F are considered to be quality grades and each carries a certain amount of weight (GPA).
The letter grade "F" denotes substandard work and does not result in credit being awarded. A grade of F cannot be modified once it has been assigned, with the exception of cases in which the instructor or the registrar entered the grade incorrectly.
Be aware that although receiving a grade of D is regarded to be passing, certain programs require a grade minimum that is greater for any course that counts toward the major or minor.
These averages are computed on a consistent basis in order to decide who will be placed on the Dean's List, who will be placed on academic probation, and who will receive general honors.
They may have an impact on accolades such as Phi Beta Kappa and distinctions bestowed by the department.
How does UChicago's graduation work?
How exactly does graduation from the University of Chicago work? The Office of the University Registrar is responsible for issuing official graduation certificates to all degree candidates.
The procedure involves coordinating the student applications to graduate, certifying the accomplishment of all academic and financial requirements, creating the diplomas, and then delivering the diplomas on the day of Convocation as well as at additional ceremonies held on a quarterly basis.
Convocation is the name given to the ceremony that takes place at the University of Chicago at which degrees are awarded to students who have successfully completed all of the prerequisites for their respective academic programs and are eligible to receive them.
All members of the University community, including degree candidates, their families, and friends, faculty members, deans, officers and trustees of the University, as well as the provost and the president, come together for the annual University Convocation, which gets its name from the Latin word for "calling together."
It is important to note that the University of Chicago has always referred to these events as Convocations rather than "commencement exercises" or "graduation ceremonies."
This has been the tradition since the very beginning. The completion of an educational program is neither a fresh start nor the last chapter in one's life.
The ceremony's emphasis is on maintaining a consistent pursuit of knowledge, despite the fact that it may serve as a rite of passage for degree candidates.
The very first Convocation was held in January of 1893 and was presided over by the institution's first president, William Rainey Harper. Harper shared with those in attendance that the purpose of the ceremony was "to bring together into a unity the various complicated and diverse types of activity which make the life and work of our university."
This is a ceremony that takes place across the entire university, and degree candidates from each department and school are invited to participate.
The conferring of honorary degrees and the delivery of a speech by the Convocation speaker are both going to be a part of it.
The pursuit of knowledge and the significance of ideas are topics that are perennially covered in Convocation Addresses.
The president of the university will orally bestow degrees upon successful candidates in accordance with their division and school.
At a separate ceremony that will be hosted by each division and school, degree applicants will each be honored personally through the presentation of a diploma or hood, depending on the school.
It can be difficult to fulfill all of UChicago's graduation requirements. But despite how time-consuming the process is, the results are always rewarding.
In order to obtain your UChicago degree, we at AdmissionSight, hope that you will be able to overcome any future academic challenges. The most crucial thing to concentrate on at this time, though, is getting accepted into the institution.
AdmissionSight has served as a valuable tool for students trying to successfully navigate the challenging college admissions process. Set up a consultation by contacting us as soon as you can.