UCLA Enrollment
In Los Angeles, California, there is a public land-grant research institution called the University of California, Los Angeles. The teachers' college that later became UCLA's academic foundation was founded in 1882 as the southern branch of the California State Normal School.
More than 40,000 students are enrolled in degree- and graduate-level programs at UCLA, which is situated in Los Angeles near the Pacific Coast. The institution takes great pleasure in its thriving student body and alumni network, both of which are involved in local communities all around the world.
UCLA has established a reputation for academic and athletic brilliance thanks to its 15 Nobel Laureates, 15 MacArthur Fellows, 119 NCAA titles, and more Olympic medals than the majority of countries.
How Many Students Are Enrolled At UCLA?
At UCLA, it is believed that diversity helps students get ready to work in a multicultural society. The school is aware that by being a diverse and welcoming community, they are establishing the foundation for the students to succeed no matter where their futures take them. Let's talk more about how many students are enrolled at UCLA.
For UCLA enrollment in Fall 2021, there were a total of 46,000 students, including 31,636 undergraduates, 14,364 graduate students, as well as interns and residents from UCLA's professional schools.
A university is rarely greater than the sum of its parts, but UCLA is. The capacity of the university to positively influence society by bringing together varied brains from around the world is one of its greatest strengths. The figures below highlight the breadth and depth of UCLA enrollment.
| | | | |
| --- | --- | --- | --- |
| | Undergraduate | Graduate | Total |
| Total Number of General Campus Students | 30,841 | 10,523 | 41,364 |
| Total Number of Professional Schools' Students | 794 | 3,842 | 4,636 |
| Total UCLA Enrollment | 31,636 | 14,364 | 46,000 |
What Is UCLA's Acceptance Rate?
The easiest way to comprehend the historical progression of UCLA admissions is to take a once-every-ten-year look at the institution's changing acceptance rates. Nearly 75 percent of applicants were accepted in 1980; by 1990, this figure had fallen to the low 40s. The acceptance percentage was however in the high 20s by 2000, the low 20s by 2010, and today, in 2022, it is at 11 percent.
Only 36% of applicants with a GPA of 4.39 or higher got accepted. To add, 27% of students who took 22 or more honors/AP classes in high school succeeded. Given that UCLA is even more selective than Berkeley while sharing a similar admission rate with schools like Georgetown and Carnegie Mellon.
If you're curious what is UCLA's acceptance rate in 2022, although the data for the Class of 2026 have not yet been made public, it is known that there were 149,779 applicants for the 2022–2023 freshman class. It is predicted that the acceptance rate will likely be lower than it was the prior year based just on this number.
Out of the 139,490 freshmen that applied for admission to the Class of 2025, UCLA only accepted 15,028. This translates to a meager acceptance rate of 11%. In UCLA enrollment, Californians were accepted at a 14 percent speed while out-of-state students were accepted at a 21 percent clip the previous year when the overall acceptance rate was a more favorable 14 percent. To enter as a non-resident, however, is actually far more challenging.
What GPA Is Required for UCLA?
"What GPA is required for UCLA?", this question might have crossed your mind several times. Candidates for UCLA admission in-state must additionally achieve UCLA's GPA standards. The minimum GPA for students is 3.0, and the minimum GPA for out-of-state students is 3.4. According to the UCLA acceptance rates for 2020, UCLA is a selective institution. It's typically a basic necessity to avoid having your application denied right away that you meet the UCLA GPA threshold.
Your understanding of the UCLA GPA requirement will be influenced by looking at the average GPA of accepted applicants. The class of 2025 (batch of 2021) at UCLA had an average high school GPA of 3.9; 47.3% got a 4.0, and 42.2% had a GPA between 3.75 and 3.99.
Keep in mind that you must be at the top of your class to get admitted to UCLA. You'll need around plain forward. In all of your classes, as the average unweighted GPA of UCLA-approved students is 3.9, to satisfy the UCLA GPA criterion.
Additionally, you'll probably need to enroll in AP or IB courses to show that you have what it takes to succeed in higher education, particularly if your GPA is below the norm.
Is UCLA Test Optional for 2023?
Test Requirement
SAT or ACT test results won't be taken into account by UC when deciding who gets admitted or who gets scholarships. Test results that you choose to submit with your application may be used as an alternative method of meeting eligibility requirements or for course placement once you've enrolled.
Test for International Students
You must provide proof of your English proficiency if you finished all of your secondary or high school education in a nation where English was not used as the primary language of instruction. Even if you've completed some secondary education in the United States, you can still be required to show that you can speak English fluently.
When discussions regarding eliminating the minimum SAT and ACT score requirements for admission to UC campuses were initially brought up, the original idea was to have the optional testing policy for out-of-state and international students take effect in 2020, 2021, and 2022. However, in May of 2021, the judgment was overturned, and now all UC campuses have a test-blind policy that applies to all candidates.
To answer the query "Is UCLA test optional for 2023?", the new test blind policy that was just implemented by UC was scheduled to remain in effect until the year 2025, at which point UC was going to begin requiring applicants to take a UC-specific standardized test in place of the SAT or ACT. On the other hand, the proposal has also been scrapped; in November 2021, the Board of Regents of the University of California made the decision that all UC campuses will continue to operate test-blind for the foreseeable future.
The test-blind movement of 2020 signifies a sea change in the admissions process for colleges. Before this year, only a select few educational institutions were test-blind. In the six months since the introduction of COVID in the United States, 59 colleges and universities have made public announcements stating that they will implement blind testing, the majority of them beginning in the following academic year while others will do so for a longer period of time. In addition to the University of California, Berkeley and the University of California, Los Angeles, testing has been eliminated at Reed College and Caltech.
It is quite clear that COVID is the driving force behind the test-blind movement; but, the test-optional movement has been gathering steam over the past few years. Before the pandemic, the ranks of test-optional colleges already included more than 1,030 institutions; now, as of the 31st of August, the National Center for Fair and Open Testing could report that more than 1,550 four-year colleges and universities, representing three-fifths of the total in the United States, will not require applicants to submit ACT or SAT scores starting fall 2021 admission.
What Are the Requirements for UCLA Enrollment?
Academic rigor, test scores, and extracurricular activities are the three key factors UCLA takes into account when evaluating a student's high school record. You can have the chance to demonstrate alignment with UCLA's goal of teaching, research, and service in these three areas. Let's assess what are the requirements for UCLA enrollment below.
Pre-requisites for "A-G" Courses at UCLA
All freshmen applicants must complete 15 academic prerequisite courses approved by the UC system in order to be considered for admission to any UC institution. You should be on schedule to complete these "A-G" criteria if they attend a California high school. It's important to understand which courses are required and which are advised for your student if you don't live in California.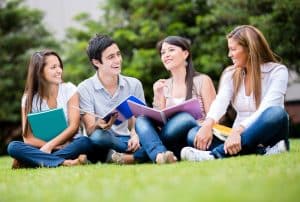 If you're unfamiliar with the A-G criteria, you may see that this is a rather typical high school course of study. You may already be on the route to achieving these minimum academic standards, which is crucial because if you fall short in any of these areas, there is a risk of not being accepted.
(A) History/social science: Required for 2 years
One year of world history, cultures, or geography
One year of U.S. history OR half a year of U.S. history and half a year of U.S. government
(B) English: Required for 4 years
(C) Mathematics: Required for at least 3-4 years
(D) Laboratory science: Required for at least 2-3 years
Must include two of the following: biology, chemistry, and physics
(E) Language other than English: Required for at least 2-3 years
(F) Visual and performing arts: Required for 1 year
(G) College preparatory electives: Required for 1 year
Can be additional A-F courses in excess of requirement
Other approved courses: psychology, speech or debate, computer science, economics, etc.
UCLA, however, seeks out students who push themselves to enroll in challenging courses above and beyond the minimal requirements. To demonstrate dedication to your chosen major, you should enroll in any AP or IB classes offered by your high school, especially those that are relevant to it. You can think about enrolling in dual enrollment courses to demonstrate aptitude for success in college-level coursework if your school doesn't offer many AP and IB subjects.
UCLA's Extracurricular Pre-requisites
The extracurricular activities you choose provide an opportunity for you to show that you align with UCLA's commitment to service, research, and education. Think of how you can follow your passions while educating others, giving back to the community, or incorporating your interests into research activities.
Say, for illustration, that you have a strong interest in playing the cello. You might work as a music instructor for young kids, perform for the community at nursing homes, or volunteer for studies looking at how early musical experiences affect children's development. Together, these endeavors demonstrate your love for music and highlight your ability to participate in education, research, and service at UCLA.
Remember, it's better to perform one or two tasks really well than to give numerous tasks a mediocre effort. Put an emphasis on extracurricular activities that show your dedication, leadership, originality, and initiative to stand out as a strong applicant for UCLA enrollment.
Application Requirements for UCLA
You might be prepared to apply to UCLA after adhering to a tough academic plan and showcasing excellence in a select few extracurricular activities.
The prerequisites for UCLA undergraduate admission are as follows:
Application to the University of California
High school transcripts are required to enter grades into the online application system, but they are not submitted until after an offer of acceptance has been made. • Optional: results of AP or IB tests.
You will need to submit additional application materials if you are applying to one of the following colleges or majors:
World Arts and Cultures
Architectural Studies
Art
 Dance
Design or Media Arts
Ethnomusicology
Film and Television
Music
Musicology
Nursing
Theater
Timelines & Dates
When it becomes accessible on August 1 during your senior year, you can begin working on your application. Applications are accepted from October 1 through November 30.
August 1: Opens UC Application
October 1: For all candidates, the Free Application for Federal Student Aid (FAFSA) and Dream Act Application filing periods begin. Additionally, the GPA Verification Form filing period begins (required for California residents only for Cal Grant consideration)
November 1 until November 30: Application submission period
March 2: Application for financial aid (FAFSA), Dream Act, and Cal Grant GPA verification paperwork due date for applicants
Late March: Notice of admission
May 1: Deadline for submitting your enrollment deposit, housing applications, and UCLA College Honors Program applications
July 1: Send admissions your final, official transcripts. They must be delivered by post or electronically by July 1 at the latest.
July 15: Sending official AP and IB exam scores to admissions is required. Test results must be sent electronically or by post by July 15 at the latest.
Early action or early determination for any applications is not available at UCLA. Additionally, they only accept applicants for the fall term and operate on a quarter system calendar.
How To Get Into UCLA?
The following standards are used by UCLA admissions to determine admission:
A complete record of success in high school college prep courses
Characteristics
Potential contributions to the campus's intellectual and cultural life
Success in academic enrichment initiatives
Demonstrated interest in the evaluation process is not taken into account by UCLA. Instead, the applicant's circumstances are taken into account while evaluating all accomplishments (both academic and personal).
To perfect your "how to get into UCLA" plan, you'll need to do a lot more than merely match UCLA's GPA standards or admission statistics for the Class of 2025. Make sure to improve your studies and extracurricular activities because your readers won't look at your UCLA SAT scores.
There is no UCLA Early Decision deadline, so make sure to strengthen your candidate profile well before the deadline for UCLA applications. Your strategy for "how to get into UCLA" will be strengthened by the following tips:
1. Create a candidate profile.
Remember that UCLA seeks applicants who "have excelled academically and gained valuable perspective from the personal experiences that have helped shape their lives." as you develop your strategy to get into the UCLA enrollment pool. Before the UCLA application deadline, pursue your hobbies and look for experiences that may improve your candidate profile. Create a strong applicant profile as soon as possible because UCLA does not offer Early Decision.
2. Craft strong answers to the UC Personal Insight Questions.
The purpose of the UC Personal Insight Questions is to discover more about you beyond your academic background. As you formulate your responses, be careful and sincere. Don't forget to tell the UCLA admissions committee who you are, what matters to you, and what you want to share with them. Use the UC Personal Insight Questions to demonstrate your authentic voice and steadfast commitment to being a UCLA Bruin instead of the UCLA Early Decision deadline that demonstrates your devotion to UCLA.
3. Join UCLA when you're ready.
Students that strive for academic success and community service are valued by UCLA admissions. As you finish your research on "how to get into UCLA," try the following strategies to get UCLA-ready:
Push yourself to take lessons that go beyond the bare minimum
Look into extracurriculars to find your passions.
Invest time in activities for improving your community
Please do not be discouraged from applying because of the UCLA GPA requirements or the acceptance rates for the UCLA Class of 2025. Additionally, it's acceptable if your SAT scores fall below the UCLA average. Make an effort to strengthen your application as much as you can. You can join summer programs or relevant clubs to boost the "character" of your application. AdmissionSight is also available to guide you throughout the application process.
At AdmissionSight, we have over 10 years of experience guiding students through the competitive admissions process to get accepted to the top universities in the world. On average, 75% of our students are admitted to an Ivy League university, Stanford, MIT, UChicago, and Caltech, one of the highest track records in the industry. Feel free to set up an appointment today to book your initial consultation.