Undergraduate Students at Yale
Yale is frequently considered to be among the most prominent educational institutions in the United States. Like the other Ivy League schools, Yale is known for its excellent research and academic achievements.
This institution's faculty and alumni have been honored with every possible distinction, including a total of 65 Nobel Prizes and five Fields Medals. Since its founding in 1701 as the Collegiate School, Yale has become a center for innovative research and forward-thinking ideas.
One of the most significant advancements is the approach taken by the medical school, which is known as the "Yale System." In the first and second years of medical school at Yale, students are required to complete work that is not graded. This policy is meant to encourage students to think for themselves and find new things.
Yale has started new programs in English and comparative literature that are not in the traditional STEM fields.
Does Yale have undergraduate students?
Does Yale have undergraduates? Yale College has a large number of undergraduate students who attend and participate in a liberal arts program that includes departmental majors and is organized into a social system of residential colleges.
The undergraduate school of study at Yale University is known as Yale College. It was established in 1701 and is considered to be the university's first school. Even though other Yale schools were established as early as 1810, the entire university was formally referred to as Yale College until 1887, when its schools were merged into a single entity and the name of the institution was changed to Yale University. It is always thought of as one of the most prestigious schools in the United States.
Total number of undergraduate students at Yale
According to Yale's Fall 2020 statistics, there are a total of 4,703 undergraduate students at Yale accepted to the university. As an undergraduate at Yale, you will also experience its residential college system. Edward S. Harkness, a graduate of Yale University who loved the college systems at Oxford University and Cambridge University, made a gift to the university in 1933 that led to the establishment of the system.
Each college has its own dining hall, library, and a variety of student amenities that range from printing presses to darkrooms. The dormitory buildings at each college are arranged in a circle around an enclosed central courtyard. Each one is directed by a Head of College, a member of the teaching staff who acts as the institution's senior administrator, and a dean, who is in charge of the academic responsibilities of the students.
Fellows are those who have distinguished affiliations with the university and are also affiliated with the colleges. The colleges, unlike their English forerunners, do not administer academic degree programs or courses of study. However, they do sponsor academic seminars that fall outside of the normal departmental structure of the university and the heads of colleges host lectures and teas for the colleges that attract high-profile visitors. In addition, the colleges have a tradition of hosting high-profile visitors at their events.
Students come from a diverse range of cultural, national, socioeconomic, and personal backgrounds. 10% of undergraduate students are not residents of the United States, and 54% of those students attended public high schools. The average family income of a Yale student is $192,600, with 57% of students coming from families in the top 10% of earners and 16% coming from households in the bottom 60% of earners.
The college quadrangle or an affiliated dormitory is home to 85% of the number of undergraduate students at Yale in their first year. All first-year students are expected to enroll in a college before beginning their university studies. The majority of upperclassmen prefer to live in one of the university's colleges, whereas the clear majority of first-year students choose to live in the university's oldest part, Old Campus. People also think that Yale's campus is one of the most beautiful and largest in the area.
What undergraduate major is Yale known for?
You'll also learn what undergraduate major is Yale known for in this part. There's an increasing percentage of the number of undergraduate students at Yale taking political science at the institution in recent years. In addition to political science, the other popular majors at Yale are listed below. This shows that Yale lives up to its reputation for having excellent programs in a wide range of fields:
Economics
The economics program at the institution provides undergraduate students with the opportunity to participate in research alongside some of the most brilliant minds in the field. In addition, a large number of undergraduate students take classes that are designed to investigate the factors that have shaped our economic climate in the past, as well as those that will shape it in the future.
The requirements for the major include introductory classes like calculus, microeconomics, and macroeconomics, as well as core classes, field classes, elective classes, and two advanced classes that a student must take during their senior year. Students are required to earn grades of A or higher in at least three-quarters of the classes that count toward their major.
History
History is one of the most well-liked and intellectually diverse majors at Yale College. It covers nearly every region and period of the world's past, including African history, American history, Asian history, and colonial history, to name a few. History is one of the most popular majors at Yale College. Being a member of the history faculty provides outstanding preparation for jobs in a wide variety of professions, including law, journalism, business and finance, education, politics, public policy, social action, and the arts.
Students who major in History are required to take a Pre-Industrial Class, participate in a Departmental Seminar, and write a Senior Essay. However, the requirements vary depending on whether they pick the specialist or global route.
Political Science
Political science, as previously stated, is one of the most popular undergraduate majors at Yale, particularly among juniors and seniors; as a result, many Yale graduates pursue careers in public service and political office. They will work toward developing the ability to think critically and analytically about the structures, incentives, and agents that play a role in the formation of political phenomena within human societies. The undergraduate study major in political science requires students to take a minimum of two courses in each of the department's five subfields, including internal relations, American government, political philosophy, analytical theory, and comparative politics. The major consists of a total of twelve term courses in political science.
The following are prominent individuals and professionals that earned their degrees at Yale:
William Howard Taft: 27th president of the United States
Gerald Ford: 38th president of the United States
George H. W. Bush: 41st president of the United States
Bill Clinton: 42nd president of the United
George W. Bush: 43rd president of the United States
John C. Calhoun: 7th vice president of the United States
Mario Monti: Former prime minister of Italy
Tansu Çiller: Former prime minister of Turkey
Ernesto Zedillo: Former president of Mexico
Karl Carstens: Former president of Germany
José Paciano Laurel: Former president of the Philippines
Valdis Zatlers: Former president of Latvia
Jiang Yi-huah: Former premier of Taiwan
Peter Mutharika: Former president of Malawi
Two notable members of royal families who earned their degrees are Crown Princess Victoria of Sweden and Olympia Bonaparte, also known as Princess Napoléon.
Molecular, Cellular, and Developmental Biology
Students who choose to concentrate their studies on Molecular, Cellular, and Developmental Biology obtain a comprehensive and multifaceted liberal education, cultivate their capacity for critical thinking, and graduate ready to pursue professional positions in a wide variety of subjects. During their time in the undergraduate program, students cultivate their capacity for critical thinking while learning the fundamental principles and abilities of science, including investigation and analysis. All students who want to get the degree must take Chemistry, Physics, and Organic Chemistry, in addition to the courses that are specific to the track they choose.
Computer Science
The Computer Science Department at Yale collaborates with the Electrical Engineering Department, the Economics Department, the Mathematics Department, and the Psychology Department to offer four combined majors in computer science. These majors are Electrical Engineering and Computer Science, Computer Science and Economics, Computer Science and Mathematics, and Computer Science and Psychology. Every program has the same basic curriculum, which is made up of five core classes in computer science.
How to choose an undergraduate major at Yale?
If you are intellectually ambitious or a high achiever, selecting the appropriate academic concentration is an essential component of your success at Yale. Students who progress well during their academic careers in college typically feel that they have made the best decision possible about the field of study they have selected for themselves. Ultimately, that should be the objective of every student.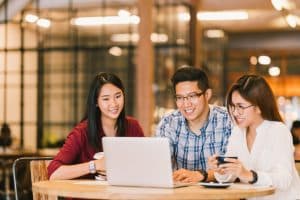 On the other hand, you may find yourself in a precarious situation in which you do not know which major you will finally declare, and as a result, the weight of your decision will be dragging on your shoulders. Don't worry if any of this seems familiar to you. Not only is it rather typical, but it's also frequently an indication that you care about your future and make sound judgments when it comes to making significant life choices. How to choose an undergraduate major at Yale?
Develop a positive attitude and outlook. Let's dispel a common misconception about the process of selecting a major held by both present and prospective college students. This misconception is that if you do not make a decision immediately, you are meant to fail. In other words, if you have not boastfully announced your desired academic specialization before the first day of school, you are instantly at a disadvantage compared to your colleagues. This belief is unquestionably false, and the facts are far more convoluted than you might assume.
Begin with a broad stroke and a broad direction. Using a process of elimination is the most common (and realistic) strategy to effectively traverse the process of picking the proper major and, eventually, the correct career path. This implies that you must experiment with many things to determine what you like and dislike about them.
The likelihood is that you already have a fundamental direction, a sense of what interests you, an interest, or a curiosity about a particular topic. However, this does necessitate some diversification within the context of that general objective. By doing this, you will be able to narrow down your choices and move toward a major and/or career path that fits your interests and skills better.
Reduce the scope of your overall direction. For example, one of your broad objectives is to pursue your passion for reading, writing, and developing your worldview. If so, possible majors to pursue include history, English, journalism, and possibly political science. Ultimately, if you apply this criterion, there is a good chance that you should be working in one of these fields. However, here we reach the most essential component.
A degree in history, for example, necessitates a substantial amount of writing and research in addition to reading and obtaining a global perspective. You might say something along the lines of, "Well, I adore writing," which is wonderful! When you first considered writing about history, you probably did not envision it as a form of writing that leans toward an academic tone. However, as you progress through your coursework, you may notice that historical writing tends to adopt a more scholarly tone. In addition, you may find the study component of history to be too overwhelming and even a touch too monotonous for your liking.
Take stock of how far you've come and keep moving forward. The most crucial takeaway from these numerous occurrences is as follows: Even though you may first feel a sense of disappointment and perhaps even a little frustration as you move through multiple majors without officially committing to one, you have made tremendous progress.
Even though you've only taken a few classes so far, you've already ruled out two potential majors that you now know are not a good fit. By learning new things, you increase your grasp of who you are and what you like and dislike about yourself. In other words, you were able to narrow down your options, bringing you closer to reaching your final goal.
What is the Yale acceptance rate?
What is the Yale acceptance rate? Yale admitted 2,234 students out of a total of 50,015 applicants in 2022, which resulted in an acceptance rate of 4.46%. U.S. News says that Yale College's undergraduate program has the "most selective" admissions requirements.
More than one-half of the total number of undergraduate students at Yale are female, more than one-third are members of racial or ethnic minorities in the United States (19% are members of underrepresented minorities), and 10.5% are students from other countries. 55% of the students attended public schools, while 45% attended private, religious, or international schools. Furthermore, 97% of the total number of undergraduate students at Yale placed in the top 10% of their high school class.
Also, as part of the Eli Whitney Students Program, Yale College accepts a small number of students who are not like most students.
In addition, the application process for colleges and universities becomes more challenging each year due to the increase in both domestic and international applicants. That implies you must drastically separate yourself. Even though these admissions numbers are somewhat concerning, there is no need to worry. When you have a clearer grasp of what Yale is looking for, you will be better equipped to tailor your application to their specifications.
How to get into Yale as an undergraduate?
From the aforementioned statistics above, it is evident that being accepted at Yale requires a huge amount of effort. In this part, we shall go into the topic of how to get into Yale as an undergraduate.
Deciding to apply to Yale need not be nerve-wracking. When establishing their selection process, Yale describes the ideal Yale student as people who have a desire to make the world a better place and people who are willing to put in the work necessary to become future leaders. These are the types of people Yale hopes to attract.
Yale wanted to see evidence from prospective students that they had done their homework. They want students to come to campus knowing exactly what they are enrolled in so that they can make the most of their time at a location where they have access to a wide variety of resources.
Yale thinks that two of the most important parts of a pitch are how well the candidate knows Yale and how they use what they know about the school in their application.
Once an applicant has shown that he or she really wants to go to Yale, both clearly and logically, with layers of evidence showing how important Yale is to the student's growth, the applicant can then talk about what he or she can bring to the Yale community.
Every school is interested in learning how potential new students can contribute to the growth of their student body, but schools with smaller student populations pay especially close attention to the qualities that each new applicant possesses.
Yale students are exposed to a unique atmosphere, and those who want to go there should be able to show how they will contribute to the campus community in a meaningful way.
Successful applicants highlight any projects, activities, or services that indicate not only their academic prowess but also their capacity to be an essential member of a community. This skill can be shown through volunteer work or leadership roles in groups outside of school.
Sincere applicants to Yale have a few steps they can take to improve their chances of being accepted.
If you submit your application during the early action period, it is a good indicator of how seriously you are considering attending Yale. Early applicants have a slightly better chance of getting in, but this advantage seems to be getting smaller over time.
Questbridge is a scholarship program called National College Match that works with over 45 outstanding undergraduate programs across the country. Students who require financial assistance can join Questbridge. Because of the Questbridge program, Yale took in 72 new students for the Class of 2025.
In addition, you must have a high GPA and good exam results in addition to selecting a suitable topic for your college admission essay. You should also develop a great deal of self-assurance and learn to have faith in your intelligence and ability. Because no one is perfect in every way, you should excel in the activities you enjoy and highlight all of your accomplishments during the enrollment process.
If you make the effort to demonstrate your capabilities, intelligence, talents, and determination during the application process, it may not be as difficult as you believe to attend the school of your dreams. At AdmissionSight, we can provide you with tools, resources, and services that will help you improve your admissions profile. If you want to build a reputation for yourself as an undergraduate at Yale, you will need to exert significant effort throughout the admissions process. We are available to guide you to success at every stage of the process. Contact us today and experience our unrivaled assistance through our dependable admissions consultants.