University of Valley Forge
UVF at a glance
A quick look at UVF shows its history and why people choose this university. University of Valley Forge (UVF) is a non-profit private, multidisciplinary higher education school established in 1939. It is located in the suburbs of the major town of Phoenixville, Pennsylvania. Phoenixville has a suburban vibe, making it an ideal location for students who desire the conveniences of city life but don't want to live in the heart of all the hustle and bustle that comes with city life.
The University of Valley Forge is a small higher education institution in the United States that is formally affiliated with the Christian-Pentecostal religion. The institution is officially accredited by the Middle States Commission on Higher Education (MSCHE).
UVF is open to students of both sexes. Courses and programs at UVF can lead to various officially recognized degrees in higher education, including pre-bachelor degrees (i.e., certificates, diplomas, associate or foundation degrees), bachelor degrees, and master's degrees in various fields of study.
Students have access to several academic and non-academic facilities and services provided by UVF. These include a library, housing, sports facilities, financial aid and/or scholarships, study abroad and exchange programs, online courses and distance learning opportunities, and administrative services.
Because of the high level of competition for admission to the University of Valley Forge (which has a 63% acceptance rate), you must treat the preparation of your application with the utmost seriousness. Even forgetting a single insignificant point could be enough for someone to put your application in the "reject" queue.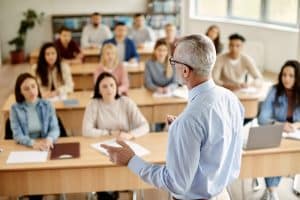 When we ask about a school's freshman retention rate, we want to know what proportion of first-year, full-time students decide to remain enrolled there for their sophomore year. Compared to the percentage found nationally (68%), the rate found at the UVF is 69%, which is about average.
Estimating the number of teaching resources available to students at a college or university is a common practice by looking at that institution's student-to-faculty ratio. The ratio of this statistic at UVF is significantly better than the national average of 15 to 1, which stands at 11 to 1. The pupils who wish to engage their instructors more personally can take heart from this information.
Some people look at the percentage of full-time faculty members and the student-to-faculty ratio as a measure of how much time professors will be able to spend with their pupils. This is an indicator of the quality of an educational institution. Part-time instructors can be on campus less frequently than their full-time counterparts. The University of Valley Forge has a percentage of full-time faculty equal to 28%. This is lower than the average for the country, which is 47%.
In most cases, a student working toward a bachelor's degree will complete their studies within four years. The graduation rate for first-year, full-time students at UVF is 42%, higher than the average graduation rate for all colleges and universities in the country, which is 33.3%.
Departments in UVF
Arts & Sciences – The Department of Arts & Sciences is intended for students with a strong interest in composing written works, studying languages, and reading literary works. Studying various literary genres and approaches to writing helps students develop their analytical and creative thinking skills.
The rigorous curriculum is taught by committed faculty members who appreciate the written word's significance and potential. A degree in English Language and Literature is the type of degree that can be earned from this particular department.
Behavioral Sciences – The Department of Behavioral Sciences at UVF is the second largest academic department at the university, and it caters to students who have a strong desire to comprehend and assist other individuals. No matter what degree a student earns in this area, the tools and abilities they acquire give them an advantage in their chosen field.
As one of the departments at UVF, their one-of-a-kind understanding of human behavior, problem-solving abilities, and professional ethics will provide a framework for effectively dealing with a wide range of individuals in various settings.
A degree in the Behavioral Sciences is a great foundation for a career in human services, psychology, counseling, criminal justice, or social work. It also gives excellent preparation for pursuing an advanced degree in these areas. The following academic programs lead to degrees:
Criminal justice
Pastoral counseling
Psychology – Online
Social work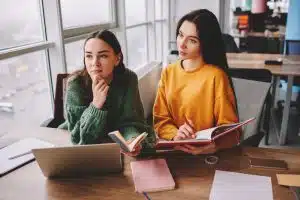 Business Administration – The Department of Business Administration is dedicated to preparing business leaders for today's market who can operate with quality, character, and integrity. This commitment drives the department's mission.
Students who major in business administration at UVF graduate as servant leaders who will have an impact on markets all across the world. The curriculum seeks to apply Christian principles to the contemporary world of business. A degree in business administration from the University of Valley Forge can assist you in achieving your professional goals, whether those goals involve becoming an executive in a large corporation, an accountant, or a business owner.
Business Administration – Accounting
Business Administration – General Business
Business Administration – Marketing
Business Administration – Online
Global Business
Management
Music Business and Technology
Sport Management
Digital Media Communications – The Department of Digital Media Communications provides instruction in the rapidly expanding field of digital media. If you are interested in this area of study, this department may be the best fit for you.
It provides five undergraduate majors, each concentrating on a different facet of this burgeoning global sector and allowing students to specialize in their education. It is a point of pride for their division to provide training in the most recent and cutting-edge technology.
Digital Media Studies
Graphic Design & Photography
Recording Arts
Video Production
Education – The United States Department of Education sponsors several degree programs geared toward the professional development of aspiring educators. Teachers are among the people who have the greatest influence on the lives of their students. Students spend many hours and days with teachers who will help shape their lives through education.
These teachers may help students learn to read or write, or they may teach them how to solve complex mathematical equations. Regardless of the subject matter, students spend significant time with teachers. Because of this, the Education Department at UVF is dedicated to providing you with the training necessary to become an effective, compassionate, and motivational educator.
Early Childhood Education
Middle-Level Education
Secondary English Education
Intercultural Studies – The Department of Intercultural Studies has amalgamated with the Department of Deaf Ministries, allowing students to study a cross-cultural topic of interest in a highly connected environment. No matter where a person physically resides, they are bound to come into contact with people from other cultures at some point.
You can navigate cultural differences via understanding and communication, allowing you to serve God wherever you travel. The Department of Intercultural Studies offers various majors for students interested in communicating with people of other cultural backgrounds, whether at home or in foreign countries.
Intercultural Studies- Business
Children's Studies
Deaf Culture Studies (non-Deaf students)
Deaf Ministries (Deaf students only)
Intercultural Studies- Digital Media
Intercultural Studies- Education
Intercultural Studies- Individualized
Intercultural Studies- Music
Intercultural Studies- Online
Pastoral Leadership Development
World Missions
Youth Studies
Ministry Leadership & Theology – The Department of Ministry Leadership and Theology at UVF provides various degree programs to students who desire to serve others, hunger for biblical knowledge, and have a fire in their bellies to spread the Good News.
This department also provides a major in theological studies for those interested in gaining a more in-depth knowledge of the Bible and theology and who feel they may be called to work in parachurch ministries or continue their education at the graduate level.
The department offers a variety of majors to prepare students for a wide range of careers in the church and in parachurch ministries that will allow them to accomplish the mission that God has given them.
Family Studies
Family Studies with Children's Ministry Focus
Family Studies with Youth Ministries Focus
Ministry Leadership
Ministry Leadership – Online
Pastoral Leadership
Theological Studies
Music – The Department of Music at the University of Valley Forge provides students with diverse educational opportunities geared toward assisting them in answering the calling that God has placed on their lives. A supportive and inspirational atmosphere is ideal for instilling a dedication to musical excellence and seeing it through to completion.
The University of Valley Forge features a music faculty dedicated to the spiritual and musical growth of each student and to assisting individuals in reaching their God-given musical potential via the completion of appropriate coursework. The theoretical concepts presented in the classroom are supplemented with relevant real-world examples in this high-quality education.
Church Music
Music Education
Music Performance
Music Production
Worship Leading
Why study at the University of Valley Forge?
Whether or not the UVF is the right choice for you depends on your interests, goals, and values. However, if you are looking for a strong Christian community, a quality education, and a supportive campus environment, UVF is worth considering. Here are some reasons why you might consider studying at UVF:
Strong Christian Community: UVF is known for its strong Christian community that values faith, service, and academic excellence. As a student, you will be part of a community that supports your spiritual growth, provides service opportunities, and encourages you to excel academically.
Quality Education: UVF offers a range of undergraduate and graduate programs in fields such as business, education, music, psychology, and theology. The university is accredited by the Middle States Commission on Higher Education, which ensures that its programs meet high standards of academic quality.
Faculty Excellence: UVF's faculty members are experts in their respective fields, and many hold advanced degrees from top universities. They are committed to providing students with a challenging and engaging learning experience.
Campus Life: UVF's beautiful campus offers a variety of amenities for students, including on-campus housing, dining options, athletic facilities, and more. The university also hosts various events throughout the year, including concerts, chapel services, and community service projects.
Location: The university is located in the heart of the Philadelphia region, which offers a wealth of cultural and recreational opportunities. Students can explore historical landmarks, museums, theaters, and more in nearby Philadelphia or enjoy outdoor activities in the countryside.
If you are now interested in entering the University of Valley Forge, it is wise that you get help from an admissions consultant to ensure that you get in. At AdmissionSight, you will get the guidance you need. With the help of experts with 10 years of experience, you will be sure to get the right help at AdmissionSight. Start your journey today with an initial consultation.