Exploring the University of Virginia Admissions Statistics
The University of Virginia, located in Charlottesville, VA, is one of the most prestigious public universities in the United States. With its rich history and strong academic programs, it's no surprise that the university receives a high volume of applicants each year. In this article, we will dive deep into the University of Virginia admissions statistics to better understand the process and what it takes to be accepted into this highly esteemed institution.
The History of the University of Virginia Admissions Process
UVA has a long and storied history, dating back to its founding in 1819 by Thomas Jefferson. The admissions process has evolved over time, with significant changes occurring in recent decades. One such change was the introduction of a holistic review process in the 1990s, which evaluates applicants based on a variety of factors beyond just their academic achievements.
This includes extracurricular activities, community involvement, leadership experience, and more. The goal of this approach is to create a diverse and well-rounded student body.
Another significant change to the UVA admissions process occurred in 2015, when the university became test-optional. This means that applicants are no longer required to submit SAT or ACT scores, although they may still choose to do so. The decision was made in an effort to reduce barriers for low-income and underrepresented minority students, who may not have access to expensive test preparation resources. Since implementing this policy, UVA has seen an increase in the number of applications and a more diverse applicant pool.
How University of Virginia Evaluates Applicants
The UVA admissions committee uses a holistic approach to evaluate applicants, taking into consideration a variety of factors beyond just grades and test scores. These might include personal statements, letters of recommendation, interviews, and resumes. The goal is to identify students who will excel academically at UVA and contribute to the community and become leaders in their respective fields.
One of the factors that UVA considers when evaluating applicants is their extracurricular activities. The admissions committee looks for students who have demonstrated leadership skills, a commitment to service, and a passion for their interests outside the classroom. This could include participation in sports teams, clubs, volunteer work, or internships.
Another important aspect of the UVA admissions process is diversity. The university values a diverse student body and seeks to admit students from a variety of backgrounds, cultures, and experiences. This includes students from different racial and ethnic groups, socioeconomic backgrounds, geographic regions, and academic interests. UVA believes that a diverse student body enriches the educational experience for all students and prepares them for success in a global society.
Acceptance Rates and Demographics of UVA Students
UVA is a highly selective institution, with an acceptance rate of around 26%. The demographic makeup of the student body is diverse, with approximately 40% of students identifying as an ethnic minority. The university also has a relatively even distribution of male and female students.
Additionally, UVA has a strong international student population, with students from over 100 countries represented on campus. The university also prioritizes socioeconomic diversity, with over 20% of students receiving need-based financial aid.
UVA is committed to creating a welcoming and inclusive environment for all students. The university offers a variety of resources and support systems for underrepresented groups, including multicultural centers, LGBTQ+ centers, and disability services. UVA also has a number of student organizations dedicated to promoting diversity and inclusion on campus.
Common Application Requirements for UVA
When submitting an application to UVA, prospective students must fulfill several requirements. These include completing the Common Application, submitting official transcripts, providing standardized test scores (SAT or ACT), and writing a personal statement. Additionally, prospective students may choose to submit supplemental materials, such as a resume or letters of recommendation, to bolster their application.
It is important to note that UVA has a holistic admissions process, meaning that they consider a variety of factors beyond just test scores and grades. Admissions officers also take into account extracurricular activities, community involvement, and unique personal experiences when evaluating applications.
Furthermore, UVA offers several application options, including Early Action and Regular Decision. Early Action is a non-binding option that allows students to receive an admissions decision earlier in the process. At the same time, Regular Decision has a later deadline but still offers a chance for students to be considered for admission.
Tips for Writing a Standout UVA Essay
The UVA essay is an essential component of the application process. Admissions counselors are looking for unique perspectives, personal anecdotes, and engaging writing styles. It's essential to avoid cliches, be authentic, and write with a clear and concise voice. Applicants should also take the time to research the university's academic programs, extracurricular activities, and community initiatives to tailor their essays to reflect their interests and passions.
One important tip for writing a standout UVA essay is to showcase your intellectual curiosity. Admissions counselors want to see that you are passionate about learning and have a desire to explore new ideas. You can demonstrate this by discussing a book, article, or academic topic that has inspired you and how it has influenced your perspective.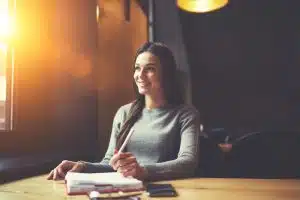 Another tip is to highlight your leadership skills and involvement in your community. UVA values students who are active and engaged in making a positive impact in their local and global communities. You can discuss a volunteer experience, leadership role, or community project that you have been a part of and how it has shaped your values and goals.
Extracurricular Activities That Catch the Eye of the UVA Admissions Committee
The University of Virginia admissions committee values well-rounded applicants who demonstrate a commitment to community service, leadership, and extracurricular activities. These might include volunteering, participating in sports or clubs, or pursuing internships or research opportunities. Applicants should highlight their accomplishments in these areas and demonstrate how they will contribute to the UVA community.
One extracurricular activity that particularly catches the eye of the UVA admissions committee is participation in Model United Nations. This activity not only demonstrates a commitment to global issues and diplomacy but also requires strong communication and critical thinking skills. Additionally, Model UN provides opportunities for leadership roles and networking with students from around the world. Applicants who have participated in Model UN should highlight their experiences and any awards or recognitions they have received.
Scholarships and Financial Aid at the UVA
UVA is committed to providing financial aid to those who need it. The university offers a variety of scholarships, grants, and loans to help offset the cost of attendance. Some scholarships are merit-based, while others are need-based. UVA also participates in a variety of federal and state financial aid programs, and applicants are encouraged to explore their options and apply early.
In addition to traditional financial aid options, UVA also offers work-study programs for eligible students. These programs provide part-time employment opportunities on campus or with approved off-campus employers, allowing students to earn money to help pay for their education while gaining valuable work experience. Students can apply for work-study programs through the university's financial aid office.
How to Prepare for a UVA Campus Visit and Interview
Visiting the UVA campus and participating in an interview can give applicants a firsthand look at what the university has to offer. It's important to research the school ahead of time, prepare thoughtful questions, and dress appropriately. During the interview, candidates should be honest, engaged, and passionate about their interests and goals. The interview is an opportunity to demonstrate personality and dedication.
One important aspect of preparing for a UVA campus visit and interview is to familiarize oneself with the university's values and mission. This can be done by reading the school's website, attending information sessions, and speaking with current students or alumni. Understanding the university's culture and priorities can help applicants tailor their responses during the interview and demonstrate their fit with the school.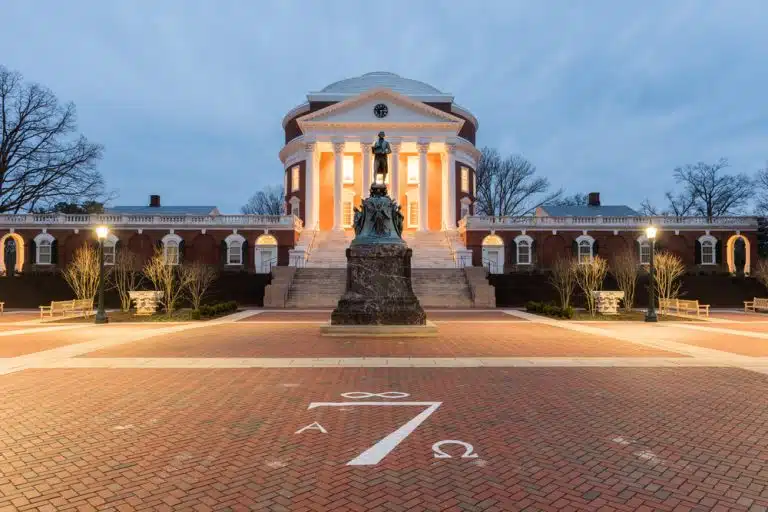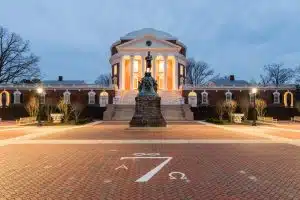 Another helpful tip is to practice answering common interview questions beforehand. This can help applicants feel more confident and prepared during the actual interview. It's also important to remember to listen carefully to the interviewer's questions and respond thoughtfully and honestly. Applicants should aim to showcase their unique strengths and experiences while also demonstrating their enthusiasm for UVA and their chosen field of study.
Comparing University of Virginia Admissions Statistics to Other Top Universities in the US
UVA is consistently ranked among the best universities in the United States. University of Virginia holds its own when comparing admissions statistics to other top institutions, such as Harvard, Yale, or Stanford. It boasts a strong academic program, dynamic community, and diverse student body that attracts applicants from across the country and around the world.
One of the factors that set UVA apart from other top universities is its commitment to public service. The university offers numerous opportunities for students to engage in community service and volunteer work, both locally and globally. This emphasis on giving back to society is reflected in the university's mission statement and is a core value that is instilled in all students.
Additionally, UVA has a rich history and tradition that is deeply ingrained in its culture. Founded by Thomas Jefferson in 1819, the university has a strong connection to the ideals of democracy, freedom, and equality. This legacy is evident in the architecture of the campus, the curriculum, and the overall atmosphere of the university. Students who attend UVA are not only part of a prestigious academic institution but also a community that values history, tradition, and civic engagement.
Overcoming Common Application Pitfalls When Applying to UVA
Applying to any university can be stressful. There are many common pitfalls that applicants can avoid to maximize their chances of success at UVA. These might include submitting incomplete applications, applying for the wrong program, or failing to demonstrate a genuine interest in the university. Applicants should take the time to carefully review their applications and seek guidance from counselors, teachers, or mentors as needed.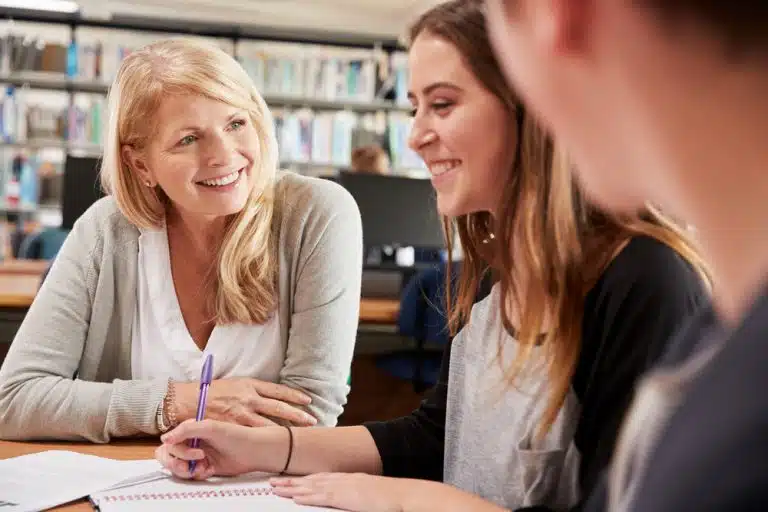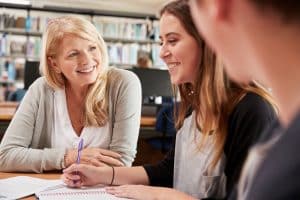 Another common pitfall that applicants should avoid is submitting generic essays or personal statements. Admissions officers at UVA are looking for applicants who can demonstrate their unique qualities, experiences, and perspectives. It is important for applicants to take the time to craft thoughtful and well-written essays that showcase their individuality and highlight why they are a good fit for UVA. Applicants should also make sure to proofread their essays carefully and avoid any grammatical or spelling errors.
Examining Trends in University of Virginia Admissions Statistics Over Time
Over the years, the University of Virginia admissions statistics have fluctuated as the university has evolved and changed. When analyzing trends, it's important to consider external factors that may have influenced these changes, such as changes in the economy or demographic shifts. Nonetheless, tracking trends in admissions statistics can provide insight into what it takes to be accepted to UVA and how the institution is changing over time.
One trend that has emerged in recent years is an increase in the number of applications received by UVA. In 2020, the university received a record-breaking 40,971 applications, a 4% increase from the previous year. This increase in applications has also led to a decrease in the acceptance rate, which was 20.4% in 2020 compared to 24.5% in 2019. UVA has attributed this increase in applications to a variety of factors, including the university's strong academic reputation and its commitment to diversity and inclusion.
Navigating the Waitlist and Appeals Process at UVA
For those who find themselves on the UVA waitlist, there are steps they can take to strengthen their application and increase their chances of acceptance. This might include submitting additional letters of recommendation or providing updated transcripts. Additionally, candidates may appeal a rejection decision if they believe there was an error or extenuating circumstances. However, appeals are rarely successful, and students are encouraged to focus on their other options.
It is important for waitlisted students to keep in mind that the number of students admitted from the waitlist varies from year to year and is dependent on a variety of factors, including the number of admitted students who choose to enroll. Therefore, it is difficult to predict the likelihood of being admitted from the waitlist.
Students who are waitlisted should also consider reaching out to the admissions office to express their continued interest in attending UVA. This can be done through a letter or email and should highlight any new accomplishments or updates since the initial application was submitted. However, it is important to avoid being pushy or demanding, as this can have a negative impact on the admissions decision.
Frequently Asked Questions About the UVA Admissions Process
Applying to college can be a confusing and overwhelming process. If you have questions about the University of Virginia admissions statistics and process, you're not alone. Some common questions include:
What is the average SAT or ACT score of admitted students?
Do I need to submit AP test scores?
Is UVA need-blind or need-aware?
What is the yield rate for enrolled students?
Can I transfer into the UVA program?
These are just a few examples, and prospective students are encouraged to consult the UVA admissions website or reach out to admissions staff for more information.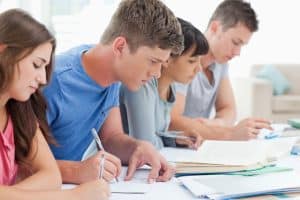 It's important to note that UVA takes a holistic approach to admissions, meaning that they consider a variety of factors beyond just test scores and grades. This includes extracurricular activities, essays, and letters of recommendation. UVA also values diversity and actively seeks to create a diverse student body.
For students who are interested in UVA but may not meet the traditional admissions criteria, there are alternative pathways to admission. This includes the AccessUVA program, which provides financial aid and support to low-income and first-generation college students, as well as the Guaranteed Admission Program for Virginia Community College students who meet certain requirements.
Conclusion
The University of Virginia admissions process is rigorous and highly competitive, but for those who are admitted, the payoff is immense. With its strong academic programs, rich history, and diverse community, UVA has something to offer a wide range of students from all backgrounds. By understanding the admissions process and what it takes to succeed, applicants can put their best foot forward and increase their chances of acceptance.
One of the unique aspects of UVA is its commitment to student self-governance. The Honor System, which dates back to the university's founding, is entirely student-run and serves as a model for other institutions. Students are responsible for upholding the Honor Code, which prohibits lying, cheating, and stealing. This system fosters a culture of trust and integrity, and it's one of the reasons why UVA graduates are highly respected in their fields.
Another advantage of attending UVA is the vast array of extracurricular activities available to students. From club sports to cultural organizations to volunteer opportunities, there's something for everyone. These activities not only provide a chance to pursue interests outside of the classroom but also help students develop leadership skills and make connections with peers who share similar passions.
If you're set on getting into a world-class college but aren't sure how to make it happen, we can help! AdmissionSight is a leading college entrance expert with over a decade of experience helping students just like you get into the schools of their dreams.
At AdmissionSight, we focus on offering a wide range of services, all aimed at helping students perfect their applications to catch the attention of admissions officers. Contact us today to schedule a free consultation to learn more about what we offer.