Unveiling Boston College's Ranking: An Insight into Excellence
As one navigates through the landscape of higher education, the importance of university rankings cannot be understated. Among these, Boston College's ranking stands as a beacon of excellence, reflecting the institution's commitment to academic rigor, extensive research, and holistic student development.
This prestigious Jesuit institution, nestled in the heart of Chestnut Hill, Massachusetts, has consistently maintained an impressive standing in both national and global rankings. The integral blend of liberal arts and sciences in its curriculum, underscored by its firm grounding in social justice and community service, makes Boston College an undeniable contender among leading universities.
Diving deeper into Boston College's ranking, one is captivated by its consistent performance across a myriad of sectors. From its undergraduate programs to its prominent research contributions, Boston College has consistently proved its mettle, earning accolades and recognition in the educational world.
However, the true strength of Boston College's ranking lies not just in these numerical standings but in the transformative educational experiences it offers to its students, fostering not just intellectual growth but also personal development and ethical responsibility.
An Introduction to Boston College
Boston College is a prestigious private Jesuit Catholic research university situated in the Chestnut Hill neighborhood, Massachusetts. Founded in 1863, the college boasts a rich history and has firmly established its reputation as one of the nation's leading institutions for higher learning.
The college offers a comprehensive range of undergraduate, graduate, and professional programs across its eight schools and colleges. Boston College is renowned for its rigorous liberal arts curriculum and a strong commitment to the Jesuit traditions of holistic education, a pursuit of intellectual excellence, and dedication to service. Among the various schools within the college, the Carroll School of Management and Connell School of Nursing are particularly notable for their high rankings and exceptional programs.
Boston College is classified as an R1 institution, the highest category of research activity in the Carnegie Classification of Institutions of Higher Education. The university's emphasis on research is reflective of its commitment to the generation of new knowledge, with faculty and students regularly contributing to breakthroughs in various fields, ranging from the humanities and social sciences to business and health sciences.
A distinguishing feature of Boston College is its strong focus on community service and social justice, deeply embedded in its Jesuit ethos. Students are encouraged to engage in service-learning experiences and community engagement activities, fostering a sense of responsibility and commitment to addressing social inequalities.
Beyond the classroom, Boston College offers a vibrant campus life with over 273 student clubs and organizations, promoting student engagement, leadership development, and community building. The college's NCAA Division I athletic teams, known as the Eagles, foster a spirit of camaraderie and pride among the student body and the wider Boston College community.
Boston College's beautiful campus, characterized by Gothic architecture and situated on a hill overlooking the Boston skyline, adds to the overall appeal of the institution, making it a highly sought-after destination for students from across the United States and around the world. As of 2023, Boston College continues to be a beacon of academic excellence, community service, and personal development, embodying the Jesuit ideal of "men and women for others."
What is the Ranking of Boston College?
What is the ranking of Boston College? Understanding the ranking of a university is an integral part of evaluating its overall standing within the complex world of higher education. Boston College is no exception. Over the years, it has established a solid reputation as a high-quality institution, consistently appearing in top national and international university rankings.
U.S. News & World Report
Boston College is listed in the top 36 National Universities in the U.S. News & World Report's rankings and the top 50 in the best value schools of the 2022- 2023 edition.
The U.S. News & World Report is one of the most respected and widely referenced ranking systems for universities and colleges in the United States. It ranks institutions based on a variety of factors, including undergraduate academic reputation, faculty resources, graduation and retention rates, financial resources, alumni giving, and student excellence.
Boston College's strong position in the U.S. News & World Report ranking underscores its comprehensive strength across these diverse areas. The high academic reputation of Boston College reflects the institution's rigorous educational standards, breadth of quality programs, and commitment to intellectual development. Its faculty includes distinguished scholars and researchers who contribute to the rich learning environment, and this, combined with robust resources, supports the academic mission of the college.
In terms of student excellence, Boston College has maintained high retention and graduation rates, indicating that students are generally satisfied with their educational experiences and complete their programs successfully. This high student satisfaction also extends to alumni who frequently contribute to their alma mater, which is another aspect U.S. News & World Report considers in its ranking methodology.
Times Higher Education World University Rankings
Boston College in the Times Higher Education (THE) World University Rankings of 2023 ranked 251–300 place and 57 in the US College Rankings of 2022.
The Times Higher Education World University Rankings is one of the most comprehensive, balanced, and trusted ranking systems. It assesses universities across all of their core missions – teaching, research, knowledge transfer, and international outlook.
Boston College's potential inclusion in this ranking would reflect its commitment to delivering high-quality education, promoting rigorous research, fostering industry collaboration, and maintaining a diverse and inclusive academic environment.
Boston College is known for its rigorous academic programs, which align with THE's teaching evaluation criteria, considering the learning environment and student-to-staff ratio. BC's faculty comprises top-tier researchers and teachers, which resonates with THE's standards.
In terms of research, Boston College, as an R1 institution, commits itself to high research activity. This research output, alongside the institution's reputation for research, aligns with the research assessment in THE rankings.
Boston College's engagement with industries and emphasis on knowledge transfer would also be favorable in THE's assessment. The College's focus on service, leadership, and real-world problem-solving encourages students to apply their knowledge beyond the classroom.
Lastly, BC's welcoming of international students and staff, along with collaborations with international institutions, resonates with THE's criterion of international outlook.
QS World University Rankings
Boston College, in the QS World University Rankings of 2023, placed in the 561-570 globally. However, QS World University Rankings are respected and widely referenced in higher education, and Boston College's position, when included, would be reflective of its quality and impact.
The QS World University Rankings evaluates universities based on six metrics: academic reputation, employer reputation, faculty-to-student ratio, citations per faculty (which reflects research impact), international faculty ratio, and international student ratio.
The academic reputation metric is based on a global survey of academics, and Boston College, with its firm commitment to academic excellence and rigorous programs across various disciplines, would fare well in this measure. The university's distinguished faculty, quality of teaching, and well-rounded curriculum contribute significantly to its strong academic reputation.
In terms of employer reputation, Boston College has a strong track record. The university's emphasis on developing critical thinking skills, ethical decision-making, and effective communication abilities, combined with a curriculum that encourages the practical application of knowledge, ensures that its graduates are well-prepared for the workforce.
Boston College's commitment to maintaining a reasonable faculty-to-student ratio aligns with QS's third metric, allowing for personalized attention and fostering an environment conducive to in-depth learning.
Research is integral to Boston College's mission, and the university's high research output and its impact, in terms of citations per faculty, demonstrate Boston College's dedication to contributing new knowledge and innovations in various fields.
Lastly, with regard to international faculty and student ratios, Boston College is a diverse community that attracts students and faculty from around the world, which enhances the cultural richness and global perspective within the university.
As with any ranking system, while it can provide a general idea of a university's standing, it doesn't capture every aspect of the institution. When considering Boston College or any other university, it's important to look beyond the rankings and consider factors such as specific academic programs, community, values, and how well the institution aligns with personal goals and aspirations.
Why Do College Rankings Matter?
Why do college rankings matter? College rankings play an influential role in shaping public perception of higher education institutions, and Boston College is no exception. The visibility and prestige associated with high-ranking placements can have numerous impacts on a college, affecting everything from student applications to alumni engagement, faculty recruitment, and funding opportunities. Here are several reasons why these rankings matter to an institution like Boston College:
Student Recruitment: Rankings significantly influence prospective students' and their families' decisions about where to apply and ultimately attend. A high ranking by esteemed publications can increase the number of applications a college receives, providing a larger pool of potential students and allowing the institution to be more selective in its admissions process. For Boston College, maintaining a high ranking enhances its ability to attract top-tier students who are drawn to the quality of education that the rankings suggest.
Reputation: Rankings contribute to the overall reputation of an institution. For Boston College, consistently high rankings cement its status as a leading university nationally and globally. This reputation extends to the broader academic community, helping the college forge collaborative partnerships with other esteemed institutions and engage in high-profile research projects.
Alumni Engagement and Giving: Rankings also play a role in alumni engagement. Alumni take pride in their alma mater's high ranking as it increases the value of their degree in the job market. This sense of pride can translate into increased alumni involvement and financial contributions, which in turn can further boost Boston College's ranking by demonstrating strong financial health and a supportive alumni network.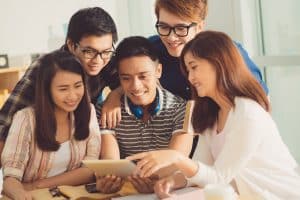 Faculty Recruitment and Retention: High rankings can help Boston College attract and retain esteemed faculty members. Faculty members want to associate with institutions that have a strong reputation and high academic standing, which rankings often reflect. Moreover, the research and funding opportunities often available at highly ranked institutions can be a further draw for top-tier faculty.
Research Funding: Many funding bodies look at university rankings to guide their decisions about where to allocate resources. Higher-ranked institutions like Boston College are more likely to receive funding for research projects, which in turn can lead to groundbreaking research, further improving the institution's standing.
International Partnerships and Opportunities: High global rankings can facilitate international collaborations and partnerships. They can attract students and faculty from around the world, fostering a diverse and inclusive academic environment. This global reputation can open doors for Boston College students for international opportunities such as study abroad programs, internships, and job placements.
While rankings play a substantial role in reflecting a university's standing and quality, it's also essential to understand its limitations. They don't capture the entirety of a university's offerings or the nuances of campus life, specific program strengths, community engagement, or the value of the overall student experience. Prospective students should consider Boston College's rankings as just one aspect of their college decision-making process, balancing them with their personal goals, interests, and values.
What is the Benefit of Boston College's Ranking to College Application?
What is the benefit of Boston College's ranking to college application? Boston College's high ranking serves as a valuable asset in the college application process, offering several benefits to prospective students:
Prestige and Recognition: A high ranking serves as a mark of prestige and academic excellence. Applying to and being accepted by a highly-ranked institution like Boston College can be a significant achievement. The reputation of the university can add a competitive edge to your profile when applying for jobs or postgraduate programs.
Quality of Education: High rankings often correlate with a high-quality education. Boston College's ranking signifies its commitment to providing comprehensive, rigorous, and high-standard academic programs. Therefore, you can expect a robust curriculum, experienced faculty, and a learning environment that encourages intellectual growth and critical thinking.
Career Opportunities: Graduating from a highly-ranked university such as Boston College can open doors to robust career opportunities. Employers often recognize the value of a degree from a top-ranked institution, and this can give you an edge in a competitive job market. The college's Career Center also offers extensive resources, including career counseling, job fairs, internship opportunities, and networking events.
Networking: Boston College's ranking attracts students from diverse backgrounds and locations, creating a vibrant and diverse community. This allows for ample networking opportunities, both socially and professionally, and these connections can benefit you throughout your career.
Resources and Facilities: High-ranking universities often have access to better resources and facilities, such as well-stocked libraries, state-of-the-art laboratories, and advanced technology. At Boston College, these resources support a broad range of academic interests and extracurricular activities.
Alumni Network: Boston College's strong ranking contributes to a robust and active alumni network. This network can be a valuable resource for mentorship, job opportunities, and maintaining connections with the university community after graduation.
While Boston College's ranking offers numerous benefits, it's important to remember that rankings should not be the sole determinant in your college decision-making process. You should also consider factors such as the specific academic programs, the culture, and values of the institution, location, cost, size, and opportunities for extracurricular activities and personal growth. All these elements should align with your personal goals and aspirations.
Conclusion
Boston College's ranking is a reflection of its unyielding commitment to academic excellence, research, and student development. Its recognition nationally and globally, across various disciplines, stands as a testament to its efforts in upholding the highest standards in higher education.
Moreover, the enriching student life, combined with the emphasis on personal growth and community service, makes BC not just a place for intellectual development but also for molding conscientious, thoughtful citizens. Thus, if you're considering Boston College, know that you're looking at an institution that truly ranks among the best – not just in terms of numbers, but in terms of providing a holistic, transformative educational experience.
Every university has its own unique strength and character, and Boston College is no exception. It's ranking merely serves as an indicator of its dedication and performance across various sectors, making it a highly attractive option for students from around the globe. But remember, the best university is not always the highest-ranked one, but rather the one that fits your personal goals, values, and aspirations. At Boston College, many have found that perfect fit.
In the future, we can only expect Boston College to continue this tradition of excellence. Its sustained commitment to academic rigor, community service, and personal growth will undoubtedly enable it to weather the rapidly changing higher education landscape, all while continuing to scale new heights. Whether you're a prospective student, an alumnus, or an interested observer, Boston College's ranking gives ample reason to watch this space with keen interest.
Want to learn more about your chances of getting into Boston College? You've come to the right place. At AdmissionSight, we have over 10 years of experience guiding students through the competitive admissions process.
AdmissionSight can help you put your best foot forward when applying to college this fall. Contact us today for more information on our services.