UPenn Freshman Class Size
How Big Is the Freshman Class At UPenn?
How big is the freshman class at UPenn? The University of Pennsylvania made its admission decisions for Regular Decision applicants to the Class of 2026, which will be the institution's 270th class, last March 31st at 7:00 PM Eastern Time (ET). The University of Pennsylvania planned to build a class of 2,400 exceptional students to attend its four undergraduate schools: the College of Arts and Sciences, Penn Engineering, the Wharton School, and the School of Nursing.
This year, there were approximately 55,000 applications, which is almost 15,000 more than applied just two years earlier for the Class of 2024. Students were admitted through the Questbridge Match, Early Decision, and Regular Decision phases of the admissions process. In terms of racial and ethnic background, socioeconomic diversity (including those who are eligible for Pell grants), and those who are the first generation in their family to attend a four-year college or university. This class also has the highest percentage of students from Philadelphia of any class that the school ever let in, regardless of the year.
In December 2021, Penn admitted 1,218 students out of the Early Decision pool of 7,795. This represented 15.63% of all applications. UPenn freshman class size of 2,417 students is from the 54,588 overall applications received for the Class of 2026. Find out more about the freshman class at the University of Pennsylvania.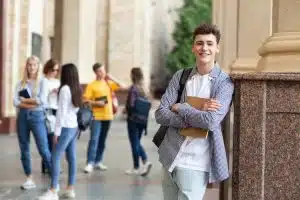 The acceptance percentage for Penn's incoming class of 2024 was 8.07%, which is a tiny rise from the 7.44% of applicants who were accepted into the class of 2023. This is the most recent occasion that Penn's acceptance rate has improved. Around 8.39% of candidates were selected for acceptance into the Class of 2022 at Penn.
Where Are Most UPenn Students From?
Let's have a look at the following geographic diversity of UPenn freshman class size to find out where are most UPenn students from.
Geographically speaking, the majority of the students enrolled in the undergraduate program hail from the following states:
Pennsylvania: 18%
New York: 16%
New Jersey: 12%
California: 10%
Florida: 6%
Massachusetts: 5%
If you live in one of the more sparsely populated states, such as Montana or Idaho, or in the Deep South, you have a better chance of having your admissions chances improved by your location than if you live in one of the more populous states, such as Pennsylvania or New York. The fact that you come from a somewhat unpopulated area can work in your favor when applying to competitive colleges like Penn, which like to brag that their incoming students represent all 50 states.
The following parts of the world are responsible for recent contributions to the field of international studies:
Africa and the Middle East: 11%
Asia: 46%
The Pacific and Australia: 5%
Canada and Mexico: 17%
Central America, South America, and the Caribbean: 5%
Europe: 16%
What Are the Demographics of UPenn?
What are the demographics of UPenn? Associate Vice Provost and Dean of Admissions Whitney Soule noted that Penn had admitted the most diverse group of students in its history, as well as the highest proportion of students from Philadelphia, in the statement that was included in the announcement.
She also disclosed that approximately one-third of accepted students conducted research while still in high school, forty percent of accepted students held jobs while still in high school, and eighty percent participated in activities that involved community service. We'll discuss more as we go on.
In terms of racial or ethnic background, the breakdown of the UPenn freshman class size is as follows (the numbers do not sum up to 100% because applicants can list more than one race):
White: 36%
Asian American: 25%
Hispanic: 10%
African American: 8%
International: 13 %
Two or more races: 5%
Unknown: 3%
The following is a breakdown of the genders among the students currently enrolled in undergraduate programs:
During their time in high school, about one-third of the students who were granted admission participated in academic research. Many of these students earned local, regional, national, and even international recognition for research that is already pushing the boundaries of academic discovery.
Students who were accepted into the program had to demonstrate their creative problem-solving abilities by co-authoring publications that were published in reputable journals and working closely with prominent faculty and researchers in their areas of interest. In addition, they had to demonstrate their ability to work across a wide range of complex and distinct academic fields.
In addition, putting one's knowledge into practice with a view toward improving society is an essential component of Penn education. Over eighty percent of the students who have been accepted are already carrying on this tradition by participating in volunteer activities that have already made a substantial difference on a regional, national, or international scale. Students who participated in large-scale projects and endeavors that had a significant and long-lasting effect on the communities in which they lived are worthy of admiration, as are those students who volunteered their time to assist others on a more personal basis.
This year, there was a discernible increase in the number of applicants who were passionate about putting their interests in topics related to environmental studies and sustainability into action. In the applications the admission officers have read, there were students who organized efforts to adopt measures to adopt more sustainable practices and regulations, both on a local and national level.
Students worked at the bleeding edge of sustainability and energy research, pursued environmental equality, and pushed for it as a means of addressing one of the most difficult problems society is facing at this time. Penn is excited about the contributions these young researchers will make to Penn's continued efforts to emphasize sustainability activities and to advocate environmentally sensitive policies, and the school looks forward to hearing their ideas.
Last but not least, during their time in high school, approximately forty percent of representatives of UPenn freshman class size held jobs in order to bring in an income for themselves and their families.
The admitted students showed up for shifts as essential and front-line workers and members of the service industries, assisted their parents in reimagining or pivoting family businesses in the face of grave economic uncertainty, and gained wide-ranging professional experiences in fields in which they are currently interested. In addition, many students had considerable obligations at home, such as caring for younger siblings, grandparents, or elderly neighbors, as well as taking on the role of housekeeper.
The officers were moved by the number of students who characterized these contributions in terms that were easy to understand and showed a great deal of empathy. While they did acquire perspectives and abilities that will be useful to them as adults.
What Are the Top Majors At UPenn?
What are some of UPenn's most well-known accomplishments? It is commonly referred to as the "Social Ivy" since students at this university lead active lives outside of the classroom and the mentality of "work hard, play hard" dominates the campus. However, despite the laid-back atmosphere, the academic standards at this school are quite high.
So, what are the top majors at UPenn? There are a total of 12 schools within the University of Pennsylvania, four of which provide undergraduate degrees: the College of Arts and Sciences, the School of Nursing, the Wharton School, and the School of Engineering and Applied Science. The Wharton School is widely regarded as one of the finest institutions of its kind anywhere in the world. In point of fact, according to the ranking of the best colleges for business, UPenn comes in at number one.
At least one-third of Wharton students' classes are taught in UPenn's other undergraduate schools, which contributes to the school's reputation for providing an education that draws from other fields. Wharton takes great satisfaction in its adaptable academic program, which gives first-year students the opportunity to explore interests unrelated to the business environment, such as a love for the written word or an aptitude for political science. Students who take advantage of this method of instruction are better prepared for careers after college in virtually every sector.
The University of Pennsylvania has been recognized as having the best undergraduate business programs of any school in the United States. To be more specific, UPenn was ranked #1 for its program offerings in the fields of business management, finance, and real estate, while it was placed second for its programs in business marketing.
Beyond the realm of business, the University of Pennsylvania provides students with educational opportunities that are among the best in the world. One of these is their Bachelor of Science in Nursing degree, which has been voted the #1 program of its kind in the country. In addition to its numerous excellent academic programs, the University of Pennsylvania is widely recognized as one of the most prestigious research institutions in the United States. The annual research budget at the institution is significantly more than one billion dollars.
Penn is well-known for placing a significant focus on undergraduate teaching, as evidenced by the institution's more than 5,000 currently active faculty members that will be guiding UPenn freshman class size pool throughout their Penn journey. Many of these faculty members have been honored with prestigious awards in recognition of their immense expertise and innovative contributions to their fields.
Is UPenn A Large University?
Is UPenn a large university? Extensive areas of greenery and leisure space at the college. Architecture that becomes a landmark. There were twelve schools located on one campus all connected to one another. The university's integrated approach to education, scholarship, and research are made possible by Penn's geographical unity, which is unique among the universities that make up the Ivy League.
Since 2006, Penn's campus master plan, known as Penn Connects, has resulted in the addition of more than 30 acres of new open space in addition to 6 million square feet of newly constructed space, as well as 2.7 million square feet of space that has been refurbished. These major accomplishments were made possible by a total investment of $3.8 billion in public and private funds combined. The addition of three million square feet of space to campus will be made possible by Penn Connects 3.0.
In the 1870s, the campus of the University of Pennsylvania was established in the open fields of West Philadelphia. Since then, the campus has grown within the city limits to its current size, which is around 300 acres. It consists of more than 180 buildings and over 100 acres of landscaped grounds that are kept in pristine condition, including manicured open lawns, gardens, and athletic fields.
More than 21,000 graduate and undergraduate students, along with 17,000 teachers and staff, call the almost 300 acres in West Philadelphia that make up Penn's campus their primary home.
In addition, the University of Pennsylvania is home to around 5,500 undergraduate students, which includes the UPenn freshman class size, the vast majority of whom reside in one of the university's 12 college houses alongside graduate students and faculty members. Every residential neighborhood is one of a kind and possesses its own character, set of customs, and set of activities.
Students at the University of Pennsylvania have the choice of living in either a college house or a program community in addition to the traditional campus housing. Students have the opportunity to live in program communities with other students and faculty members who have similar interests.
There is such a thing as a "Penn bubble," and it is a real phenomenon. On the other hand, the area immediately around the university is jam-packed with restaurants, pubs, and stores, and those who wish to get a better feel for the rest of the city won't have any trouble getting downtown.
One might make the case that Philadelphia is the quintessential example of a college town. It is the sixth largest city in the United States and provides everything that a student could want from living in a major metropolitan area, including great restaurants, fantastic museums, professional sports teams, and an international airport.
It is also the sixth-largest city in the United States. Students who are eager for even more fun won't have to wait more than a few hours to go to New York City. In addition, Philadelphia is home to a large number of prestigious educational institutions, such as Temple, Drexel, St. Joseph's University, and La Salle University.
The diverse and vigorous academic, artistic, cultural, social, and recreational activities that are pursued by the Penn community are supported by more than 450 student-run groups.
Since its founding in 1849, UPenn's Greek life has been an important part of the university's legacy. It is also one of the factors that contribute to the university's well-earned reputation for being a "social" institution. Approximately one-fourth of undergraduates at the University of Pennsylvania are members of one of the school's 48 fraternities or sororities, which are the center of the campus's lively party scene.
On campus, one of the most well-known student organizations is called the Social Planning and Events Committee (SPEC). The Student Programming and Events Committee (SPEC) is a part of the student government that is responsible for conceptualizing, planning, and executing school events such as the Spring Fling and inviting well-known speakers to campus. Recently, Trevor Noah, host of The Daily Show, visited the University of Pennsylvania for a conversation that was sponsored by SPEC.
The Excelano Project, which was established in 2001, is regarded as one of the most popular spoken word groups at the University of Pennsylvania. The Excelano Project was victorious at the College Union's Poetry Slam Invitational (CUPSI) competition on two separate occasions, in 2007 and 2009. Poets from the Excelano Project have been featured at prestigious venues all around the world, including the White House, Broadway, and HBO.
Penn was one of the original members of the Ivy League, and the university currently sponsors intercollegiate competitions for men in 17 different sports. These sports include baseball, basketball, cross country, fencing, football, sprint football, golf, lacrosse, heavyweight rowing, lightweight rowing, soccer, squash, swimming, diving, tennis, indoor track, outdoor track, and wrestling.
It provides women with the opportunity to compete at the intercollegiate level in sixteen different sports, including basketball, cross country, field hockey, fencing, golf, gymnastics, lacrosse, rowing, soccer, softball, squash, swimming and diving, tennis, indoor track, outdoor track, and volleyball. During the academic year 2021–2022, there were a total of 17 intramural leagues and special events, in which 2000 team members competed for a combined total of 8663 times. There were a total of 35 active club sports with 1,126 student participants.
If you're interested to join Penn's organizations and enjoy the many possibilities for academic and professional development throughout your years of study, you might consider consulting college admissions experts like AdmissionSight. UPenn freshman class size shows how selective the school can be. AdmissionSight has programs that could help you in your preparations to enter this prestigious university. Book an initial consultation to start your college admissions journey.