UPenn vs Bates: A Comprehensive Look at the Two Universities
If you are considering higher education, you may be wondering about the differences between UPenn and Bates. These two universities are both highly respected academic institutions, but they have their own unique strengths and characteristics. In this article, we will provide a comprehensive look at UPenn vs Bates, including their locations, academic programs, student life, and more.
Location and Campus Size: How Do UPenn and Bates Compare?
One major difference between UPenn and Bates is their location and campus size. UPenn is located in Philadelphia, a bustling city known for its rich history, cultural attractions, and vibrant nightlife. Bates, on the other hand, is located in Lewiston, Maine, a small town with a charming New England feel. While UPenn has a large urban campus with many buildings, Bates has a smaller campus that is easier to navigate on foot. Both campuses have their own unique charm, so it really depends on your personal preference.
Another factor to consider when comparing the location and campus size of UPenn and Bates is the surrounding community. UPenn is located in West Philadelphia, which has a diverse population and a mix of residential and commercial areas. Bates, on the other hand, is situated in a more rural area with a smaller population. This can impact the types of activities and events available to students off-campus.
Additionally, the size of the student body can also play a role in the campus experience. UPenn has a much larger student population than Bates, which can lead to a more bustling and active campus environment. Bates, with its smaller student body, may offer a more intimate and close-knit community. It's important to consider these factors when deciding which campus environment is the best fit for you.
History and Legacy: The Story Behind UPenn and Bates
UPenn and Bates both have a rich history and legacy. UPenn was founded in 1740 by Benjamin Franklin as the nation's first university, and has since grown into one of the most prestigious universities in the world. Bates, meanwhile, was established in 1855 and has a distinguished history as one of the first coeducational colleges in America. Both universities have produced numerous notable alumni throughout the years, including world leaders, business executives, and cultural icons.
Despite their different founding dates, UPenn and Bates share a commitment to academic excellence and social responsibility. UPenn has a long-standing tradition of community service and civic engagement, with programs like the Netter Center for Community Partnerships and the Penn Civic Scholars Program. Bates, on the other hand, has a strong focus on sustainability and environmental stewardship, with initiatives like the Bates College Sustainability Plan and the EcoReps program. Both universities continue to prioritize these values in their academic and extracurricular activities, inspiring their students to make a positive impact on the world.
Academic Programs: Which University Offers More Options?
Another key factor to consider when choosing a university is the academic programs that are available. UPenn and Bates offer a wide range of academic programs, but UPenn has a slight edge in terms of the sheer number of options available. UPenn has 12 undergraduate schools and numerous graduate programs, while Bates offers 32 majors for undergraduate students and a few graduate programs. Both universities have strong programs in the arts, sciences, and humanities, so it really depends on your individual interests and goals.
It's worth noting that while UPenn may have more academic programs overall, Bates has a strong focus on interdisciplinary studies. The college encourages students to explore multiple fields of study and offers several interdisciplinary majors, such as Environmental Studies and Politics, Philosophy, and Economics. Additionally, Bates has a unique program called "Purposeful Work," which helps students connect their academic interests with potential career paths and community engagement opportunities. So, if you're interested in exploring multiple fields and finding ways to apply your education to real-world issues, Bates may be the better choice for you.
Student Life: A Look at Social Activities and Clubs at UPenn and Bates
When you're not studying, you want to be able to have fun and socialize with your peers. UPenn and Bates both have active student communities and offer numerous social activities and clubs. UPenn has a wide range of student organizations, including cultural groups, service clubs, intramural sports teams, and more. Bates also has many student organizations, ranging from music and singing groups to advocacy and interest clubs. It's worth noting that both universities have a strong emphasis on community service and civic engagement, so there are many opportunities to get involved and make a difference.
Additionally, both UPenn and Bates offer a variety of events and activities throughout the year to promote socialization and community building. UPenn hosts an annual Spring Fling, which is a weekend-long festival featuring concerts, food trucks, and carnival rides. Bates has a similar event called Back to Bates, which welcomes students back to campus with a variety of activities and events. Both universities also have a range of sports teams and intramural leagues, providing opportunities for students to stay active and compete with their peers.
Housing Options: What Are the Accommodation Choices at Both Universities?
Another important consideration for college students is housing options. UPenn and Bates both offer on-campus housing for students, but the types of accommodations available differ slightly. UPenn has a variety of dormitories and apartment-style residences, while Bates has traditional dormitories that are organized by class year. Both universities offer meal plans and dining options, so you don't have to worry about cooking your own meals if you don't want to.
It's worth noting that both universities also offer off-campus housing options for students who prefer to live independently or with roommates. UPenn has a database of off-campus housing options that students can search through, while Bates has a designated off-campus housing coordinator who can assist students in finding suitable accommodations. However, it's important to keep in mind that off-campus housing may come with additional expenses, such as utilities and transportation costs.
Athletics: Comparing Sports Teams, Facilities, and Fan Support at UPenn and Bates
For many students, athletics are an important part of the college experience. UPenn and Bates both have active athletics programs and offer a variety of sports teams for students to participate in or cheer on. UPenn has a Division I athletics program and competes in the Ivy League, while Bates is a Division III school that offers a more low-key but still competitive sports experience. Both universities have modern athletic facilities and strong community support for their sports teams, so it really depends on your level of interest in athletics.
One notable difference between the athletics programs at UPenn and Bates is the level of competition. UPenn's Division I status means that their sports teams compete at a higher level and often face off against other top-ranked universities. Bates, on the other hand, competes in Division III and focuses more on providing a fun and inclusive sports experience for all students.
Another factor to consider when comparing the athletics programs at UPenn and Bates is the range of sports teams available. While both universities offer a variety of sports, UPenn's larger size and Division I status means that they have a wider range of teams to choose from, including some more niche sports like fencing and squash. Bates, on the other hand, has a smaller athletics program but still offers popular sports like soccer, basketball, and track and field.
Faculty and Research: Who Are the Professors at UPenn and Bates?
The quality of the faculty and research opportunities at a university can be a major factor in your decision making. UPenn and Bates both have highly qualified faculty members who are experts in their respective fields. UPenn is known for its research-oriented faculty and cutting-edge research opportunities, particularly in fields such as medicine, engineering, and finance. Bates, meanwhile, has a strong emphasis on undergraduate teaching and close relationships between students and faculty. Both universities have outstanding professors who are dedicated to helping students succeed academically and professionally.
Additionally, both UPenn and Bates have a diverse faculty, with professors from various backgrounds and experiences. This diversity brings a unique perspective to the classroom and allows for a more inclusive learning environment. Furthermore, many professors at both universities are actively involved in research and scholarship, which provides students with opportunities to work alongside them and gain valuable experience in their respective fields.
Admissions Process: How Do Prospective Students Apply to Each University?
If you're interested in applying to UPenn or Bates, it's important to know the admissions process for each university. UPenn has a highly competitive admissions process that takes into account factors such as test scores, GPA, extracurricular activities, and essays. Bates also has a selective admissions process that considers similar factors, but also values personal qualities such as leadership, curiosity, and intellectual independence. Both universities look for students who are passionate about learning and engaged with the world around them.
It's important to note that both UPenn and Bates offer a variety of resources to help prospective students navigate the admissions process. UPenn has an admissions office that provides information sessions, campus tours, and one-on-one meetings with admissions counselors. Bates offers similar resources, including campus visits, interviews, and virtual information sessions. These resources can be incredibly helpful in understanding the admissions process and determining if the university is the right fit for you.
Additionally, both UPenn and Bates have a holistic approach to admissions, meaning that they consider each applicant as a whole person, rather than just a set of numbers and achievements. This means that factors such as community involvement, work experience, and personal challenges can also be taken into account during the admissions process. It's important for prospective students to showcase their unique qualities and experiences in their application materials to give themselves the best chance of being admitted.
Tuition Fees and Financial Aid: What Is the Cost of Attending UPenn or Bates?
Of course, the cost of attending a university is also an important consideration for students and their families. UPenn and Bates are both expensive universities, with tuition and fees that can add up to tens of thousands of dollars per year. However, both universities also offer generous financial aid packages to help offset the cost of attendance. UPenn offers need-based financial aid and merit scholarships, while Bates is committed to meeting the demonstrated financial need of all admitted students.
It's important to note that the cost of attendance goes beyond just tuition and fees. Students also need to consider the cost of housing, textbooks, and other living expenses. At UPenn, the estimated cost of attendance for the 2021-2022 academic year is $78,416 for on-campus students and $76,416 for off-campus students. At Bates, the estimated cost of attendance for the same academic year is $76,550 for on-campus students and $72,550 for off-campus students. It's important for students and their families to carefully consider all of these costs and explore all available financial aid options before making a decision on which university to attend.
Career Opportunities: Which University Offers Better Job Prospects After Graduation?
Finally, it's important to consider the career opportunities that are available after graduation. UPenn and Bates both have strong track records of producing successful graduates who go on to prestigious careers in a variety of fields. UPenn has a strong career services center that offers personalized advising and resources for job and internship searches, while Bates has a robust network of alumni who are invested in helping current students succeed. Both universities have outstanding job prospects for graduates, but it ultimately depends on your individual goals and career ambitions.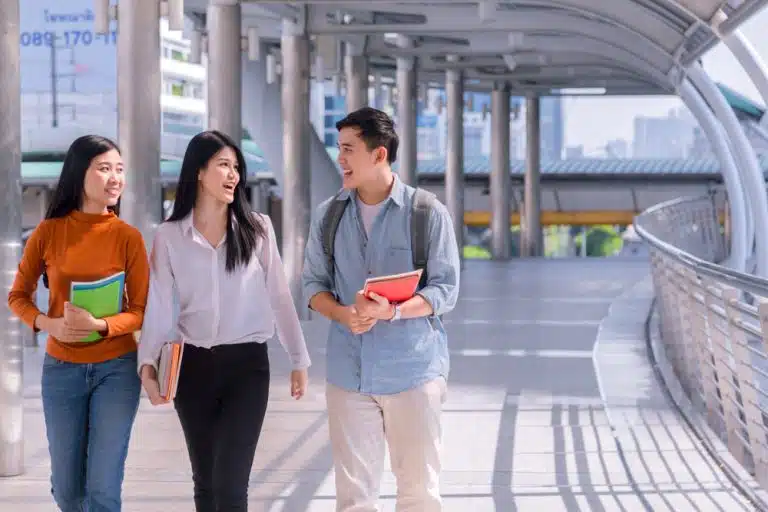 However, it's worth noting that certain industries may favor graduates from one university over the other. For example, UPenn has a strong reputation in finance and business, while Bates is known for producing successful graduates in the arts and humanities. It's important to research the industries and companies you're interested in and see which university's graduates have had the most success in those fields. Additionally, internships and networking opportunities can play a significant role in securing a job after graduation, so it's important to consider the availability and quality of those opportunities at each university.
Campus Safety Measures: A Comparison of Security Policies at UPenn and Bates
Safety is a crucial factor for any student, and UPenn and Bates both have strong campus safety measures in place. UPenn has its own police department and numerous security personnel on campus, as well as a range of safety resources such as emergency phone systems and safety escorts. Bates also has its own security personnel and offers safety resources such as personal safety alarms and campus-wide emergency notifications.
However, there are some differences in the security policies of UPenn and Bates. UPenn has a more extensive network of security cameras throughout the campus, which are monitored 24/7. In addition, UPenn requires all students to complete a safety training program during their first year, which covers topics such as sexual assault prevention and active shooter situations. On the other hand, Bates has a more decentralized approach to security, with each residence hall having its own security measures and protocols. Bates also has a student-run Safety Escort program, where trained student volunteers provide safe walks to students who feel uncomfortable walking alone at night.
Student Diversity: Analyzing the Demographics of the Student Body at Both Universities
Diversity is another important consideration for many students. UPenn and Bates both have diverse student bodies in terms of race, ethnicity, socioeconomic status, and geographic origin. UPenn has a large international student population and is committed to creating an inclusive and welcoming campus environment. Bates also prioritizes diversity and offers a range of resources for students from underrepresented backgrounds.
At UPenn, the Office of Student Affairs provides a variety of programs and services to support diversity and inclusion on campus. These include cultural centers, student organizations, and events that celebrate different cultures and identities. Additionally, UPenn has a strong commitment to recruiting and retaining diverse faculty members, which helps to create a more inclusive learning environment for all students.
Bates College also has a number of initiatives in place to promote diversity and inclusion. The college has a multicultural center that provides resources and support for students from diverse backgrounds, as well as a program that offers mentorship and academic support for first-generation college students. Bates also has a strong commitment to sustainability and environmental justice, which is reflected in the curriculum and campus initiatives.
Alumni Network: The Role of Alumni Associations in UPenn's and Bates' Communities
The alumni network can be a valuable resource for students and graduates alike. Both UPenn and Bates have active alumni associations that offer networking opportunities, career advice, and other resources for members. UPenn's alumni network is particularly strong and includes many notable figures in business, politics, and the arts. Bates' alumni network is also active and engaged, with many members of the community who are committed to supporting current and future students.
Study Abroad Programs: A Look into International Opportunities for Students at UPenn and Bates
Finally, studying abroad can be an enriching and transformative experience for college students. UPenn and Bates both offer a range of study abroad programs in countries around the world. UPenn has a particularly extensive study abroad program, with more than 100 programs in over 40 countries. Bates also offers numerous study abroad opportunities and has a strong focus on promoting international education and cultural exchange.
Overall, UPenn and Bates are both excellent universities that offer outstanding academic programs, vibrant student communities, and strong career opportunities. Ultimately, the choice between UPenn and Bates comes down to personal preference and individual goals. By considering these factors and doing your research, you can make an informed decision about which university is the right choice for you.
If you're set on getting into a world-class college but aren't sure how to make it happen, we can help! AdmissionSight is a leading college entrance expert with over a decade of experience helping students just like you get into the schools of their dreams.
At AdmissionSight, we focus on offering a wide range of services, all aimed at helping students perfect their applications to catch the attention of admissions officers. Contact us today to schedule a free consultation and learn more about what we offer.