UPenn vs Georgetown: A Look at the Differences and Similarities
In the world of higher education, two universities that are often compared are UPenn vs Georgetown University. Both schools are renowned for their academic excellence, vibrant campus cultures, and rich histories.
UPenn vs Georgetown: Location and Campus
Let us first compare their locations and campuses. UPenn, located in Philadelphia, is a sprawling Ivy League institution with a campus that spans over 299 acres. Georgetown, on the other hand, is situated in the heart of Washington, D.C., and boasts a much smaller campus area of only 104 acres. Both schools, however, are steeped in history and tradition, with stunning buildings and green spaces that make for an idyllic academic environment.
Despite the difference in size, both UPenn and Georgetown offer students unique opportunities to explore their respective cities. UPenn's location in Philadelphia provides students with access to a vibrant cultural scene, including museums, theaters, and restaurants. Georgetown's location in Washington, D.C., allows students to take advantage of the city's political and historical significance, with opportunities to intern on Capitol Hill or visit national monuments and museums. Overall, both schools offer students a rich and diverse college experience, with unique advantages based on their location and campus size.
UPenn vs Georgetown: Admissions and Enrollment
When it comes to admissions, UPenn and Georgetown have significantly different acceptance rates. For the class of 2025, UPenn had an admissions rate of 5.7%, making it one of the most selective schools in the country. Georgetown, by contrast, accepted around 15% of its applicants for the same year. Additionally, UPenn had an undergraduate enrollment of approximately 10,000 students, while Georgetown had slightly fewer at around 7,500.
It's worth noting that both UPenn and Georgetown have holistic admissions processes, meaning they consider a variety of factors beyond just test scores and grades. Both schools also offer need-based financial aid to eligible students, as well as merit-based scholarships. However, UPenn has a slightly higher average cost of attendance compared to Georgetown, with tuition and fees totaling around $60,000 per year, while Georgetown's tuition and fees are around $56,000 per year.
UPenn vs Georgetown: Academic Offerings
UPenn and Georgetown are both home to a wide array of academic programs, with UPenn offering over 100 majors across four undergraduate schools and 12 graduate and professional schools. Georgetown, meanwhile, offers over 60 majors across four undergraduate schools and several graduate programs. Both schools are known for their strong business, law, and medical programs.
Additionally, UPenn is renowned for its programs in engineering, computer science, and communications. The School of Engineering and Applied Science offers majors in fields such as bioengineering, computer engineering, and materials science, while the Annenberg School for Communication is one of the top communication schools in the country.
On the other hand, Georgetown is known for its strong programs in international relations, political science, and foreign languages. The School of Foreign Service is one of the most prestigious international relations schools in the world, and the Department of Government offers a variety of courses in political theory, comparative politics, and American politics.
UPenn vs Georgetown: Student Life
When it comes to student life, UPenn and Georgetown each offer unique experiences. UPenn boasts a bustling social scene, with over 400 student organizations and 31 Greek chapters. Georgetown, on the other hand, is known for its strong focus on public service and social justice, with a variety of community service and volunteer opportunities available to students.
Additionally, both universities offer a wide range of sports and fitness activities for students. UPenn has state-of-the-art athletic facilities, including a rock climbing wall and a swimming pool, while Georgetown has a variety of intramural sports teams and fitness classes. Both universities also have a strong emphasis on academic and career development, with resources such as career centers, internships, and research opportunities available to students.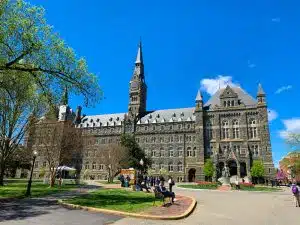 UPenn vs Georgetown: Faculty and Research
Both UPenn and Georgetown are home to renowned faculty members and research centers. UPenn has numerous research centers that focus on topics such as neuroscience, ethics, and environmental studies, to name a few. Georgetown, meanwhile, is known for its Institute for the Study of Diplomacy, which brings together experts from around the world to analyze and address global challenges.
Additionally, UPenn has a strong focus on interdisciplinary research, with centers such as the Penn Integrates Knowledge program, which brings together faculty from different fields to collaborate on research projects. Georgetown also has a strong emphasis on interdisciplinary studies, with programs such as the Science, Technology, and International Affairs program, which combines science and technology with policy and international relations.
Both universities also prioritize undergraduate research opportunities, with programs such as UPenn's Penn Undergraduate Research Mentoring program and Georgetown's Undergraduate Research Opportunities Program. These programs allow students to work closely with faculty members on research projects and gain valuable hands-on experience in their fields of interest.
UPenn vs Georgetown: Athletics
When it comes to athletics, UPenn and Georgetown each have strong sports programs. UPenn is a Division I school and competes in the Ivy League, with a focus on sports like football, basketball, and lacrosse. Georgetown, meanwhile, is also a Division I school and is part of the Big East conference, with a focus on sports like basketball, soccer, and lacrosse.
Both universities have a long history of producing successful athletes. UPenn has produced several Olympic medalists, including track and field star Jesse Owens and swimmer Michael Phelps. Georgetown has also had its fair share of successful athletes, including basketball player Patrick Ewing and soccer player Mia Hamm.
Aside from traditional sports, both universities also offer a variety of club and intramural sports for students to participate in. UPenn has over 40 club sports teams, including ultimate frisbee, fencing, and rugby. Georgetown offers over 30 club sports teams, including quidditch, equestrian, and sailing.
Tuition and Financial Aid
Tuition and financial aid play a significant role in the college decision-making process. At UPenn, tuition for the 2021-2022 school year was $60,042, while Georgetown's tuition was $58,130. Both schools, however, offer generous financial aid packages, with UPenn providing over $240 million in financial aid annually and Georgetown offering an average financial aid package of over $47,000.
It is important to note that the cost of attendance goes beyond just tuition. Students must also consider room and board, textbooks, and other expenses. At UPenn, the estimated cost of attendance for the 2021-2022 school year is $78,556, while Georgetown's estimated cost of attendance is $78,048. However, both schools offer various resources and opportunities for students to reduce these costs, such as work-study programs and scholarships.
Additionally, it is important to research and understand the different types of financial aid available. Both UPenn and Georgetown offer need-based aid, which is determined by a student's family income and assets. However, they also offer merit-based aid, which is awarded based on academic or extracurricular achievements. It is important to note that merit-based aid may not be renewable each year, while need-based aid typically is.
Career Services
Career services are crucial to helping students achieve success after graduation. UPenn and Georgetown both have robust career centers that offer a variety of resources, including job fairs, interview preparation, and resume building. UPenn's career center even has a program called the Penn Internship Network, which connects students with internships at top companies in their desired fields.
In addition to these resources, both universities also offer career counseling services to help students explore their career options and make informed decisions about their future. These services can include personality and skills assessments, career exploration workshops, and one-on-one counseling sessions with experienced career advisors. By taking advantage of these resources, students can gain valuable insights into their strengths and interests, and develop a clear plan for achieving their career goals.
Alumni Networks
Strong alumni networks can be an invaluable resource for graduates. Both UPenn and Georgetown have active alumni associations that offer networking events and mentorship opportunities. UPenn's alumni network is particularly active, with over 300,000 graduates spread across the globe.
Alumni networks can also provide access to job opportunities and career advice. Many alumni associations have job boards and career services available exclusively to their members. These resources can be especially helpful for recent graduates who are just starting their careers.
In addition to professional benefits, alumni networks can also offer social and cultural opportunities. Many associations organize events such as reunions, homecoming weekends, and cultural outings. These events provide a chance for alumni to reconnect with old friends and make new connections with fellow graduates.
International Students
International students play an essential role in promoting diversity on college campuses. UPenn and Georgetown both have strong international student populations, with UPenn having students hailing from over 100 countries and Georgetown having students from over 130 countries.
Studying abroad can be a life-changing experience for international students. It provides them with an opportunity to immerse themselves in a new culture, learn a new language, and gain a global perspective. Many universities offer study abroad programs that allow international students to spend a semester or a year studying in a different country.
However, being an international student can also come with its challenges. Adjusting to a new culture, language barriers, and homesickness are just a few of the difficulties that international students may face. That's why it's important for universities to provide support services for international students, such as language classes, cultural events, and counseling services.
UPenn vs Georgetown: Campus Safety
Campus safety is a critical concern for all universities. According to data from the U.S. Department of Education, both UPenn and Georgetown have lower-than-average crime rates, with a combined total of approximately 200 reported incidents in 2019.
However, it is important to note that while the reported crime rates may be low, it is still crucial for students to take precautions and be aware of their surroundings. Both universities offer various resources and programs to promote safety on campus, such as campus escort services and self-defense classes.
In addition to physical safety, mental health is also a top priority for universities. Both UPenn and Georgetown have counseling centers that offer confidential support and resources for students struggling with mental health issues. These centers also provide educational programs and workshops to promote mental wellness and reduce stigma surrounding mental health.
Student Organizations
In addition to social activities and athletics, involvement in student organizations can be an excellent way for students to develop valuable skills and build connections. UPenn and Georgetown both offer a plethora of student organizations, ranging from political groups to cultural clubs to the arts. UPenn's legendary student newspaper, The Daily Pennsylvanian, is one of the oldest and most respected student publications in the country.
Georgetown also has a variety of student organizations that cater to different interests and passions. The Georgetown University Student Association (GUSA) is the student government organization that represents the student body and advocates for their needs and concerns. The Georgetown Program Board (GPB) is responsible for organizing and hosting a wide range of events and activities on campus, including concerts, movie screenings, and cultural festivals. Additionally, Georgetown has several service-oriented organizations, such as the Georgetown University Volunteer Association (GUVA) and the Georgetown Emergency Response Medical Service (GERMS), which provide opportunities for students to give back to the community and gain valuable experience in their respective fields.
The Impact of Location on Student Experience
Location can have a significant impact on the college experience. UPenn's urban location means that students have access to a thriving city with abundant cultural and recreational opportunities. Georgetown, located in the heart of Washington, D.C., offers students the chance to engage with national politics and policymaking directly.
On the other hand, colleges located in rural areas offer a different experience. Students at schools like Middlebury College in Vermont or Williams College in Massachusetts have access to beautiful natural surroundings and outdoor activities like hiking and skiing. These schools also tend to have tight-knit communities, where students form close relationships with each other and with faculty.
Another factor to consider is the location of the college in relation to job opportunities. Schools located in or near major cities, like NYU in New York City or UCLA in Los Angeles, may offer more internship and job opportunities in fields like finance, media, and entertainment. However, colleges in smaller towns or rural areas may have strong connections to local businesses and industries, providing students with unique opportunities to gain experience and make connections in those fields.
The Role of Tradition in Campus Culture
Finally, we come to the role of tradition in campus culture. Both UPenn and Georgetown have rich histories that are deeply ingrained in their respective campus cultures. UPenn's Franklin Field, for example, is one of the oldest college football stadiums in the country and has hosted countless memorable games. Georgetown's iconic Healy Hall, with its distinctive clock tower, has been a fixture on the campus since the late 19th century.
In summary, while UPenn and Georgetown share many similarities, there are also several key differences between the two universities. Ultimately, the decision of which school to attend will depend on individual preferences and priorities. Regardless of the choice, students at both schools will have access to world-class academic programs and vibrant campus communities that will prepare them for success in the years to come.
However, tradition is not just limited to historic buildings and landmarks. It also encompasses the customs and practices that have been passed down from generation to generation of students. At UPenn, for example, the annual Spring Fling event is a beloved tradition that brings together students, faculty, and alumni for a weekend of festivities. Similarly, Georgetown's annual lighting of the Christmas tree in front of Healy Hall is a cherished tradition that signals the start of the holiday season on campus.
How AdmissionSight Can Help You With College Admissions
AdmissionSight is a college consulting firm that provides personalized assistance to students throughout the college admissions process. Here are some ways that AdmissionSight can help you:
Admissions strategy: AdmissionSight can help you develop a strategic plan for your college application process. Our professional consultants can assist with identifying schools that are a good fit for your academic, extracurricular, and personal goals and help you plan and prioritize your application strategy.
Application review: AdmissionSight can review your application and provide feedback on how to improve it. We can offer suggestions on making your application stand out and highlighting your strengths and unique qualities.
Essay coaching: AdmissionSight can help you craft compelling essays that showcase your personality, goals, and achievements. We can guide you through the essay writing process and provide feedback on your drafts to help you refine your writing.
Interview preparation: AdmissionSight can provide interview coaching to help you feel confident and prepared for college interviews. Our experts can offer tips on how to present yourself professionally and how to answer common interview questions.
Extracurricular planning: AdmissionSight can help you plan and develop your extracurricular activities to make them more impactful and meaningful. We can suggest activities that align with your interests and goals and provide guidance on demonstrating your leadership and initiative.
Overall, AdmissionSight can provide valuable guidance and support throughout the college admissions process to help you maximize your chances of getting accepted into the college of your choice.
With a high success rate of over 75%, we have built a strong network in the past decade. Book an initial consultation today, free of charge!