US Law Schools by Ranking
Best law schools by ranking
What are the best law schools by ranking? Looking for the top law school in the US to launch a bright future in the legal field? A prestigious education in law is typically associated with better employment prospects. Leading business figures, chiefs of state, and Supreme Court justices have all been known to hail from the best law schools in the US. AdmissionSight listed the best US law schools by ranking. Check them out below:
10. University of California – Berkeley in Berkeley, California
Berkeley Law
The University of California, Berkeley Law, which is next to the stunning San Francisco Bay, is one of the more renowned law schools in the country and matches the energy of the region.
With more than 63% female students, 54% persons of color, and 32% LGBTQ+ students, Berkley Law has the most diverse student body in the nation for a liberal location. With over 6,800 applicants, there is fierce competition for admission; 279 students for the Class of 2025 were accepted.
14 experiential learning clinics will offer practical applications in a variety of fields, such as domestic law practicums, death penalty clinics, international human rights law, etc. With a non-lettering grading system, Berkeley Law promotes collaboration over competition.
Additionally, you can engage in free community services. More than one-third of graduates take jobs in government, private practice, and clerkships.
9. Harvard University in Cambridge, Massachusetts
Harvard Law School
Since its founding in 1817, Harvard Law School has consistently produced some of the nation's most illustrious graduates, including two presidents, one first lady, 16 justices of the Supreme Court (four of whom are presently sitting), and a number of U.S. attorneys general. It would be an understatement to say that Harvard Law School is prestigious, so it is not surprising for the school to be among the best US law schools by ranking.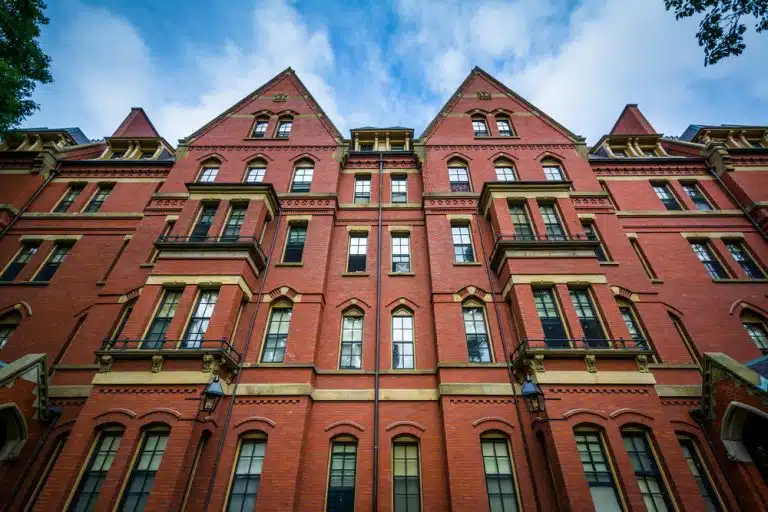 Located in Cambridge, Massachusetts, across the river from Boston, the school receives over 9,000 applications every year, but only 928 of them are chosen for interviews and 685 are given admission offers.
The faculty of Harvard Law School is one of the best in the nation. Along with a 3.5-year Cambridge LL.M. and Harvard J.D., the curriculum at Harvard Law offers specialized dual J.D. programs in administration, commerce, public health, and other fields.
The Harvard Law Review, a student-edited publication, has been the gold standard for legal periodicals since 1887. A number of noteworthy people, including former President Barack Obama, Supreme Court Justices Elena Kagan, Ruth Bader Ginsberg, Ketanji Brown Jackson, and others, have seen an increase in their legal careers as a result.
8. University of Pennsylvania in Philadelphia, Pennsylvania
Penn Carey Law
Founded in 1850, Penn Carey Law at the University of Pennsylvania is a very selective institution, but for good reason. Of the 6,146 candidates, just 14% received admission offers. This school ranks in the top 10 for graduates earning over $180,000 with private law firms, with a 98% first-time bar exam pass rate and a 97% employment rate within ten months of graduation.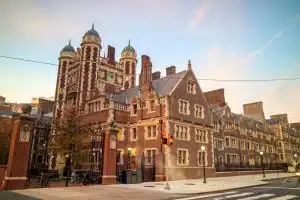 This Ivy League law school emphasizes an integrated curriculum and a comprehensive approach to the study of law. Over 77% of Penn Carey Law students enroll in one of the 35 dual degrees that the law school offers in conjunction with its sister universities, offering joint degrees. A few examples of dual degrees include earning a JD/MBE in bioethics with the Department of Medical Ethics at the Perelman School of Medicine or combining your law degree with the MBA program at the Wharton School of Business.
The class of 2023 is diverse in that 50% of its members identify as women, 43% as people of color, 17% as LGBTQ+, and over 30% are first-generation college students.
7. University of Virginia in Charlottesville, Virginia
The University of Virginia School of Law
The University of Virginia School of Law, located in Charlottesville, Virginia, was established by none other than Thomas Jefferson in 1819, making it the second-oldest continuously running law school in the US (after Harvard).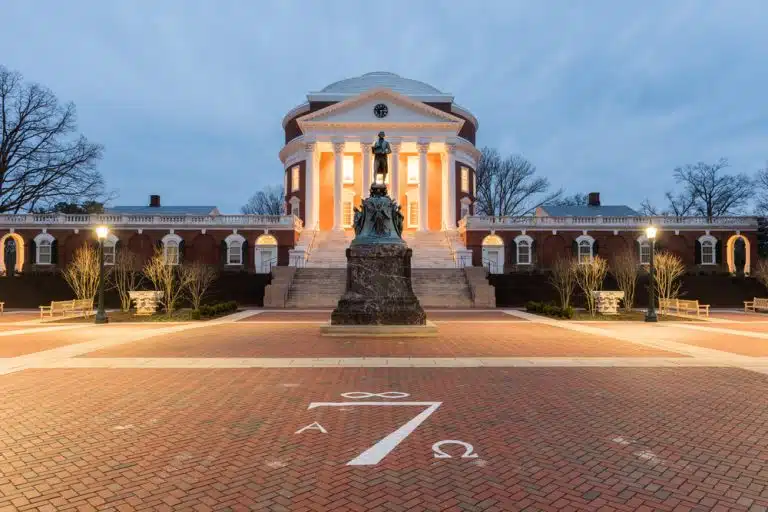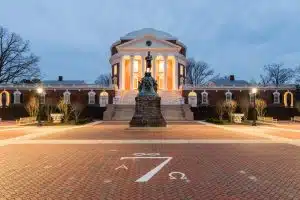 The Princeton Review consistently places UV Law in the top 5 schools for Best Faculty, Best for Federal Clerkships, and Best Career Prospects, making it one of the top 10 law schools in America and one of the best US law schools by ranking.
The University of Virginia School of Law offers degrees in M.P.H., M.D., M.B.A., and other fields together with J.D., LL.M., S.J.D., and dual J.D. In 2021, 94.8% of graduates passed the bar exam on their first try.
For careers in private practice, judicial clerkships, public service, etc., the school has a vibrant career services section with committed career counselors. Leadership positions in the top 500 organizations and 100 top firms are filled by UV Law graduates. Additionally, you'll gain access to the outstanding UV Law Network.
6. University of Michigan in  Ann Arbor, Michigan
University of Michigan Law School
One of the oldest, largest, and first law schools to admit women was Michigan Law, which was founded in 1859 and is located in Ann Arbor, Michigan. This is one of the best US law schools by ranking and accepts less than 20% of applicants. It has more than 1,000 students and 151 faculty members, with women and people of color making up roughly 49% of the faculty as a whole.
You will benefit from the illustrious clinics at 19 Michigan Law, which will provide you with first-hand knowledge of advocacy, child welfare, community, environment, sustainability, human trafficking, and other topics.
In addition to the domestic clinics, the International Transactions Clinic has a cross-border component that introduces you to global business law. These clinics give you practical experience outside of the classroom, as evidenced by the school's remarkable 98% graduate employment rate in private enterprises, clerkships, government, the public interest, etc.
You should take advantage of the Moot Court competitions, one of the six law journals, and available law student clubs as time permits.
5. Yale University in New Haven, Connecticut
Yale Law School
One of the best US law schools by ranking and one of the top Ivy League law schools in the nation with a long history is Yale Law School. Since its founding in 1810, Yale Law School has produced a long list of notable alumni, including two U.S. presidents, an impressive number of senators, ten justices of the Supreme Court, four presidents of other countries, prime ministers, writers, and journalists.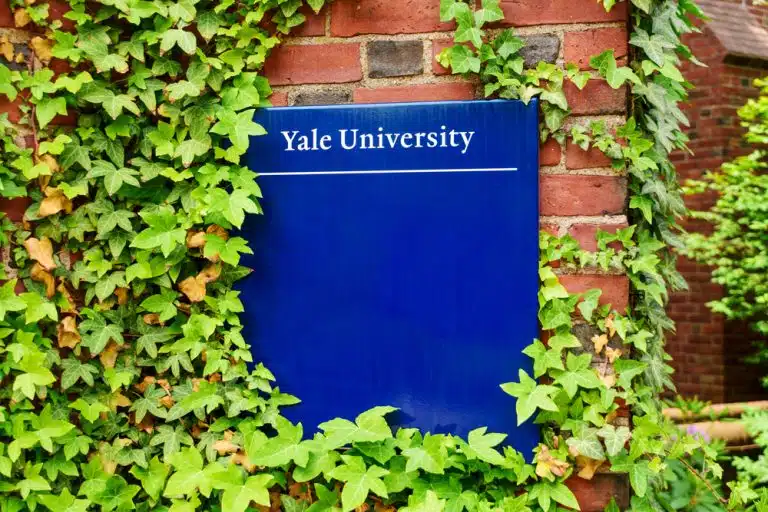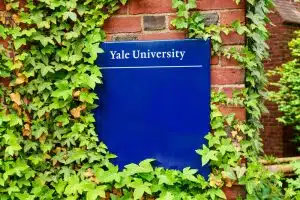 With 236 admission offers, Yale Law was extremely selective in 2022, accepting less than 7% of the 4,200 candidates. Women and people of color make up slightly more than half of the Yale Law student body.
For the students who have the greatest financial need and who earn close to 76% of all student aid, tuition-free scholarships will be made available starting in 2022. This institution, which has Yale Law School's centers and clinical programs available, is situated in New Haven, Connecticut, and boasts a faculty of international reputation. Instead of using a regular grading system, the school uses a pass-fail system, and its graduates pass the bar exam on their first attempt 99% of the time.
4. Cornell University in Ithaca, New York
Cornell Law School
The statement that Cornell Law School is #1 in job placement in significant law firms is one of the first things you read on the school's website. Cornell University, one of the best US law schools by ranking, and an Ivy League institution, takes pride in having a small law school community.
There are six highlighted study areas for legal subjects such as corporate law and financial regulation, criminal as well as civil law, and human rights law. The program accepts about 21.1% of the more than 4,000 applications, and graduates have a 95% success rate on the bar exam.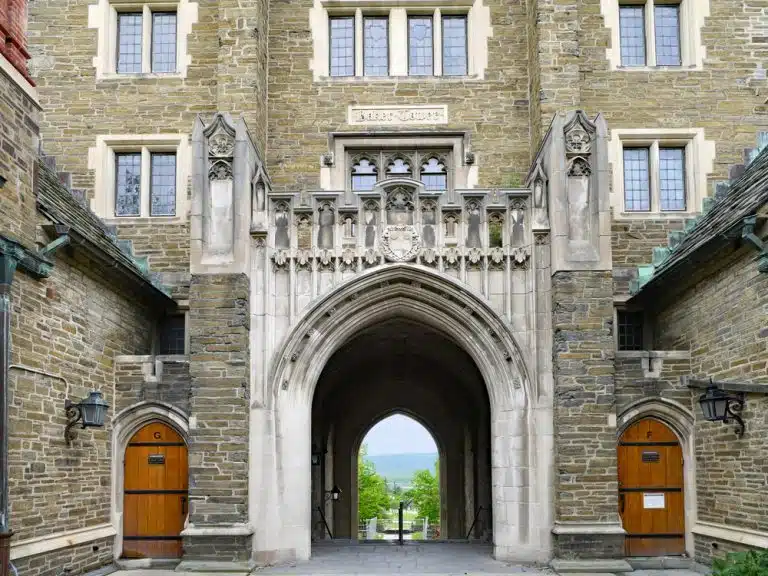 Students at Cornell Law benefit from visiting international legal academics and instructors that offer considerable diversity, thanks to the outstanding faculty and extensive curriculum. Ithaca, New York, which lies in the middle of the Finger Lakes region of New York with its lakes, parks, waterfalls, and thriving cultural opportunities, is a great place to get away from your studies for a time.
3. Columbia University in New York City, New York
Columbia Law School
The Columbia University Law School is one of the best US law schools by ranking, an Ivy League institution, and one of the oldest in the country. Columbia Law School provides an abundance of options for both career and academic growth.
This curriculum offers dual and joint degrees with a cutting-edge approach and a faculty of the highest caliber in 14 specialty areas. There are more well-known alumni of the school than we can mention. Nevertheless, they include two U.S. Presidents and some of the most illustrious judges in the nation, including Ruth Bader Ginsberg, William O. Douglas, and John Jay, who sit on the Supreme Court.
A highly published faculty, a 4.9:1 student-faculty ratio, and active legal research centers are all features of Columbia Law. Although not everyone can get into Columbia Law due to its 16.8% acceptance rate, graduates typically pass the bar on their first try with a 97% passing rate. Graduates have 90-percentile employment success rates and earn high median earnings as associates in law firms.
2. Duke University in Durham, North Carolina
Duke University School of Law
Since its founding in the 1850s, Duke University School of Law has grown to become one of the best US law schools by ranking. It is situated in the thriving Research Triangle of Raleigh, Durham, and Cary, North Carolina.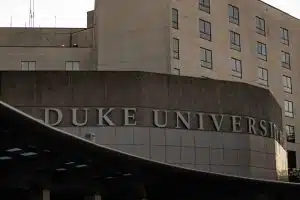 With a strong 97% bar exam passing rate and an ambitious academic commitment, Duke Law provides a rigorous curriculum for JD students spanning a wide range of specialty areas (environmental law, criminal law, health care law, etc.). With only 20.2% of applicants being accepted, Duke Law has one of the highest median earnings for graduates working in the private sector in the nation.
You should look into the JD/LLM in Law and Entrepreneurship, JD/LLM in International and Comparative Law, or JD/MA in Bioethics and Science Policy dual degrees that are available.
Alternatively, you can combine your JD with graduate degrees in environmental management, medicine, divinity, and other fields. With groups like the Anti-Racism Project, Black Law Students Association, Women Law Students Association, etc., the school is committed to diversity.
1. University of Chicago in Chicago, Illinois
University of Chicago Law School
First on the list of the best US law schools by ranking is the University of Chicago Law School. An excellent list of famous graduates from the University of Chicago Law School includes former senator Carol Mosley Braun, former FBI Director James Comey, senator Amy Klobuchar, writer Studs Terkel, and more. Barack Obama, the former president, worked as a professor before being elected as the senator for Illinois.
With highlighted academics in Legal History, Law and Philosophy, Law and Business, and its famous focus on Law and Economics through the Coase-Sandor Institute for Law and Economics, this esteemed degree promotes an interdisciplinary approach to the practice of law.
The university confers dual graduate degrees (Master of Laws (LLM) with other degrees like the M.B.A. program) and the Juris Doctor program. The law school gives out more than 76 full-tuition scholarships, guarantees $5,000 summer fellowships for first- and second-year students at different Chicago organizations, and says that 99% of its graduates are working within ten months of graduation.
What are the law school admission requirements?
What are the US law school admission requirements? While each law school has its own set of prerequisites, most demand a bachelor's degree, a strong undergraduate GPA, a high LSAT score, letters of recommendation, a personal statement, and occasionally an interview.
Other elements that some law schools may take into account during the admissions process include work experience, extracurricular activities, and diversity. It's crucial to learn about the particular requirements of the law schools you want to apply to.
Is law school difficult?
Is law school difficult? Yes, it is true that law school is often regarded as challenging. The workload in law school may be very demanding and take a lot of time, effort, and devotion.
Students are frequently needed to think critically, examine legal cases, and apply legal concepts to fictitious situations, and the subject can be tough and complex. However, it is feasible to succeed in law school if you have the correct attitude, study techniques, and support networks.
As well as knowing the best US law schools by ranking as you research and make a decision on where to pursue your legal education, assistance from admissions experts is also crucial to your success.
With assistance from AdmissionSight's college admissions experts, who have a combined 10 years of experience, you can be accepted to any school of your choice, even the most prominent law schools. You can schedule your consultation right away to get things going. Book your consultation today!