USC Cinematic Arts Summer Program
The University of Southern California (USC) stands as a cornerstone in the realm of film and cinema. With a track record of excellence, USC has been the launchpad for many of the industry's leading talents. For those eager to explore the cinematic arts, the USC Cinematic Arts Summer Program offers an unparalleled experience, providing hands-on learning and insights from top professionals in the field.
What is the USC Cinematic Arts Summer Program?
Are you passionate about filmmaking and eager to immerse yourself in a collegiate-level cinematic experience? The USC School of Cinematic Arts Summer Program is your golden opportunity.
So, what is the USC Cinematic Arts Summer Program? The Cinematic Arts Summer Program at USC is a transformative six-week journey into the heart of cinema. This program welcomes anyone aged 16 and above, ensuring a diverse and dynamic learning environment.
With a rolling admission system in place, once an application is submitted and approved, students must secure their spots promptly, as classes are allocated on a first-come, first-serve basis.
Now, here's the kicker: every course taken in this program doesn't just boost cinematic knowledge. It also earns students elective credit units, which can be transferred to any university they choose. Once the course is completed, students can obtain their transcripts from the University Registrar's Office.
The USC School of Cinematic Arts Summer Program welcomes participants globally to dive into comprehensive filmmaking classes. With over 30 filmmaking classes available, students explore everything from screenwriting and animation to the ins and outs of the film industry and the latest digital tools.
The program isn't like any other summer camp. It is an intense program packed with classroom lessons, assignments, and engaging activities. Students get a real feel for college life by enrolling in accredited courses at USC, ensuring a robust and enriching learning experience. It's up to students to manage their time, juggle assignments, and make sure they are always on top of their game.
Moreover, students have the opportunity to join a vibrant community of peers from all over the globe, sharing ideas, collaborating on projects, and learning the ropes together. In this program, it is essential to treat others with respect and consider how one's actions affect the community.
The USC Cinematic Arts Summer Program challenges participants to expand their limits, explore new horizons, and build a foundation for a promising film career. The program is an exceptional opportunity for those eager to rise to the challenge.
Is the Program Worth the Investment?
In the world of cinematic arts, proper education can be the key to a successful career. While talent is innate, honing that talent and understanding the intricacies of the industry requires guidance, exposure, and a conducive environment.
The USC Cinematic Arts Summer Program offers this comprehensive experience, but students often wonder, "Is the program worth the investment?" Let's delve into the details to help budding filmmakers and enthusiasts make a decision.
Tuition Fee
The tuition for Summer 2023 is calculated at $2,137 (USD) per unit. So, if you opt for a two-unit class, you're looking at a tuition fee of $4,274.00 (USD)—the more units you take, the higher the cost, with an 8-unit class at $17,296.00.
Note that this is a base cost and does not account for additional fees. However, once accepted, USC provides a detailed tuition worksheet to help you understand the full breakdown.
Financial Aid Options
While the SCA Summer Program does not offer financial aid to non-USC students, you can still leverage outside loans, scholarships, or financial aid from other institutions.
Housing Cost
The cost for housing ranges between $2,100 to $2,600, separate from tuition. For minor students, on-campus housing is mandatory. Living on campus offers the chance to deeply connect with the USC community, network, and build lasting relationships with fellow filmmakers.
The housing experience is supervised, ensuring safety and adherence to guidelines. In the USC Summer Program, students live with guidance from Residential Advisors, many of whom are full-time USC Cinematic Arts students.
While there are specific campus boundaries for students, exceptions are made for official SCA events, class-related outings, or with parental consent. Students can expect to share their space with a roommate unless they specify otherwise. Moreover, everyone adheres to both the Los Angeles curfew law and the program's own curfew to ensure a safe, engaging, and memorable campus experience.
Health Services
The USC Engemann Student Health Center is at your service for any health concerns. There is a required health center fee, usually between $20-$30 a week, ensuring you have access to medical care when needed while enrolled in the summer program.
Meal Costs and Options
While there is an option to purchase a meal plan, it might not be the best fit given the intensive class schedules of the Cinematic Arts Program. Instead, USC offers several dining options both on and off campus. Whether you are grabbing a quick bite between classes or sitting down for a meal, you can pay using cash, credit or debit card, or your USC student ID.
The USC Cinematic Arts Summer Program goes beyond traditional classes; it offers a transformative journey. It shapes your skills, fosters connections with like-minded peers, and provides a glimpse into the vibrant USC life.
While there is significant cost involved, the returns – in terms of knowledge, exposure, and experience – are invaluable. For those passionate about carving a niche in film, this program stands as an essential milestone.
How Can Prospective Students Apply to the USC Cinematic Arts Summer Program?
Given the global interest in the film industry, the USC Cinematic Arts Summer Program consistently attracts a high volume of applications. As many seek to carve their niche in the world of cinema, it's crucial to be well-informed about the application procedure.
So, how can prospective students apply to the USC Cinematic Arts Summer Program? Let's take a look at a detailed overview of the application process.
The Cinematic Arts Summer Program at USC operates on a rolling admission basis. This means that as soon as applications are reviewed, seats are allocated on a first-come, first-serve basis. Thus, it's wise to submit your application early to secure a spot in the program.
Your application journey starts with course selection. You need to decide which course or courses align with your cinematic aspirations. Once that's sorted, you're ready to embark on the official application process.
The application portal welcomes aspiring students starting November 1st. The deadline for applications is June 9th. However, for international students, there are specific dates to keep in mind. If you already possess a valid visa, the deadline will be on June 2nd. While for those without a valid visa, the deadline is earlier, on April 7th.
The application isn't just about filling in personal details; it's about showcasing your passion and potential. Here are the specific materials you need to prepare:
30-Second Video Introduction
Applicants are required to submit a 30-second video introducing themselves and expressing their interest in the USC SCA Summer Program. This video should be a direct address to the camera, serving as a personal introduction rather than a showcase of previous work.
Applicants should consider discussing their motivations for joining the program, their alignment with the USC School of Cinematic Arts' values, and their long-term aspirations in the field. This video provides an opportunity for the committee to get a genuine glimpse of the individual behind the application.
When submitting your video, you must provide a link, not the actual video file. Platforms like YouTube or Vimeo are ideal. Ensure your video is set to 'Unlisted' so only those with the link can view it.
Writing Sample
This writing sample will serve as your personal statement. The Summer Program Admission Committee evaluates each personal statement for its depth of creativity, self-awareness, and vision in the domains of film and gaming. The committee seeks to understand the unique attributes of each applicant, how their personal experiences and values shape their creative approach, and the specific stories or game experiences they are eager to craft.
It's beneficial for applicants to emphasize their enthusiasm, mention standout films or games, and detail any hands-on experience in the industry. While there is no prescribed format, the committee appreciates a genuine reflection of an individual's perspective, all within a concise 500-word limit.
For Minor Applicants
For younger enthusiasts aged 16 or 17, there are additional requirements. You need to provide your most recent transcript and a completed USC SCA Recommendation Form from a school counselor or official. This form should be sent directly from the official's email to [email protected].
International Students Requirements

The Summer Program at USC attracts international students eager to study filmmaking at one of the U.S.'s premier film schools every year.
To ensure smooth communication in lectures, a robust grasp of English is mandatory. International applicants must provide recent scores from tests like TOEFL (average score: 95), IELTS (average score: 7), or Duolingo English Test (average score: 110). However, students from English-speaking countries, those currently studying, or those who have earned degrees from schools in such countries are given exemptions.
Additionally, international attendees need a valid F-1 student visa, for which USC provides necessary guidance post-acceptance. The application window for the next summer opens on November 1.
As mentioned earlier, the SCA Summer Program utilizes rolling admissions. If you apply between November 1st and December 31st, expect a notification starting the second week of January when USC resumes session. For applications sent after January 1st, you will receive an acceptance notification roughly two weeks post-submission.
The USC Cinematic Arts Summer Program offers a unique opportunity for aspiring filmmakers and storytellers to immerse themselves in the world of cinematic arts. Prospective students eager to embark on this transformative journey should meet the program's prerequisites and gather all necessary application materials.
By following the specified application process and adhering to the deadlines, students can maximize their chances of securing a spot in this prestigious program. Embracing this experience provides invaluable skills and insights and serves as a stepping stone to a promising career in the film industry.
Benefits of Joining the USC Cinematic Arts Summer Program
For high school students and prospective college students, choosing the right summer program can set the tone for an enriching educational experience and a future in the world of cinematic arts. The decisions made during these formative years can have a profound impact on the trajectory of one's career and passion.
Nestled in the heart of Los Angeles, the University of Southern California offers a Cinematic Arts Summer Program with an unparalleled blend of academic rigor and real-world exposure to the film industry.
At USC, students don't just learn from textbooks; they get to immerse themselves in the vibrant culture of LA's film scene, meeting professionals, attending workshops and gaining insights that can only be found at the epicenter of cinematic innovation.
Now, let's dive into the compelling benefits of joining the USC Cinematic Arts Summer Program.
Top-Notch Reputation
The University of Southern California's School of Cinematic Arts is renowned globally for its stellar curriculum and distinguished alumni. By enrolling in the summer program, you are aligning yourself with a tradition of excellence. This isn't just any summer camp; it's an immersion into a legacy of cinematic brilliance.
Hands-On Experience
The program is intrinsically practical. From the get-go, you will find yourself holding cameras, drafting scripts, editing sequences, and directing scenes. Such direct involvement ensures you learn and translate the theories into real-world skills.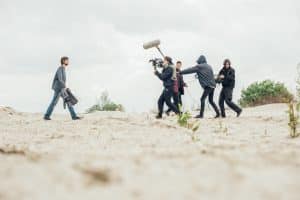 Peer Connections
Surrounding yourself with like-minded peers can be a game-changer. In this program, you will collaborate with students from diverse backgrounds who share your passion. These connections can evolve into lifelong friendships, future partnerships, or professional networks.
Guidance from Industry Professionals
One of the program's standout features is its access to accomplished industry professionals. These aren't just any teachers; they are individuals who have made their mark in the world of cinema. Their insights, critiques, and advice can shape your early cinematic journey and offer a glimpse into the industry's inner workings.
State-of-the-Art Resources
USC is equipped with cutting-edge resources, from its extensive film libraries to its modern production equipment. As a summer program participant, these resources become your playground. The technological edge can provide a distinctive advantage, especially in an industry where staying updated with tools and tech is paramount.
Holistic Learning
The curriculum isn't limited to just filmmaking. Depending on your course choice, you could delve into aspects of screenwriting, computer graphics, animation, and more. Such a broad spectrum ensures a well-rounded education, making you adaptable and versatile in various cinematic and media spheres.
A Career Head Start
This isn't merely an academic exercise; it's a stepping stone into the cinematic arts world. On completion, you will have a clearer vision of your career path, whether in directing, scriptwriting, production, or any other domain. The projects you undertake can be used in your portfolio, giving you a head-start in college applications or job interviews.
The Campus and Culture
Located in the heart of Los Angeles, the USC campus is a microcosm of culture, creativity, and inspiration. By spending your summer at USC, you will be exposed to a multitude of events, film screenings, guest lectures, and workshops. The course offers more than just lessons; it provides an environment that fosters holistic growth.
A Boost in Confidence
Taking on projects, meeting deadlines, presenting your work, and receiving feedback are all integral parts of the program. These experiences instill a sense of confidence and self-assuredness, preparing you for future academic and professional challenges.
Join a Powerful Network
USC boasts an expansive alumni network. Being part of this program allows you to interact with past students, learn from their journeys, and establish contacts. For many, these networks can pave the way for future mentorship opportunities and potential collaborations.
The USC Cinematic Arts Summer Program offers a gateway to the world of film and media for aspiring filmmakers and media enthusiasts, whether they are in high school or entering college. Participants benefit from practical experiences, firsthand industry knowledge, and a vibrant campus life in the heart of LA.
By combining hands-on activities with guidance from seasoned professionals, USC lays the foundation for a promising career in cinematic arts.
Participants absorb knowledge and actively create, collaborate, and establish connections with peers while receiving guidance from industry professionals. Choosing this program signifies a commitment to one's future, refining skills and perspectives in invaluable ways.
For young minds balancing schoolwork and career dreams, it's essential to see how programs like the USC Cinematic Arts Summer Program can shape the trajectory of a blossoming career in cinema.
Securing a spot in the Cinematic Arts Summer Program can be competitive, but with AdmissionSight's guidance, the process becomes more manageable.
Our team guides students through the application process, ensuring you showcase your strengths effectively. From personalized advice to helping you prepare your video introduction, AdmissionSight experts have got you covered.
With AdmissionSight, you are not just submitting an application but presenting a compelling story of your passion for cinema. Don't miss out on the opportunity to chart your future. Book an appointment for an initial consultation today!