Washington University High School Summer Scholars Program
Are you a high school student ready to have an amazing summer? The Washington University High School Summer Scholars Program offers a fantastic opportunity to supercharge your summer with engaging courses, unique experiences, and a chance to excel. Let's explore what this program is all about and why it's a must-consider option for your upcoming summer.
What is the Washington University High School Summer Scholars Program?
What is the Washington University High School Summer Scholars Program? The Washington University High School Summer Scholars Program offers high school students a unique opportunity to fully immerse themselves in a collegiate academic environment.
Participants can take college-level courses and experience university-level education while studying alongside undergraduate students. A diverse selection of introductory courses spans across humanities, social sciences, natural sciences, and mathematics, granting students the freedom to explore subjects aligned with their interests.
This program is particularly well-suited for motivated students seeking academic challenges and the chance to delve into courses related to their desired major or study area. Beyond the classroom, High School Summer Scholars have the exciting opportunity to experience campus life by residing in comfortable, air-conditioned residence halls.
In addition to coursework, students engage in specialized programs designed to enhance their readiness for college, foster community, and promote academic success.
Whether you're looking to earn college credit, discover your academic passions, or prepare for the transition to higher education, the Washington University High School Summer Scholars Program offers an enriching and transformative summer experience.
What Courses Are Offered in the Program?
The High School Summer Scholars Program at Washington University in St. Louis offers an exciting array of courses tailored to ignite your academic curiosity and provide a deeper understanding of various subjects. Whether you're eager to develop critical thinking skills, earn valuable college credit, or explore a specific academic interest, this program offers something exceptional.
So, what courses are offered in the program? Let's delve into the courses open to students.
Credit Courses
One of the program's standout features is its credit courses, delivered by seasoned WashU instructors who may include faculty, graduate students, postdoctoral researchers, and adjunct professors representing diverse disciplines and research fields. These undergraduate-level courses, drawn from the College of Arts & Sciences, are open not only to pre-college students but also to visiting and undergraduate students.
The curriculum focuses on introductory-level content, laying a strong foundation for future undergraduate studies. While typical school-year courses span 16 weeks, the pace during the summer is notably accelerated. Students can look forward to engaging in various teaching methods, including lectures, discussions, and group work.
Additionally, students should expect daily assignments, readings, exams, quizzes, papers, and presentations to keep them actively involved in their academic journey.
For a glimpse into the specific courses, the program's website provides a comprehensive list catering to diverse academic interests. From the complexities of astrophysics to the intricacies of psychology or even an exploration of the entrepreneurial world, these courses ensure there is something to ignite the passion of every young scholar.
Noncredit Exploration Courses
In addition to credit courses, the Washington University High School Summer Scholars Program extends the option to enroll in noncredit, online Exploration Courses. These asynchronous courses provide a flexible learning environment, enabling students to access course materials without scheduled live sessions. However, it's crucial to understand that this flexibility doesn't mean the course is self-paced.
These Exploration Courses explore intriguing subjects, including the following:
Spandex, Spangles, and Stripes: Race, Gender, and the American Superhero
Case Studies in Biology: Climate and Health
The Biological Basis for Human Disease
Personal Narrative
Introduction to Environmental Science
Each course is structured to include discussions, lectures, readings, and assignments that must be completed within specific deadlines, ensuring a robust and interactive learning experience.
The Washington University High School Summer Scholars Program provides a wide range of educational opportunities. Students can take credit courses that speed up their learning and earn college credits. Alternatively, you can explore captivating subjects through noncredit Exploration Courses.
Whether you are looking to build a strong academic foundation, explore your passions, or challenge your critical thinking skills, this program is your gateway to an inspiring and transformative summer experience.
How Do You Apply to the Washington University High School Summer Scholars Program?
If you're eager to embark on a transformative summer journey, you might wonder, "How do you apply to the Washington University High School Summer Scholars Program?" Here's what you need to know about the application process.
Eligibility
To be eligible for the program, you should be a current junior in high school, set to graduate in 2025. In addition, international applicants are required to have a TOEFL iBT score of at least 90 or an IELTS Academic score of at least 6.5.
Moreover, the program is designed for academically motivated students currently enrolled in challenging courses, which may include honors, Advanced Placement, or International Baccalaureate programs, if available in their high schools.
Application Requirements 
To apply, students must complete an online application, which includes short essays, and provide the following:
A $50 nonrefundable application fee
High school transcript
A teacher recommendation
International applicants must submit an official TOEFL iBT or IELTS Academic score report.
Important Deadlines
The deadline for submitting your application and all supplemental information is April 1, 2024, at 11:59 p.m. CT. Please note that applications for the 2024 summer will open on November 1, 2023.
Homeschooled Students
Homeschooled students are encouraged to apply to the program, but the teacher recommendation must be completed by someone who can speak to a student's academic abilities and maturity, preferably not a parent.
If the student has pursued studies elsewhere, the instructor or tutor from those programs can provide a suitable recommendation. For transcripts, the student may submit a list of courses taken with final grades and the parent's certification of mastery.
Holistic Application Review 
The application review process is holistic, intending to understand your educational aspirations and academic readiness. The assessment is based on whether you are well-suited to thrive in the programs.
All applications undergo review after the deadline, and submitting your application early does not affect your admission outcome. However, it is advisable to apply early to ensure all supplemental information is received by the deadline.
The High School Summer Scholars Program offers an incredible opportunity to challenge yourself academically, explore your passions, and prepare for your future. Take the first step towards an enriching summer experience by completing your application and joining us on this exciting journey of knowledge and personal growth.
Tuition and Financial Aid Options for the Program
Investing in your academic future with the High School Summer Scholars Program is a valuable step toward personal and educational growth. To help you plan for your summer experience, here's an overview of the tuition and financial aid options for the program.
Program Fees
For the 2024 program, the High School Summer Scholars Program fee varies based on your chosen course load. If you opt for one credit course, the program fee is $7,785. If you decide to explore two credit courses, the fee is $11,325.
The program fee covers a comprehensive range of services and amenities, including:
Tuition for coursework, with options for one or two undergraduate courses (up to 6 units of credit) and one noncredit exploration course
Academic success enrichment activities, including tutoring, specialized workshops, advising, and group study sessions
College readiness enrichment activities, such as seminars, webinars, panel discussions, informal Q&As, and access to online college readiness courses
Community enrichment activities, fostering social connections and weekend outings
Comfortable housing in a secured, air-conditioned residence hall on campus
A meal stipend to cover three meals a day.
Convenient laundry services.
Transportation pass for light rail and buses.
Access to the South 40 Fitness Center
Application Fees and Deposits 
When applying for a high school summer residential program, please note that there is a nonrefundable application fee of $50 due upon submission. Once you have been admitted to one of the programs, a $500 nonrefundable deposit is required. This deposit secures your place in the program and is deducted from the total program fee.
Financial Assistance 
Need-based scholarship assistance is available to help students who may require financial support to participate in the program. The program is committed to ensuring that talented and motivated students can engage in this enriching experience, regardless of their financial circumstances. Scholarships are a means of reducing the program fees and making it more affordable.
Need-Based Scholarships 
Understanding that each student's financial situation is unique, the program provides need-based scholarship assistance for all programs. To be eligible, complete the scholarship application by the specified deadline.
Scholarships are awarded based on family income, and there are no income cut-offs. This means all students are encouraged to apply, and scholarships usually start at $100. Full scholarships are also available for those in need.  It's important to note that scholarships do not cover travel expenses, personal costs, or expenses associated with online coursework, such as computers or Wi-Fi access.
How to Apply for Scholarships
When you register for your program online, you can express your interest in applying for a scholarship. The system will guide you through the scholarship application process.
For high school summer residential programs, scholarship applications are not reviewed on a rolling basis, so there's no rush to apply early. Scholarship decisions are sent via email to admitted students on April 8, 2024, along with their admission decisions.
Application Fee Waiver
The application fee for high school summer residential programs can be waived in cases of financial hardship. To determine if you are eligible for an application fee waiver, carefully review the criteria for a waiver on the program's website. The goal is to eliminate financial barriers to education, ensuring that application fees do not hinder your educational aspirations.
Discounts 
Discounts are also available for eligible students. Returning students can enjoy a 10% discount when attending a new program the following year.  Additionally, benefits-eligible WashU employees can receive a 10% discount if the student is both a dependent child by relation (birth, legally adopted, or step-child) and financially to a benefits-eligible WashU employee. These discounts can be combined with need-based scholarships for further financial support.
The Washington University High School Summer Scholars Program believes that finances should not be a barrier to pursuing your educational goals. The range of scholarships, fee waivers, and discounts available is designed to ensure that every student can benefit from the enriching programs.
What Are the Key Benefits of the Program?
The High School Summer Scholars Program offers several distinctive advantages that encompass both academic and personal growth, ensuring that students are well-prepared for their future educational endeavors.
Students often ask, "What are the key benefits of the program?" Let's examine these comprehensive advantages:
Enhanced Pre-College Academic Experience 
Whether enrolled in a for-credit or noncredit program, the academic benefits are substantial. Students gain invaluable experience managing time effectively, mastering exam preparation, honing their paper-writing skills, and collaborating with peers.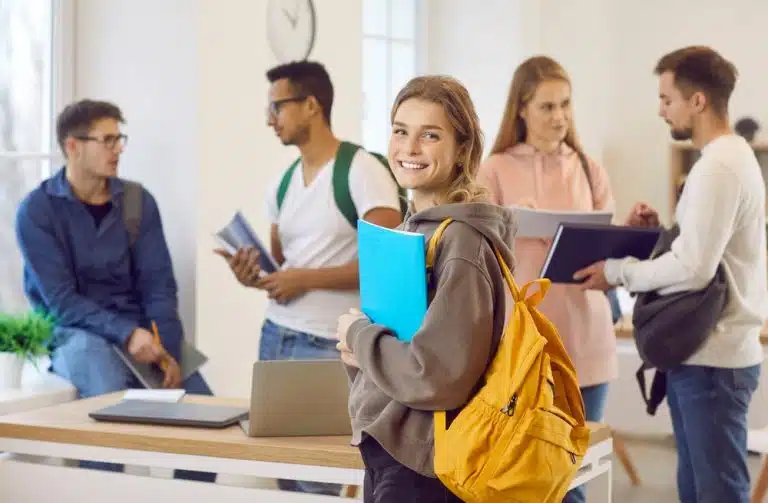 The programs and courses are taught by distinguished WashU-affiliated instructors, including faculty, graduate students, postdocs, and adjunct professors across various academic disciplines. Students can expect a rigorous academic environment, which may include lectures, discussions, and group work.
It's essential to note that the pre-college programs differ from summer camps; participants should anticipate a combination of daily assignments, readings, exams, quizzes, papers, and presentations. The summer pace can be quite accelerated, requiring active engagement and focused dedication. Those who thrive in the programs tend to be collaborative, intellectually curious, and creative thinkers.
Upon completion of their coursework, students' participation is recorded, and their grades become part of their academic record at WashU, with transcripts available upon request.
Comprehensive Personal Development 
While academic readiness is fundamental, the emphasis extends to holistic personal development. Students in the programs report significant growth in critical thinking, self-advocacy, networking, independent living, time management, self-reflection, decision-making, group collaboration, communication, and cultural understanding. The environment encourages exploration and self-reflection, supporting students in the college search and application process.
Navigating this journey can be challenging, but the dedicated team is available to provide guidance, from researching colleges to reviewing personal essays and connecting students to valuable on-campus resources.
Through participation in the programs, students can expect to experience growth in key college readiness skills, gain confidence in the college application and financial aid process, and discover opportunities for educational and personal engagement beyond the classroom.
Building a Thriving Pre-College Community 
Participating in the programs means becoming part of a thriving community that fosters kinship, camaraderie, and connectedness. It goes beyond academics; it's about connecting with peers from diverse backgrounds, understanding what it means to be part of a community, and embracing each other's differences. The programs provide spaces for students to ask questions, make mistakes, try new things, and learn within a supportive environment.
As members of the community, students are expected to maintain high academic and social standards, acting responsibly and respecting the rights of others. This commitment to positive, collaborative community standards helps students understand the importance of policies and procedures, recognize their role within a community, respect individuals with diverse identities, and develop conflict resolution skills.
Academic Records and College Readiness 
Upon completion of coursework, students' participation is recorded, and grades earned become part of their academic record at WashU. Students may request official transcripts of grades earned to be sent to any school they are applying to for undergraduate admission.
Credit courses award traditional letter grades (A, B, C, D, F). These courses are considered pre-matriculation credits, and each university has its own policy regarding pre-matriculation transfer credits. Students should research these policies as they make future plans. If students intend to use credit earned through the High School Summer Scholars Program for high school graduation requirements, they must arrange this with their high school.
The Washington University High School Summer Scholars Program offers a transformative experience that enriches students academically and fosters personal growth and a strong sense of community.
The program equips students with the skills and confidence they need to excel in college and beyond through rigorous coursework, comprehensive personal development, and the opportunity to be part of a vibrant pre-college community. As they complete their courses and earn grades that become part of their academic records, students are well-prepared for the next steps in their educational journey.
For students aspiring to join this exceptional program, AdmissionSight is here to offer valuable guidance and support. Our team of experienced advisors specializes in helping students navigate the application process, providing expert insights, and enhancing their chances of gaining admission to the Washington University High School Summer Scholars Program.
With AdmissionSight's assistance, students can unlock the doors to this incredible educational opportunity and set themselves on a path to success.