What are AP Classes?
What are AP Classes? If you are currently enrolled in high school, you may be curious about advanced placement (AP) classes and the ways in which they might assist you in excelling in your academic career. As a result, you might be wondering to yourself, "just what do AP classes entail?" Or, "should I bother taking those Advanced Placement classes?"
Already a challenging task, picking what to study and when to study it can be further complicated by the question of whether or not to enroll in advanced placement courses. Although the choice ultimately rests in your hands, we would like to offer some guidance on what to anticipate from advanced placement (AP) courses and when it would be beneficial to enroll in such courses.
What are AP classes in High School?
So, what are AP classes in high school? The Advanced Placement (AP) program is a set of coursework designed by the College Board to let high school students not only get a taste of what it's like to study at the college level but also earn college credit before they've even finished their time in high school. These classes are more challenging than the typical high school class, and students must also pass an Advanced Placement exam at the end of the school year in order to earn college credit. Students must also pass the exam with a score that is high enough to satisfy the requirements of their chosen college.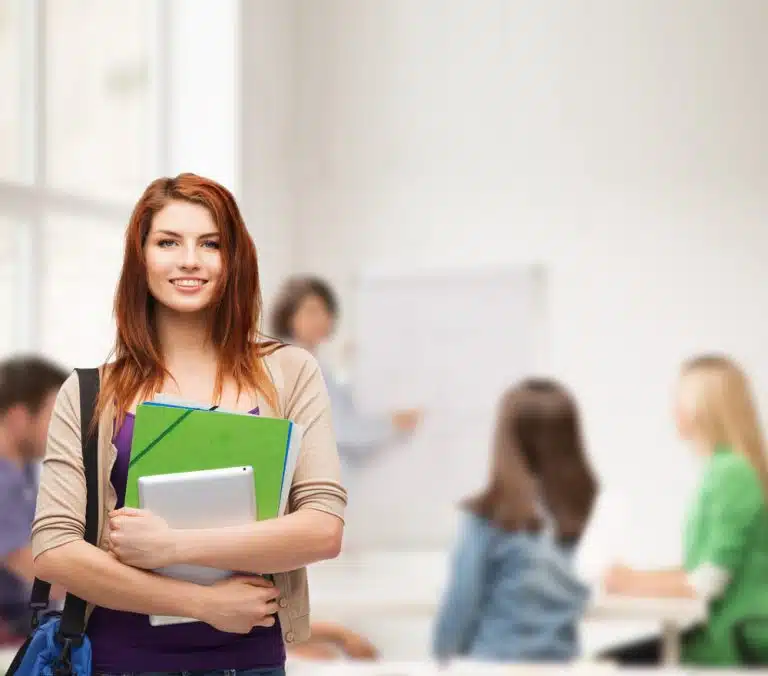 To add on what are AP Classes? The Advanced Placement (AP) program has been operating since the 1950s, but it has experienced significant expansion in recent decades. Many students choose to take numerous Advanced Placement (AP) classes throughout their time in high school because the College Board now offers AP instruction in 38 distinct academic areas.
There is a reasonably wide variety of classes available through the Advanced Placement (AP) program, despite the fact that the courses that are made available through the program vary from school to school and that not all AP programs are made available in every school.
Those interested in STEM can enroll in classes such as
AP Calculus (AB and BC)
Statistics
The Study of Computers
Chemistry
Physics
Students who are more interested in the humanities and social sciences can try their hand at the following:
English Literature and Composition
US History
Psychology
Government & Politics.
There are also Advanced Placement classes that are specifically devoted to foreign languages like Spanish, Japanese, and even Latin.
It is crucial to check in with the AP coordinator at your school to determine which AP courses are offered at your school and to plan your schedule in accordance with that information.
What are AP exams?
What are AP exams? The Advanced Placement (AP) curriculum is designed to get students ready for the AP examinations that are given in May of each year. Students' understanding of the subject at hand is evaluated in these classes; the majority of AP examinations consist of a combination of multiple-choice, short-answer, and essay questions.
To further explain what are AP Classes? The Advanced Placement (AP) tests use a scale that ranges from 1 to 5, and a passing result is defined as anything higher than a 3. Although the majority of authorized colleges and universities in the United States issue credit to students who have passed their Advanced Placement (AP) tests, the specific policies about how this credit is granted vary from institution to institution.
For instance, students who pass the Advanced Placement English Literature and Composition exam with a score of 4 or 5 are entitled to gain credit for four-semester units of elective study. Students are able to investigate the many credit options that are offered by a variety of AP courses and colleges by using the extensive AP Credit Policy Search tool that is provided by the College Board.
In order for students to earn credit on their AP exam, they need to make a request to the College Board to have their score report sent to the college they intend to attend. After that, the school will inform students of any credits or course exemptions they are entitled to based on the results of their Advanced Placement examinations.
It is possible to take an Advanced Placement exam without also enrolling in the course that corresponds to it, but doing so is generally not recommended. Since AP classes are meant to specifically prepare students for these exams, students have a better chance of achieving their desired score when they receive the appropriate level of preparation.
What are the Benefits of AP Classes?
What are the benefits of AP classes? Now knowing what are AP Classes, it is also good to know that taking Advanced Placement (AP) classes is beneficial not only when you are in high school but also when you are in college for a variety of reasons.
Taking Advanced Placement courses in high school can provide you with a competitive academic edge. The curriculum of Advanced Placement (AP) programs is more difficult, and students are expected to perform at a higher level. Consequently, because AP students are more well-prepared for the rigors of higher education, college admissions counselors give preference to accepting them.
The development of individuals, both academically and personally, is enhanced by the completion of AP courses. You will not only be able to bring the abilities of time management and critical thinking with you to college or university, but you will also be able to employ these talents in your personal life and in the workplace if you take these classes.
Even after you have received your final exam result, the advanced placement (AP) classes you took will continue to benefit you as you go forward in your academic career. The Advanced Placement (AP) exam is a test that, if passed, can help families save money on college courses. Students have the possibility to graduate from college early if they take these classes during their time at the high school level.
In most cases, these classes are equivalent to the beginning programs offered at colleges and universities. It also implies that students will have a head start on their classmates who did not take any Advanced Placement (AP) classes when it comes to enrolling in specialized classes on subjects that are of interest to them.
You are not required to take the final exam if you do not wish to do so. The exam will be given at the end of the class. Students who aren't concerned with earning a high school or college credit but yet want the opportunity to challenge themselves during their time in high school can still enroll in the class without being required to take the final examination.
Factors to Consider Before Taking an AP Class
It is necessary to give careful consideration to the various aspects of your performance in an Advanced Placement class before enrolling in one. These aspects include the following:
Your Subject Strengths
Students should give serious consideration to enrolling in an Advanced Placement course in a field in which they already have some prior experience or in which they have been successful in the past. Taking a course that is centered on a brand-new topic might bring a number of problems, as you may be required to begin from the very beginning while also working at a significantly accelerated speed.
For instance, if you've done well in your past scientific classes, the next obvious step for you would be to enroll in either Advanced Placement Chemistry or Advanced Placement Biology.
Your Schedule
When determining how many Advanced Placement classes to enroll in, it is important to take into account the total number of classes you are taking each semester. Taking on too much academic pressure at once can leave you feeling exhausted and frustrated, which can have a detrimental impact not only on your grade point average but also on your mental health.
As they get ready to take Advanced Placement (AP) classes, students should also consider the time commitments required by their other commitments, such as extracurricular activities, honors courses, part-time employment, and other duties.
AP Course Difficulty
When compared to the usual course taken during high school, the difficulty level of AP classes is significantly higher. As a result, you should make it a point to read the descriptions of each class to evaluate whether or not you feel prepared to tackle the material.
Your grade point average (GPA) could take a hit if you don't do well in advanced placement (AP) classes, which would do more harm than good when it comes time to apply to colleges.
What are the Hardest AP Classes in High School?
What are the hardest AP classes in high school? Now knowing what are AP Classes, you may get an idea of which AP classes are the most challenging by looking at the percentage of students who pass the exam and the number of students who get perfect scores. The pass rate is the percentage of students who achieved a passing score of three or higher, while the perfect score rate is the percentage of students who achieved a score of five or higher. Both rates are expressed as a percentage (i.e., the highest possible score).
You should also take into consideration the academic strengths you possess as well as the instructor of the advanced placement course. These are two crucial aspects that may influence the level of difficulty of AP classes.
The table that follows provides a ranking of the most difficult Advanced Placement classes according to the percentage of students that pass each exam.
| | | |
| --- | --- | --- |
| AP CLASS/EXAM | PASS RATE (3+) | PERFECT SCORE (5) |
| Physics 1 | 51.6% | 8.8% |
| Environmental Science | 53.4% | 11.9% |
| Chemistry | 56.1% | 10.6% |
| U.S. Government and Politics | 57.5% | 15.5% |
| U.S. History | 58.7% | 13.0% |
| Human Geography | 59.0% | 11.8% |
| European History | 59.3% | 13.7% |
| Statistics | 60.0% | 16.2% |
| English Literature | 60.1% | 9.3% |
| World History | 60.2% | 9.2% |
According to the College Board, Physics 1 tops the hardest AP class based by exam pass rate. This course includes not only algebra but also scientific inquiry and physics. The Advanced Placement (AP) Physics 1 course, which covers topics such as Newtonian physics and electrical charge and force, is often regarded as one of the most challenging AP courses. In addition, students devote around a quarter of their total class time to writing reports and doing college-level laboratory experiments.
Students will be asked to describe physical events, solve mathematical equations, evaluate conceptual models, and organize experiments over the course of this Advanced Placement exam, which is comprised of five free-response questions and fifty multiple-choice questions (MCQs).
This is followed by the following:
Environmental Science
Because Environmental Science is such a large subject, including not just biology and geology but also chemistry and mathematics, it is necessary for instructors to cover a significant amount of ground in their lessons. The AP Environmental Science course focuses, in part, on the investigation of the planet and its resources, the analysis of environmental issues, and the use of quantitative tools in the pursuit of potential solutions. Students also participate in both fieldwork and laboratory experiments.
The Advanced Placement exam in Environmental Science consists of 80 multiple-choice questions (MCQs) and three free-response questions. These questions measure a student's ability to examine research, understand data, and problem-solve using mathematical equations. Participants also do an environmental problem analysis and suggest a possible remedy.
Chemistry
Chemistry, calls for a strong foundation in chemistry as well as algebra. Students gain an understanding of complex chemical processes and the skills necessary to construct experiments to test theories and support evidence-based scientific assertions across the course of their education. This class is infamous for requiring students to memorize material and complete extensive homework assignments.
There are 60 multiple-choice questions (MCQs) and seven free-response items on the exam. It examines a student's capacity to defend scientific assertions and evaluate conceptual representations of chemical characteristics. Participants in the examination will not only solve problems, but will also develop experiments and employ mathematical relationships.
U.S. Government and Politics
The political system of the United States, national government institutions, the process of public policymaking, and civil rights are only some of the topics that are covered in this Advanced Placement class. Students use fundamental papers and decisions from the United States Supreme Court as a basis for making comparisons, interpreting facts, and writing evidence-based arguments.
The AP Examination in United States Government and Politics consists of 55 multiple-choice questions (MCQs) and four free-response questions. These questions measure a student's comprehension of political concepts as well as their ability to analyze documents and judicial decisions.
U.S. History
The year 1491 up until the present day is covered in depth throughout the Advanced Placement (AP) United States History course. Concerning the lengthy span of time covered by this study, there is a wealth of knowledge to acquire. Students in this subject make connections between the outcomes of historical events and the ways in which individuals and policies built the foundation of the United States.
The test consists of 55 multiple-choice questions, three questions with short-answer options, one extended essay question, and one document-based question (DBQ). Students are tasked with formulating and defending an argument using seven different documents as part of the DBQ. In addition to this, students are evaluated on their knowledge of historical facts as well as their capacity to comprehend historical narratives.
How do AP Classes Help You Get Into College?
How do AP classes help you get into college? Because they are more difficult than regular high school classes, Advanced Placement (AP) Courses demonstrate to colleges that you have a serious interest in furthering your education. Not only do Advanced Placement programs produce a rich academic transcript, but high marks on AP tests can demonstrate to colleges that you are adept in a subject that is considered to be more difficult.
When determining a student's grade point average, several schools apply a unique methodology to the evaluation of AP coursework (GPA). In Advanced Placement (AP) courses, students are graded using a 5.0 point scale rather than the standard 4.0 point system. This means that an A in an AP course is equivalent to a score of 5.0 rather than 4.0, and a B in an AP course is equal to a score of 4.0 rather than 3.0.
Students who enroll in Advanced Placement (AP) classes have the potential to earn a grade point average that is greater than 4.0, which can provide them an advantage over other students when applying to institutions. It also ensures that students are not punished for pushing themselves to their academic limits; for instance, a student who receives a grade of B in AP Latin would still have a weighted GPA of 4.0.
Taking Advanced Placement courses is a fantastic method to demonstrate to colleges the subjects in which you have a deep interest. For instance, if you want to show universities that you have a serious interest in political science, economics, or law in the future, taking advanced placement courses in United States history, economics, or government is a good way to demonstrate your interest.
Want to learn more about what AP Classes are? You've come to the right place. At AdmissionSight, we have over 10 years of experience guiding students through the competitive admissions process.
AdmissionSight can help you put your best foot forward when applying to college this fall. Contact us today for more information on our services.