What are some of the best college majors?
The decision of which college to attend is a significant one. Choosing a college major, which frequently prepares students for a particular line of work, is another important step. Some of the best college majors are quite general, like English, while others are quite specialized, like petroleum engineering. While it's true that not all graduates end up working in their field of study, there are certain pathways through college that can equip students with the skills necessary to pursue a variety of career paths.
What does it mean to major in something?
A college major is an organized course of study that is centered on the study of a particular academic field. The curriculum places an emphasis on familiarizing students with the information and abilities that are necessary for working in that field of study.
There are a wide variety of majors available to students in college, ranging from the more common ones like biology and business to the less common ones like adventure education and floriculture.
Students should generally anticipate spending more time in their chosen field of study than in any other discipline, even if the number of credit hours required for their major varies slightly from one to the next.
There are a lot of opportunities for academic independence in college. You can develop your existing passions, discover new interests, and find a major that will put you on the path toward a career that you want to pursue all at the same time.
If you choose your major based on the classes that come the most naturally to you or on what your friends are majoring in, you are shortchanging yourself of some wonderful opportunities and the chance to learn more about who you are.
The following list of the best college majors to study is based on research covering job prospects, alumni salaries, and popularity. The fact that a course of study is included on this list does not necessarily imply that it will secure you a job or a high salary.
However, each of these majors presents its own distinct set of intellectual challenges and will assist you in the development of skill sets that are transferable to a variety of professional positions.
1. Computer Science
Not only will you increase your knowledge of computers, both their hardware and software, but you will also increase your understanding of the applications of such knowledge, such as the role that technology plays in an organizational setting.
As a student majoring in computer science, you will gain experience in a variety of fields, including but not limited to: robotics, natural language recognition programs, artificial intelligence, programming languages, numerical analysis, and gaming technology. No matter what facet of the computing industry you're interested in pursuing, you'll find that problem-solving is an essential component of the field.
2. Communications
People who major in communications are typically excellent storytellers who have sharp wits and fiery personalities. You will spend a considerable amount of time analyzing various types of presentations, such as speeches and scripts, as well as the reasoning behind the messages that public speakers and authors use to make their points.
You will gain an understanding of verbal and nonverbal messages, as well as the reaction of an audience and the various effects that various communication environments can have. You will be prepared for a wide variety of career paths, including those in the fields of business, advertising, human resources, public relations, government, education, the media, and social services.
3. Public Administration and Political Science
Political science is a discipline that is always relevant, fascinating, and in a state of constant flux. This is because it frequently deals with current events and in-depth statistical analysis. In a nutshell, it is the study of politics and government, and some of the more common specializations are government, public policy, foreign affairs, comparative government, and political philosophy.
Students who major in political science cultivate their ability to think critically and communicate effectively, in addition to gaining a broader understanding of history and culture. There will be a significant amount of reading, writing, and mathematical work. There are many different career options available, such as being a journalist, politician, or lawyer.
4. Business
Do you consider yourself a natural-born leader? You'll need to have excellent people skills as well as skills in problem-solving, number crunching, and making decisions. And don't forget to have excellent interpersonal and communication skills!
You will receive a comprehensive education in the theories and fundamentals of accounting, finance, marketing, economics, statistics, and human resource management functions if you choose to major in business.
You will become an expert in the areas of budgeting, organizing, planning, hiring, directing, controlling, and managing different kinds of organizations, ranging from entrepreneurial start-ups to corporations with annual revenue in the millions of dollars.
The business major will also get you thinking about issues such as diversity, ethics, politics, and other dynamics that play a role in every work environment. This will get you ready for the real world. It is imperative that you keep your competitive spirit alive because the business world is, well, all about business.
5. Economics
The study of choices—those made by individuals, businesses, governments, and societies regarding how they choose to spend their time and money and otherwise allocate their resources—is at the heart of the discipline of economics.
You were correct in assuming that economics requires a significant amount of analytical and mathematical skills. Understanding the production, distribution, and consumption of goods and services is a crucial component in making sense of the complexities of the modern world.
In addition to being an excellent preparation for a future career in business, it is also excellent preparation for graduate studies in the fields of law, public policy, and international studies.
6. English Language and Literature
If you frequently find yourself engrossed in a book—anything from Shakespeare to Cheryl Strayed, for that matter—you will probably find others just like you in the English department studying the trochaic octameter of Edgar Allan Poe's "The Raven," the stunning word choices of narrative nonfiction author Annie Dillard, or the experimental elements of the writings of Walter Abish.
If this describes you, you can expect to find others just like you in the English department. The study of literature, language, and writing are the primary focuses of English programs, and students who major in English are exposed to a diverse range of captivating works of fiction, poetry, and nonfiction originating from all over the world and spanning the entirety of human history.
Your critical, emotional, creative, and moral capacities will undoubtedly improve if you devote some of your time to analyzing the works of some of the greatest minds and imaginations that human civilization has produced. The study of literature is another way to help provide some answers to the age-old questions that surround the human condition. This degree is excellent preparation for a future in law, journalism, publishing, graduate studies, or virtually any other field you might choose to pursue.
7. Psychology
If you find yourself curious about the reasons why certain people react to certain aspects of their environments in a certain way, then studying psychology will help you learn about the biological processes that occur in our brains.
The fields of learning, cognition, intelligence, motivation, emotion, perception, personality, mental disorders, and the ways in which our individual preferences are inherited from our parents or shaped by our environment are the primary focuses of psychology majors. In the field of psychology, many of the challenges that are associated with human behavior are attempted to be resolved through education, communication, and research.
When it comes to the job market, having this degree can position you to be a therapist or counselor, which is an obvious choice; however, it can also position you to be a teacher, child development specialist, lawyer, or consultant, depending on the experiences and post-grad studies that you complement your degree with.
8. Nursing
A career in nursing is ideally suited for empathetic people who are intellectually capable of navigating the complex and, at times, emotionally trying landscape of the medical field. In the process of assessing, diagnosing, and treating patients' health issues, there is also the opportunity to collaborate with constantly developing and extremely advanced forms of technology.
As first-year students, nursing majors are required to complete a core curriculum consisting of traditional science and liberal arts courses. During their sophomore year, nursing majors begin clinical rotations at hospitals and other healthcare facilities. After graduating from a nursing program that has been accredited, candidates must first pass certification exams in order to become officially registered nurses.
And not only are there plenty of job opportunities available for nurses, but there are also a wide variety of job opportunities available in fields such as geriatrics, neurology, oncology, obstetrics, and pediatrics.
9. Chemical Engineering
Chemical engineers are responsible for harnessing chemical reactions in order to produce goods that consumers want. It is a very broad field that shares a significant amount of ground with other subfields of engineering, chemistry, and biochemistry.
Chemical engineering students learn how to reorganize the structures of molecules and how to design the chemical processes that chemicals, petroleum, foods, and pharmaceuticals can go through.
You will learn how to construct and run industrial plants that are responsible for the chemical transformation of raw materials. You will acquire the knowledge necessary to protect the surrounding area from any potential pollution as well as hazardous waste.
Paper mills, companies that make fertilizers and plastics, pharmaceutical businesses, companies that make plastics, and a huge variety of other types of businesses will all be looking for your expertise.
10. Biology
The study of biology encompasses essentially everything that exists, from microscopic organisms to the processes involved in cloning. Students who choose to major in biology have the opportunity to research not only humans but also plants, animals, and the environments in which they live.
These investigations can be carried out at the cellular level, the ecosystem level, or any other level in between. It's possible that you'll find yourself looking for solutions to problems and ways to solve mysteries, like discovering a treatment for a disease or illness.
Those who major in biology may find themselves in medical school or working in one of the many expanding fields such as genetics and biotechnology, or even as a veterinarian, optometrist, ecologist, or environmentalist.
Choosing among the best college majors
In choosing among the best college majors, students should do extensive research before settling on a decision because the process can be stressful and difficult. Students should investigate opportunities outside of the classroom, take into account the classes they are required to take, investigate whether or not their field of study offers any scholarship opportunities, and think about how much money they will make in the future.
In an ideal world, students should also consider whether or not they have an interest in a particular subject, given that it is likely to shape a variety of things, including their work experiences and the employer they end up working for. Moreso, academic and extracurricular planning and roadmap can be of great help as well.
How to determine which college is the most appropriate for your major?
After choosing among the best college majors, if a student already knows what they want to study, it is in that student's best interest to look for a school that is particularly strong in the chosen field.
Students have access to college rankings, but there are a variety of other approaches they can take to find the institution that best meets their needs.
Students might benefit from reaching out to industry professionals, contacting college career centers, and researching post-college job placement in addition to seeking advice from their teachers and high school counselors, who might have some useful information to share on this topic.
How does selecting among the best college major can lead to greater success while reducing total college debt?
Selecting the appropriate major for you can increase the likelihood that you will enjoy college more and be successful in both your academic and professional endeavors after graduation.
The dangers that come with choosing the incorrect college major
Numerous studies shed light on the issues that arise when students go into college "undeclared" or select the incorrect major for their studies.
According to the State of the American Workplace report, only 31% of college graduates are engaged in their work. Engagement can be defined as a state of being highly involved and enthusiastic about one's work. The remainder is either unattached or lacking passion, while a large number of them simply are unhappy in their jobs.
Moreso, students who begin their college careers "undeclared" or who change their majors during the course of their education will have completed coursework that does not relate to their ultimate fields of study. Because of this, they frequently need an additional year or two of college courses before they can graduate.
Two additional years of unplanned college expenses can increase a student's total debt by nearly 70 percent. As a result of this debt, graduates are frequently compelled to accept jobs that they do not enjoy just so they can afford to make the payments on their student loans.
The importance of selecting among the best college majors and its benefits
If you do your research and select the appropriate major before you start college, you will not only be able to complete your degree in the standard four years, but you will also be well on your way to achieving both happiness and success. Choosing the right majors entails the following:
Improve your happiness by focusing your education on topics that interest you and in which you excel;
 Improve your chances of landing reputable internships, which are an essential stepping stone on the path to a successful career;
You won't have to deal with a "stress crisis" during your time in college because you'll be able to see a clear path to graduation;
Preserve a high level of self-confidence in light of the fact that you are earning high grades and gaining recognition;
Have a smaller total debt from student loans as a result of not having to attend school for an additional year; and
Have the mindset necessary to succeed in a line of work that you find interesting and fulfilling.
How to determine the best college major?
You should begin the process of selecting your major by determining which career path would be most suitable for you. After that, you will be able to select the academic program that will prepare you the most effectively for that career. Obviously, this raises the question of how one should decide which profession is best for them.
In order to select the most suitable line of work for yourself, you need to take into account five fundamental aspects of "you." These five essential aspects are as follows:
1. Personality
Personality refers to the psychological characteristics that determine an individual's thoughts, emotions, and behavior. Examples of personality characteristics include being an introvert or an extrovert and being a judge or a perceiver.
2. Your Natural Abilities
What are some things that you are naturally good at (or not good at) doing? Do you like to get your hands dirty and try to repair anything that breaks? Do you have excellent writing and speaking skills? Are you very good at mathematics?
3. Inherent Traits
Your traits include your innate desires, such as choosing to manage operations rather than develop strategies, favoring mechanical activities over technical ones, and preferring change and variety over being comfortable with familiar activities.
4. Generic Fields of Interest
It is critical to select a line of work that is based on the interests that you have in general. Do you get a kick out of helping people with their issues, giving advice, working with computers, and so on? Where do you spend the majority of your time?
5. Work Environment
Do you prefer to work alone or in a group, indoors or outdoors, at home or in an office, in an environment that is competitive or calm, in a large or small organization, or in a calm or competitive environment? Do you enjoy finding novel solutions to problems more or carrying out established protocols?
You can empower yourself to gain a keen understanding of yourself by examining these five key areas, which will pay off financially and emotionally if you do so.
The extent to which these aspects of your life are reflected in the work that you do increases the likelihood that you will experience greater levels of happiness and professional achievement. When you have a clear idea of the kind of work you want to do in the future, it is much easier to select the academic concentration that will prepare you the most for that kind of job.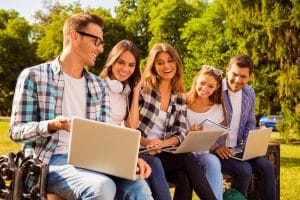 Before you head off to college, it is highly recommended that you carry out the activity in question. If you take the time to think about what you want to do after high school and choose among the best college majors that align with your goal before you start college (or at least early on in your first year of college), you can lessen the likelihood that you will rack up a significant amount of student debt and improve your chances of being successful in both college and graduation.
Choosing among the best college majors can be a handful, however, AdmissionSight can help you through academic and extracurricular profile evaluation and will detail a customized academic and extracurricular roadmap and plan for the entire duration of your high school. A private consulting program can be of great help to you as well.
AdmissionSight has more than a decade of experience guiding students through the competitive admissions process and into the world's top universities. The average acceptance rate for our students to Ivy League universities, Stanford, MIT, UChicago, and Caltech is 75%, one of the highest in the industry. Please feel free to schedule an appointment for your initial consultation today.